CODM streamer born without a left hand continues to break barriers and gets the nod from top-tier esports groups.
Back in 2020, we talked to Kevin Alexis Borja Maglaqui, aka 'One Hand Gaming.' This 25-year-old streamer from Manila uses his right hand and left foot to play games like Call of Duty: Mobile, NBA2K, Dota, Mobile Legends, PUBG Mobile, and GTA. 
From 4000 followers on Facebook, he now has close to 24,000 fans watching him score headshots and amass medals in CODM. His story also made it to our Coda audiences from Malaysia, India, and Bangladesh — getting good vibes from the gaming community. We recently checked back with Kevin and learned that he'd made quite a leap in his streaming career as a talent for AMPLFY and NRX Gaming.
AMPLFY x OHG
Like many aspiring local streamers, Kevin did the tedious task of applying for AMPLFY, a leading talent development program for streamers by Tier One Entertainment led by Alodia Gosiengfiao.
"Before I got signed up for AMPLFY, I sent many resumes (with my stream stats). I also wrote them a letter explaining why I wanted to be part of the program. I did all those patiently because, hey, it's Tier One.", Kevin explains.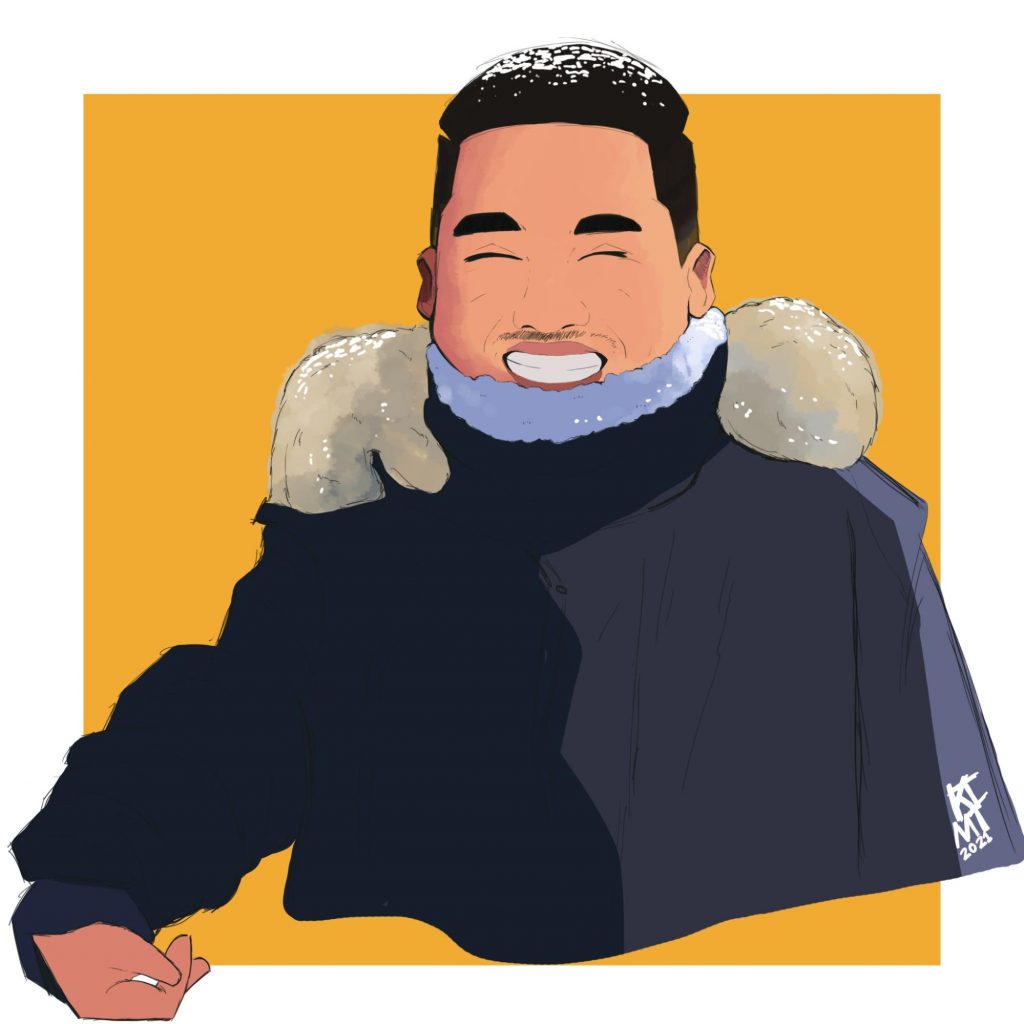 One Hand Gaming photo edited by: Kim Timothy Tablante
Kevin was dead serious in achieving this goal. It came to the point that he considered stopping his stream if he didn't get the callback from AMPLFY before 2020 closed. The stream gods had other plans, and come the first day of December, Kevin got the golden email from Tier One. Heart racing, it was at that moment that Kevin realized all his hard work, grinding 10-12 hours for a month's worth, finally paid off. It was the best story to cap off his year — he is now part of the AMPLFY Family.
Have you met Alodia?
The ultimate (fanboy) question stands. Kevin shares, "I haven't met Boss A in person. But she raided and shared my stream several times before. It's also amazing because every time I visited her live (streams), she always remembers me."
For One Hand Gaming, it's the intangibles like this that make the experience more memorable.

"Boss A would say: Ang lupit ko daw maglaro or kakaiba maglaro." This positive remark, coming from a person of that caliber, is incomparable for someone like Kevin.
Going up against the big guns
Last May, Kevin had the chance to play with more than 30 AMPLFY talents, including BLink Gaming, Crush, Cri, DJ Ron Dejano in AMPLFY's OPERATION: FRIENDLY FIRE, CALL OF DUTY: MOBILE. He played alongside Yo TV, Tito Chogz TV, Dj Ron Dejando, and Cri. The entire experience was something Kevin could only imagine before.
"Back then, I was only imagining playing with these guys, being on the same stream, or doing a collab. What do you know? This opportunity just popped up! I was very honored to play with (and against) them in CODM Battle Royale."
Beyond CODM
As a COD Mobile super streamer, Kevin plays it differently from other players. We asked him about his most outstanding and achievements playing the game and his most kickass collection.
Greatest achievement/medal:

Greatest achievement is going toe-to-toe with regular, casual players at pro-players. Who would have thought that a One Hand Gamer could keep up with gamers, streamers, and pro players in playing CODM despite my disability?

Most kickass weapon:

M4 Legendary Gun

Most kickass skin:

Legendary Ghost

The longest stream you did so far:

12 hours

The greatest challenge playing the game:

It's all about being consistent playing the game. At the same time, playing with others is already a significant challenge in itself.
Kevin shared that he wants to try streaming other games like Mobile Legends apart from COD Mobile. "If the opportunity presents itself, I might do MLBB in the future." In between streams, he also plays Axie Infinity.
As a content creator, Kevin spends an hour up to three editing his videos which he regularly shares on his Facebook page. Most of his video content is based on trending topics, funny memes, and gamer experiences.
Kevin takes care of the bills.
Kevin's streaming, from simple entertainment purposes, has turned into a way of life. We asked him how his live streams have helped him and his family.
"Nakaka-earn ako sa streaming and at the same time, nabibili ko din ung mga gusto ko, most speially sa food dahil mahilig talaga ako kumain lalo na kapag nagcrave ako. Maintenance din ng PC ko at nag-aabot din ng pera pangbili ng grocery namin.
Welcome to NRX, fam!
Kevin continued his stellar run this year. His most recent achievement is joining the famed NRX Gaming clan. This move came about his decision to get a more precise direction from his former clan. Being the only full-time streamer, Kevin wanted to focus more on content creation. Despite this, Kevin made it clear that he remains friends with his old group.
"Yung NRX matagal ko ng gusto. Pero hindi ko sya naisip na pumasok don. Pangarap kong pumasok, pero hindi ko binalak pumasok."
Makes perfect sense. 
One of Kevin's moderators suggested him to send a message on Facebook to NRX Gaming. He already did that several months before he was signed last September. Thinking that a thousand others had obscured his chat message, Kevin casually moved on.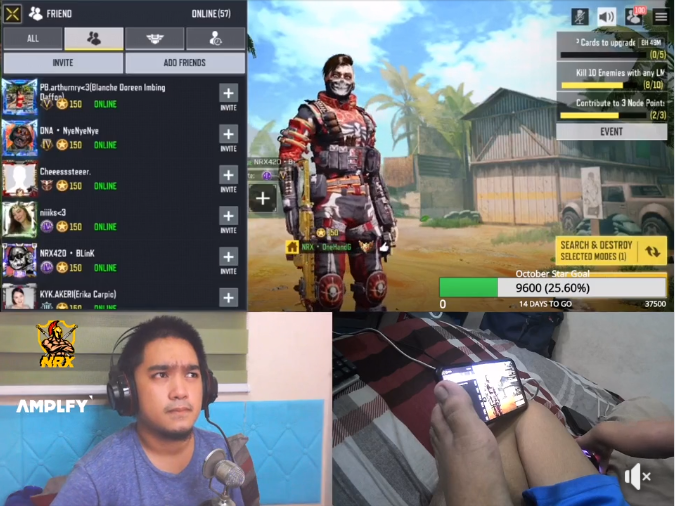 Badge love! One Hand Gaming reppin NRX and AMPLFY.
Then, while checking the CODM page, he found one of the group's clan masters — NRX KD. He sent her the same message from months ago, and guess what? His message was seen in just a few minutes.
So, what did you tell her?
"I introduced myself as One Hand Gaming. I told her that I wanted to become part of NRX as a streamer and play the game using one hand and a foot. I also shared that I wanted to become an influential member of NRX and that my goal for CODM is to have an equal community that thrives with respect."
At that point, NRX KD said she was fortunate to be the first one to read Kevin's message.
"You're in."
Kevin was told that as soon as he messaged NRX, he was officially part of the fam. Talk about On. The. Spot. Kevin also learned that KD spoke with Daddy BLink, who told her to go for OHG.
Equality
Kevin also shared that one of his main reasons for streaming is equality.
"As a streamer and future influencer, one of my main goal talaga is Equality. Yung walang mataas, walang mababa, walang kulang, walang perpekto, pantay lang dapat tingin sa bawat isa. Kung si OhMyV33nus wants to fight gender equality, One Hand Gaming wants to prove that kahit may disability ka, hindi ka mababa tingin sayo, in short, I fight for EQUALITY.
From this, we can tell how much Kevin / One Hand Gaming values responsibility. It's something that sets the normal apart from the extraordinary.
PAAwer goal
Before 2021 ends, Kevin's main goal as One Hand Gaming is to become a talent for Tier One. "Yung tipong mga level ni Cong TV." Kevin believes libre lang mangarap, so he might as well set the bar high.
Kevin shared the exciting news that he was able to achieve one of his goals last February. His live stream was raided by none other than his idol — Cong TV. Kevin was almost in his 8th hour of the stream when Cong started his feed. This prompted our main guy to hang on for a bit for a shot at getting recognized when suddenly… the hashtag #CongTVRaid rained like crazy on Kevin's comments section!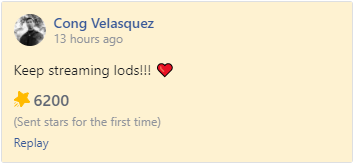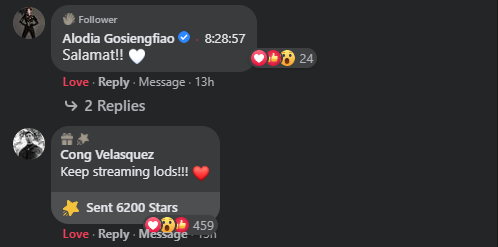 "Grabe alam mo ung feeling ng sobrang worth it ung paghintay ko para maraid ng aking idol. Sa sobrang worth it, napaiyak ako sa live ko mismo habang in-game kami. Sobrang saya ko to the point na umiyak ako!", Kevin narrates.
The best part of this experience is that the whole CODMMUNITY commented on Cong's stream to urge the popular YouTuber to raid Kevin's feed, for they believed that One Hand Gaming deserved it. Even Ghost Garlic (Brother of Ghost Wrecker) and Cri commented to show their support. Thank you CODMMUNITY!
"That's the best part of my 2021. The next goal na gusto ko ma-achieve is to meet Cong TV and makasama siya mismo sa iisang frame #lawofattraction. Tiwala lang, makakasama ko din siya sa iisang frame at sisigaw ng PAAwer sa harap nya! Libre mangarap pero you'll never know! Anything is possible."
Catch more of Kevin via his official Facebook account at One Hand Gaming.