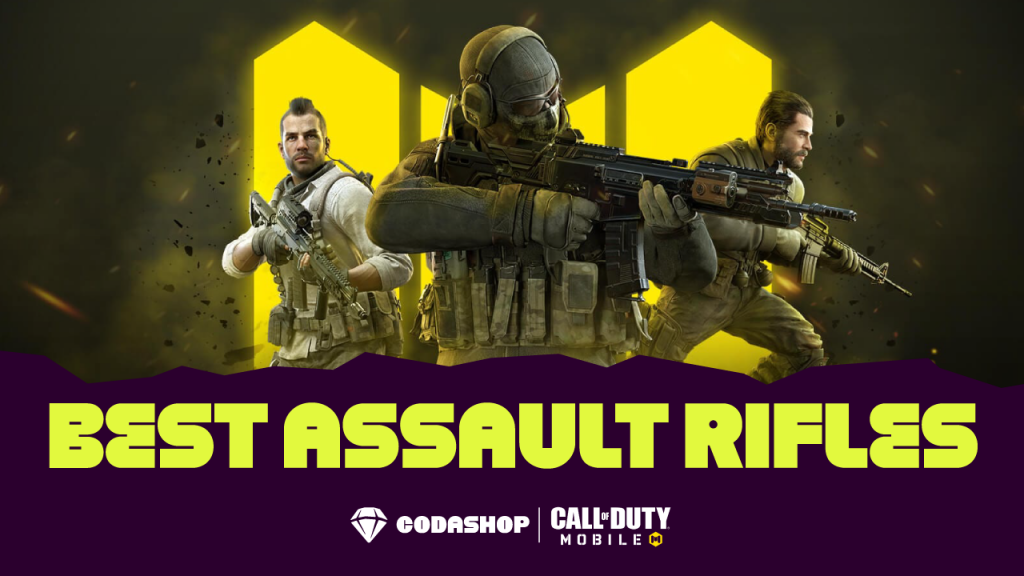 The weapons class in Call of Duty: Mobile is one of the game's best features that makes it a cut above the rest. Players have their hands full on what to carry in battle, from deadly Sniper Rifles, Submachine Guns, Assault Rifles, and more. Wondering which are the best Assault Rifles that you should use? Check out our top five ARs in COD Mobile.
AK47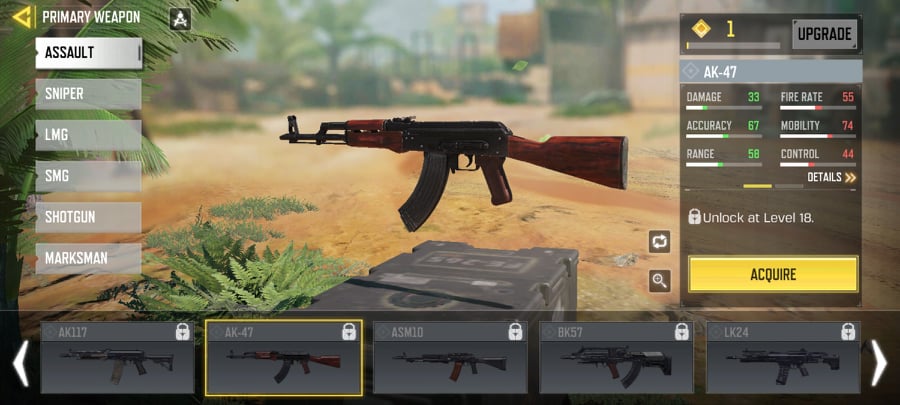 The AK-47 deserves respect with its insane penetration damage. The staple gun among the AR class, the AK-47, packs a solid Fire Rate at 55 and decent mobility at 74. One of the best automatic ARs in the game, the AK-47 has high burst damage and a good range at 58. Though it may not have attachments (like a red dot sight or a scope), several headshots can secure you a kill. Best to use in mid to close range fights. Reach player level 18 to unlock.
Man-O-War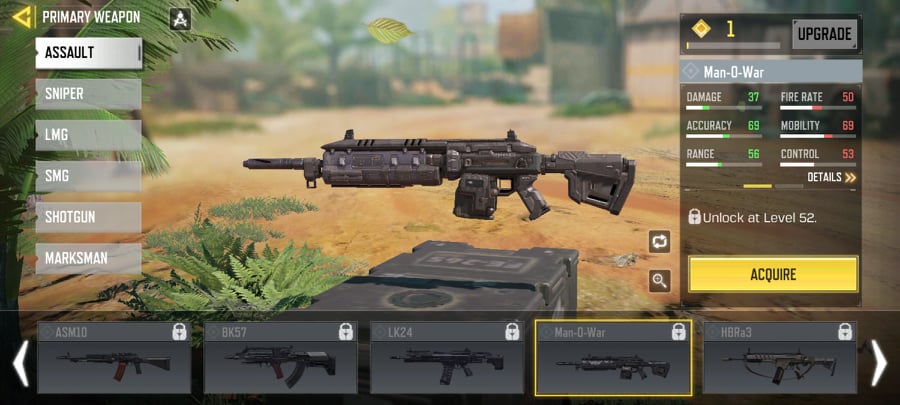 One of the strongest assault rifles in CODM is the legendary Man-O-War. Ideal to use in medium-range gunfights, this weapon is effective with its three-shot kill capability. It comes with a Damage of 37, an excellent Accuracy of 69, a decent Range of 56, and of course, low recoil. Its mobility is just adequate, so you will need to do some practicing to dominate. Reach player level 52 to unlock.
LK24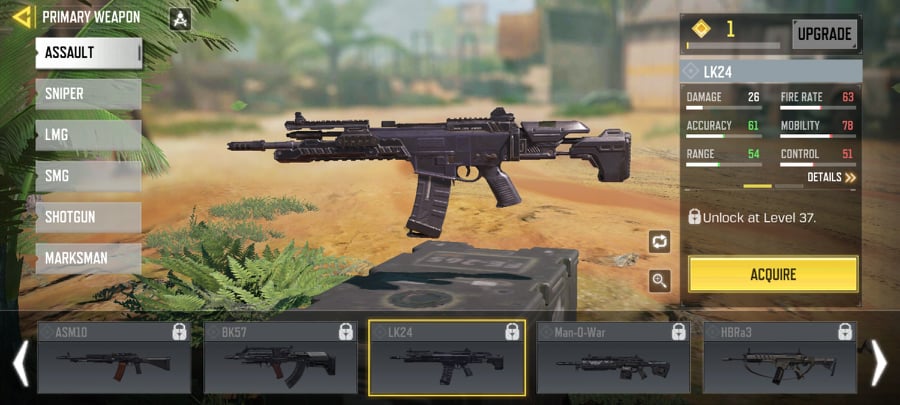 The LK24 is a high-precision AR built with a quick shooting speed. Given those features, players with average aiming skills will find the LK24 lovely because of its quick fire rate and high level of accuracy. You can utilize this gun similar to an SMG but with slightly better range. The LK24 is also compatible with almost every attachment. Reach player level 37 to unlock.
ASM10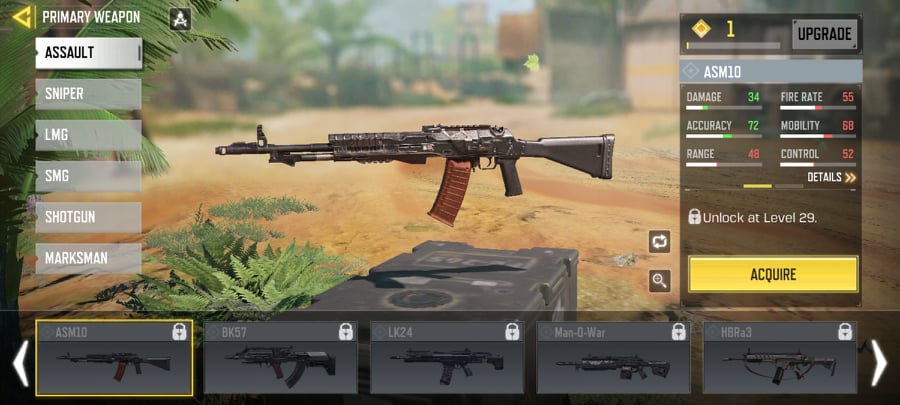 Consider the AS10 as a well-rounded assault rifle and one which needs extra caution when going up against it. With its high accuracy (at 72), players who use this gun in a short range can easily overwhelm an enemy. It has a decent Fire Rate of 55 and is also quite good at long-distance shooting. Reach player level 29 to unlock.
DR-H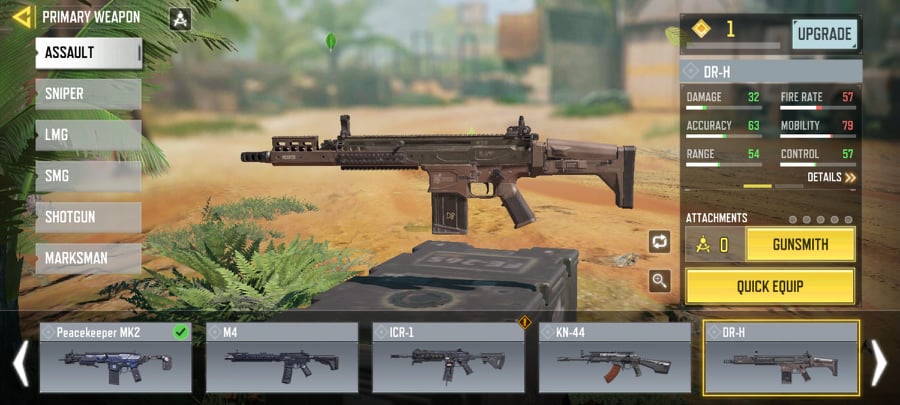 Finally, there's the DR-H. This assault rifle comes with high accuracy and excellent mobility, making it easy to control in battle. The DR-H  can fire at any range, has a medium fire rate and low recoil. Not to mention, this gun was once considered the best AR in the game.
What's your top Assault Rifle in the game? Let us know!
Need CP for Call of Duty: Mobile? Top up now on Codashop! Pay conveniently using PayTM Wallet, UPI, FreeCharge, Payzapp, Bank Transfers, and Card Payments. No credit card, registration, or login is required!