What is Mobile Legends' Starlight Membership?
Mobile Legends' Starlight Membership is a system created to reward players based on their Starlight points progression.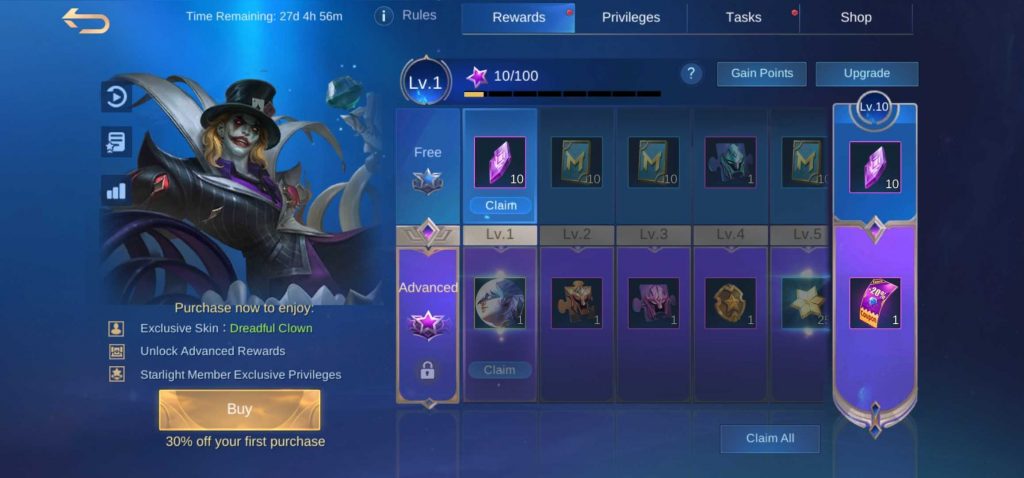 When you open the Starlight window in ML, you will see two rows; Free and Advanced. Every ML player is eligible to receive all the rewards on the Free row, while the rewards on the Advanced row is only for Starlight & Starlight Plus members.
Starlight Member Benefits

Other than the Starlight monthly exclusive skin, there's a lot more privilege being a Starlight member.
| | |
| --- | --- |
| Access to 6 weekly free heroes | Extended in-game friend limit (up to 200) |
| Access to 6 weekly free skins | 10% more EXP for every match |
| An exclusive avatar border (31-day) | Starlight exclusive profile |
| Extra 10 protection points when losing a ranked match | Starlight exclusive chat frame & battle emotes |
| Starlight exclusive elimination alert, recall effect & spawn effect | Sign-in for a previous day in the "7-Day Log-In" event |
| 30% more mastery points for every match | 5% more BP for every match |
| One-time free Mysterious shop refresh | |

You can check Starlight member benefits in-game by clicking on Starlight, then selecting the privileges tab.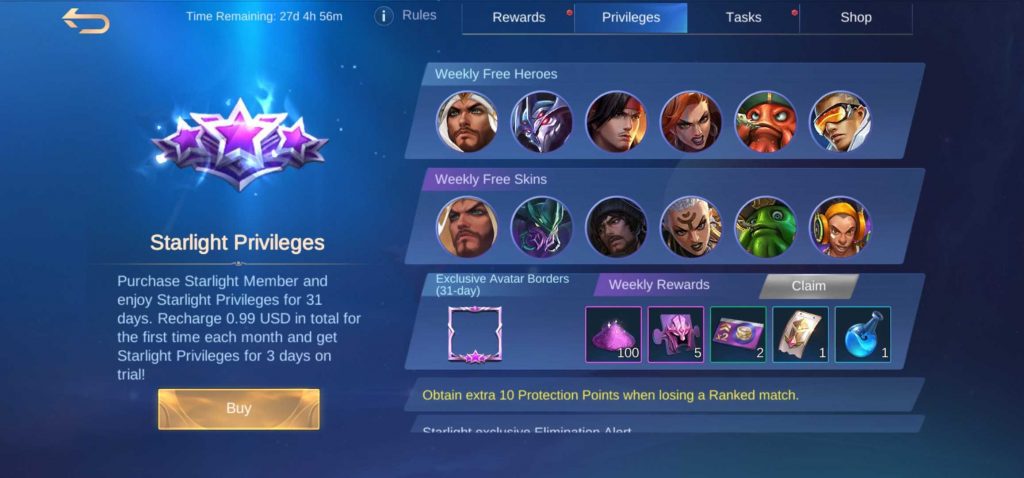 Starlight Member & Starlight Member Plus
The difference between Starlight Member & Starlight Member Plus is quite simple. Starlight Member Plus allows you to level up your Starlight pass by 29 levels (worth 2,900 diamonds) and claim a Starlight gem in the prize pool both instantly.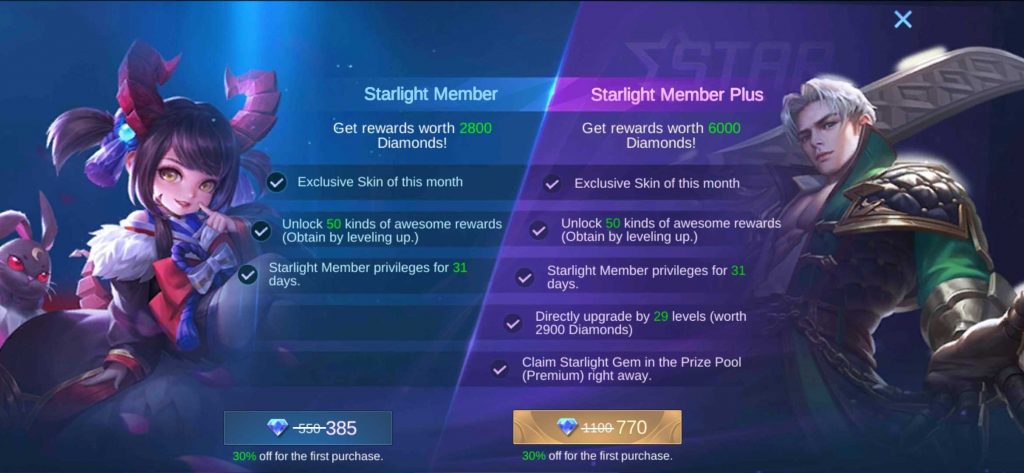 How to be a Starlight Member

Step 1. Go to Codashop's Mobile Legends' Starlight Member page.
Step 2. Input your Mobile Legends' user ID. (Can't find your user ID?).
Step 3. Select your preferred Starlight Membership.
Step 4. Select your preferred payment method.

Step 5. Review your purchase and click on the "Buy Now" button when you're ready.
Step 6. Complete the purchase by adding your payment information, and you're done
Still wondering if Starlight Membership is worth your money? Check out this blog.
If you have more questions not coverhttps://news.codashop.com/ph/starlight-star-bright-is-starlight-membership-worth-the-bucks/ed here in our blog post, feel free to leave a comment and the Coda community will happily help you out.
Happy gaming!