Did someone order gloo wall demolition? Prepare for some serious sonic waves courtesy of the Prince of V-Pop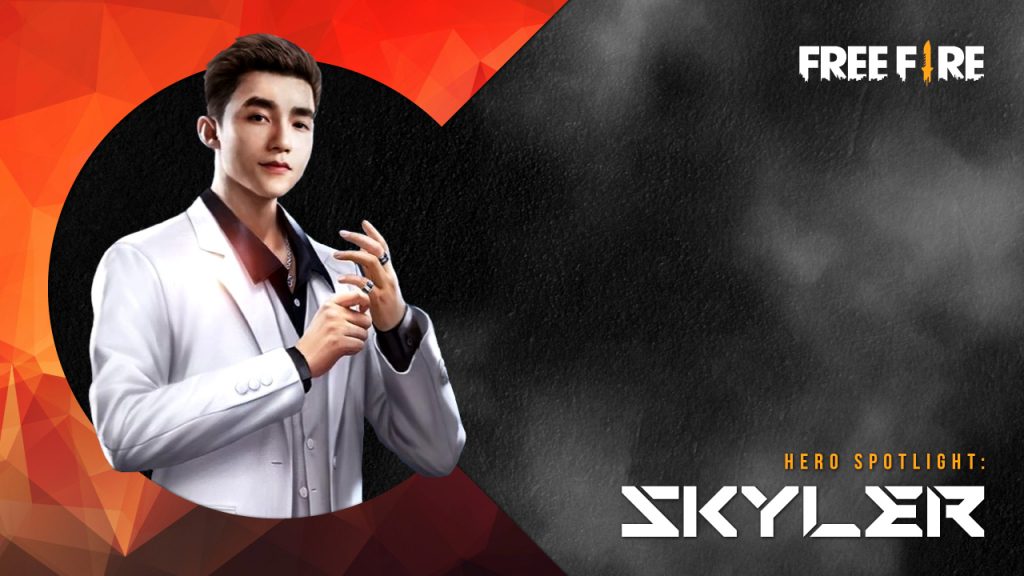 Skyler, Free Fire's latest and perhaps one of the most currently sought-after characters, is inspired by Sơn Tùng M-TP, a Vietnamese singer-songwriter and actor whose real name is Nguyễn Thanh Tùng. The latest OB26 Project Cobra update saw his red carpet arrival into the game, plus a bunch of new updates (MAG-7 Shotgun, new Revive system, etc.). Clad in his sleek, immaculate white Tuxedo, find out what's keeping everyone abuzz about this CEO/superstar and why you should get him to your team.
How to get Skyler
Skyler was launched in Free Fire via a Superstar Top Up event last March 9. If you missed out on that chance, you can still get Skyler for 499 diamonds in the Store while his Superstar Bundle will cost you 1199 diamonds (includes Top, Bottom, Shoes, Mask, and Lvl.4 Character Card).
Skyler's Abilities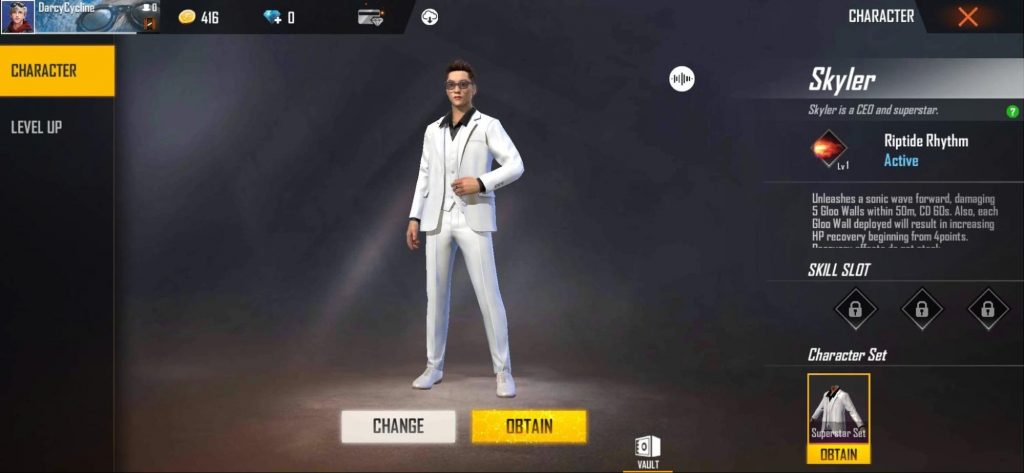 Skyler's ability, Riptide Rhythm, is a major game-changer. Skyler unleashes a sonic wave forward, destroying 5 Gloo Walls within 50m at base level. Cooldown is at 60 seconds.
In addition, each Gloo Wall deployed will also enhance his HP recovery, beginning with 4 points (passive).
Here's how Skyler's ability stacks up at each level up to the maximum (Lvl.6). Notice how each level up increases the range and decreases the cooldown time of Riptide Rhythm. 
Level 2: Damages 5 Gloo Walls within 58 meters. CD at 58s. HP recovery begins from 5 points. 
Level 3: Damages 5 Gloo Walls within 67 meters. CD at 55s. HP recovery begins from 6 points.
Level 4: Damages 5 Gloo Walls within 77 meters. CD at 51s. HP recovery begins from 7 points.
Level 5: Damages 5 Gloo Walls within 88 meters. CD at 46s. HP recovery begins from 8 points.
Level 6: Damages 5 Gloo Walls within 100 meters. CD 40s. HP recovery begins from 9 points.
Why you should get Skyler on your team
If you are the type of player who likes to play it aggressively and loves diving more into the action, Skyler is an excellent pick. With his special ability, you can knock down unsuspecting enemies hiding behind Gloo Walls. Also, with good cover fire from your team, you can utilize Skyler to rush towards enemies and take them out. It's like picking on sitting ducks left out in the open! Team modes (Duo or Squad) are great options for him.
Skyler best character match-up
Since his inclusion in Free Fire, Skyler has been quickly recognized as one of the strongest characters in the game. He has also been pitted to perennial crowd favorites like Chrono and even Alok.
Let's take Chrono for instance. Skyler can rise up to Cristiano Ronaldo's character with his ability to restore HP for him and his allies thanks to his Riptide Rhythm. Besides this potent healing prowess, he is also an asset in terms of defense when he deploys Gloo Walls. He can also break them down with his special ability, allowing him to take out weak enemies hiding behind them.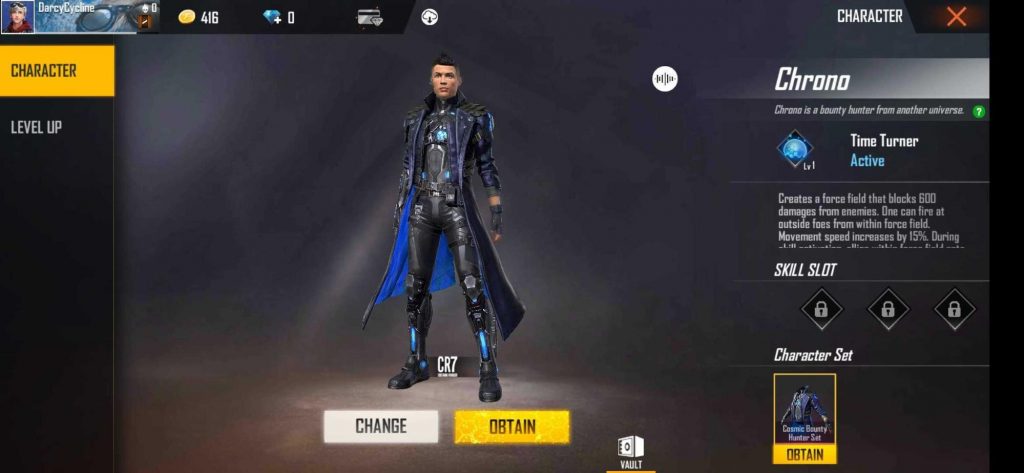 For his part, Chrono can create his own force field called Time Turner to protect his team. What's even better is that his allies can still shoot enemies while inside the shield. He also grants movement speed which is a big advantage. 
Both characters undoubtedly have outstanding abilities, but we think that Chrono gets that tiny edge with his force field and speed boost combination.
What do you think of Skyler and his Riptide Rhythm? Do you think he'll be a big problem in ranked games? Share your thoughts with us on us on Codaclub Community, it's our newest forum where you can meet and share experiences with fellow Codashop gamers!

Don't forget to top up on your Free Fire account only at Codashop. We guarantee a better, faster, and safer top-up experience with more payment options to choose from.