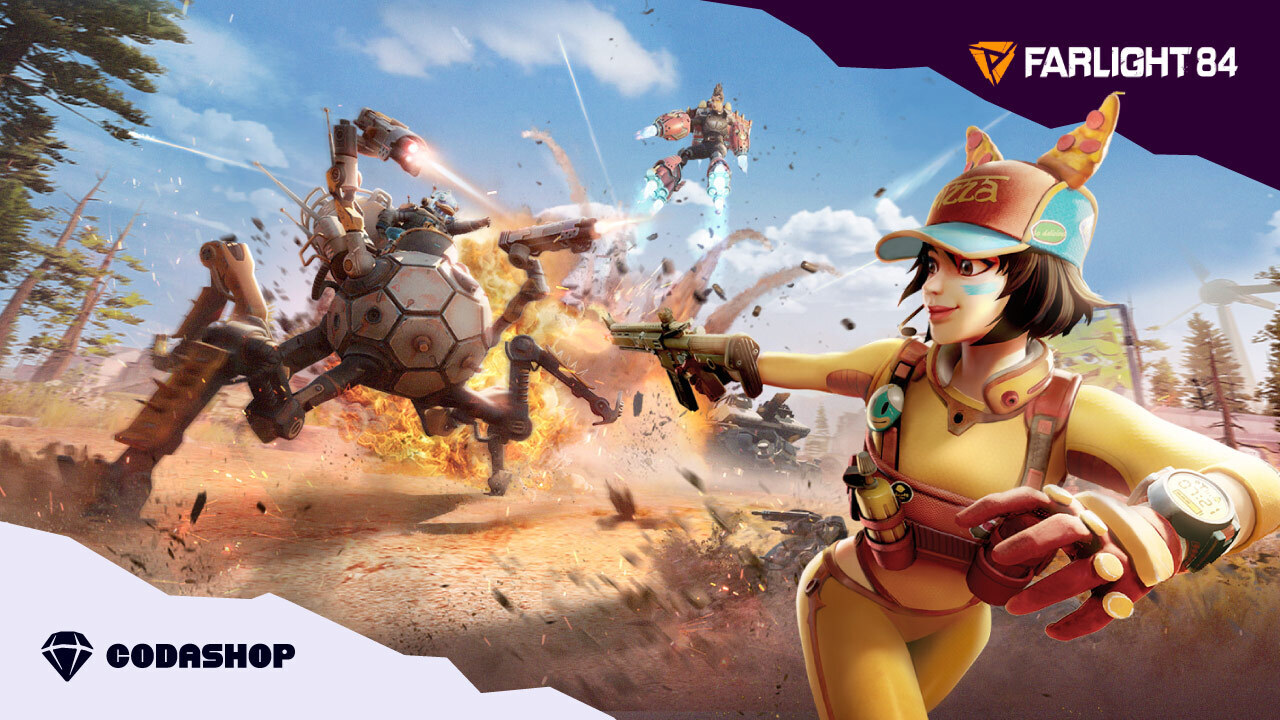 Farlight 84 is not your ordinary shooter game. It delivers mega-intense battle royale action where you can 'smash it all down' to claim victory! Players can choose from different characters with rocking personalities, perform jetpack fights, and eliminate enemies with a barrage of super-powered weapons. Do you have what it takes to become a survivor? Here's a handy guide to help neophytes understand the basics of the game and why you should give it a go!
What is Farlight 84?
Farlight 84 is an intense, third-person shooter game set in the year 2084. The battle occurs in a chaotic Wasteland where players can choose from more than 20 characters with attitudes. Players drop into the arena, pick up high-powered weapons to take out their enemies, and use fury armored vehicles to wreck the opposition in no time. You can also take the battle to new heights and fight in the sky as each Capsuler is equipped with a cool jetpack! 
This futuristic tech-based action game also comes with various game modes. The Classic Modes include fan-favorite Battle Royale and Team Death Match. Select the Innovative Modes to play Hunt, where players compete for higher points, or Bayfront Rally, where participants run, swim, and drive to reach the finish first.
Farlight 84 boasts animated, sci-fi-style graphics and fast-paced combat action. With multiple ways to attack, expect non-stop smashing from start to finish.
Why you should play Farlight 84
Farlight 84 offers a unique experience for players who love to jump in on the action. With all things 'smash', the game lets you:
Smash with fury armored vehicles

! Conquer the Wasteland by seizing more than ten kinds of vehicles. Take your pick from classic 4-wheeled cars, hovering racecars, and multi-legged war crabs! Travel the dirt road, go above water or jump around buildings; these vehicles can do it all.

The best thing about these vehicles is that they're not only for transportation; you can also use them to destroy your foes. Each mean machine has unique skills like an energy cannon, flame thrower, and stealth mode. Best of all, they are built with unlimited bullets! Time to put the pedal to the metal and blow your enemies away!
Smash with Jetpacks!

Get ready to take the fight in the sky! The jetpack is a big necessity in the Wasteland, giving players more flexibility and a never-before-seen shooting experience. At the start of the game, each Capsuler will be equipped with a jetpack to fly, dash, and fire. Players can pick a range of super-cool designs from a gacha machine, a carousel horse, and a flash engine perfect for speedsters.

Smash with unique characters!

Farlight 84 features more than 20 funky characters. They also possess specific traits to help them on the battlefield. Some can sprint, buff their health, and carry extra ammo. Characters come with cool skins of different rarity.

From a stunt double, a security guard, a pizza delivery girl, and even a veterinarian, each Capsuler has a unique story to tell. Let it be known that shooters aren't always about soldiers anymore.
Smash with innovative weapons!

Players can scour the Wasteland to discover various weapons from four manufacturers. All guns are built with a badass skill to help Capsulers survive and claim the victory. Who's up for some smoke screens and energy shields? Select your arsenal from rifles, snipers, shotgun, and SMGs and blast your way in close and long-range gunfights.'
So, what are you most excited about, Farlight 84? Let us know in the comments section below.
Don't forget; you can now top up your Farlight 84 Diamonds on Codashop. It's faster and easier, with plenty of convenient payment methods available.