The cat-dog rivalry has been around for a very long time, and we've all asked ourselves whether we're a cat or a dog person at one point. It's no secret that cats rule the internet with their silly memes, but the more affectionate doggos sure know a way to our hearts, too. This battle over belly rubs and head pats isn't going to stop soon, so our furry friends decided to come back to the Summoner's Rift to settle it once and for all.
The Cats Versus Dogs universe
Unlike in the cruel world of Runeterra, the Cats Versus Dogs alternate universe reimagines the Champions in an untroubled world run by felines and canines. In it, they run wholesome contests and compete for treats and the title of Goodest Boy.
The Cats Versus Dogs theme started as an April Fools event in 2019, but after seeing the players swooning over the adorable skins, Riot decided that it shouldn't be a one-time thing. April 2023 sees the skin line expanding, with four additional League of Legends Champions joining the previous Cats Versus Dogs characters below: 
Pretty Kitty Rengar

Meowkai Maokai

Meowrick Yorick

Fuzz Fizz

Corgi Corki

Pug'Maw

Archduke Nasus
New Cats Versus Dogs skins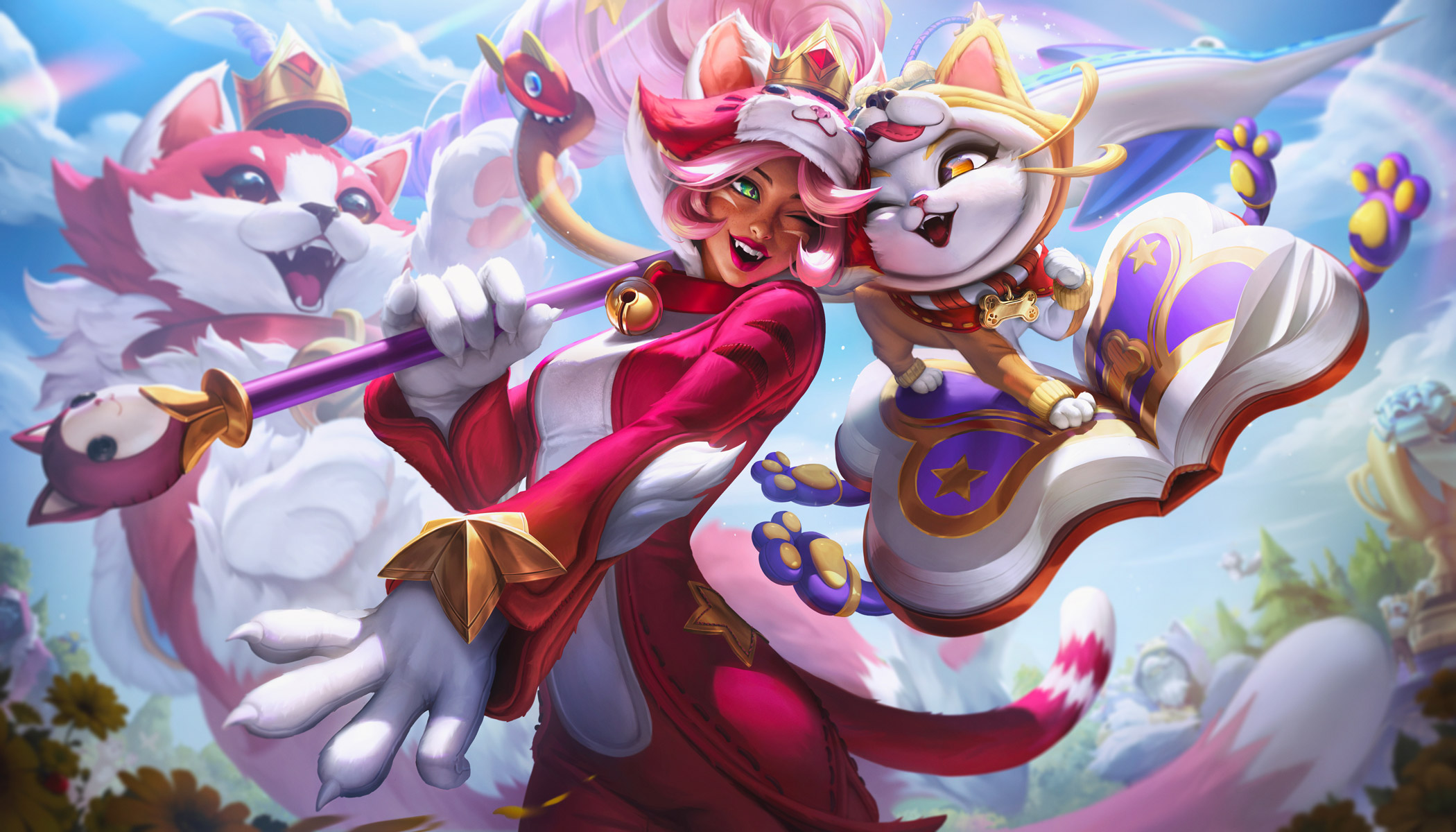 Image credit: Riot Games / League of Legends
Kittalee Nidalee – Nidalee now wears a bright pink cat onesie and transforms into a cat during her Ultimate. She brandishes a spear with what appears to be a squeaky fish toy at the pointy end, but beware because she's still dangerous! This skin comes with custom animations, emotes, and voice lines, and her Recall animation on cat form gave me a good laugh. Have you ever seen videos of cats smelling a Durian? Their reaction always gets me laughing. What's even funnier is that she proceeds to bury the fruit out of disgust.

Shiba Yuumi – the magical cat, Yuumi, didn't need her powers to get more head pats because she figured she could do so just by disguising herself as a Shiba Inu! In my opinion, this skin's custom animations work as a buff because if I were her opponent, I'd be easily distracted by those cute, fancy, and well-made animations.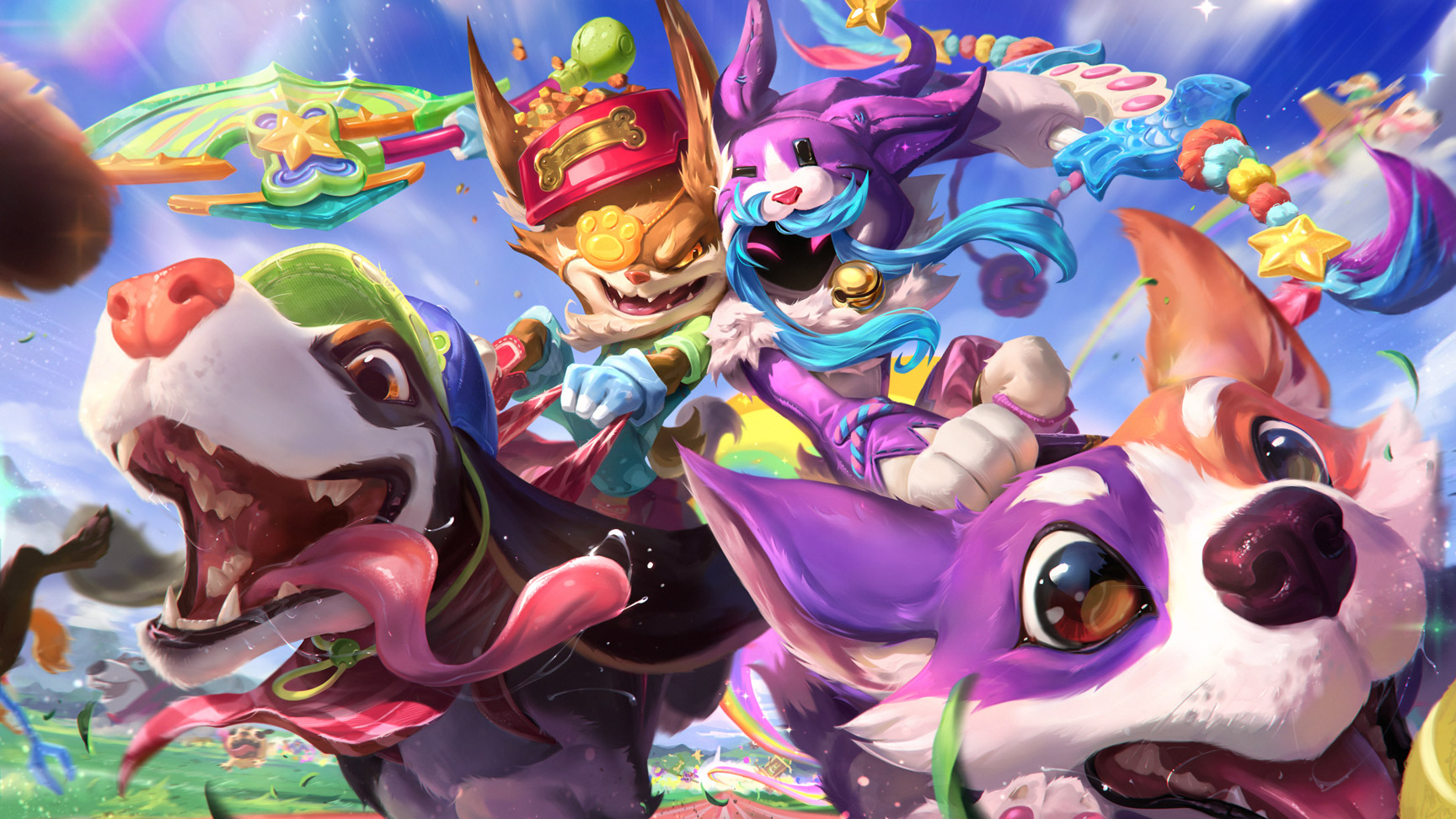 Image credit: Riot Games / League of Legends
Kibble-head Kled – don't get fooled; his bear traps and methods are still as vicious as before. But at least he's a responsible dog owner. One of his Recall animations shows him feeding Beagle Skaarl a hearty bowl of wet food and fish. Good job, Kled!

Woof and Lamb Kindred – this Kindred persona is a living testament that cats and dogs can get along. I'm not a hundred percent sure about that "living" part, but they are a highly efficient duo. 
All Cats Versus Dogs skins come with new special effects, visual effects, recall animations, and several Chromas and are priced at 1,350 RP.
Final thoughts 
With an internet culture overflowing with cat memes and Facebook groups celebrating dogs, it's no wonder why the Cats Versus Dogs skin line is popular with League of Legends players. I won't be surprised if Riot introduces more in the coming years because there is much to explore in the game's growing Champion pool. Zoe's playful and mischievous personality, for example, would make her an ideal addition to the feline faction. She also calls Aurelion Sol the "Space Doggy", so adding him to the skin line may be a great opportunity to flesh out the relationship between the two. 
Gear up and conquer the Rift by topping up your League of Legends RPs only at Codashop! We offer fast and safe top-ups for a hassle-free gaming experience.