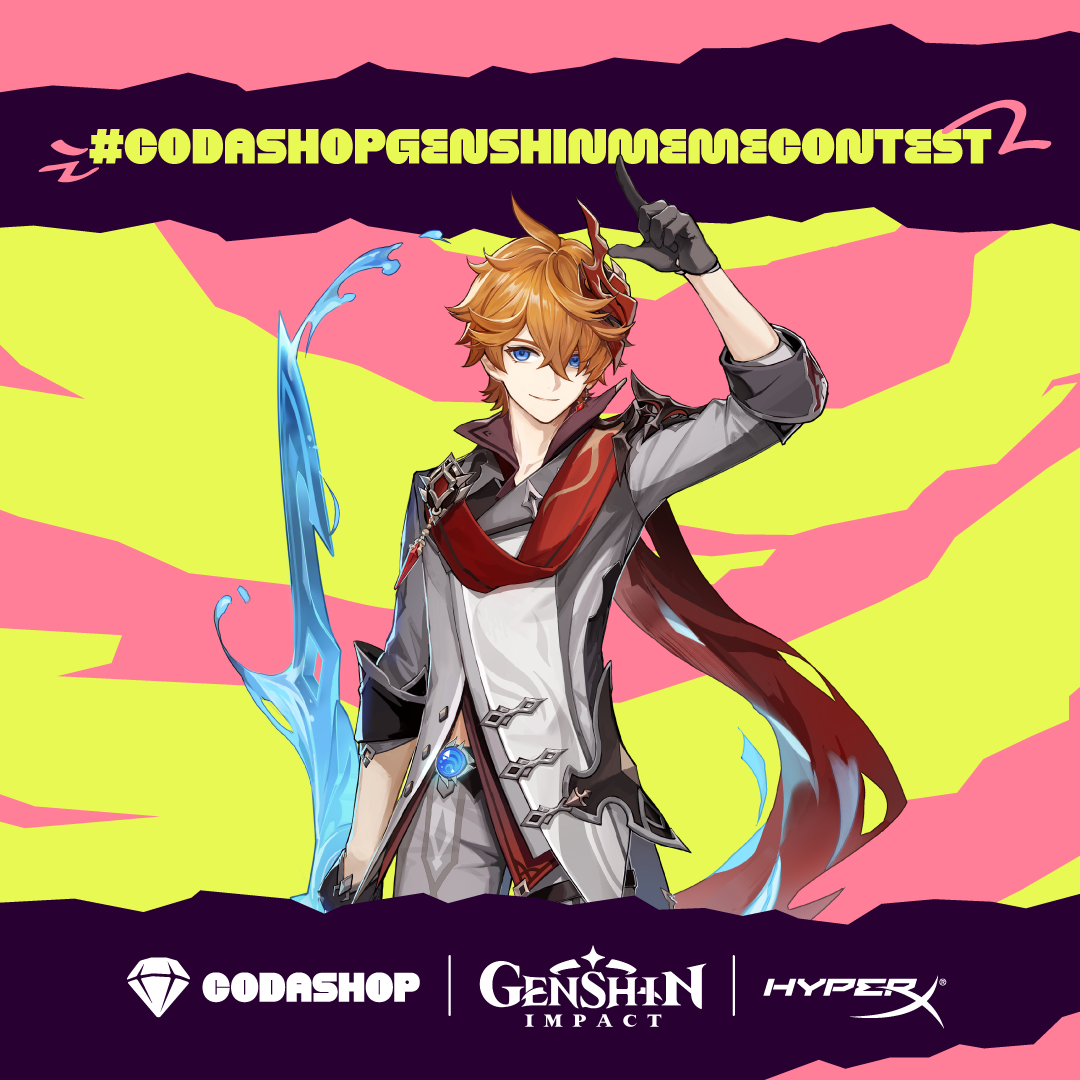 Win cash prize and in game items with your meme creation!
Codashop Genshin Meme Contest Terms and Conditions
The Contest requires participants to submit a photo or video meme via the registration website ("Entry") published by Codashop. This Contest is organised by Codashop. By participating in this Contest, you agree to be bound by these Terms and Conditions, which shall form a valid and binding agreement between you and Codashop.

The Contest is open to all residents of The Philippines, aged 18 years and above.

The Contest will commence on Thursday 25 October 2021, Philippine Time 12AM, and close on Friday 12 November 2021, Philippines Time 11:59PM ("Contest Period"). Entries will only qualify for the Contest if submitted within the Contest Period. Entries submitted outside of the Contest Period, or submitted through any means other than specified herein, will not be eligible for the Contest. Any complaints on missing and/or delayed submissions will not be entertained.

Contest mechanics are as follows: 
(1) To participate in the Contest, each participant must:
(a) post his/her own Genshin Impact meme on any social media platform (Facebook, Instagram, Twitter, Youtube, TikTok). The meme can be an image or a video and should mention Codashop. Make the post public.
(b) use the official hashtag #CodashopGenshinMemeContest in his/her post.
(c) submit the post URL with requested details in the contest registration page: coda.shop/2ZobE0p. 
(2) Each submission on the contest registration website as specified herein shall be referred to as an "Entry". 
(3) Each participant may submit multiple entries for the entire Contest. 
(4) Each participant may win only one (1) prize for the entire Contest. 
(5) Winners will receive the following prizes:
| | |
| --- | --- |
| No. of winners | Prizes |
| 2 | P5000 cash  |
| 3 | HyperX Cloud Earbuds |
| 10 | Blessing of the Welkin Moon |

(6) Cash prize will be awarded to the winner's preferred GCash account. In-game items will be awarded to the winner's preferred game ID. Physical prize will be delivered to the winner's preferred address.
(7) All entries submitted in the manner set out above will be verified by Codashop and will count as eligible Entries. Winners will be selected by Codashop at its sole discretion based on the following criteria:
50% Creativity
25% Wittiness
25% Authenticity 
In case of tie, Codashop has the right to choose who wins the prize/s.
5. The winner(s) will be notified via Email within 7 days of the Contest Period, with information and instructions on prize collection. Prizes are not exchangeable by the winner(s) for cash or other items, and are not transferable.
6. By taking part in this competition, all contestants are deemed to have provided express consent for Codashop to process, use, and/or transfer (where necessary) the contestant's personal information, social media handle and photos/videos submitted, for the purposes of this contest and future Codashop Marketing promotions.
Codashop General Terms and Conditions
Codashop's decision on all matters relating to or in connection with this Contest, including the selection of the winning entries at its sole discretion, is final and binding on all participants. Codashop shall not be obliged to enter into any correspondence on any matter concerning the Contest.

Codashop may upon notice and without liability to any party: a) vary these Terms & Conditions or discontinue the Contest; or b) substitute, withdraw or cancel any prize without disclosing any reason and without any payment or compensation whatsoever

By participating in the Contest, all participants agree to release and hold harmless Codashop from any and all liability whatsoever for any injuries, losses or damages of any kind to any person or property arising from or in connection, either directly or indirectly, with the following: a) the awarding, acceptance, receipt, possession, use or misuse of any of the Prize or part thereof awarded pursuant to the Contest; or b) the participation in the Contest, or any Prize-related activities including without limitation, any error in computing any breakdown, or malfunctioning of any computer system or equipment.

By setting up a Facebook or Instagram Account and using any services, products or features of Facebook or Instagram for the purposes of the Contest (including without limitation, uploading any materials onto these platforms), each participant is fully liable and responsible for complying with all terms and conditions as may be imposed by these platforms, and Codashop shall not be liable in any way whatsoever for such account and usage. Your comments are public and available to anyone visiting these platforms.