Calling all BLADES! Riot Games' digital card game Legends of Runeterra, has launched a limited-time event featuring the virtual band group K/DA (composed of themed versions of League of Legends characters: Ahri, Akali, Evelynn and Kai'Sa) as they take over the K/DA ALL OUT Event. It's free for all players so all you need to do is just play and enjoy the show.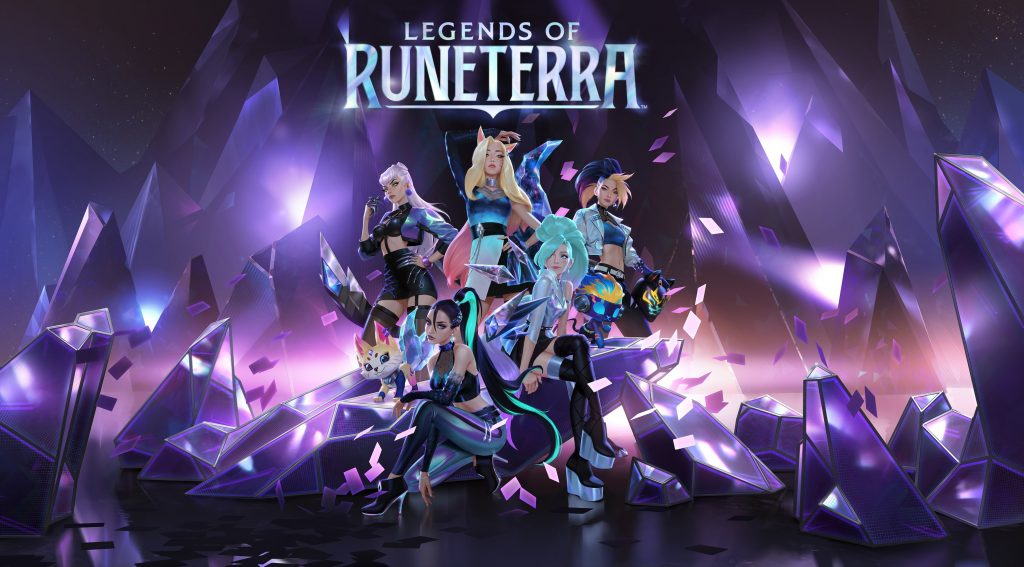 New Cards
Get access to exclusive cards and unlock special spells packed with extraordinary animations, with each spell being highlighted by a brief performance from K/DA members. What's even better is that you get to snag a complete playset (3 copies each) of all five just by playing all during the event.
These five new cards have been added to the game and can be unlocked by completing the free portion of the event path (composed of icons, spell cards, an emote, and a card back). Once earned, these cards will be usable anywhere and can be crafted through Shards or Wildcards or earned through chests like any other card after the event is over.
This event simply raises the ante of your LoR gaming experience.
Event Quests
Play any game (including AI and Friend Challenge) to complete quests to gain Hearts and get a crack at exclusive K/DA ALL OUT rewards. Continue playing to progressively unlock five pairs of Epic Quests (a total of ten). The first quest will reward you with Hearts, while the second will unlock icons for each member of K/DA.
Together with these Epic Quests are a series of nine Event Quests which show up in the Event tab. These quests unlock in a sequence and earn players more Hearts to progress along the path.
K/DA Event Pass
Get access to an upgraded event path loaded with premium rewards and instantly unlock the new Stella Guardian when you upgrade to the new K/DA ALL OUT Event Pass. It can be purchased in the store for 975 Coins.
Level up to the highest and unlock the coveted K/DA Card Backs Signature Edition, personally signed by K/DA members themselves. How awesome is that!
New Lab: Star Power

The event also brings the spotlight to a new kind of lab to Legends of Runeterra dubbed as Star Power. This Lab will be live for the usual two weeks, but will change its tune after the first. It works by:
During week one, choose one of 5 preconstructed decks, each centered on one of the new K/DA spell cards. Each deck comes with a unique "always-on" passive ability that complements the featured spell.

During week two, constructed unlocks! You'll be able to choose from those preconstructed lineups, or bring your own playlist. Pair any of the passive abilities you want with the perfect deck to make it really sing!
So, are you excited for the show? Hurry, event runs until November 24 only!
Top up your Legends of Runeterra Coins in seconds only at Codashop. We do top-ups better, faster and safer for your convenience and peace of mind.