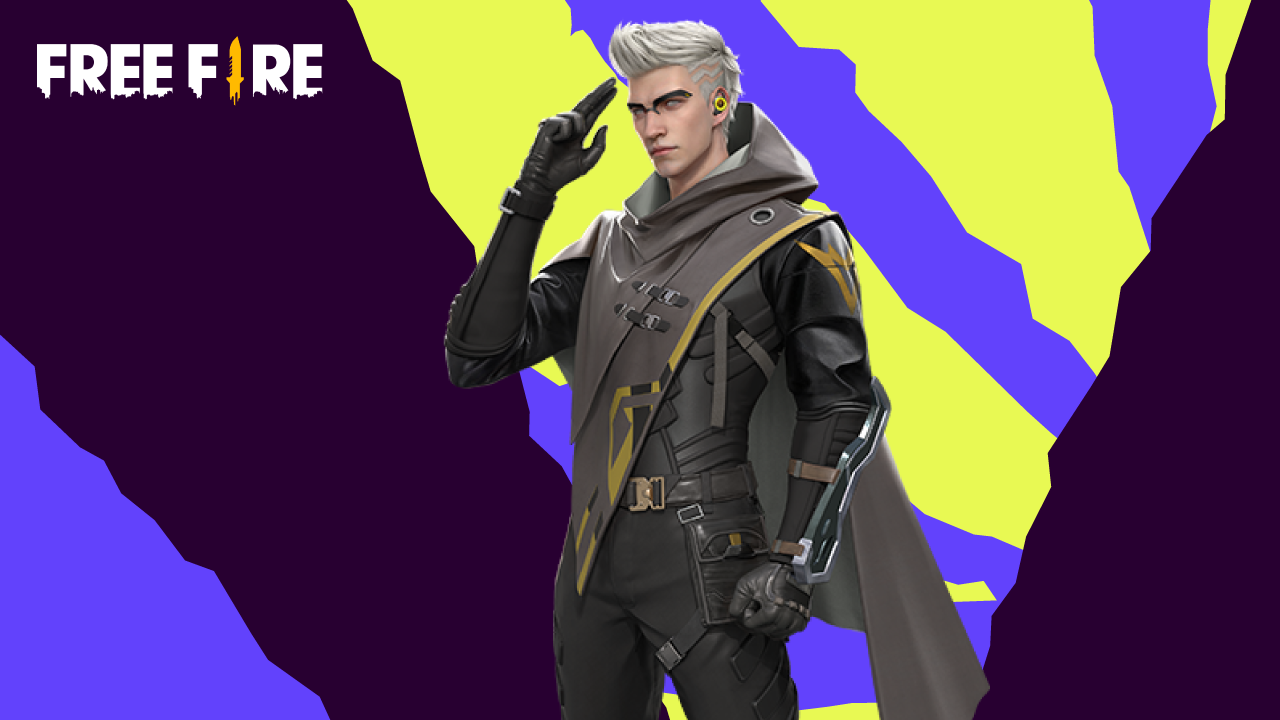 Free Fire Homer is the newest character in the game that came with the OB34 update. As a blind assassin, Homer is unique with his ability to release a drone that damages and slows down enemies. His active skill makes him at par with some of the most powerful in the game, let alone become a meta pick soon. Check Homer's abilities and the best character combos that work well with him.
Homer Story
Homer is one of the founders of a tech gang based in Griza. He is a blind assassin who has recently lost his grip on power. But his other senses more than make up for his loss of sight. Homer is on a mission to discover the truth behind the strange disease that blinded him, the mysterious research institute he called his school, and the rare earth mineral linked to it all.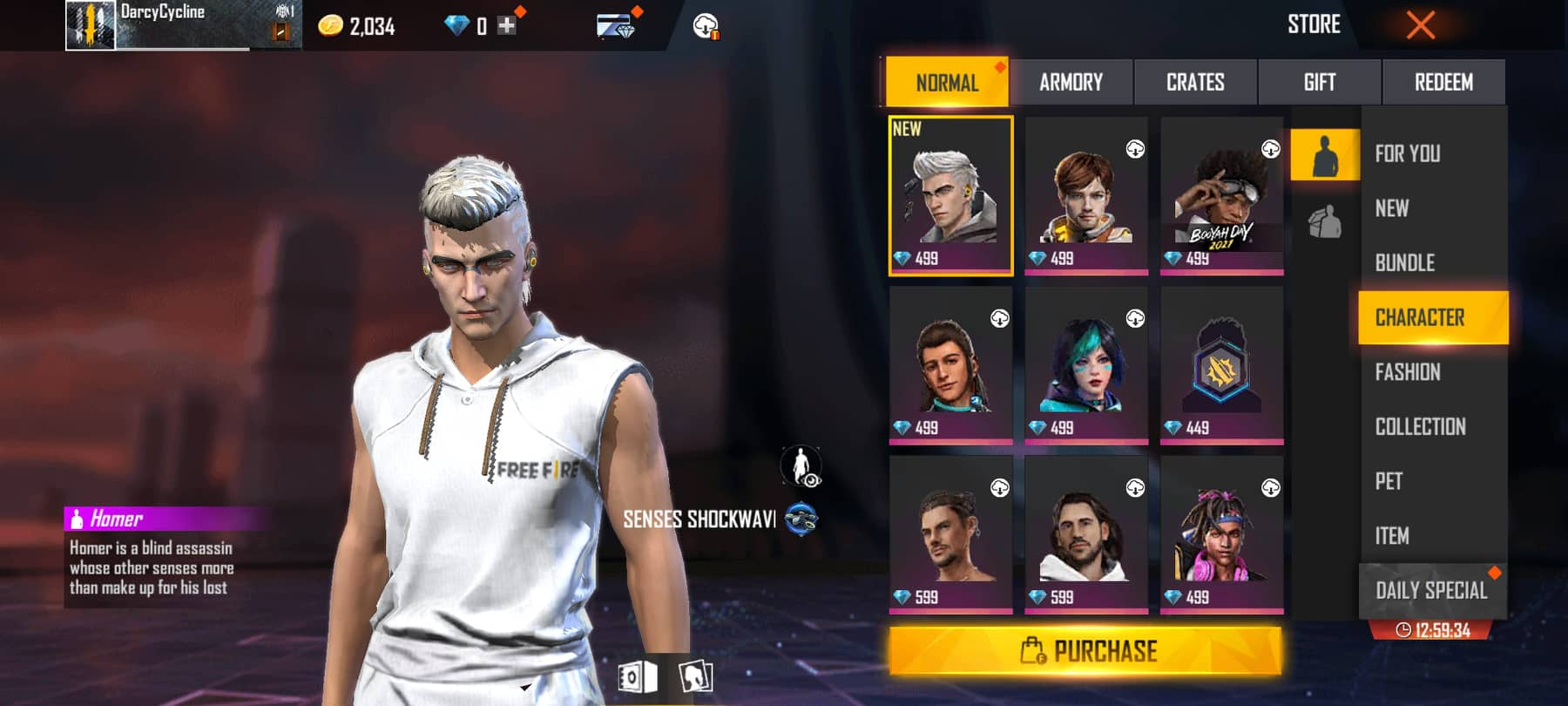 How to get Homer
Free Fire Homer character is available in the Store for 499 Diamonds. His Special Outfit can be obtained separately.
Free Fire Homer Ability
Homer has the active ability called Senses Shockwave. Using this ability allows Homer to release a drone towards the nearest enemy within 100 meters, creating a 5-meter pulse explosion that can reduce movement and firing speed. Senses Shockwave lasts for 5 seconds and deals 25 damage. The cooldown is at 140 seconds.
Here's how Homer's Senses Shockwave stacks up at each level to the maximum (Level 6). With each level up, the movement and firing speed reduction of the affected target increases. The cooldown time of the skill also shortens significantly.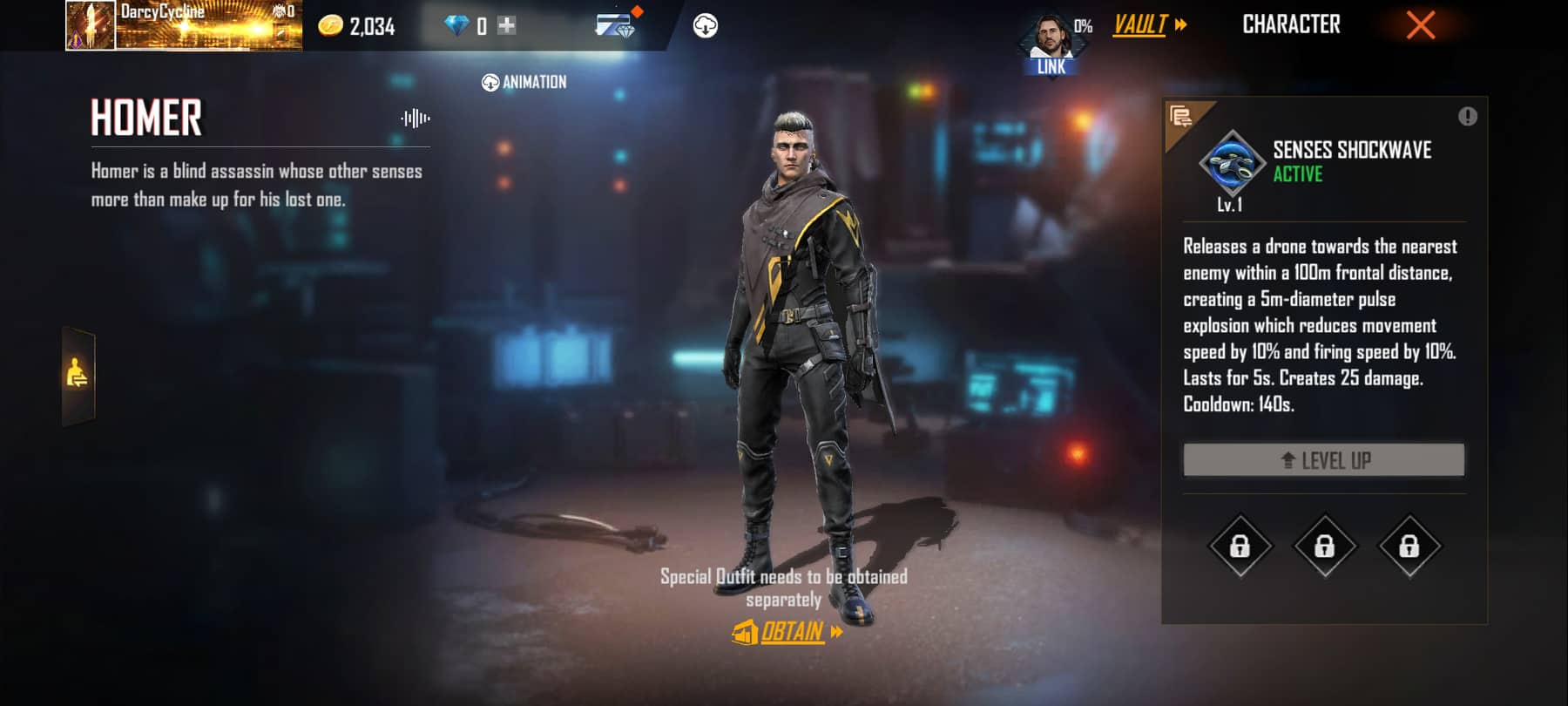 Level 1: Reduces movement speed by 10% and firing speed by 10%. CD at 140s.
Level 2: Reduces movement speed by 20% and firing speed by 15%. CD at 130s.
Level 3: Reduces movement speed by 30% and firing speed by 20%. CD at 120s.
Level 4: Reduces movement speed by 40% and firing speed by 25%. CD at 110s.
Level 5: Reduces movement speed by 50% and firing speed by 30%. CD at 100s.
Level 6: Reduces movement speed by 60% and firing speed by 35%. CD at 90s.
Why you should get Homer on your team
Players who pick Homer can have a significant advantage in immobilizing and damaging enemies with his special ability in such a short span. For teams who encounter Homer (and his drone) in battle, get your gloo walls ready!
Best character combo for Homer
Shirou
Tracking enemies who shot you is Shirou's forte, and the skill grants bonus armor penetration on your first successful hit. Put Homer in the picture, and with his drone, your tandem can easily track, cripple, and kill enemies.
Hayato Firebrand
Hayato's passive skill paired with Homer's ability is a winning combination! By providing some sort of a shield( reduced frontal damage for every max HP loss), Hayato can help Homer survive longer in battles while doing the damage with his drone.
Jota
Jota's specialty helps you gain HP in the middle of gunfights. For players with a rusher play style, this is a significant advantage. Imagine pairing Jota's healing with Homer's ability to reduce enemies' firing speed; you can easily dominate the opposition.
Don't forget to top up your Free Fire Diamonds only on Codashop. We offer easier and faster top-ups with no logins or passwords required.