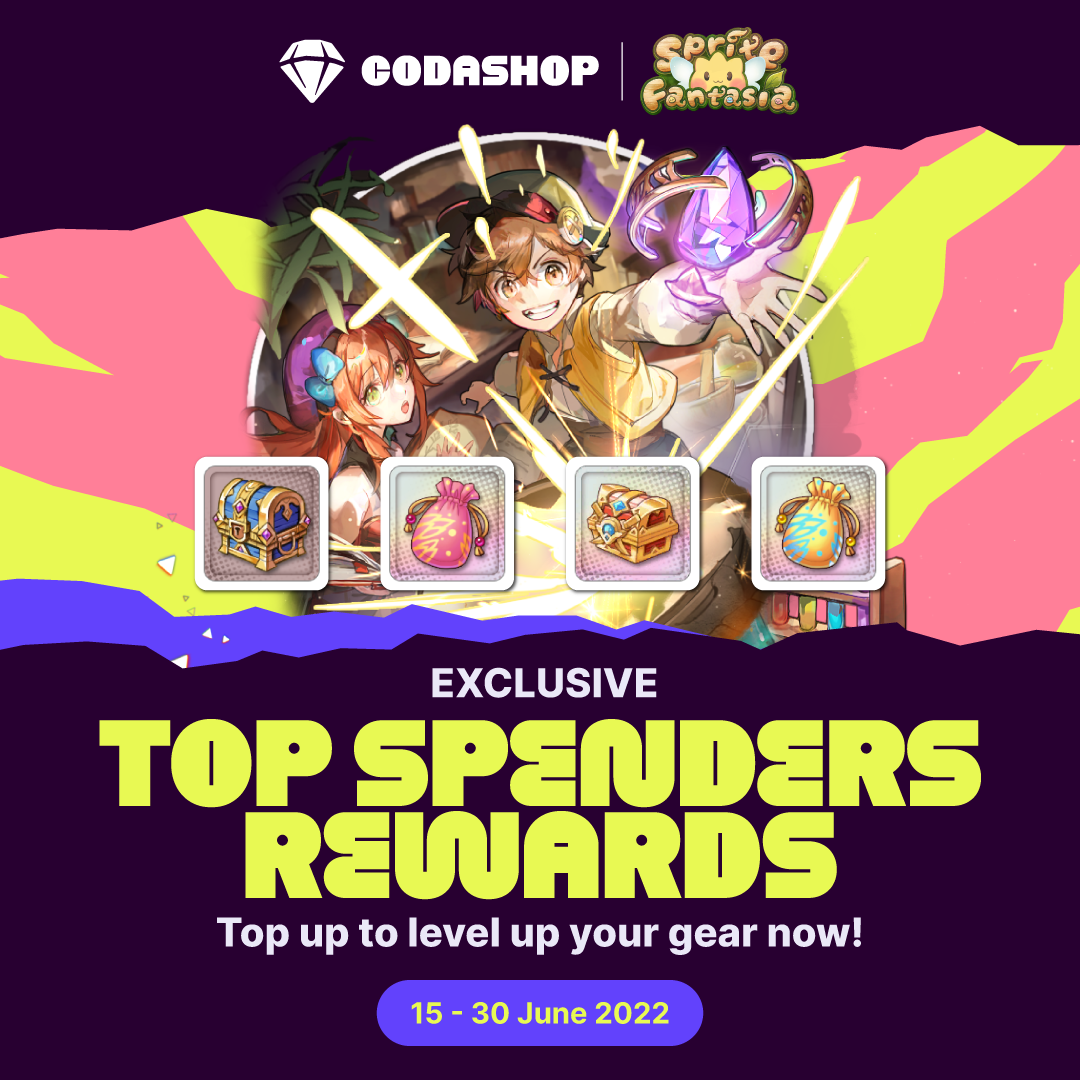 Sprite Fantasia Special! Win Exclusive Top Spender Rewards on Codashop
Attention Messengers, during 15 – 30 June, top 5 spenders of Sprite Fantasia on codashop will be gifted with special high-valued rewards!
Terms & Conditions
Promotion period: 15-30 June, 2022.

How to join:
1) Top up any amount of Sprite Fantasia Prism Gems on Codashop.
2) 5 users with the highest accumulated spend during the campaign period will win the gift package.
This promo is open to Sprite Fantasia players in Malaysia.

Winners announcement will be posted on Codashop's Facebook page within 7 days after the campaign ends (before 6 July). Winners will be contacted via email on the same day as the announcement. The winners must reply and confirm his/her details to claim the prize within 7 days from the announcement date (before 13 July). Prizes are non-transferable and non-exchangeable to cash.

After the winners confirm the details, the prize will be directly credited to the player's account by Sprite Fantasia within 7 days (before 20 July).
6. By taking part in this campaign, all participants are deemed to have provided expressed consent for Codashop to process, use, and/or transfer (where necessary) the contestant's personal information, for the purposes of this campaign.
Fraud, abuse of redemptions or any dishonest activities related to the campaign may result in the forfeiture of bonus entitlement.

All decisions by Codashop and Sprite Fantasia are valid.

Promotion rewards:
Top Spender

【Brilliant Wings Weapon Choice】X1

Open to choose 1 of the weapons below.

*Brilliant Wings weapons can have their weapon abilities reforged

Selectable weapons:

Brilliant Wings Sharpsword x1

Brilliant Wings Coveted Staff x1

Brilliant Wings Quickbow x1

Brilliant Wings Divine Maul x1

Brilliant Wings Furyaxe x1

Brilliant Wings Goldtome x1

Brilliant Wings Shadowblade x1

Brilliant Wings Heavy Mallet x1

Brilliant Wings Godsword x1

Brilliant Wings Scepter x1

Brilliant Wings Bow x1

Brilliant Wings Hammer/Shield x1

Brilliant Wings Greataxe x1

Brilliant Wings Mysticana x1

Brilliant Wings Dualblades x1

Brilliant Wings Mallet x1

2nd Top Spender

【Grade III Legendary Card Choice Pack IV】X1

Select one of the following items:

Holy King: Narmi x1

Holy King's Wisdom: Narmi x1

Girl of Destiny: Gattice x1

General: Zall x1

Overlord: Bazlan x1

Sage: Babama x1

Master of Magic: Doven x1

Wasteland Witch: Dolf x1

Four Seas Trade: Olsen x1

Science Institute: Nicolai x1

Wings of Fortune: Bluelark x1

Guardian Sprite: Faceless x1

Marauder Queen: Blue Scorpion x1

3rd Top Spender

【Legendary Mount Shard Choice Pack IX】X10

Select one of the following items:

Goldbell Chinchilla Shard x1

Halloween Broom Shard x1

Fire Roasted Nest Chicken Shard x1

Demonbell Cat Shard x1

Roly-poly Penguin Shard x1

Holiday Train Shard x1

New Year Tiger Shard x1

Romantic Love Boat Shard x1

Skyvoid Crescent Shard x1

Cool Heavy Motorcycle Shard x1

Confession Balloon Shard x1

Warmech Scorpion Shard x1

4th Spender

【Cool Weapon Pack III】X1

Select one of the following items:

Rising Star Greatsword x1

Stripy Cat Palm Staff x1

Sweet Microphone x1

Electromag Bunny Mallet x1

Scarlet Moon Naginata x1

Authentic Musashi Bow x1

Silversnow knife and fork dual swords x1

X'mas Gospel Rapier x1

Crystal Thunder Warhammer x1

Netherfire Glaze Staff x1

5th Top Spender

【Cool Accessory Pack III】X1

Select one of the following items:

Goldspray Wings x1

Cute Bear Cone x1

Cute Meow Family x1

Butterscotch Rabbit x1

Golden Glory Wings x1

Stardragon Ray Wings x1

Morning Moon Lucky Cat x1

Sprite Ferris Wheel x1

Circus Sprite Back Accessory x1