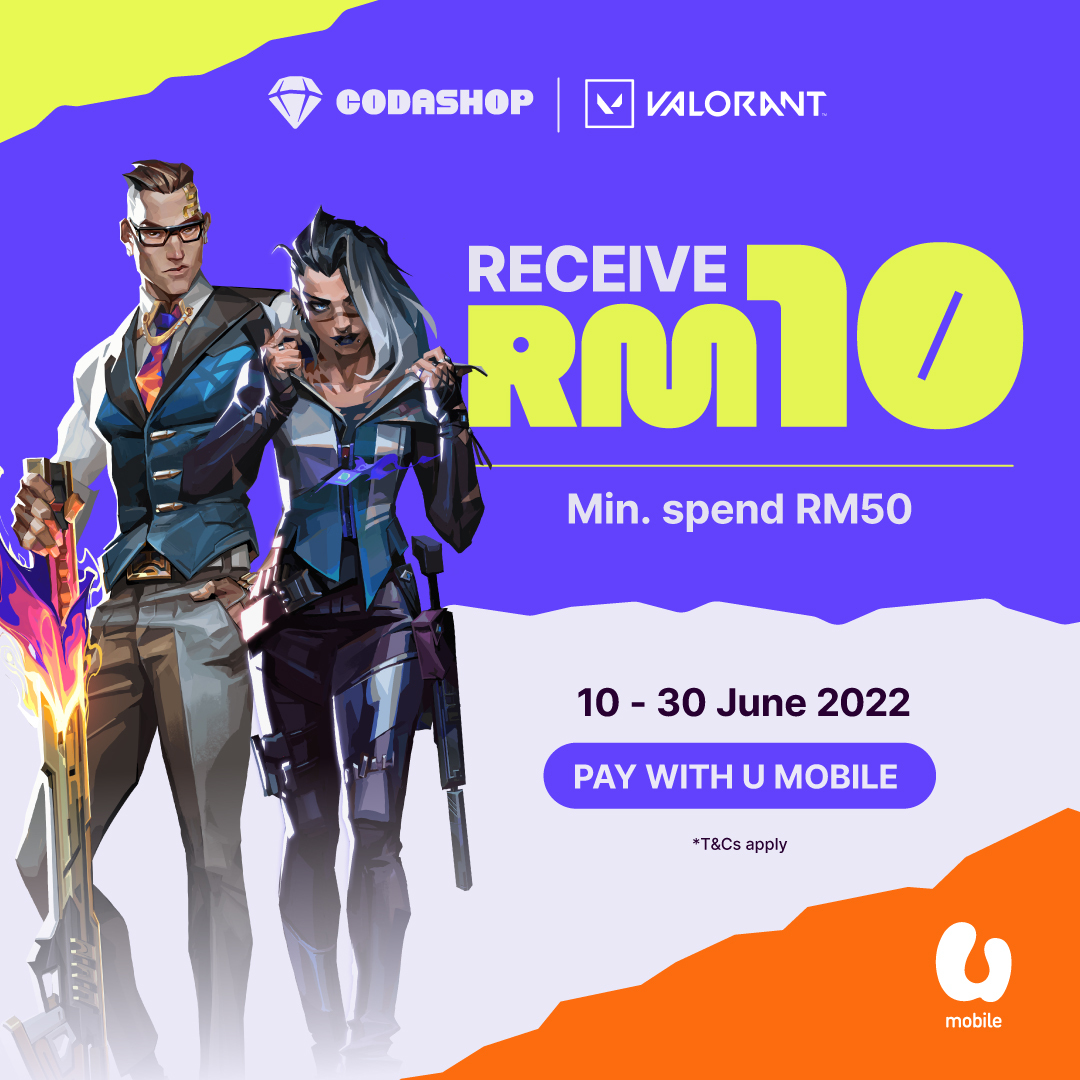 VALORANT: Receive RM10 with U Mobile
BREAKING NEWS for all U Mobile users! 📣 Spend a min. amount of RM50 worth of VALORANT Points and receive 20% cashback (capped at RM10) in the form of rebate to customer's U Mobile's prepaid account within 2 weeks after campaign ends. TOP UP NOW!
Terms and Conditions
Event will run from 10th June, 12.00AM – 30th June 2022, 11.59PM MYT.
Campaign mechanics:

Top up minimum RM50 of VALORANT Points on Codashop with U Mobile.
First 6,000 users will be chosen to receive RM10 cashback.
Cashback will be in the form of rebate to customer's U Mobile's prepaid account within 2 weeks after campaign ends.

Winners Criteria:

First time Codashop and UM DCB user. (Definition of first time UM DCB user: No DCB history with UM for past 6 months)
Is an existing U Mobile user for more than 3 months and the prepaid account is active.
Customer opt in to the campaign by giving their UM number in Coda's sign up page
Each MSISDN will only win once and the qualified criteria is based on the transaction with the earliest timestamp.
General
Prizes are non-transferable and non-exchangeable for cash or other items. All pictures to illustrate the prizes are for representational purposes only.
By participating in the campaign, users agree to abide by the campaign Terms and Conditions and agree to be bound by the campaign Terms and Conditions including any amendments or variations thereto as well as any decisions made by Codashop.
Entries will only qualify for the campaign if the entry is submitted within the campaign period. Entries submitted outside of the campaign period, or submitted through any means other than specified herein, will not be eligible. Any complaints on missing and/or delayed submissions will not be entertained.
All Eligible Participants who are notified as Winners must comply with the necessary requirements from the Organiser including these Terms and Conditions before any prize is awarded and are therefore advised to read these Terms and Conditions prior to accepting any prize. Upon acceptance of any prize, a Winner is deemed to have agreed and be bound by all the terms and conditions of this Contest herein.
The Organiser has the right to reject or disqualify any Eligible Participant and/or Winner who fails to comply with these Terms and Conditions or requirements imposed by the Organiser without giving any reason or cause and without any liability or compensation whatsoever.
Acceptance of any prize constitutes permission to use the Winner's name and/or likeness for advertising/trade purposes without further notice or compensation, unless prohibited by law and subject to the data protection provisions below.
By taking part in this campaign, all participants are deemed to have provided expressed consent for Codashop to process, use, and/or transfer (where necessary) the contestant's personal information, social media handle and photos submitted, for the purposes of this lucky draw.
In the event that any prize is unclaimed within such period, or there is no winner determined in respect of the prize, it will be dealt with at Codashop's sole discretion.