Lazy mornings in Windrise, sunsets in Qingyun Peak, Enkanomiya's artificial sun, Seirai Island's calamitous shores, and the Sumeru Desert's enchanting evenings — these are just a few of the many picturesque sights in Genshin Impact. These sights, along with the beautiful music and character designs, serve as a deep well of inspiration for players, which is why fan art is abundant. Concept designs, short films, and Windsong Lyre covers? You name it, and there's probably an entire results page online.
Another popular creative outlet is the Genshin Impact Serenitea Pot, the game's housing feature introduced in Patch 1.5. This gadget enables players to craft furniture, design their own space, harvest items, and participate in different co-op activities with their friends.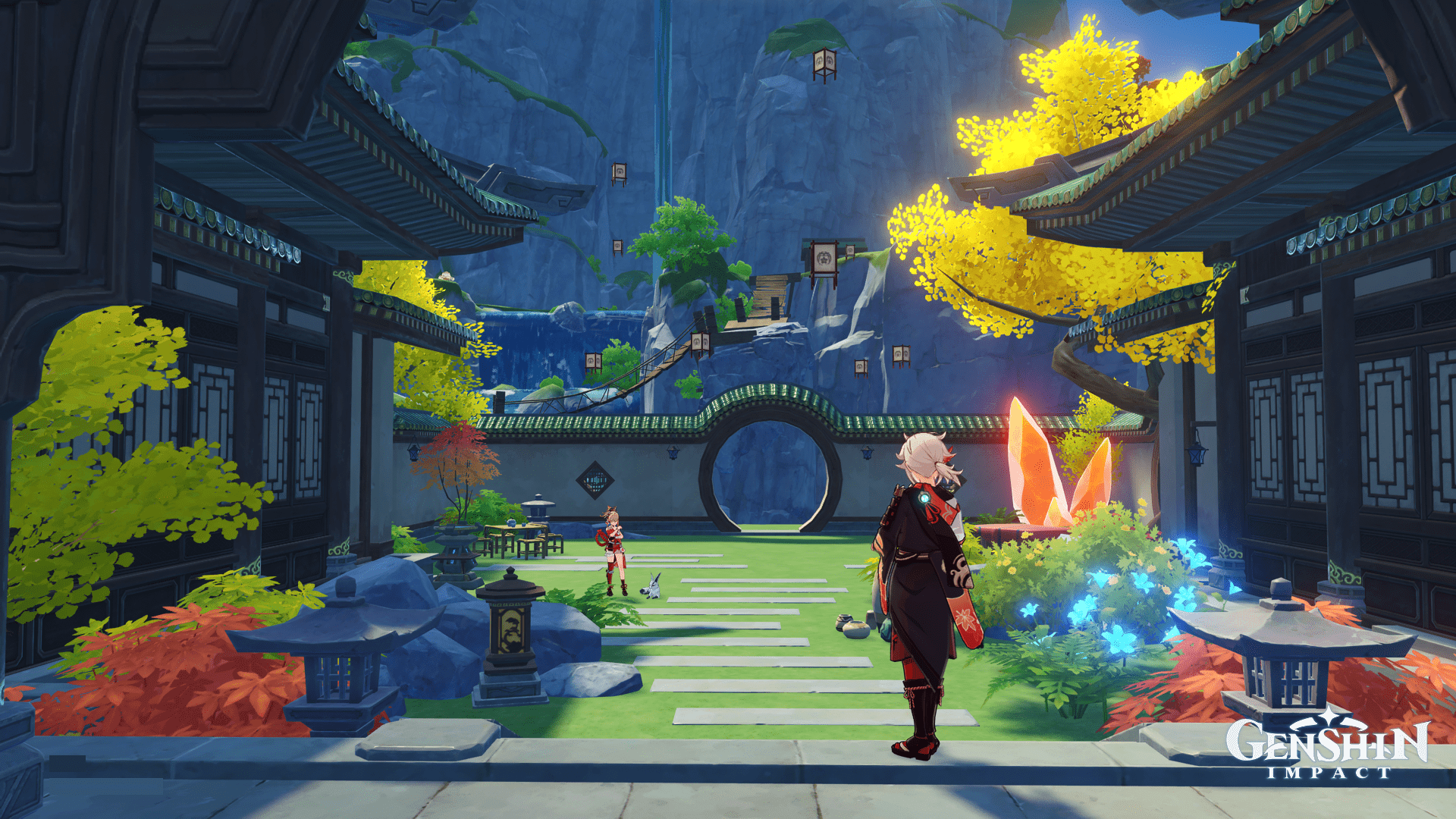 How to access the Serenitea Pot
Once you reach Adventure Rank 28 and finish Archon Quest – Chapter I, Act III: A New Star Approaches, you'll unlock the "A Teapot to Call Home" quest. Completing this quest rewards you with the Serenitea Pot gadget and provides insight into how the feature fits into the lore. Use the gadget to enter and exit the Serenitea Pot Realm.
Choosing a realm layout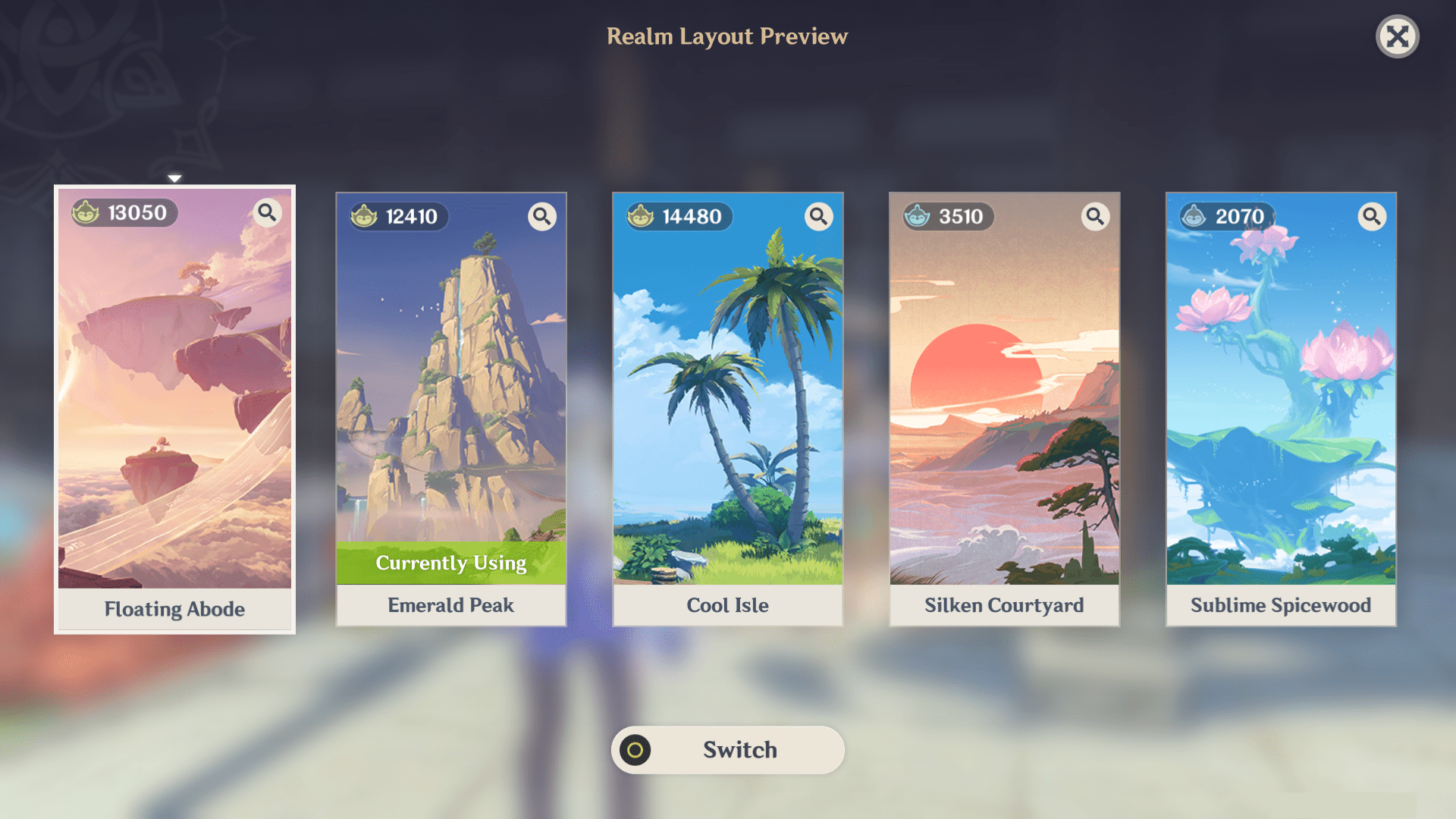 The first thing to do is to choose a Realm Layout. This will determine the general theme of your home world but don't worry too much because you'll be able to unlock all of them as you progress. Currently, there are five layouts to choose from:
Floating Abode – an island cluster suspended in mid-air. The typical look of most Adepti realms. Unlike the others, this layout does not have a Day and Night mode.

Emerald Peak – crystal-clear waters and lush plateaus enveloped by a group of cloud-piercing mountains.

Cool Isle – a cluster of small islands surrounded by water. Pick this if you're missing the Golden Apple Archipelago vibes!

Silken Courtyard – a group of mountain islands embellished with beautiful Sakura Trees. I kid you not; any screenshot taken in this realm layout will pass as a desktop wallpaper.

Sublime Spicewood – inspired by Sumeru's domains, this realm features giant flowers and vines.
Tubby the Teapot Spirit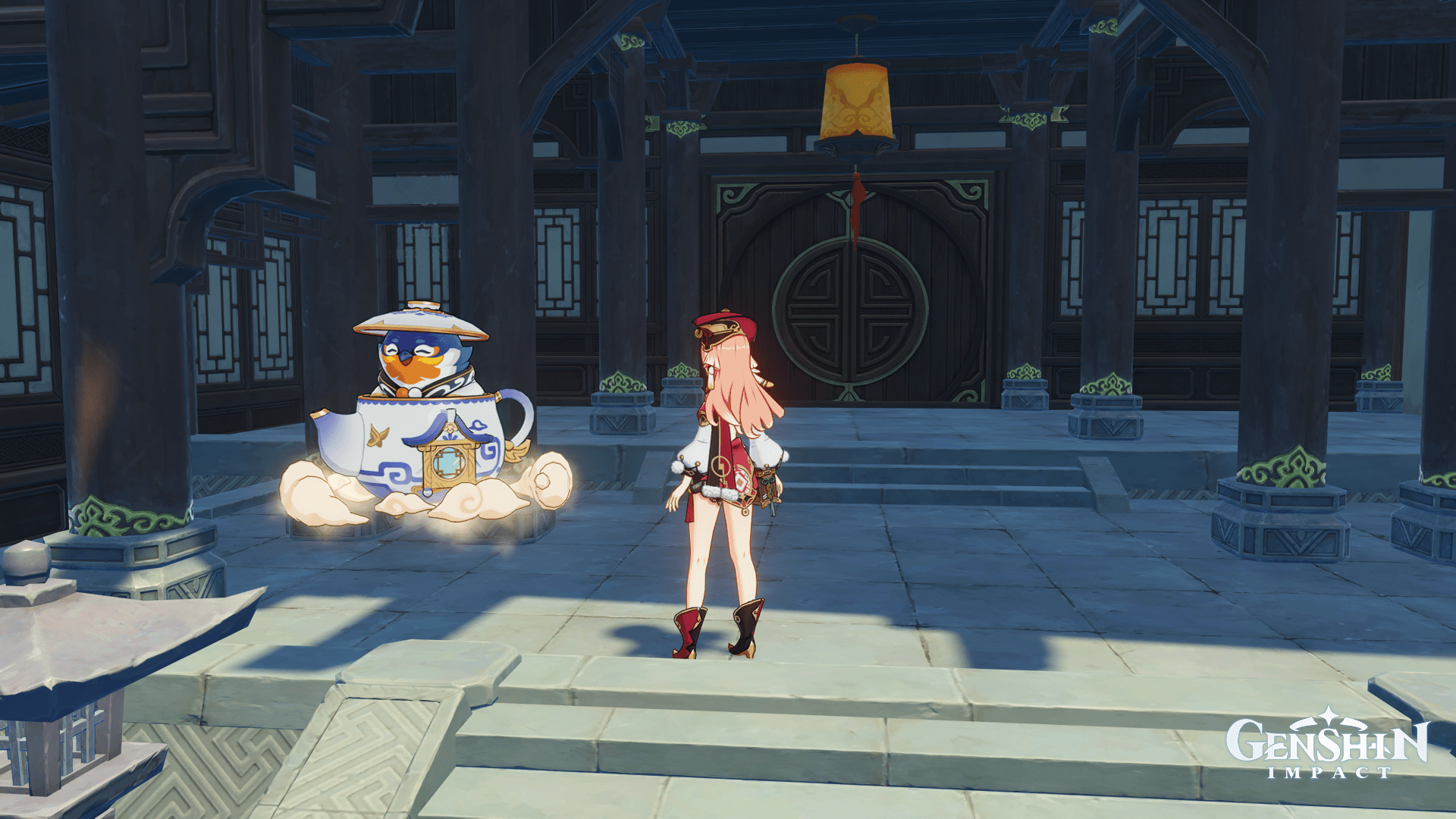 Tubby is like the Katheryne of your homeworld, not just because players are skipping her voice lines but also because she'll be the one to guide you through the progression. She's a one-stop shop-slash-NPC for all your Teapot needs: you can browse, buy, and craft furniture, increase Trust Rank and Adeptal Energy, and collect Realm Currency with her.
Realm Currency, Adeptal Energy, and Trust Ranks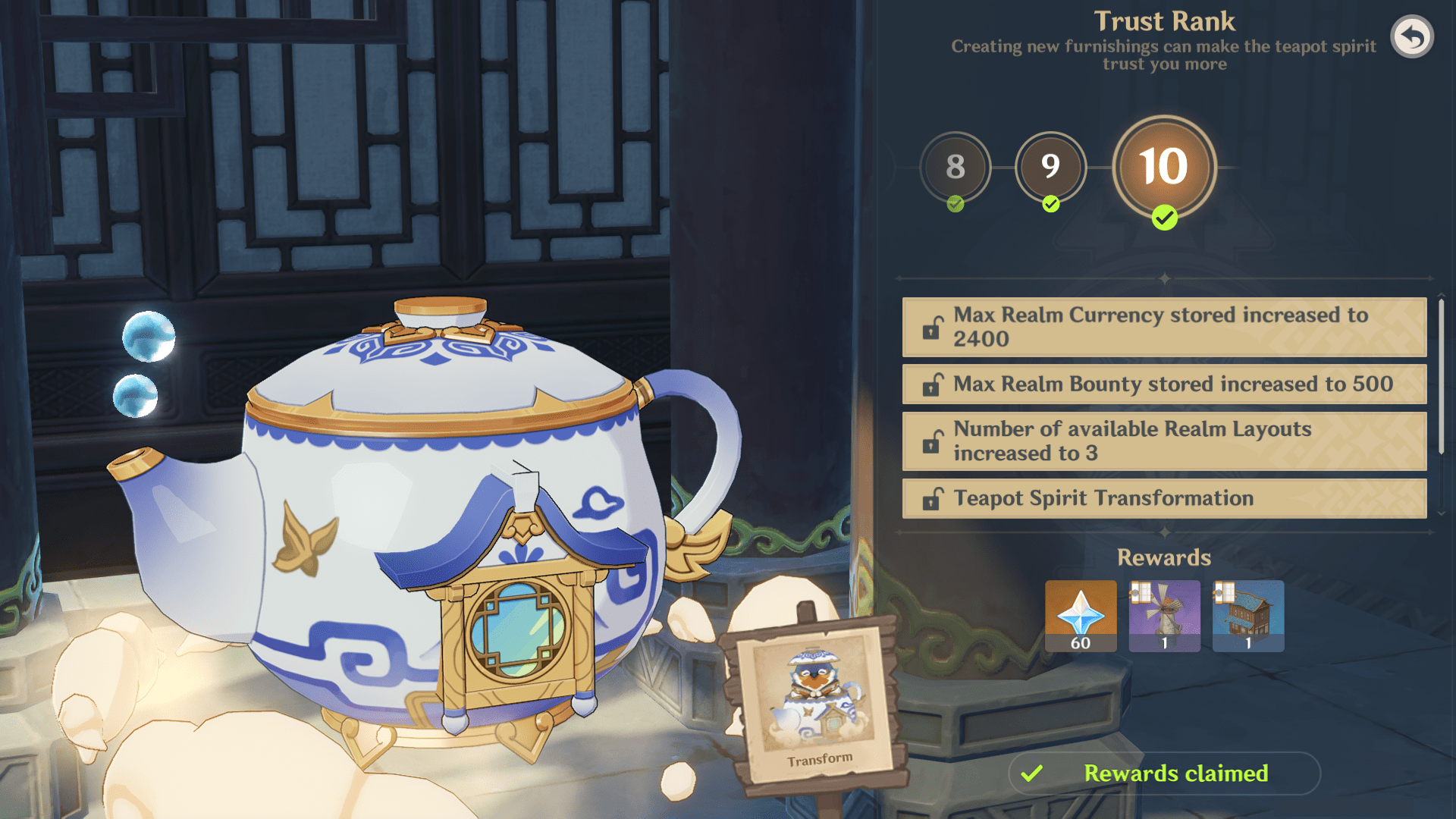 These three work hand in hand. Realm Currency is the Mora of your homeworld. You can use it to buy furnishing blueprints, materials, and consumables. Tubby automatically accumulates Realm Currency at a set amount per hour.
Creating furnishings for the first time increases your Trust Rank, which determines the overall capacity of your homeworld. Level it up to unlock new realm areas and layouts. Adeptal Energy determines the rate of Realm Currency accumulation. You can increase this by placing more furnishings in your teapot.
Adeptal Mirror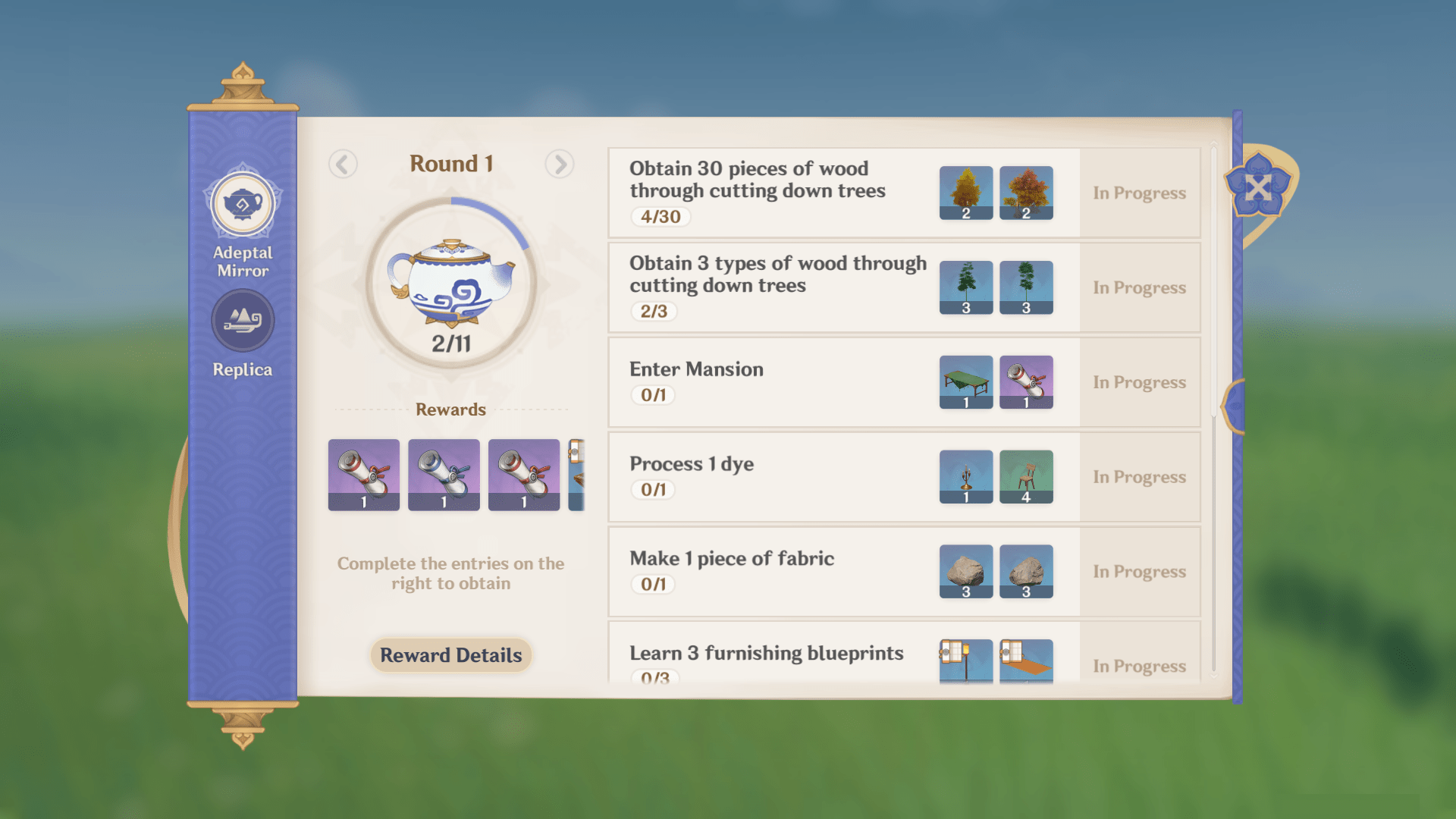 Similar to other permanent in-game features like Stellar Reunion and Genius Invokation TCG, Hoyoverse also includes a "quest book" feature in this one to help you learn on the fly. Completing Adeptal Mirror tasks grants furnishings and blueprints.
Interface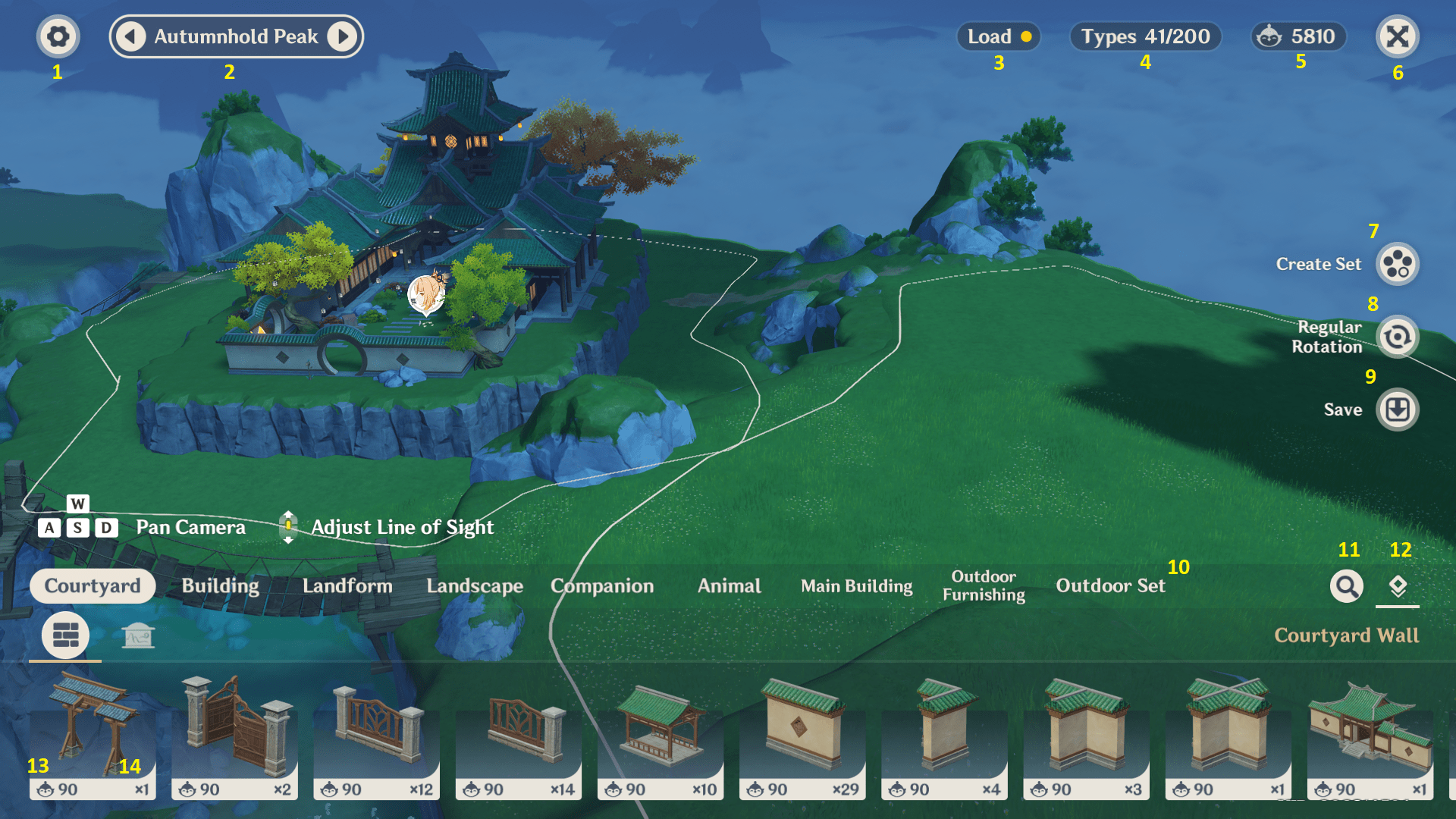 Settings: sets furnishing placement methods for easier and more efficient building.

Realm Area toggle switch: switches through different realm areas.

Load capacity: this load limit optimises your build so players can view it on any device.

Furnishing type limit

Adeptal Energy (per area)

Exit button

Create Set button: allows you to move a set of furnishings together.

Rotation settings: toggle between "Free Rotation", "Follow Last Rotation", and "Regular Rotation". It helps when placing furnishings of the same kind.

Save button

Furnishing categories

Furnishing search button

Toolbar collapse button

Furnishing Adeptal Energy

Number of furnishings available for use
Chubby the Traveling Salesman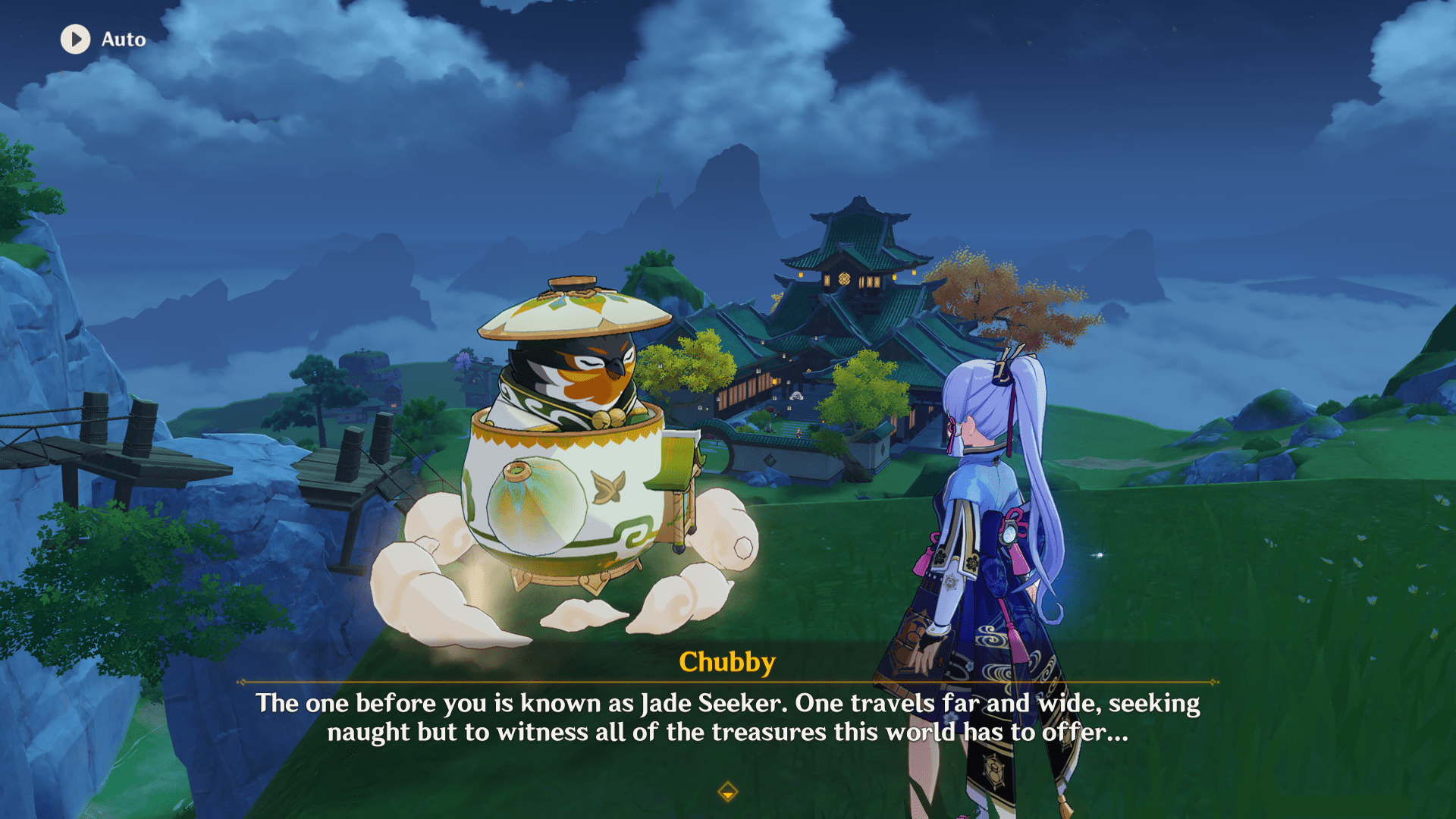 Chubby is another teapot spirit you'll see in your teapot. He sells random furnishings in your teapot every Friday to Sunday. Be sure to check his wares as soon as he arrives, as his shop also opens to your Genshin Impact friends on the weekend!
Replication
Everyone deserves a fancy-looking realm, but only some have an eye for design. Good thing you can use the Replication System to borrow teapot builds! This option is disabled by default, so if you see players sharing builds, don't forget to thank them.
For a Replica ID to work, you must have all the furnishings included in the build. Better start farming those wood chunks!
Before you put your hard hat on, remember to top up Genesis Crystals for Genshin Impact only at Codashop. It's easier and faster, with plenty of safe and convenient payment methods available.