The prestige of Esports has brought a wave of aspirations from gamers, spectators and  average joe's with its express lane to lucrative cash prizes. But beyond playing, there's another way to become part of the competition sans the god-like gaming skills – shoutcasting.
Shoutcasting is amplifying what the players are achieving and bringing their stories to the world. Its contribution is to evoke audience interest. It's become a workable career path teeming with fabolous opportunities. So, how does one become a shoutcaster? Is it as simple as doing commentaries in front of the mic? 
We spoke to pro caster and analyst Neil 'Midnight' de Guzman as he shared his journey and some golden nuggets on how to make it good in the biz, including talking to a conyo friend.
Create stories for the game
Neil has been shoutcasting for the last seven years. He wasn't supposed to be a caster but a coaching stint for Wolf from MineskiTV for an international cast for ROG Malaysia led to the chance of a lifetime.
"Shoutcasting is our way of giving life to the game and bringing the energy for the viewers to enjoy. It gives a story to what spectators are seeing." It's the Esports version of commentating. The two broadcasts are very similar but inherently different, including duration, pace and styles.
What makes a good cast
A good cast is when it goes unnoticed but felt. It's when the viewer watches the game, enjoys it, listens to the analysis, and gets hyped by the Play by Play (PBP). "You don't want your audience to be distracted by the voice of the broadcaster. The things needed to be said are the things that are worth mentioning."
He added that maintaining spontaneity and hype is hard. "Every game is different with a lot of complex outcomes and situations. If it's a featured match, it's natural for people to get hyped. But when a game is kinda boring, it's the hardest to find the energy for it. What we do is we treat every series as the BEST series. That way, we can always bring up the things that matter and energize ourselves, the game, and the viewers."
Know your goal and work on your development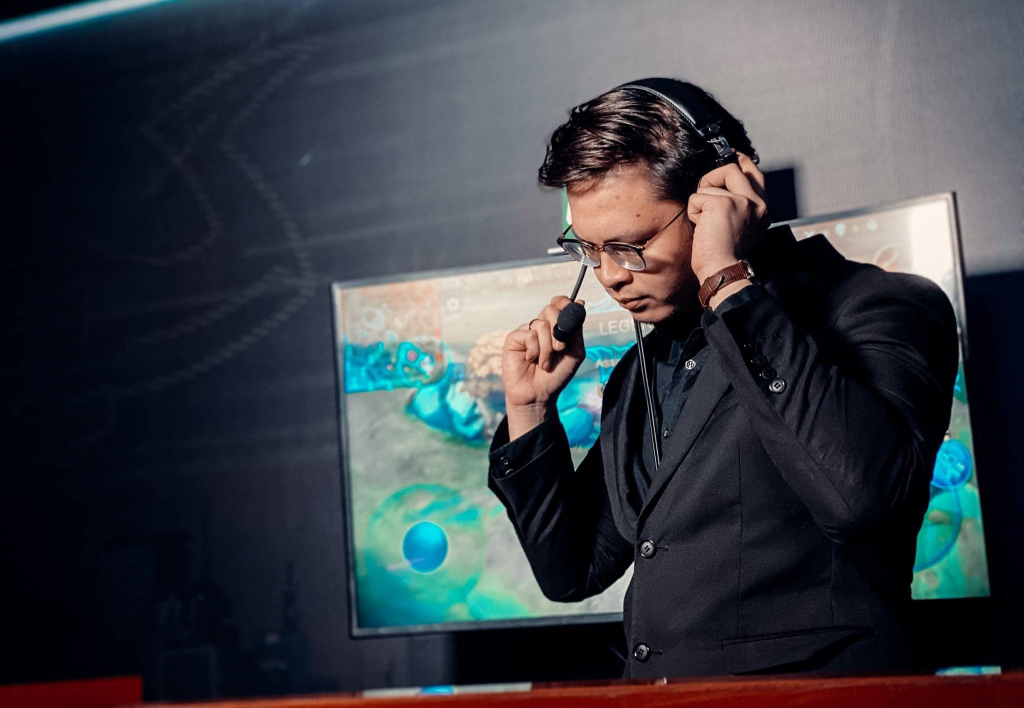 As a pure analysis caster, Neil wants the people to learn. His goal is to give information oftentimes missed by the regular viewer. He gets pumped up when he gets to discuss a certain aspect of the game during a cast. His style is to elevate the overall player base knowledge.
In his perspective, the difference between traditional sports broadcasting and Esports commentating is that the former will only take place during game day. For Esports, games are updated and patched, metas evolve, and mechanics change overtime. Development is a daily process and his everyday routine helps improve his skills. Talking to people, using more words from the dictionary, reading articles or even the random 10 minutes-stare into blank space-thinking, all help to hone his casting.
Coffee as the ultimate mana in preparing for events
Neil recounts that you don't necessarily prepare for casting because you do it every single day. "As a pre-event routine, I try my best to play the game that I'm about to cast since game knowledge doesn't purely translate to "game feeling". Neil conducts his own research including stats, background or history and player nuances. He maintains a healthy routine for his voice for the day itself by getting enough sleep, avoiding cold drinks, modulating before cast, and most importantly, taking coffee. 
Neil laughs it off saying: "Coffee is my mana. If I don't have coffee, I don't have mana. I don't have the skills and my raw analysis. My brain turns soft".
The best and hard parts of the job
The best part is seeing the viewers learn. "When they picked up what you discussed, that feeling is ecstatic and irreplaceable." The hardest part is when naysayers hurl harsh comments because they feel like I'm acting as a know-it-all. "It's natural and all part of the job. You can't please everyone, but you can keep pleasing the people who are pleased." 
His ultimate gig is at The International (TI). "It's every Dota 2 caster's dream job. To be able to work on the biggest stage of Esports, not just Dota 2, will cement your career as a caster." His dream partner is with Ioannis "Fogged" Loucas.
Neil also works as Head of Operations for Sterling Global Dragons, a professional team turned content hub.They create content tailored for aspiring players to elevate their gameplay to bridge the level of amateur and professional. Its vision is to nurture young talent to compete and achieve in the biggest of stages.
Best advice for aspiring shoutcasters
Work on your game knowledge everyday. Play and understand it. Read patch notes and articles. Watch pro games and caster analysis. "When you've reached mastery level, look for things that you might have missed. Game knowledge in Esports never reaches a peak as things always change. When something defies what you already know, learn from it." 
Wannabe PBP casters can improve vocabulary and communication skills by talking to people everyday. "Find conyo friends. They'll help you improve your vocabulary and correct your diction. Example you say 'paramis'  they'll say 'prom·​ise' with a pop on 'p'. They are most helpful when you want to learn about speech patterns and vocabulary. Also, use more words to avoid repeating phrases and modulate your voice. Your daily interaction will actually help a lot in shoutcasting.
To become successful, you need to build connections, networks, and relationships. Shoutcasting is essentially freelance work and a good foundation is building relationships with clients. The trust of getting you again for a specific gig and being referred to other clients. Even if you are the best shoutcaster, if you don't have the relationship with clients, you will be limited.
Don't forget, you still have time to send your entries for the Codashop Global Series Shoutcaster Search! Huge prizes plus an exclusive shoutcasting contract await the winners. See you there!