What is Mobile Legends' Starlight Membership?
Mobile Legends' Starlight Membership is a system created to reward players based on their Starlight points progression. Players that sign up for membership obtain the Exclusive Permanent skin right away, as well as unlocking the premium prize pool.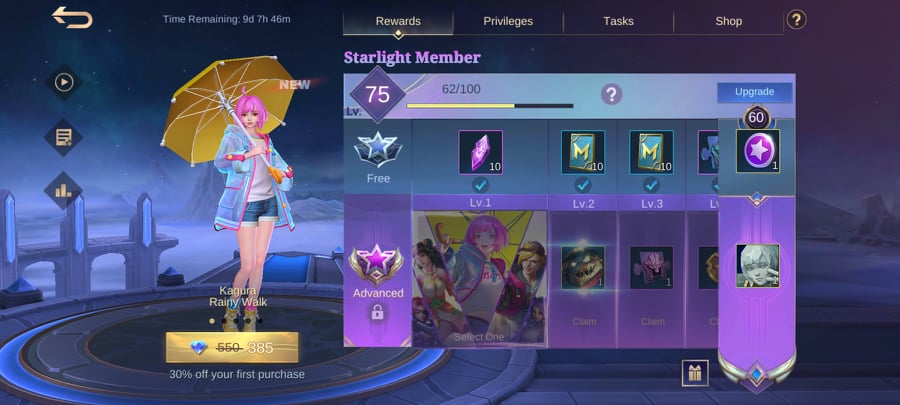 When you open the Starlight window in Mobile Legends, you will see two rows; Free and Advanced. Every player is eligible to receive all the rewards on the Free row, while the Advanced row is only for Starlight & Starlight Plus members.
New Starlight Membership Feature + Better Perks
Mobile Legends has recently made the biggest update on its Starlight perks. Starting April 2021, Starlight Members can choose one (1) free skin from the five (5) Starlight skins! Topping the exclusive skin rewards this month is the charmingly colourful Rainy Walk for Kagura. It's undeniably one of the best skins in Mobile Legends to date. Other options include Guinevere's Lotus, Lesley's Lethal Lady, X.Borg's Graffiti Fashion, and Esmeralda's Cleopatra.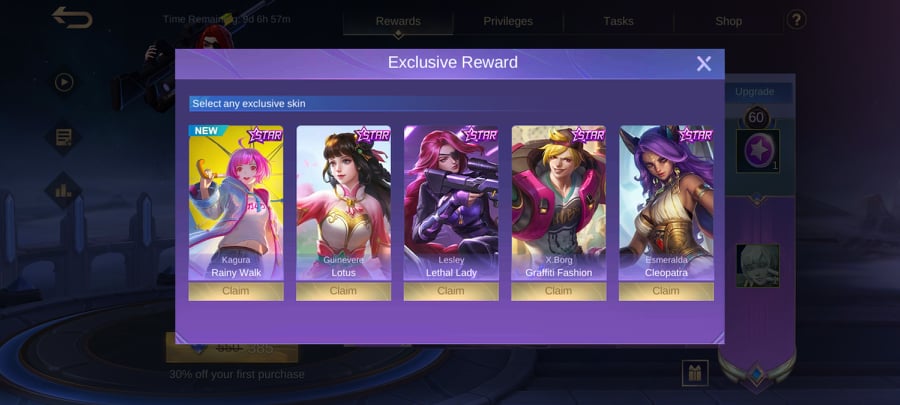 But wait, there's more! With the recent update, members can change their weekly free heroes/skins at will (once per week). Lost a ranked match? Don't worry as members earn 10 extra protection points in their losing effort. An exclusive membership icon will also be given for Starlight members to flaunt.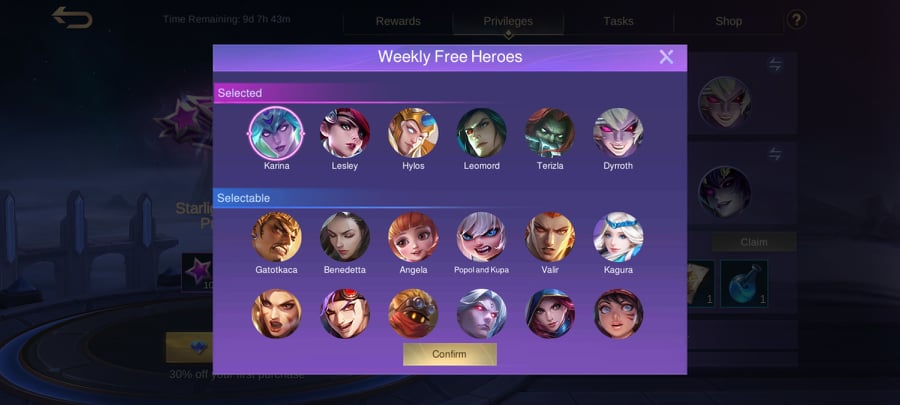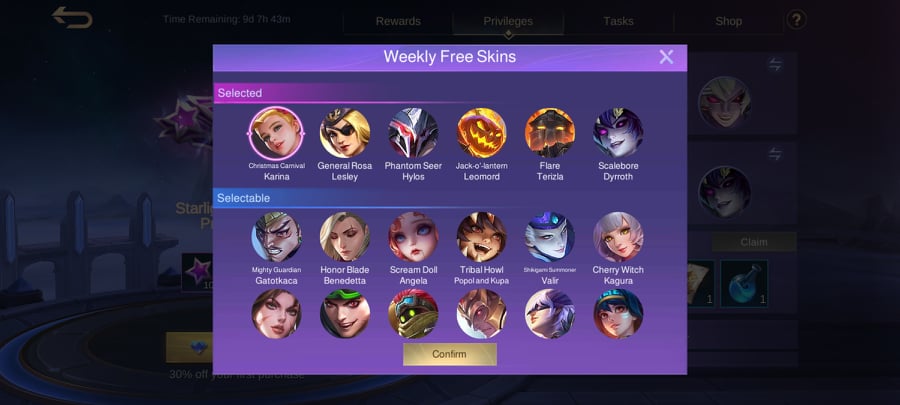 Starlight Member Benefits
Other than the Starlight monthly exclusive permanent skin, there's a lot more privilege to being a Starlight member.
Access to 6 weekly free heroes
Access to 6 weekly free skins
An exclusive avatar border (31-day)
Extra 10 protection points when losing a Ranked match
Starlight Exclusive Notification, Recall Effect and Spawn Effect
30% more Mastery Point for every match
One-time free Mysterious Shop refresh
Extended in-game friend limit (up to 200)
10% more EXP for every match
Starlight exclusive Profile
Starlight exclusive Chat Frame and Battle Emotes
Starlight Talent Page
5% more BP for every match
Sign-in for a previous day in the "7-Day Log-In" event
You can check Starlight member privileges in-game by clicking on Starlight, then selecting the Privileges tab.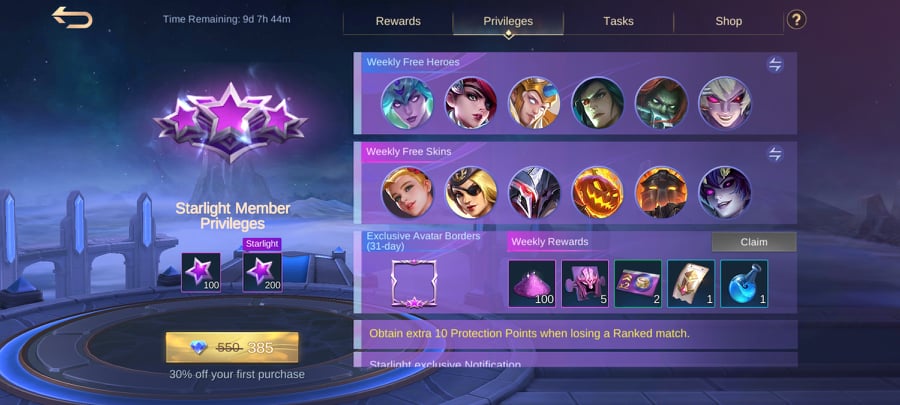 To check on your progression, click on the Tasks tab. Complete the following missions to obtain Starlight Scores.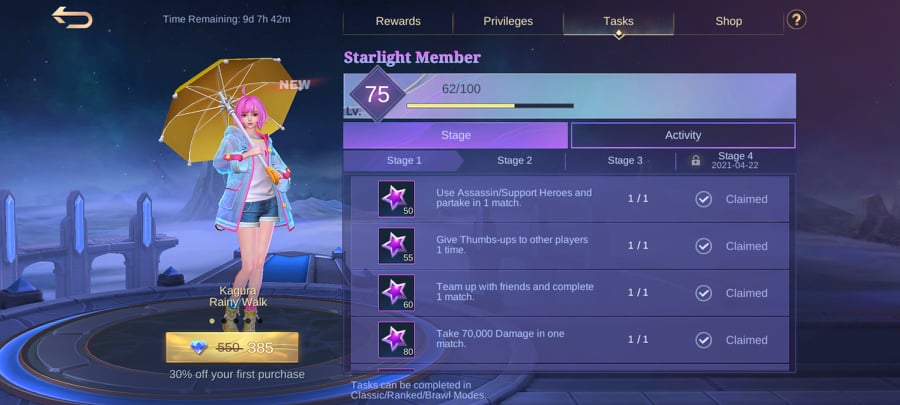 For every Starlight Magic Fragment, Gem and Coin earned, you can exchange them for awesome rewards in the Starlight Shop.
Starlight Member & Starlight Member Plus
The difference between Starlight Member and Starlight Member Plus is quite simple. For Starlight Members you get rewards worth 2800 Diamonds. As for Starlight Member Plus, the total rewards are worth 6000 Diamonds. It also allows you to level up your Starlight pass by 29 levels (worth 2,900 diamonds) and claim a Starlight gem in the prize pool both instantly.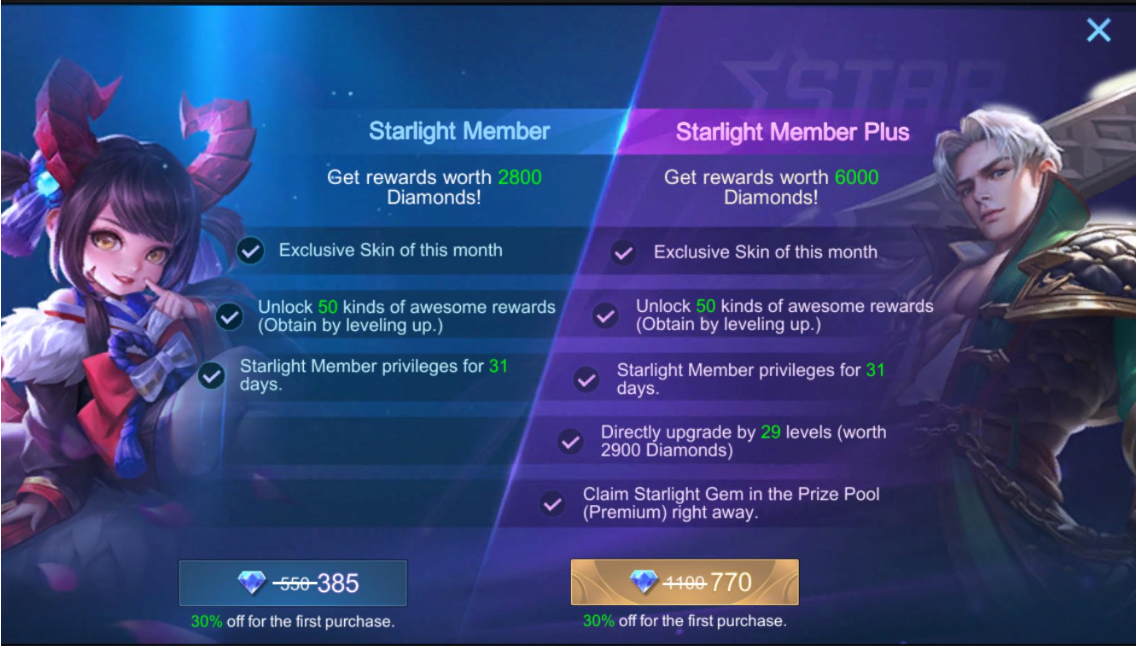 Is Starlight worth your money?
YES. The inclusions are sweet. If your goal is to look cooler with brand new skin, the membership instantly answers that. The permanent exclusive skin creates a visual advantage that boosts gameplay, including the new skill effects plus the intimidating factor. The designs are well crafted; from modern-day fashion, avant-garde costumes to mecha-inspired suits. Not to mention the bragging rights when you flex your new look in battle.
Collectors who dig skins for aesthetic reasons and don't want to miss out on exclusive looks go for Starlight. Besides, the cost of picking up an elite skin from the shop is nearly the same when you get the regular Starlight, so why not choose the one bundled with lots of rewards?
As a friend would put it: "I don't care how many times I get slain. As long as I die looking cool, I'm still awesome!"
Star Protection Points help in Ranked Games. It saves Stars when you lose and proves vital when you are climbing the ranks towards the Mythic tier. Everyone hates losing; worse, losing one or two Stars. Additional BPs are a catalyst when you want to buy a new hero or upgrade an emblem. Other add-ons enable you to reach your hero's full potential — the most efficient fighter, most reliable tank, or the most consistent support hero.
As players, we love our characters to progress to the next level, and the privilege of Starlight helps achieve that goal. There are smaller, cheaper in-game offers, but their effects are short and temporary compared to continuous 31-day rewards.
To cap off, look at it from a wider perspective. The membership helps to keep the game updated: new heroes, new skins, new events. It will support developers to work harder for fresher content. This keeps the entire game alive, more sustainable, and more inclined to its users.
How to get Starlight Membership in Mobile Legends?
Step 1. Go to Codashop's Mobile Legends' Starlight Member page.
Step 2. Input your Mobile Legends' user ID. (Can't find your user ID?).
Step 3. Select your preferred Starlight Membership.
Step 4. Select your preferred payment method.
Step 5. Review your purchase and click on the "Buy Now" button when you're ready.
Step 6. Complete the purchase by adding your payment information, and you're done
If you have more questions not covered here in our blog post, feel free to leave a comment and the Coda community will happily help you out.
Happy gaming!