This is your chance to be one of the lucky winners of in-game credits (MLBB diamonds, Garena Shells and Wild Cores) when you top up using Smart/TNT on Codashop. See below for details:
OFFER
Smart Prepaid and TNT – Codashop Raffle Promo is a raffle promo for Smart Prepaid and TNT subscribers who successfully purchased any Mobile Legends, Call of Duty Mobile, or League of Legends: Wild Rift gaming pins in Codashop and paid using Smart/TNT Direct Carrier Billing within the promo period. Qualified subscribers will get a chance to win Mobile Legends Diamonds, Garena Shells, or Wild Cores.
PROMO PERIOD: May 21, 2021 – July 31, 2021
MECHANICS
1. ELIGIBILITY: Open to all subscribers of Smart Prepaid and TNT nationwide.
2. EXCLUSIONS: Corporate and Retail Corporate accounts, all employees of Codashop and Smart Communications Inc., their affiliates, their third-party agencies (Creative, Media, PR, Events), and their relatives up to the 2nd degree of consanguinity or affinity are not eligible to join the raffle.
3. HOW TO JOIN:
– Purchase any amount of Mobile Legends, Call of Duty Mobile, or League of Legends: Wild Rift gaming pins on Codashop and pay using Smart/TNT Direct Carrier Billing within the promo period.
– Enter a valid email address upon purchase. The purchase receipt sent via email
will serve as the raffle entry and proof of successful transaction.
Note: 1 purchase receipt = 1 entry.
4. DEADLINE TO JOIN:
There will be three cutoffs with different prizes to be awarded.
June 03 2021, 11:59PM for COD Mobile, Mobile Legends, and League of Legends
June 17 2021, 11:59PM for COD Mobile and Mobile Legends
July 31, 2021 , 11:59PM for League of Legends
5. RAFFLE DRAW: Winners will be drawn in the presence of a DTI representative on the respective dates
June 4, 2021 6:00PM
June 18, 2021 6:00PM
August 1, 2021 6:00 PM
Announcement
– Once the winners are determined, they will be verified by Codashop
representative and the DTI representative using the database of raffle entries and
the transaction records on the system.
– A copy of the name of winners will be given to the DTI representative.
6. PRIZES: Chosen raffle draw winners shall each get the respective prizes
Contest Duration Cutoff Prizes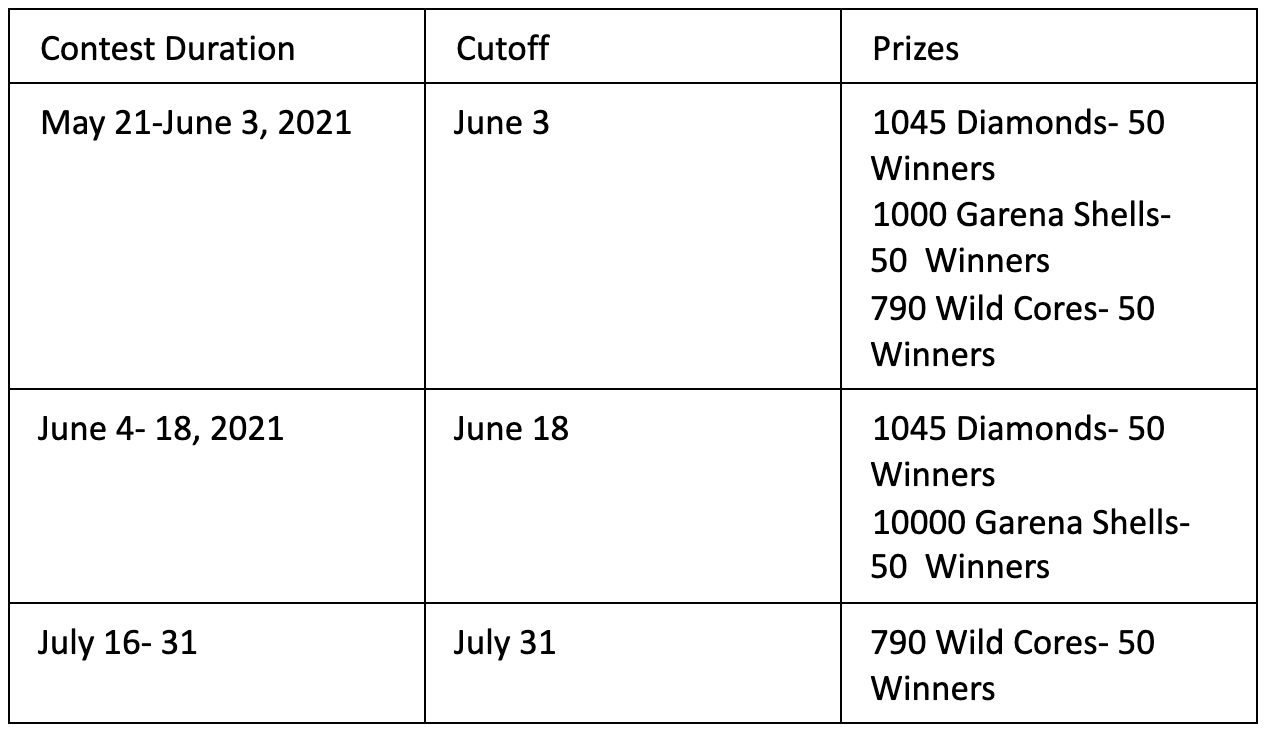 7. NOTIFICATION OF WINNERS: Winners will be contacted via email to inform
them once prizes are sent.
8. ANNOUNCEMENT OF WINNERS
– Announcement will be posted on Codashop's Facebook page within 3 days from
the draw date.
– By participating in the raffle, the winner agrees to cooperate with and participate
in any advertising or publicity activities of Coda Payments relating to the draw.
– The winner agrees that Coda may publicize their user/game ID in such mode and
manner as Coda considers fit. The winner's user/game ID may be published on
Coda's website and social media channels.
9. CLAIMING OF PRIZES:
– Prizes will be sent directly to the user/game ID on file within 15 working days.
– Prizes are non-transferrable.
– The 20% tax for prizes exceeding P10,000 will be shouldered by the winners.
Wild Cores Winners for July 16-30 (temporarily posted here until the announcement post is up on our Facebook page):
乂BorawtSkie乂#6969
Zero#Devil
Emperor Eye#4071
Yeezus#3820
azetech#Luxze
K I N G#0830
MÏÇÄËLLÄ#4782
024ej0YwhdbGeb20#2424
Nyhred#2290
ARES#SENZU
Phantasm#NFNTY
kUrl#6775
Chryseis#9674
TheAnonymous#5881
TRJ Jawban#Ismay
Kitty Kat#6364
HATTS Orman#Orian
Pingu pengu#9223
Squishee#1647
KantCath#NA1
T1 Rayne#liyah
qwerrtx#9159
Nebula#6604
Kabado Mag Smite#4550
EmpyRean#PRIDE
Ward#6100
Yamiyo#E ve
Her Sanity#0528
Xyu Playz#3903
jjang1#kkeum
Luci#D3v1L
AntoneeeYT#2639
LA1340N#4057
APX 胖将军#XOXO
Eryx#9565
LYNX IV#3510
Bertholdt Hoover#666
Acedia#000
one step ahead#Arey
V L A D I M I R#Easy
Nixeins#8165
Winter#7430
OXG RoaKing#OXG
MSK D3STROY3R#NA1
GOD OF FIZZ#09616
Azurel#L0S3
Khaliltedy10#4351
dhrinz#5084
Bennn#0425
Chop Suey#2048