It's the true definition of Squad Goals! Plus bizarre teams you didn't know existed
There are plenty of unique squads in Mobile Legends based on awesome themes that feature stunning designs and tell of legendary origins. From the divine protectors of Lightborn, to the fierce and brave Dragon Tamers, the concept behind every design seem limitless. Let's check out the coolest squads in MLBB and find out if you have them in your current roster. Also, could we be seeing new squads real soon?
Let's begin with the squads currently featured in the in-game gallery.
S.A.B.E.R.
The S.A.B.E.R. acronym means Savior, Automata, Breacher, Enforcer, Regulator. Hero members are featured in police uniforms.
Members: Rafaela, Johnson, Layla, Cyclops, and Saber.
V.E.N.O.M.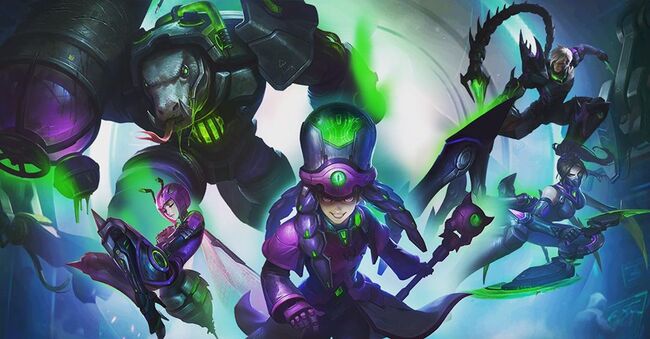 V.E.N.O.M. stands for Vespid, Emperor Scorpion, Nephila, Octopus, and Monitor Lizard. These are individuals damaged by the S.A.B.E.R. squad.
Members: Angela, Gusion, Hanabi, Harley, and Grock
ZODIAC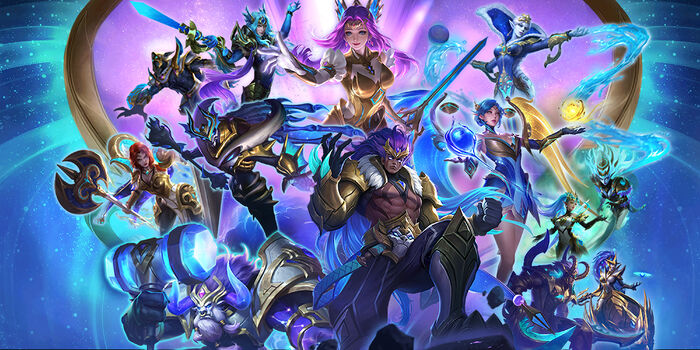 These are series skins inspired by the twelve Zodiac Signs. They can be obtained via the Zodiac Summon from the shop with the hero prize pool refreshing every month.
Members: Aurora (Aquarius), Lancelot (Pisces), Hilda (Aries), Minotaur (Taurus), Selena (Gemini / Shadow), Karina (Gemini / Halo), Zhask (Cancer), Badang (Leo), Odette (Virgo), Lunox (Libra), Helcurt (Scorpio), Irithel (Sagittarius), and Martis (Capricorn)
DRAGON TAMER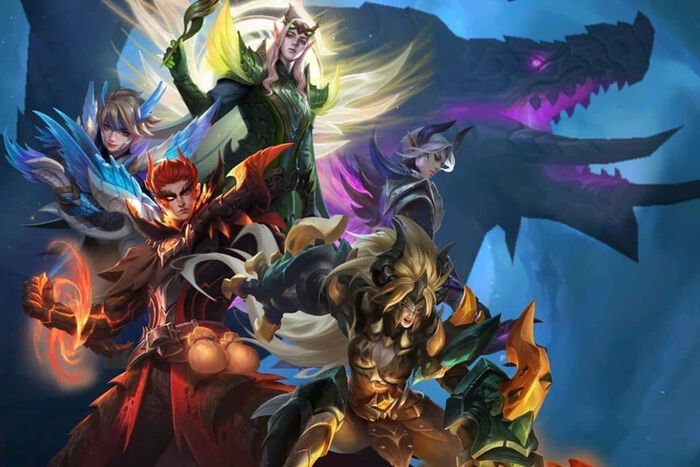 The Dragon Tamer squad consists of brave warriors who combined their powers with the Guardian Dragons to defend the Land of Dawn against an evil threat.
Members: Valir (Draconic Flame), Estes (Rattan Dragon), Kimmy (Forst Wing), Ling (Night Shade), and Masha (Dragon Armor)
Lightborn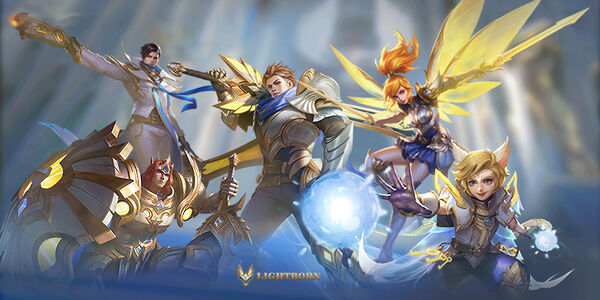 The Lightborn squad are elite protectors of the light.
Members: Tigreal (Defender), Alucard (Striker), Fanny (Ranger), Harith (Inspirer), and Granger (Overrider)
S.T.U.N.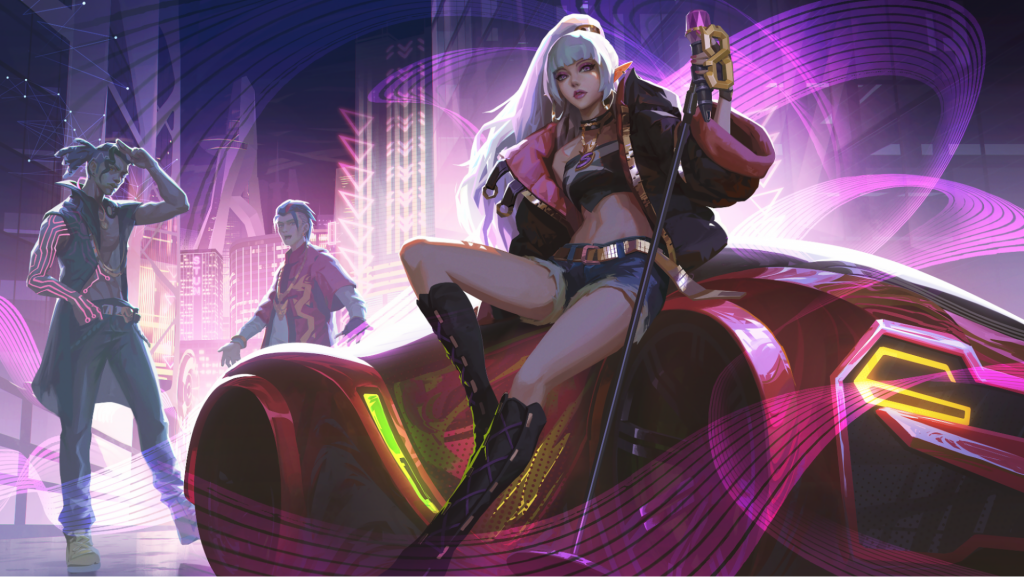 S.T.U.N. is Mobile Legends' very own virtual music group. The acronym stands for Strength, Tactic, Unity, and Novelty.
Members: Chou, Selena, and Brody
Blazing Bounties

This squad features a bunch of heroes in a blazing, wild west-inspired look.
Members: Aldous (Blazing Force), Layla (Blazing Gun), Franco (Blazing Axe), Esmeralda (Blazing Shadow), and Claude (Blazing Trace)
King of Fighters

The KOF series skins feature several MLBB heroes bringing to life the leading characters from the hit video game series, King of Fighters.
Members:  Dyrroth (Orochi Chris), Chou (Iori Yagami), Guinevere (Athena Asamiya), Karina (Leona), Aurora (Kula Diamond), and Gusion (K')
Now let's check out some of the squads based on a distinctive theme.
Hero Squad

Your favorite heroes all suited up in superhero outfits!
Members: Bruno (Firebolt), Chou (Thunderfist), Lancelot (Swordmaster), Valir (Blizzard Storm), and Esmeralda (The Foreseer *upcoming)
Helper Squad

It's our heroes' turn to take on… household chores!
Members: Nana (Clockwork Maid), Selena (Double Identity), Angela (Dove&Love), Chang'e (Strawberry Parfait), Franco (Masterchef)
Party-Rock Squad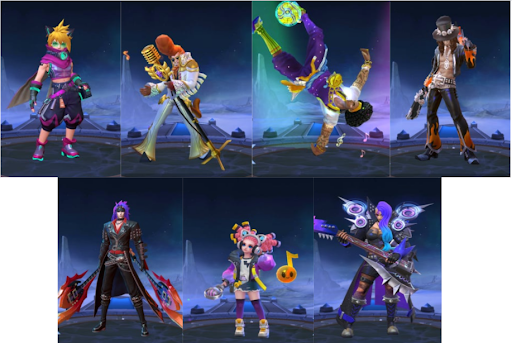 If you think your heroes only have the skills for battle, guess again! They be shufflin' and rockin' hard too!
Members: Harith (Fashion Expert), Sun (Rock Star), Bruno (Best DJ), Clint (Rock and Roll), Lylia (Future Star), Martis (Deathrock), and Hilda (Bass Craze)
Clown Squad

When you face off against this squad, there's definitely no clowning around.
Members: Khufra (Dreadful Clown), Diggie (Circus Clown), Karrie (Jester), and Harley (Naughty Joker)
Valentine Squad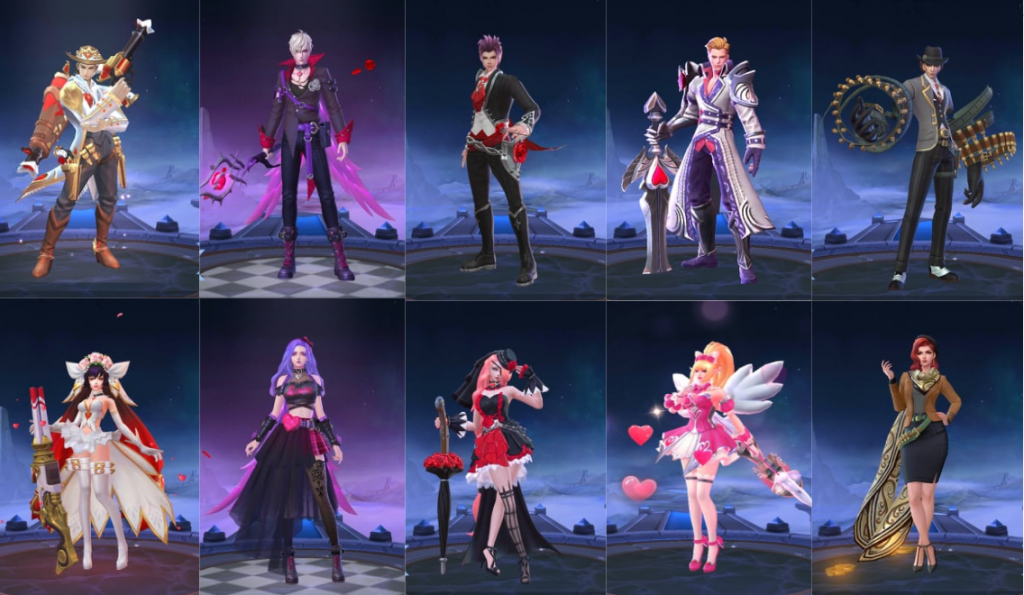 From Squad Goals to Couple Goals. Say hello to the power couples of MLBB.
Members: Clint (Guns and Roses), Layla (Cannon and Roses), Cecilion (Phantom Count), Carmilla (Phantom Countess), Gusion (Dangerous Liaison), Lesley (Dangerous Love), Alucard (Romantic Fantasy), Miya (Sweet Fantasy), Khufra (Gentleman Thief), and Esmeralda (Lady Thief)
Sports Squad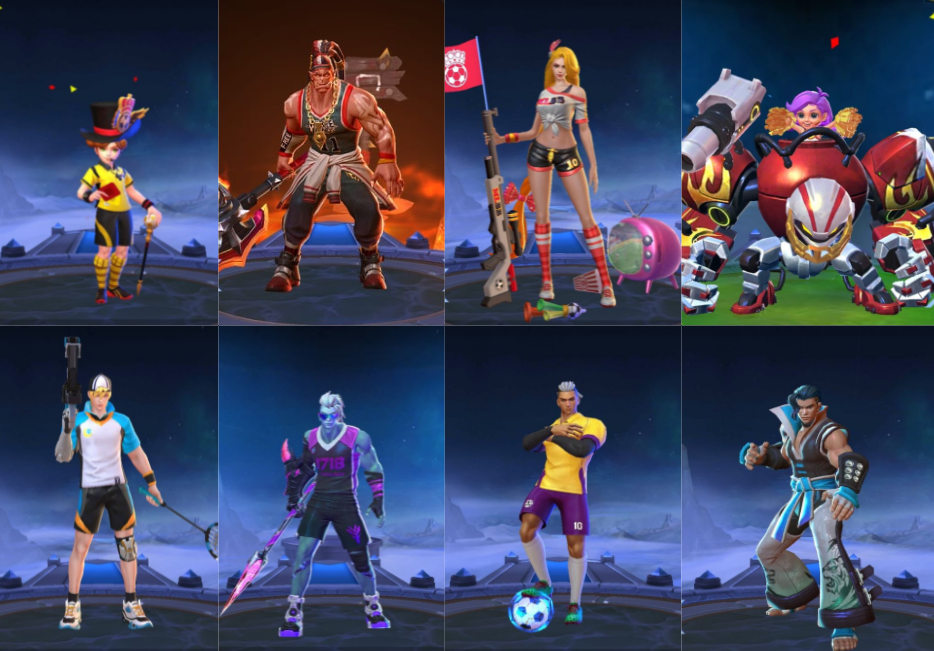 Our heroes also know how to score victory — in the field of sports and athletics!
Members: Harley (Referee), Balmond (Savage Pointguard), Lesley (Cheergunner), Jawhead (Foo Quarterback), Clint (Badminton Champion), Moskov (Javelin Champion), Bruno (Vanguard Elite), and Chou (Furious Master)
Street Punk Squad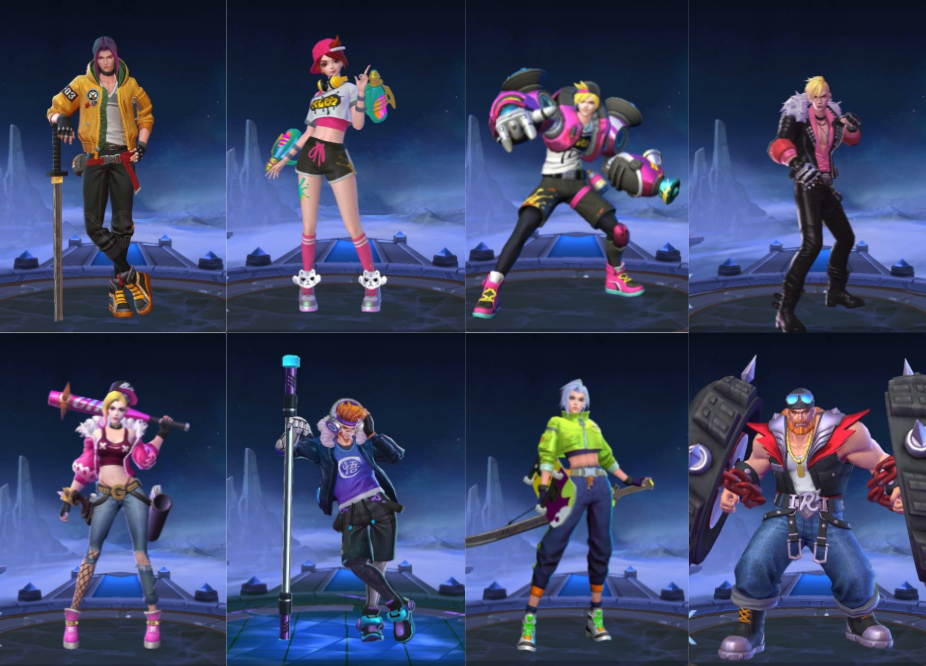 Rebel by heart, this squad takes the battle inspiration plus the attitude straight from the streets!
Members: Ling (Street Punk), Wanwan (Teen Pop), X.Borg (Graffiti Fashion), Chou (Go Ballistic), Fanny (Punk Princess), Sun (Street Legend), Benedetta (Street Blow), and Baxia (Badass Roller)
Mecha Squad

Heroes or robots? Think you have what it takes to face this squad loaded with warriors donning high-tech suits?
Members: Gatotkaca (Sentinel), Gord (Conqueror), Grock (Codename: Rhino), Granger (Starfall Knight), Irithel (Astral Wanderer), Jawhead (Space Explorer), Karrie (Hawkwatch), Kimmy (Astrocat), Lesley (Stellaris Ghost), Nana (Mecha Baby), Saber (Codename – Storm), Uranus (Mech Protector), Alucard (Obsidian Blade), and Claude (Mecha Dragon)
Arcade Squad

Your favorite arcade games brought to life by these heroes. Ready, player one!
Members: Uranus (Video-Game Dominator), Gord (No.1 Controller), Granger (Agent Z), and Uranus (Pinball Machine)
Celestial Squad

This team is backed up by the heavens when they take on a fight.
Members: Badang (Fist of Zen), Selena (Thunder Flash), Zilong (Glorious General), and Martis (God of War).
School Squad

School is cool especially when you have this squad helping you do your Math and Physics homework!
Members: Hanzo (Insidious Tutor), Lylia (School Idol and Star Student), Alice (Wizardy Teacher), and Fanny (Campus Youth)
Astro Squad

This squad shines bright and is guided by the stars and constellations!
Members: Diggie (Constellation), Chang'e (Lunar Magic), Estes (Galaxy Dominator), and Guinevere (Amethyst Dance)
Stay tuned for Part 2 for more of the amazing and bizarre squads in Mobile Legends!
Who's your favorite MLBB squad so far? Share your thoughts with us on Codaclub Community, it's our newest forum where you can meet and share experiences with fellow Codashop gamers!

Don't forget to top up on your Mobile Legends Diamonds only at Codashop. We guarantee faster and more convenient top-ups so you can enjoy a hassle-free gaming experience.