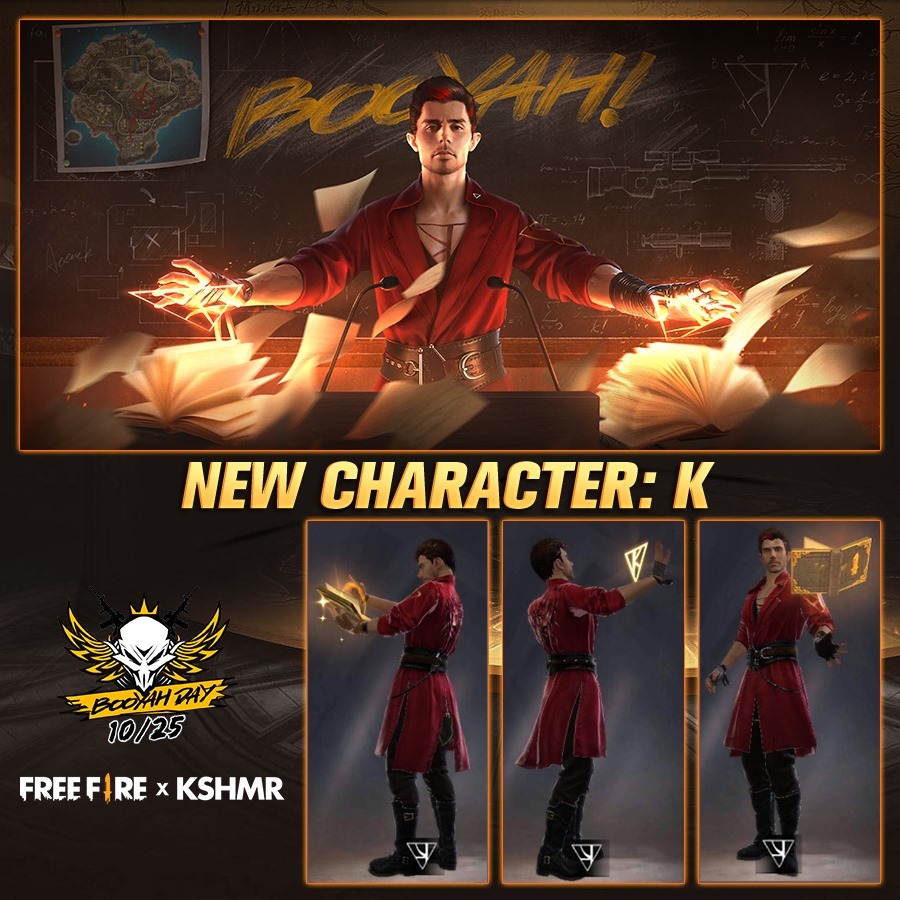 Free Fire's major collaboration with musician and record producer DJ KSHMR has brought to life another playable character in the top ultimate survivor shooter game. Meet the professor and Jiu-Jitsu master 'K' also known as Captain Booyah.
DJ spin that track!
As a quick background, 'K' is based on the real-life character of Niles Hollowell-Dhar, an American musician and record producer of Indian descent. He is more popularly known with his stage name DJ KSHMR (pronounced "Kashmir", stylized as KSHMR). Other real-life personalities brought to the game include Jai (based on Indian superstar Hrithik Roshan) and crowd favorite Alok (renowned Brazilian DJ Alok Achkar Peres Petrillo). 
Back in 2015, DJ KSHMR ranked 23rd on DJ Mag's 2015 Top 100 DJs and also got "The Highest New Entry" award. By 2016-2017, his place rose to top 12. If you're a big fan of Progressive House and Psychedelic Trance, DJ KSHMR should be on your playlist.
Kalm and Kollected
As the newest character in Free Fire, K is an image of hardwork and determination. He simply would not give up with what life throws at him, may it be a tragedy. He took it deep to understand himself and his motivations, as well as other people. He trained extremely hard to avoid getting injured the same way again.
Professor and Jiu-Jitsu expert, K reflects a somewhat  mysterious personality. His character skill is called 'Master of All' which allows him to switch between two modes with different effects. It requires getting used to though as it can be a little tricky. This active skill puts emphasis on EP regeneration.
Jiu-Jitsu Mode:

Allies nearby (6m) receive 500% increase in Energy Points conversion. In other words, everyone can heal 5 HP per second from their EP.

Psychology Mode:

Regain 2 Energy Points every 4s (up to 6 EP). It's a passive heal of 1 HP per second so you brush off splinter damage.

Maximum Energy Points increases by 50
You can use K and essentially hold 250 Max EP and switch between the 2 modes. Mode switch cooldown for this skill is only 20 seconds. Based on the above listing, we can say that K is sort of a healer type of character. He will be useful when healing allies (granted they have EP) especially during critical situations. You can even turn K into an ultimate survivor if you pair him with characters (like Alok definitely!) and even pets (Ottero) with good EP regen capabilities.
Top up on your Free Fire account only at Codashop. We guarantee better, faster and safer top-up experience with more payment options to choose from.