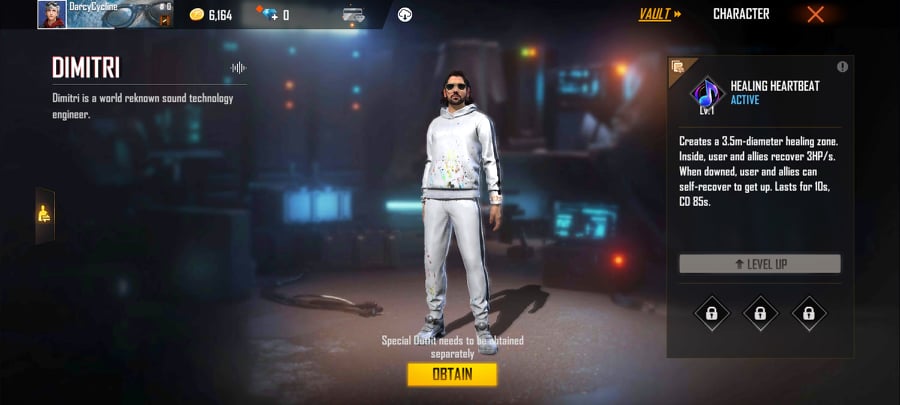 Free Fire once again introduced a new set of characters in celebration of its '4nniversary', and this time the DJ duo of Dimitri and Thiva have joined the battle royale! Their addition to the game brings a new level of excitement for players to try out their skills and combos. In this post, let's check out what Dimitri brings to the table.
How to unlock Dimitri in Free Fire
Players who couldn't obtain Dimitri during the special top-up event can always go to the Store to unlock him. Dimitri can be purchased for 599 Diamonds.
Open Free Fire on your device and click on Store, located at the left side of the screen.

Go to the Character tab.




Look for Dimitri and click on the Purchase button. Make sure you have enough Free Fire Diamonds to complete the purchase.

Once complete, you can go to the Character section and select Dimitri.
Who is Dimitri in Free Fire?
The real-life DJ, Dimitri Thivaios, inspires the new character, Dimitri. Together with his brother Like Mike (real name: Michael Thivaios), who plays Thiva, they make up one of the most popular DJ duos in the world. In-game, Dimitri is a sound engineer who spends most of his day at the lab developing new sound technology. After finding his passion for music, Dimitri aims to help the world and improve people's lives with his technological creations.
Dimitri's Ability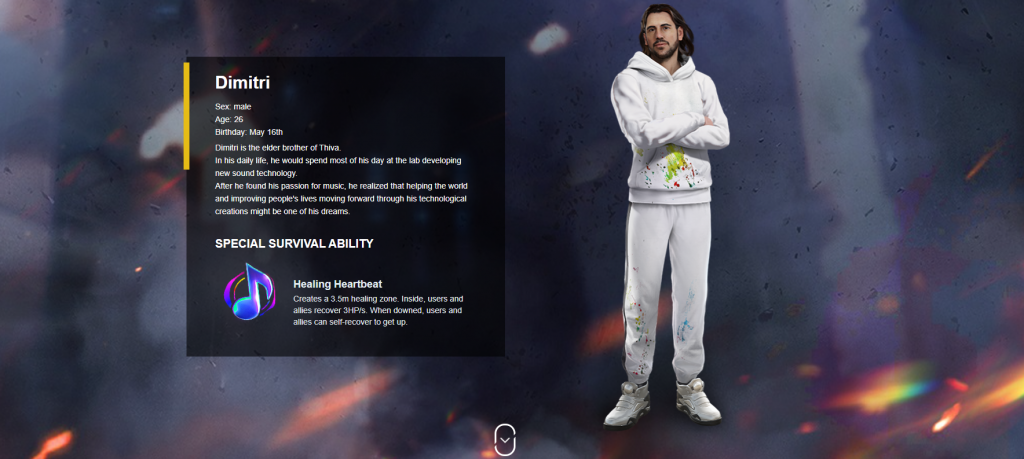 Dimitri is a world-renowned sound engineer.
Dimitri's active ability is called Healing Heartbeat, one that teammates will surely want in their squad. The ability allows Dimitri to create a 3.5m-diameter healing zone. Inside the area, users and allies recover 3HP/s. When downed, users and allies can self-recover to get up. It lasts for 10 seconds and has a cooldown of 85 seconds.
Dimitri can be highly effective when rushing towards an enemy/enemy team. The self-revive feature of his ability is convenient during the critical phase of the game when someone from the team gets knocked out. It's probably the most functional ability in this battle royale title.
Here is how Dimitri's Healing Heartbeat ability stacks up: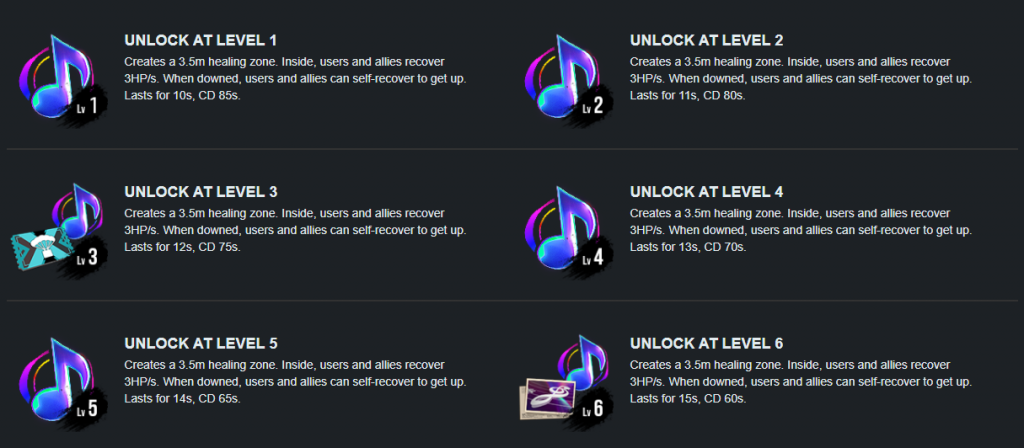 At the maximum level, Healing Heartbeat lasts for 15s, with its CD reduced to 60s.
Healing Heartbeat Level 1: Lasts for 10s, CD at 85s.

Healing Heartbeat Level 2: Lasts for 11s, CD at 80s.

Healing Heartbeat Level 3: Lasts for 12s, CD at 75s.

Healing Heartbeat Level 4: Lasts for 13s, CD at 70s.

Healing Heartbeat Level 5, CD at 65s.

Healing Heartbeat Level 6: Lasts for 15s, CD at 60s.
Cool facts about Dimitri
*Dimitri Vegas and Like Mike collaborated with Garena to create the theme song 'Reunion' for Free Fire's 4th-anniversary event.
*This is not the first time that Dimitri has been part of the game. In 2019, he played as a character skin of Sub-Zero for Mortal Kombat.
Best character combo to pair with Dimitri
To maximize Dimitri's Healing Heartbeat, we recommend pairing him with the following characters:
Luqueta: Sustained Raids
D-bee: Bullet Beats
Jota: Hat Trick
You can put up a potent team with Dimitri around. Luqueta's ability can grant up to 50 max HP every kill. Getting more kills translates to getting higher HP. D-Bee's skill grants the team increased movement speed and accuracy while shooting. Finally, having Jota onboard provides HP recovery when using guns and knocking down enemies.

Don't forget to top up on your Free Fire account only at Codashop. We guarantee a better, faster, and safer top-up experience with more payment options available.