Streetwear comes to VALORANT with the new EGO by OneTap skin collection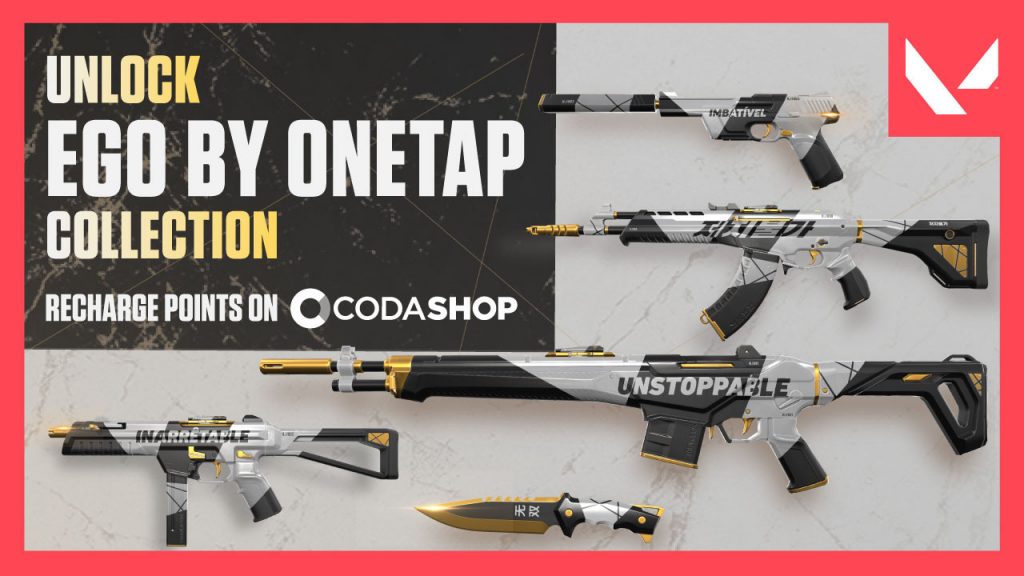 When it comes to new releases, Riot Games has effectively made it a point to incorporate fresh ideas and style to entice its fanbase. It's no surprise that the new weapon skin line, EGO by OneTap, has been hotly talked about. Its solid and stylish aesthetics blend nicely with the modern shooter nature of VALORANT.
Style shooter
EGO by OneTap is exceptional with its clever fusion of real-world style aesthetics and streetwear charisma. Color scheme is neatly balanced between black, gold and white. The collection also comes with various text imprints in multiple languages, including 'unstoppable', 'inarrêtable' and 'imbatível'. (Anyone thinking Virgil Abloh-inspired firepower of sorts with these?)
The design delivers the kind of swagger that suits the innovative generation of gamers today, where expression is augmented as a crafty weapon of choice. Clearly enough, the tagline for this new bundle reads: "For those who dare to be bold, let your success speak for you."
Price and Inclusions
The new bundle comes with five weapon skins, available in three color variants. Those who buy the collection will also get a player card, a spray and a gun buddy. The bundle costs 7100 VALORANT Points and can also be bought separately. Price range is as follows:
Ghost: 1775 VP

Stinger: 1775 VP

Guardian: 1775 VP

Vandal: 1775 VP

Melee (Knife): 3550 VP

Bundle: 7100 VP
Players will also be thrilled as this collection has upgradable options available. Simply purchase Radianite Points from the in-game store to unlock sound and visual animations for the weapons.
How to buy the EGO by OneTap Collection?
To buy the new EGO by OneTap skin collection, you need to go to the in-game store from the main menu. From there, select the item you wish to purchase, either individually or as a bundle. Take note that you need to have enough VALORANT Points (VP) to acquire them.
Style spending
We'll give it to you straight, the EGO by OneTap skin collection is a must-have. It's simple yet sleek design makes it a fan-favorite. If you're the type of player who radiates the fashionista vibe straight to the games, this collection is meant for you.
Did you cop this stylish set? Share your thoughts with us. Don't forget to top up your VALORANT Points only at Codashop. It's #BetterFasterSafer and more convenient with plenty of payment options to choose from.