Legends of Runeterra by Riot Games has officially launched with a new Expansion labelled Rising Tides and Bilgewater, a pirate-themed region. Set in the world of League of Legends, Legends of Runeterra is a digital-collectible strategy card game where skill, creativity, and cleverness determine your success.
New Expansion, Rising Tides
As a part of its official launch, LoR is also releasing its first expansion, Rising Tides. Rising Tides charts new territory with the addition of Bilgewater, a region where pirate gangs never pass up a chance to plunder and monsters of the deep devour entire ships without warning. Rising Tides adds over 120 new cards and 11 champions from the League of Legends universe including Miss Fortune, Fizz, and Gangplank, among others. The set also introduces six new card mechanics, adding more depth and intriguing gameplay options for players.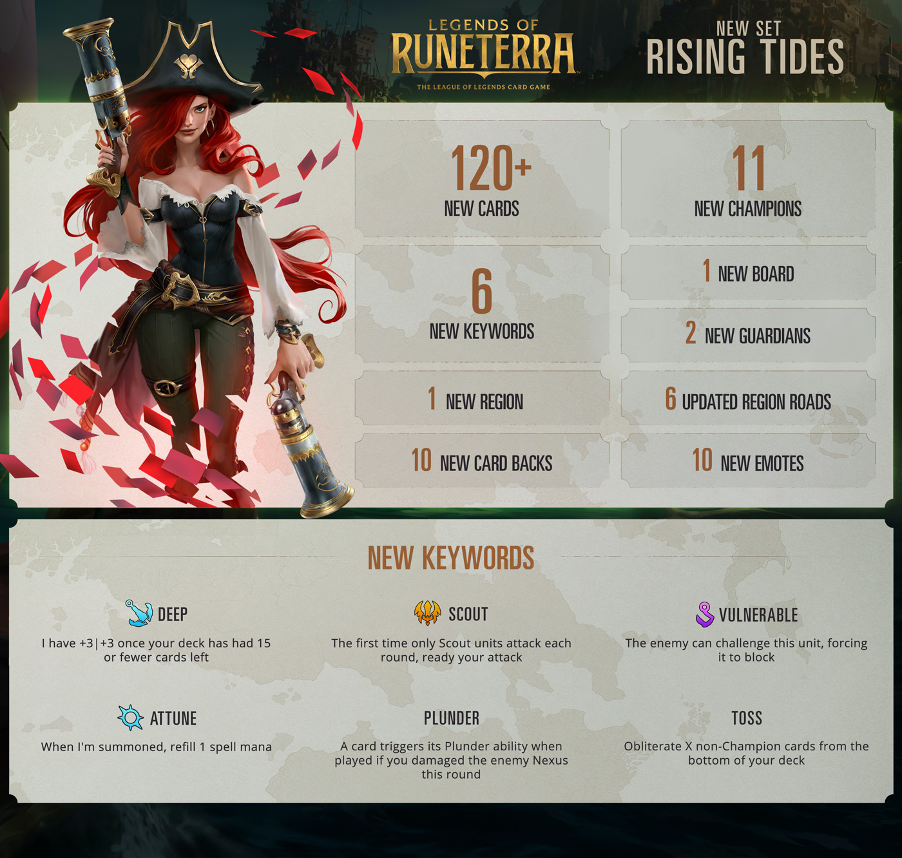 First Week Login Rewards
To help you get started, there are some exciting first-week login rewards! Get a reward for the first seven days you log into the game. The rewards range from powerful cards to Expedition tokens. On the final day, players can pick up a new deck, two Ashe champion cards and more.
With the launch, Riot is also partially resetting ranks for the new season. Players will begin a new seasonal grind with the Season of Plunder. You'll have about two months to climb as high as you can before the Season of Plunder ends and the next Ranked reward is granted.  Reward details coming soon on Legends of Runeterra's official website at https://playruneterra.com/