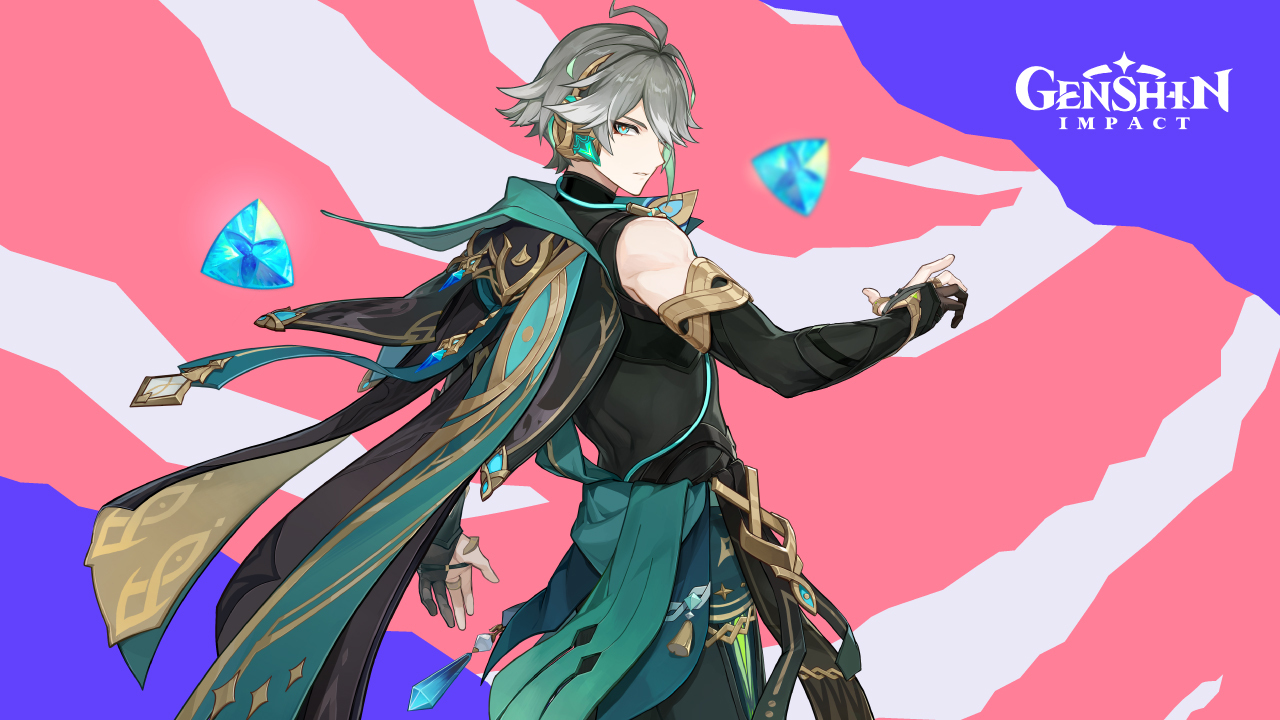 Genshin Impact adds yet another 5-star DPS to their roster with the 3.4 update. Alhaitham, the Scribe of Akademiya and a member of Haravatat, brings his sword-wielding Dendro abilities to the ever-expanding roster of playable DPS characters. If you're thinking of building a Dendro DPS, pull for him and test him out!
Alhaitham Spotlight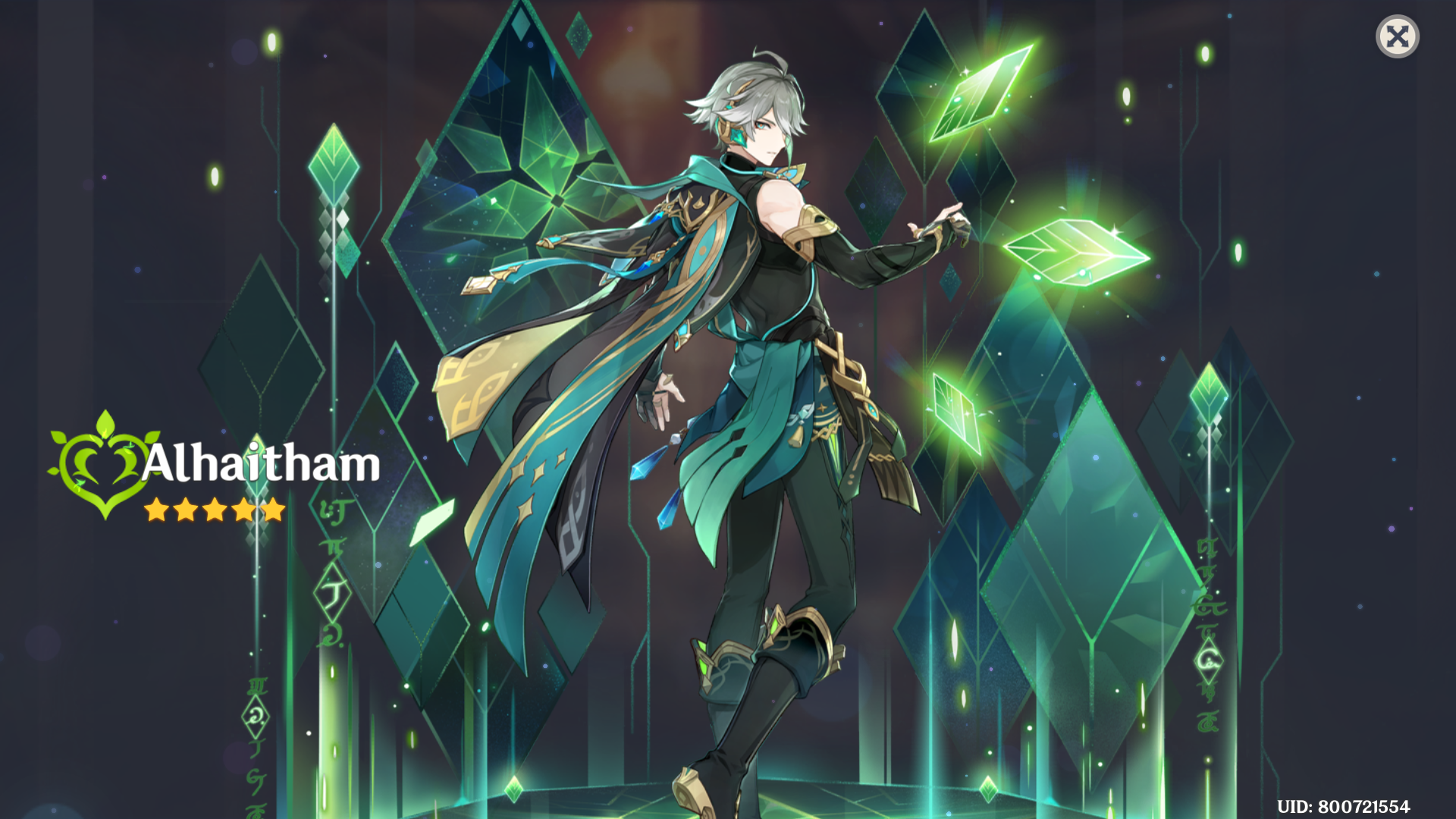 Alhaitham is highly anticipated by players due to his potential as a Dendro DPS. His skill also allows him to deal with additional Dendro DMG, allowing the fandom to dub him "Dendro Keqing." To be fair, his skill and burst are similar to that of the Yuheng of the Liyue Qixing.
If you aim to get him and build him, note that you might have to spend tons of time and resin into farming for Elemental Mastery (EM) artifacts. Alhaitham requires a significant investment in Elemental Mastery due to his Passive, which boosts his overall damage output.
You would need 1000 EM to properly optimize his skills, although it's also fine if you cannot reach this number. Because players will mostly use Alhaitham in reaction comps, we recommend that you reach at least 500 EM.
Talents
Normal Attack: Abductive Reasoning
Alhaitham performs up to five rapid strikes of his sword, and the charged attack allows him to perform two rapid sword strikes. If you use a plunging attack, he deals AoE DMG upon impact.
Elemental Skill: Universality: An Elaboration on Form
With his skill, Alhaitham rushes forward and deals Dendro DMG. Upon impact, a Chisel-Light Mirror will form. If you hold the skill, you will enter Aiming Mode where you can pinpoint the exact location of Alhaitham's rush.
Chisel Light-Mirror
If the skill is used, Alhaitham will gain one Chisel-Light Mirror, which converts his Normal, Charged, and Plunging Attack into Dendro DMG. Pro tip: This effect cannot be overridden even if you are standing on Chongyun's skill or C6 Bennett's ultimate.
Alhaitham can create up to three shards, and when his attacks land, the Mirrors will release a Projection Attack that deals with AoE Dendro DMG.
Elemental Burst: Particular Field: Fetters of Phenomena
Alhaitham's Burst is similar to Keqing's, only his deals AoE Dendro DMG within a Particular Binding Field. If you have Chisel Light-Mirrors, all shards will be consumed to boost the number of DMG instances dealt.
1st Ascension Passive: Four-Causal Correction
This passive allows Alhaitham to generate one Chisel-Light Mirror if his Charged or Plunged Attack hits opponents.
4th Ascension Passive: Mysteries Laid Bare
This passive gives Alhaitham yet another boost; each point of his EM will increase the damage dealt by his Elemental Skill and Burst by 0.1%. The maximum damage increase for these abilities is 100%.
Utility Passive: Law of Reductive Overdetermination
If you use Alhaitham to craft Weapon Ascension Materials, you have a 10% chance to receive double the product.
Ascension Materials
Here are the materials you would need if you aim to raise Alhaitham up to level 90:
Nagadus Emerald Sliver x 1

Nagadus Emerald Fragment x 9

Nagadus Emerald Chunk x 9

Nagadus Emerald Gemstone x 6

Faded Red Satin x 18

Trimmed Red Silk x 30

Rich Red Brocade x 36

Sand Grease Pupa x 168

Pseudo-Stamens x 46
Talent Materials
Here are the materials you need to farm if you want to triple-crown Alhaitham:
Faded Red Satin x 18

Trimmed Red Silk x 66

Rich Red Brocade x 93

Teachings of Ingenuity x 9

Guide to Ingenuity x 63

Philosophies of Ingenuity x 114

Mirror of Mushin x 18

Crown of Insight x 3
Pros & Cons
Pros
Genshin Impact Alhaitham deals consistent Dendro DMG no matter what team he may be included in.

He scales from Elemental Mastery, which makes him rather simple to build.

If you have a dedicated shield character, you can give Alhaitham the 3-star sword, Harbinger of Dawn, while trying to pull for a better weapon.

His Chisel-Light Mirrors can pack a punch!
Cons
He isn't simple to use. You would need to have good management of his Chisel-Light Mirrors all the time to consistently deal Dendro DMG.

You need to include his Charged Attack in the combo, which has a fairly long animation. This duration can allow enemies to attack first, and you might just end up taking the full brunt of it.

He has fairly low resistance to attacks and his combos are easily disturbed. You'd really need to have a dedicated shielder for him.
Alhaitham Best Build & Weapon
DPS Build
Light of Foliar Incision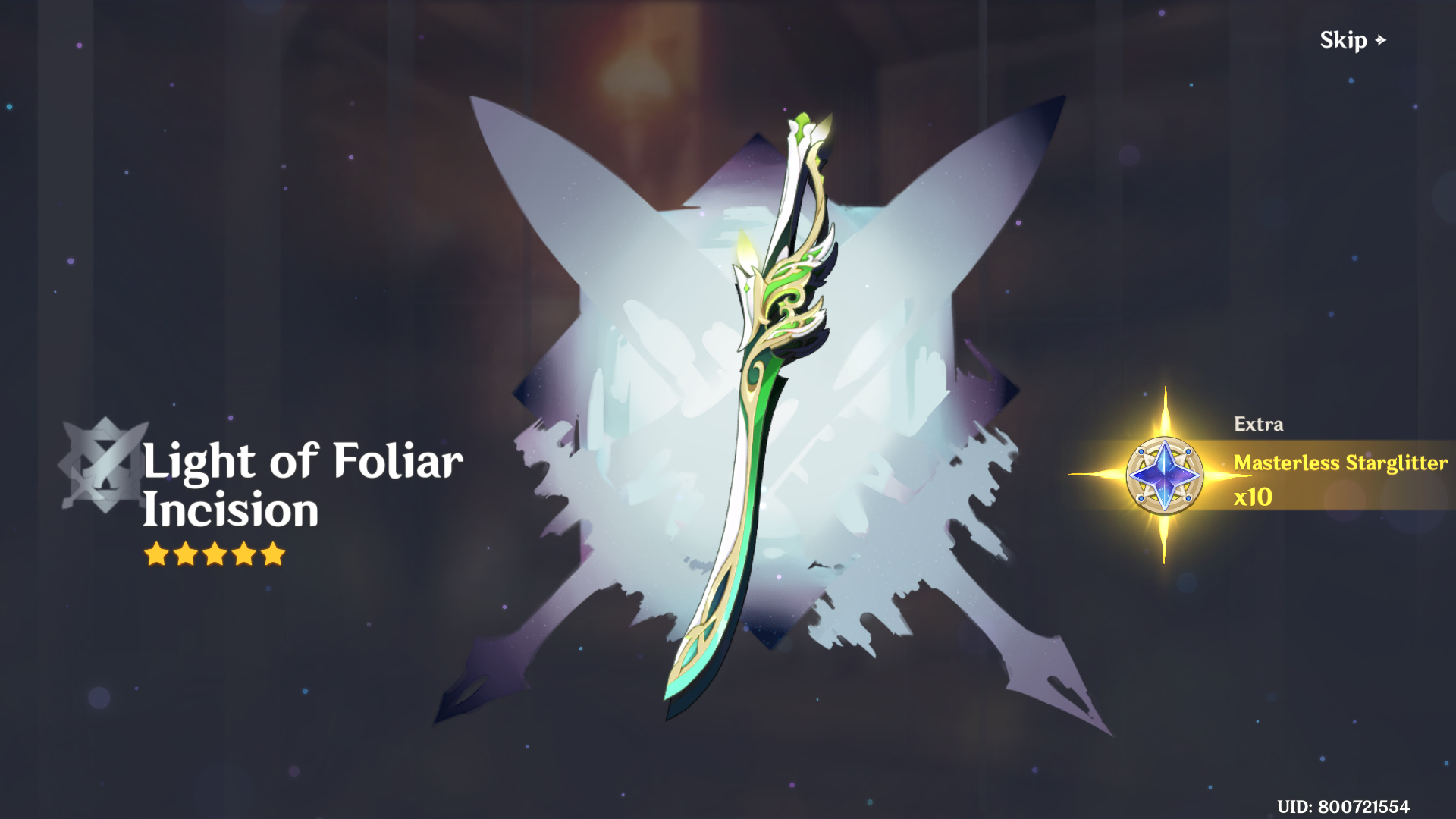 5-star Sword

This sword is Alhaitham's signature weapon, from the aesthetic down to its stats. This weapon allows players to invest in Elemental Mastery without sacrificing personal damage, since you would need tons of EM to properly build Alhaitham. It comes with a CRIT DMG substat, and its passive boosts your CRIT Rate by 4%. It also applies Foliar Incision effect, which increases DMG dealt by Normal Attacks and Elemental Skills by 120% of his EM.
Primordial Jade Cutter
5-star Sword

This sword provides an additional CRIT Rate, which easily makes it a good sword for Alhaitham. Its passive increases his HP by 20% and his ATK by 1.2% of the Max HP. Not to mention, the green hue aesthetically fits Alhaitham as well!
Haran Geppaku Futsu
5-star Sword

Although this is Kamisato Ayato's signature weapon, its CRIT Rate stats make it a good sword for Alhaitham. (We need all the CRIT we can get, people.) This sword will also give him a 12% Elemental DMG Bonus and the Wavespike effect. If Alhaitham uses his Skill, all stacks of Wavespike will be consumed to gain Rippling Upheaval, which will boost his Normal Attack by 20% for 8s.
Freedom-Sworn
5-star Sword

Although marketed as Kaedehara Kazuha's weapon, this can easily be Alhaitham's due to its EM substat. Not only does it boost the character's Normal, Charged, and Plunging Attack DMG by 16%, it also increases ATK by 20%. More damage for everyone!
F2P Substitutes:
The Black Sword
4-star Sword

This sword isn't truly F2P friendly since you'll have to buy the Battle Pass to get it at level 30. However, it's better than any of the swords that you might get in the banners. With this sword, Alhaitham's Normal and Charged Attacks will experience a 20% increase. It will also regenerate 60% of ATK as HP when his attacks land a CRIT Hit.
Xiphos' Moonlight
4-star Sword

In case you manage to pull this from the banners, this sword is quite good on Alhaitham because of its EM substat. You will also gain 0.036% Energy Recharge for each point of EM Alhaitham has for 12s. Not to mention, the sword also gives party members the same buff or 30% of the effect.
Sapwood Blade
4-star Sword

This craftable weapon is also good for Alhaitham with its Energy Recharge substat. Its passive allows the character to gain a Leaf of Consciousness whenever reactions are triggered. This Leaf will give him a 60 EM boost for 12s, which is arguably enough to generate more reaction-based damage. Alhaitham can also easily activate all of its effects since it's a sword made for Dendro characters.
Harbinger of Dawn
4-star Sword

A rather easy sword to pull in the banners, the Harbinger of Dawn is one of the basic swords you can use. Since its substat is CRIT DMG, and it gives the character a CRIT Rate bonus of 14% if their HP is above 90%, it's a good starting sword for Alhaitham.
Best Artifacts
DPS Build
Deepwood Memories (4-piece Set)
This set allows your character to decrease their enemies' Dendro RES by 30% for 8s upon impact of the Skill and Burst. Since Alhaitham is a Dendro-infused DPS character, this automatically makes it the best set for him.
Gilded Dreams (4-piece Set)
This set allows the character to obtain buffs based on the Elemental Type of other party members. Your ATK will increase by 14% for each Dendro member in your party, and your EM will increase by 50 for every party member that has a different Elemental Type. You'll just have to pick and choose which buff you want.
Artifact Stat Priority
Flower
Sub:

Elemental Mastery / ATK% / CRIT Rate / CRIT DMG
Feather
Sub:

Elemental Mastery / ATK% / CRIT Rate / CRIT DMG
Sands
Sub:

Energy Recharge / ATK% / CRIT Rate / CRIT DMG
Goblet
Main:

Dendro DMG Bonus% / Elemental Mastery
Sub:

Elemental Mastery / ATK% / CRIT Rate / CRIT DMG
Circlet
Main:

CRIT Rate / CRIT DMG

Sub:

Elemental Mastery / ATK% / CRIT Rate / CRIT DMG / Energy Recharge
Best Team Comp
There are several team compositions you can create with Alhaitham. Here are some of our favorite recommendations, ranging from 5-star character-filled teams to F2P-friendly ones.
Premium Team for Alhaitham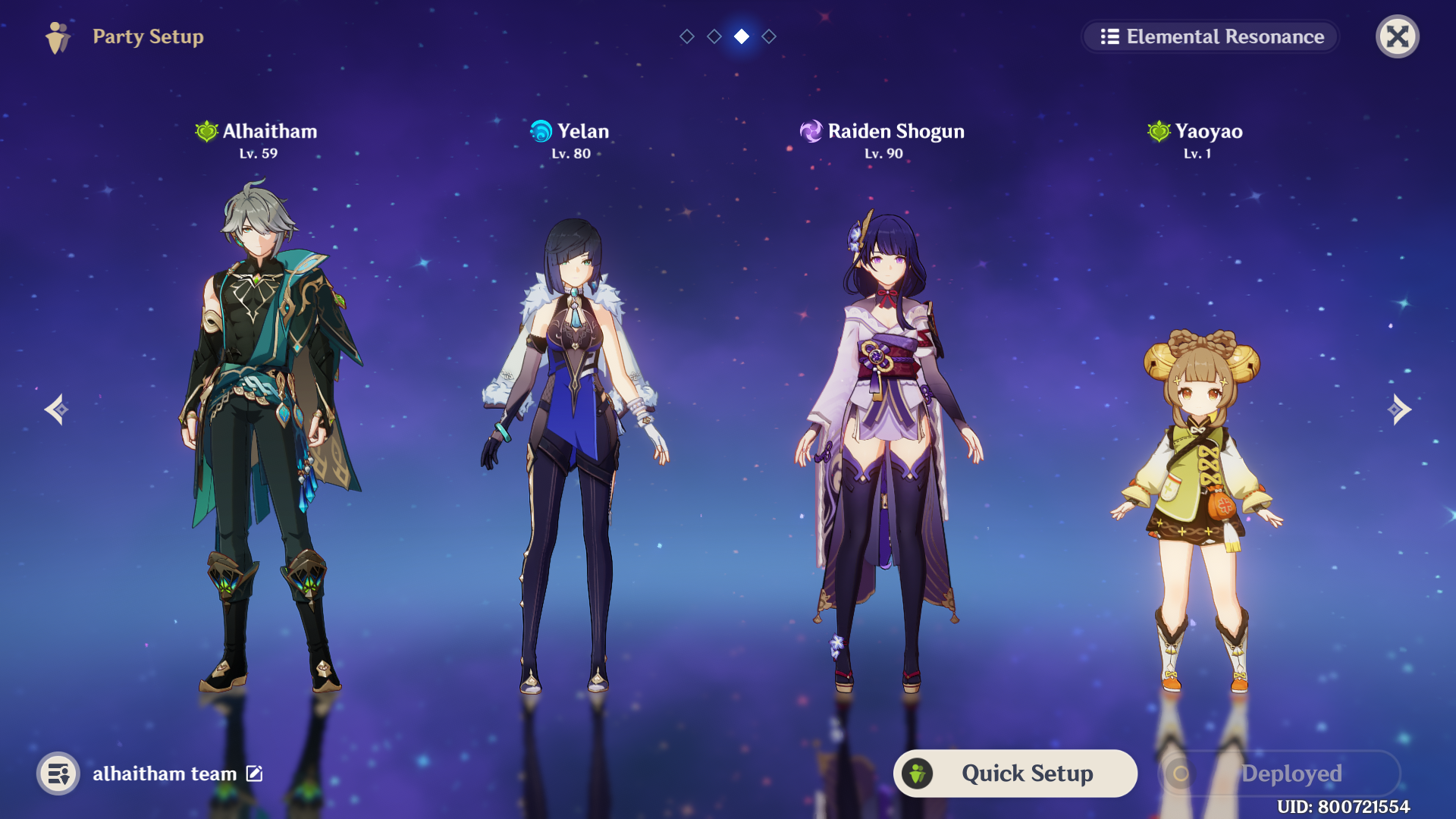 As a DPS character, Alhaitham needs to be on the field 99% of the time. Thus, you'll need Sub DPS and Support characters that can boost his damage through Elemental reactions.
In this team comp, you'll be focusing on Hyperbloom with Raiden Shogun's skill that allows you to deal with Electro DMG whenever you land a hit. First, activate Yelan's skill or burst then land Dendro-infused attacks on your opponents with Alhaitham. This will create Dendro Cores, which can be used to trigger Hyperbloom with Raiden Shogun's skill. We added Yaoyao as a healer since the Hyperbloom effect can cause more damage to the active character when it explodes.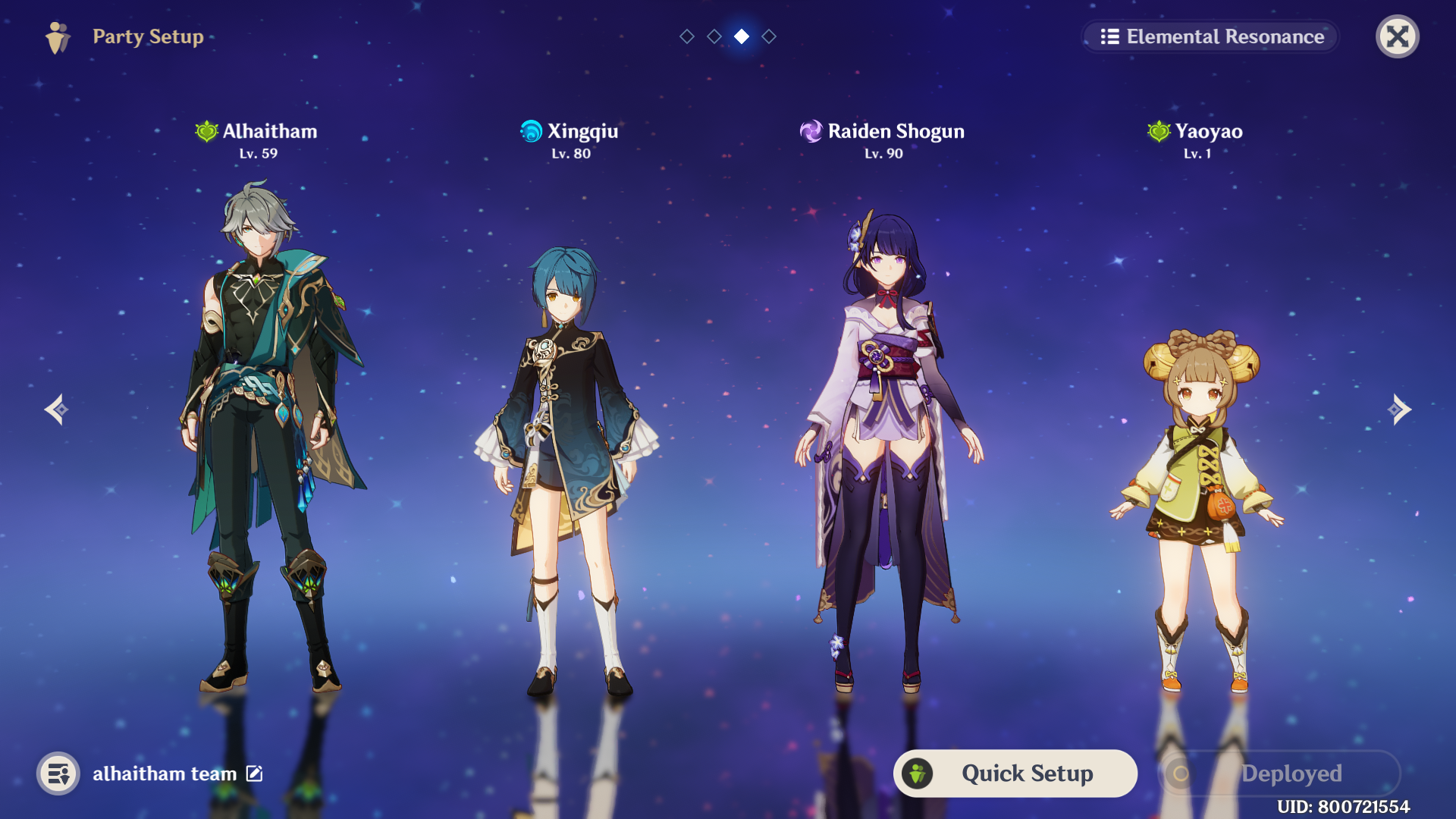 You can replace Yelan with Xingqui in case you don't have her. It will create the same effect, and you can even get an additional boost to your HP with Xingqui's skill.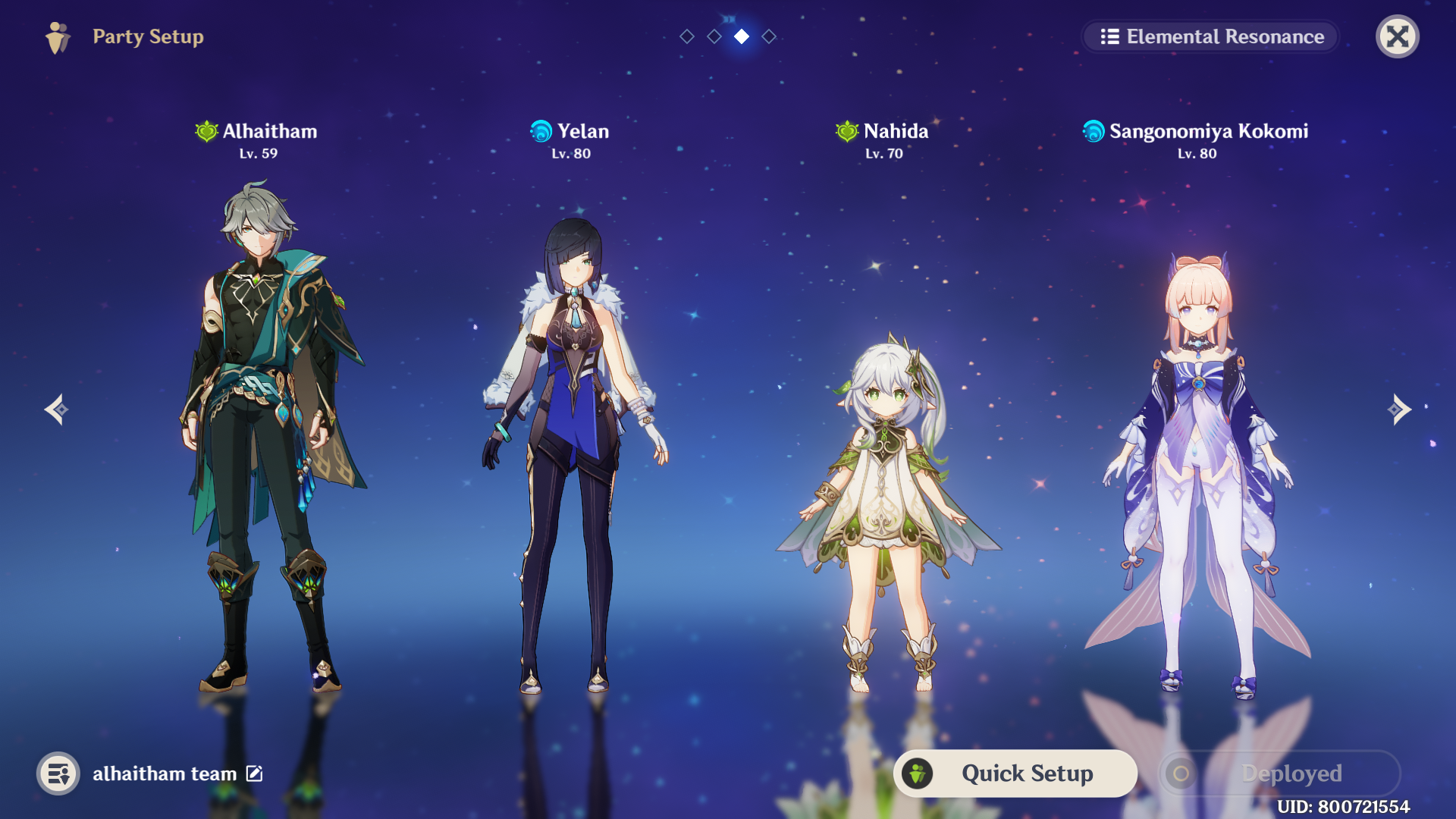 For this comp, Nahida will serve as your buffer, Dendro enabler, and sub-DPS. If you activate Nahida's burst, it will automatically and consistently apply Dendro on all the enemies within its range. This team may not be able to maximize the potential damage of the Dendro Cores, but you'll have more than enough supply to defeat your enemies.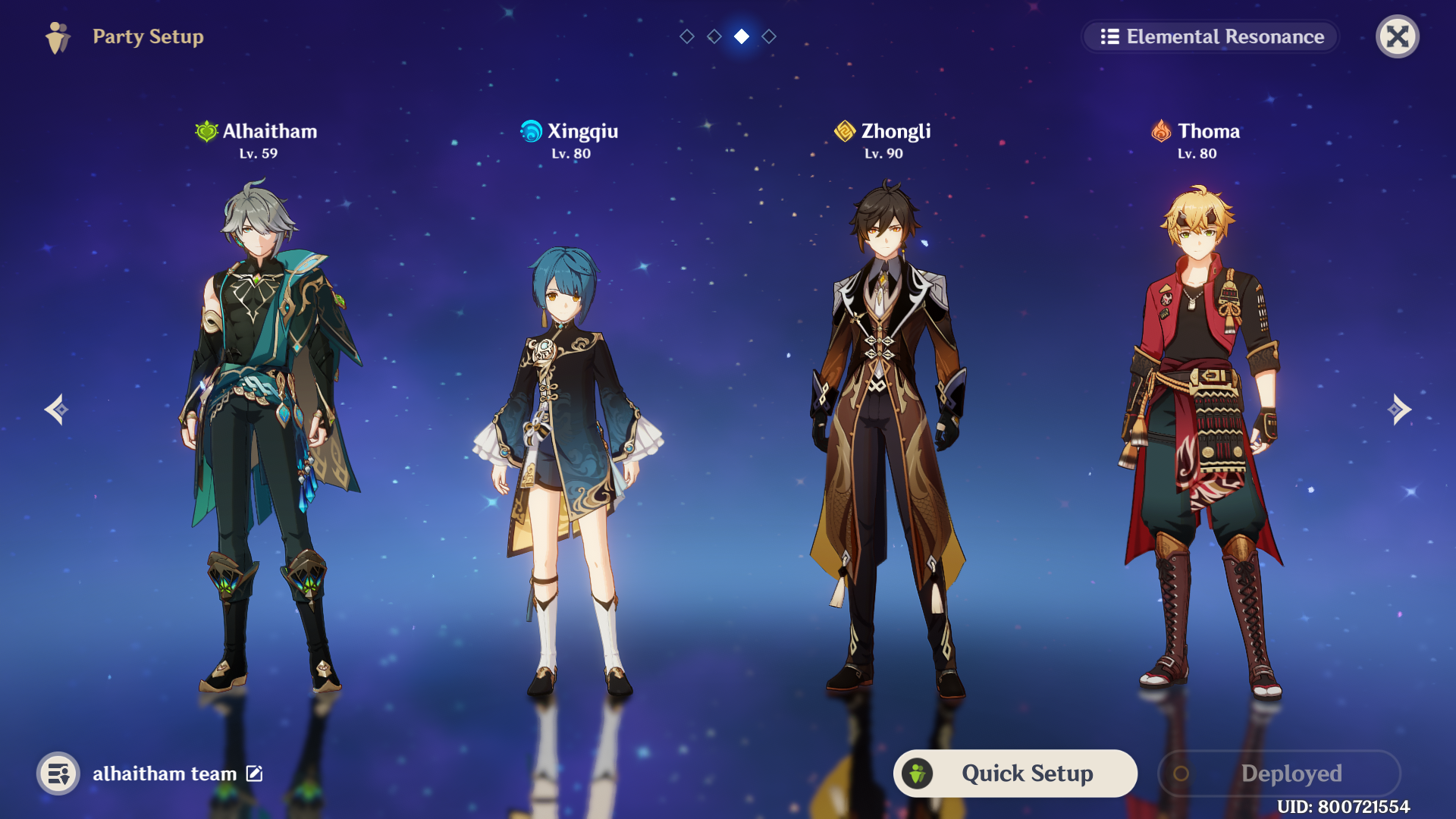 Although this team comp may seem a bit weird, you can use this for the Burgeon reaction combo. Xingqui and Alhaitham will need to work together to generate the Dendro cores, while Thoma's burst will focus on triggering Burgeon. In this instance, Zhongli would serve as your main support, shielder, and debuffer.
If you have the 4pc. Deepwood Memories on Zhongli, he can also serve as your buffer. Do note that Alhaitham must wear the 4pc. Gilded Dreams in this instance.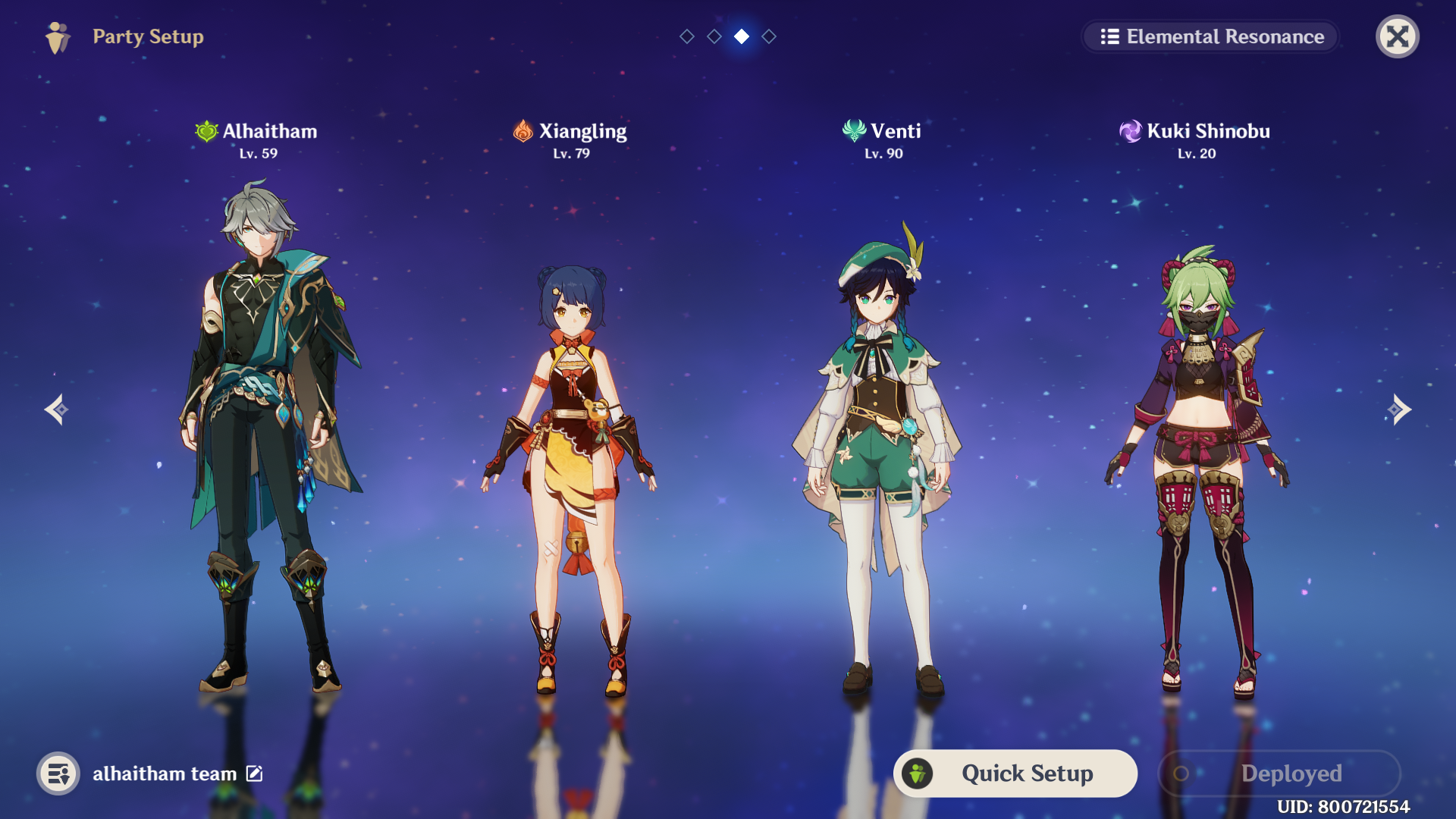 This team comp lets you play around with a variety of Elemental reactions. You can easily apply Burn and Quicken with the help of Xiangling and Shinobu's skills, as well as make sure every single mob stays in one place with Venti's Burst. If you activate Shinobu's skill or burst on an enemy that has the Quicken reaction on it, you'll also trigger Aggravate and do more damage.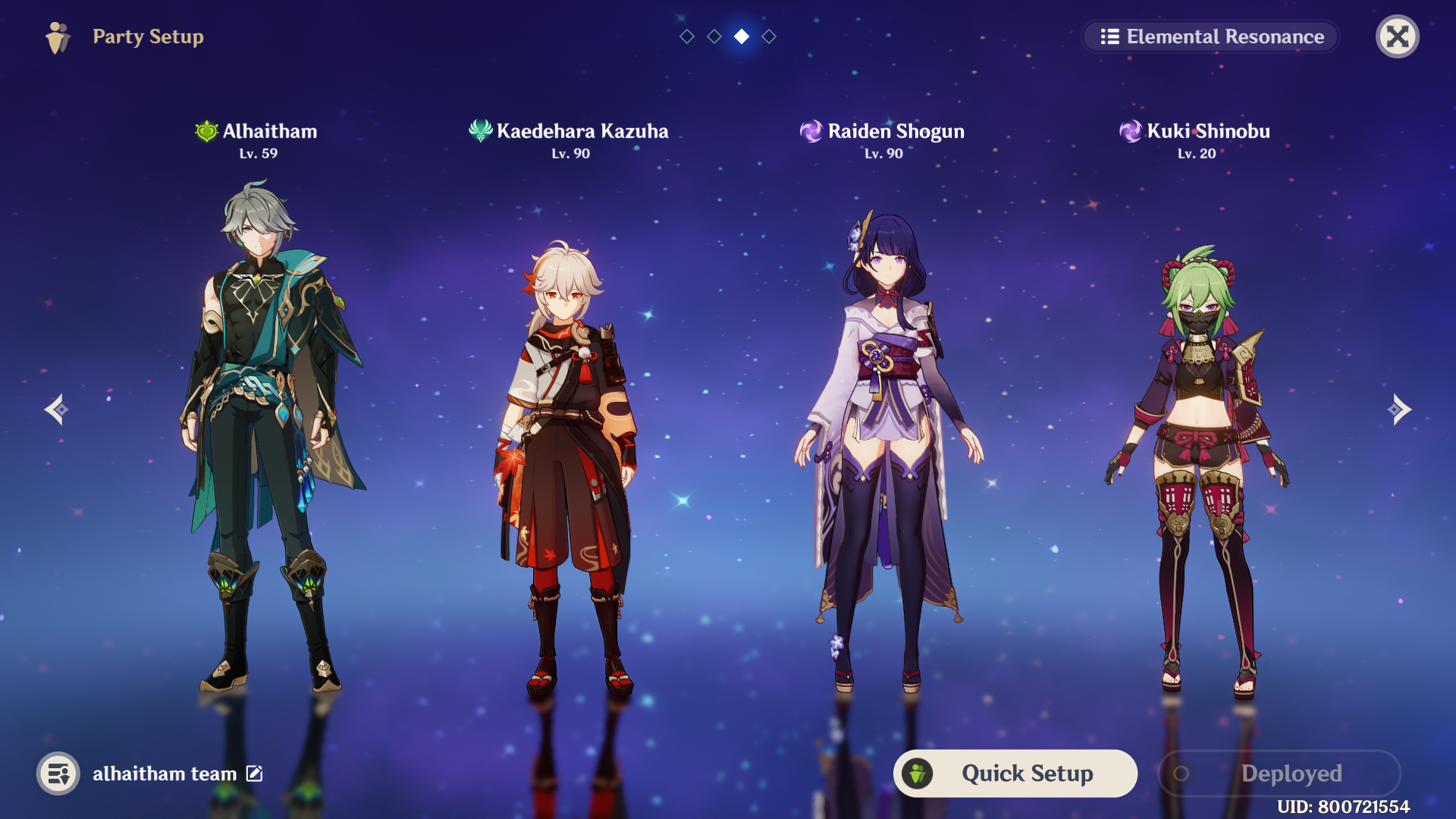 This team comp focuses on the Spread reaction, which is an excellent choice for Alhaitham. It increases his already-high damage modifiers and scales very well with EM. Since Kazuha is already an EM-focused character, he can serve as a buffer for Alhaitham since Swirl can help with a more consistent Elemental application.
Kuki Shinobu's skills also scale with EM, which helps boost the overall damage dealt by Alhaitham. For Raiden Shogun, you can replace her with Yae Miko to maximize the EM output.
Free-To-Play Friend Team for Alhaitham
If you have a limited choice in 5-star characters, that's completely fine! Not everyone has the money to buy Primogems. Instead, here are some good F2P-friendly team comps for Alhaitham.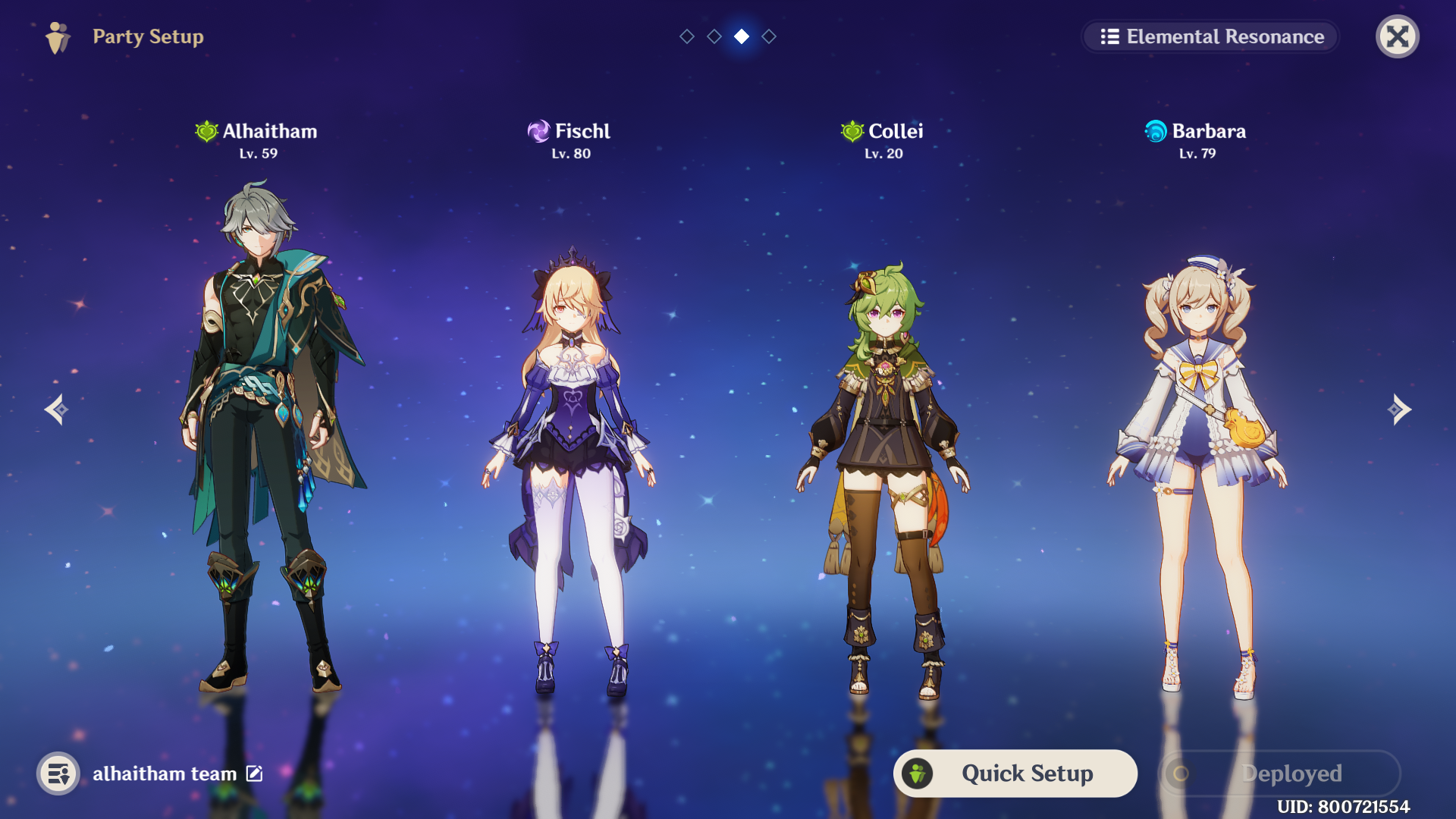 Fischl makes another return! Really, her skill is too useful in applying Electro to enemies. You can spam summon Oz onto the battlefield and switch to Alhaitham for Dendro application. Collie will serve as your Dendro buffer, especially when you have constellations of her. Lastly, Barbara can help generate Dendro cores and make sure Alhaitham is near Death's door.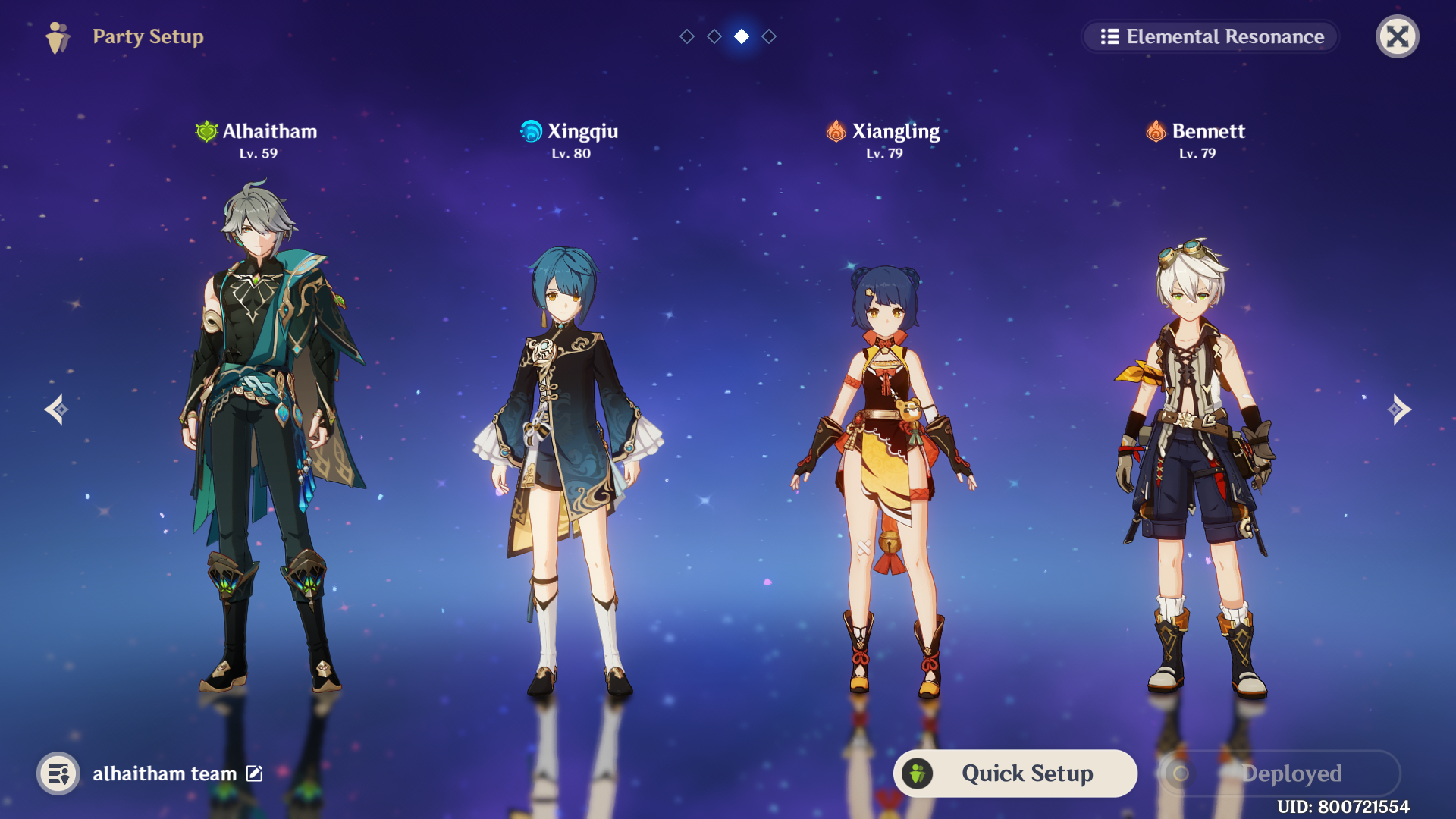 For this team comp, we featured the all-time favorites! Bennett's burst will boost your stats and make sure your health doesn't drop below 70%. Xiangling and Xingqui can help Alhaitham deliver Elemental reactions for more damage! Not to mention, having two Pyro characters in your team will increase your ATK by 25%.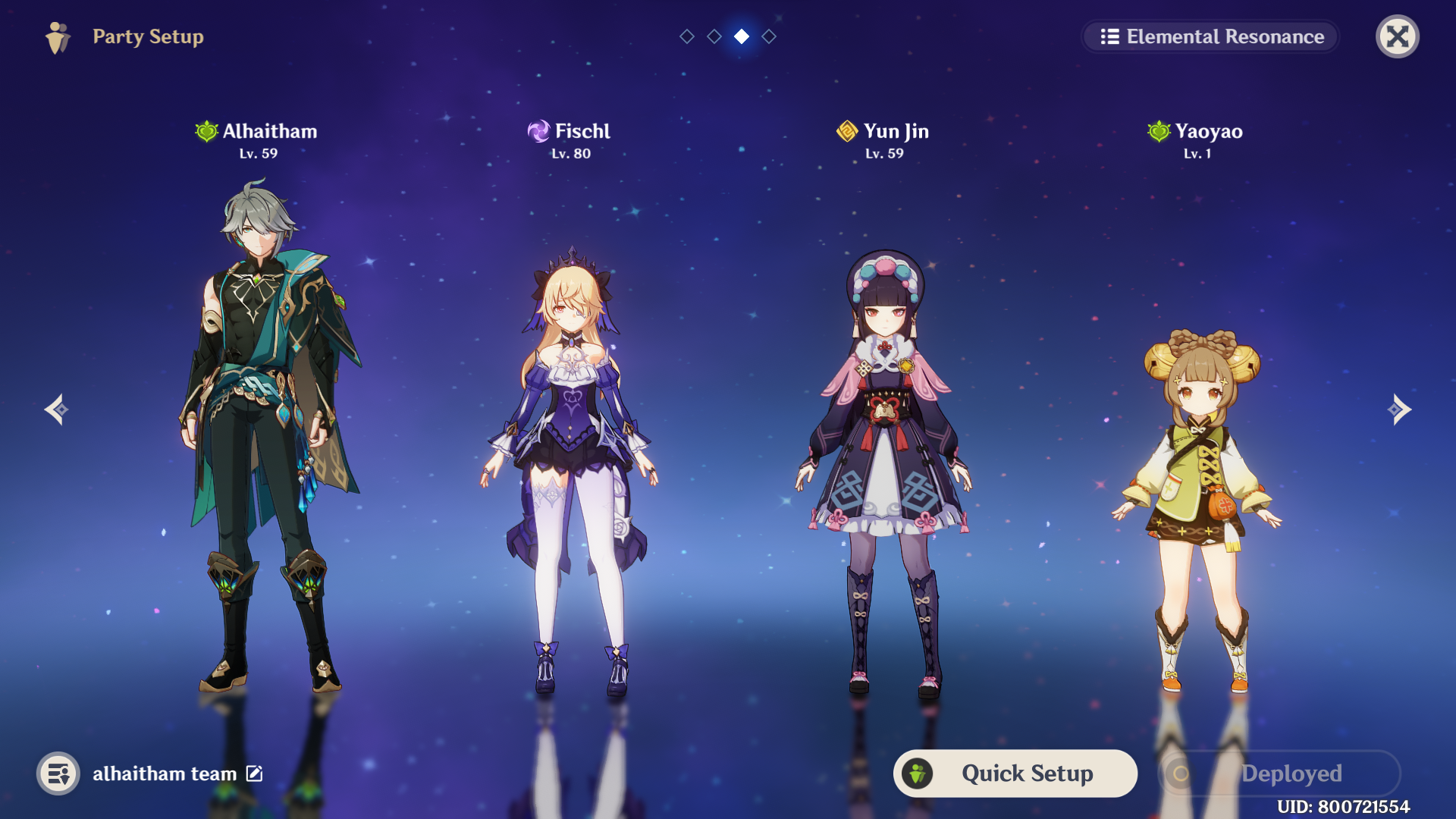 As ever, Alhaitham will be your main damage dealer while Fischl will be your source of Electro. In this team, we added Yun Jin as your buffer since her burst boosts your Normal Attack. Of course, Yaoyao is here for healing and that extra Dendro damage while Alhaitham is on cooldown.
How to Use Alhaitham
It is important to master the order and timing of Alhaitham's abilities in order to unlock his full potential and optimize his damage output. While this may appear intimidating at first, players can play him successfully and display his strength by studying his skills and knowing the intricacies of his kit.
Simply put, don't use his skill and burst willy-nilly. You have to take note of the long cooldowns, which is a big hindrance in executing combos. If you want to use a longer Dendro infusion combo, begin by using his Burst. Then, deal normal attacks to trigger the Chisel-Mirror Lights' damage instances and Dendro reactions. Once the first three mirrors have run out, reactivate them with Alhaitham's skill or burst.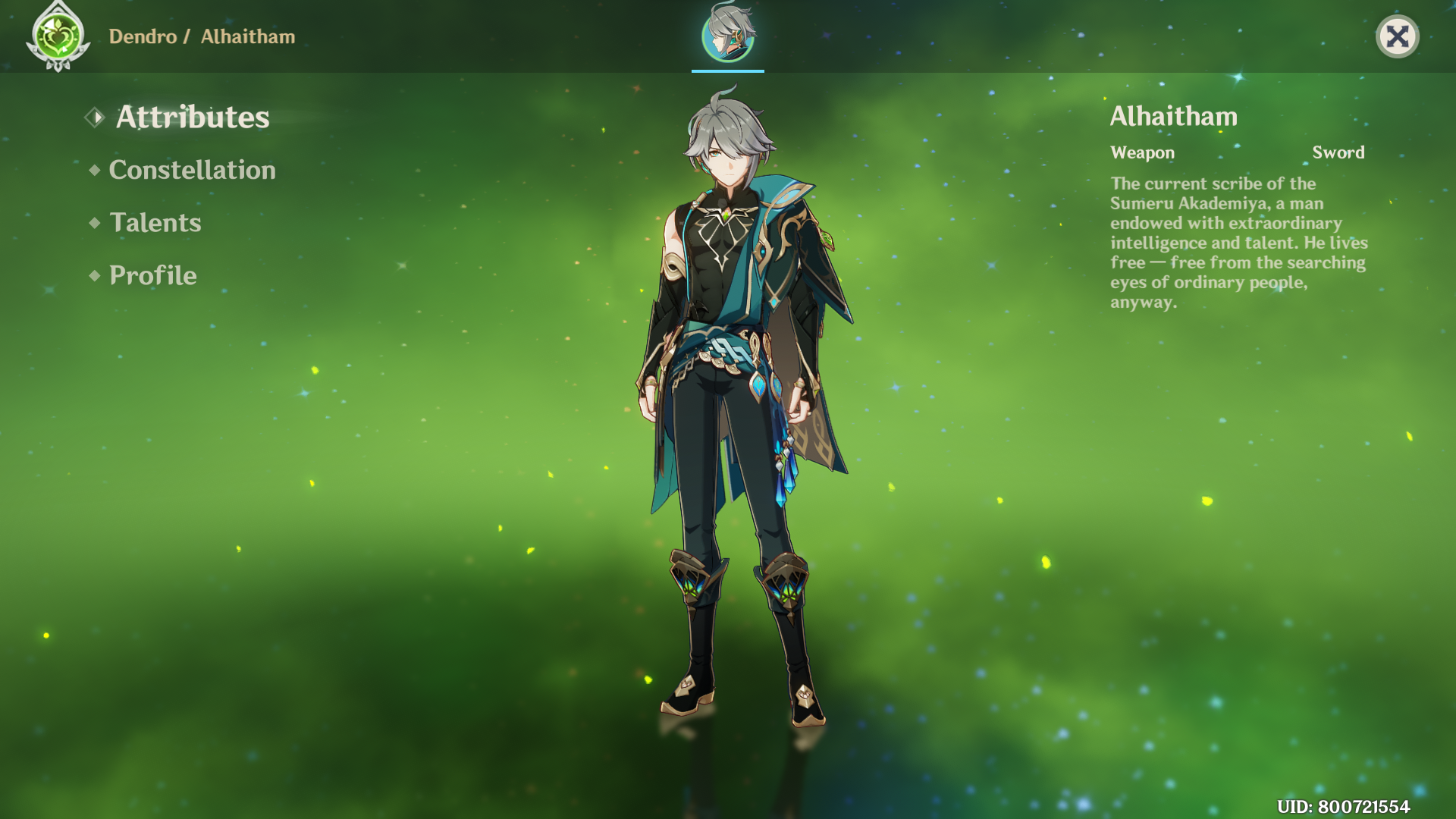 Another playstyle you can go for is to focus on his Burst damage. First, use his skill to get Dendro infusion and two mirrors before going for a Charged Attack to get the third. Hit your opponent a few times with Dendro-infused Normal Attacks to trigger the Mirrors' damage instance, then activate the Burst for another 10 instances of damage.
In short, your priorities should either be Normal Attack > Elemental Skill > Elemental Burst or Elemental Skill > Elemental Burst > Normal Attack. What order you use will depend on your unique playstyle.
Don't forget to top up your Genesis Crystals for Genshin Impact here at Codashop. It's easier and faster, since we have many safe and convenient payment options.