Hi Codashoppers, here are the good deals you can enjoy when #PayWithBoost at Codashop from 30 October – 19 November 2020!
A sweet deal just got sweeter
A sweet deal just got sweeter! Top up Candy Crush Saga on Codashop, 5 winners will win 50 Gold Bars worth RM34.90 and 10 winners will win 10 Gold Bars worth 10 Gold Bars weekly!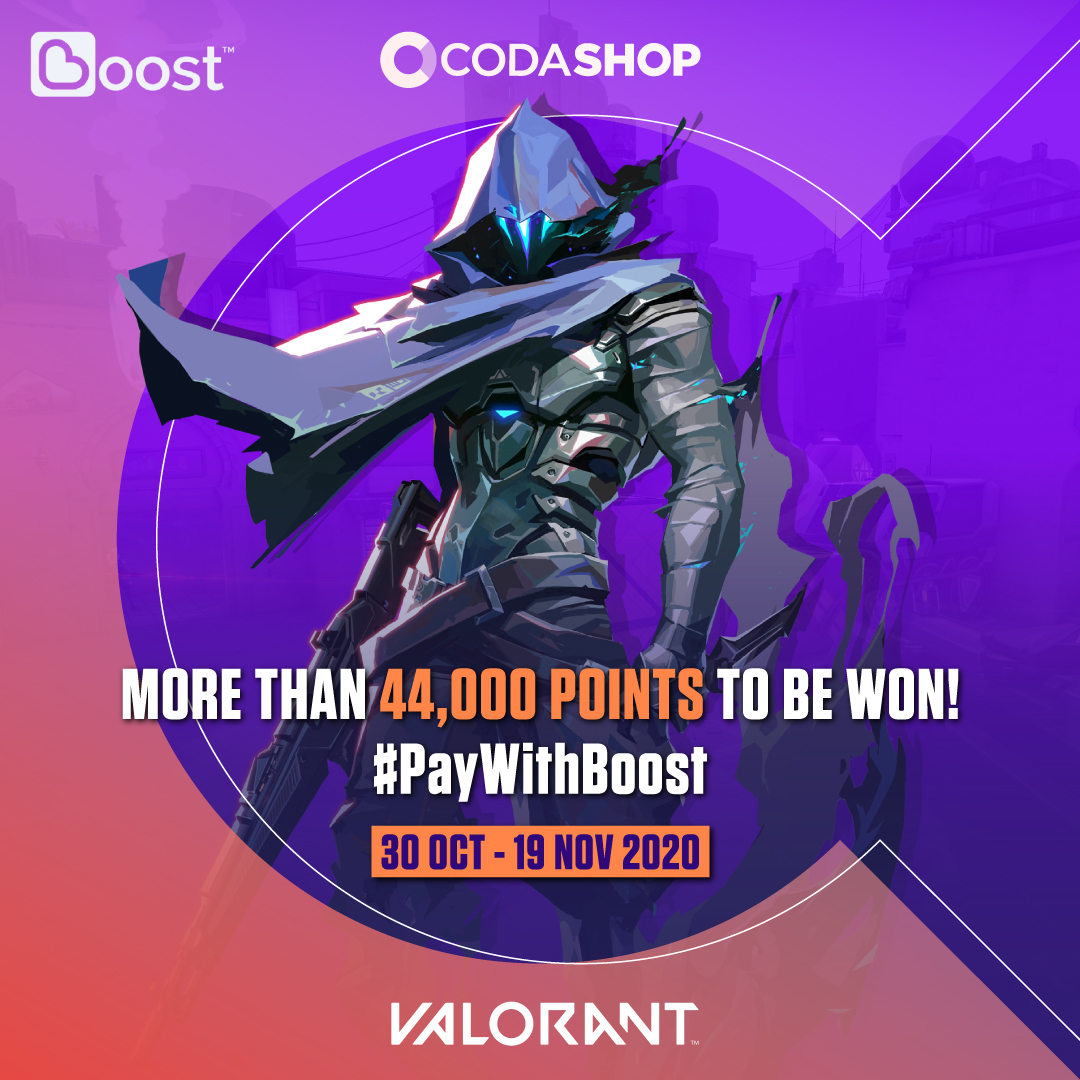 No one gets left behind in VALORANT 
Share this news with your shooter buddies – we're giving out VALORANT Points up to 7,000 Points! Simply top up any amount to join this lucky draw.
Ready when you are, Summoners  
Wild Rift is now available on Codashop! We're giving away 5 x 1,650 Wild Cores to Summoners who top up any amount of Wild Rift on Codashop.
Meet new people with Tinder
Enjoy 50% off all Tinder subscriptions on Codashop and swipe right to meet new people 😉
Terms and Conditions
Event will run from 30 October – 19 November 2020.

Three campaigns will be carried out throughout the campaign period as follows:
Promotion A: Candy Crush Saga 
Top up any amount of Gold Bars using Boost during campaign period.

Recharge Gold Bars and get 100% Bonus Gold Bars up to 50 Gold Bars.

 3 x 50 Gold Bars and 10 x 10 Gold Bars will be given out weekly.

Winners will be chosen randomly and announced weekly on Codashop Blog. 

Each eligible winner will win only 1 (one) of the following prizes:

50 Gold Bars x 15 units
10 Gold Bars x 30 units

Each user can only win once during the campaign period.

Prize fulfilment by Codashop will be the end of every 1 week during campaign period. 
Promotion B: VALORANT 
Top up any amount of VALORANT Points on Codashop using Boost.

Enter a valid email address upon purchase to qualify. 

Each duly transaction as specified herein shall be referred to as an "Entry"

By the end of the campaign, lucky winners will be chosen randomly to receive up to 100% Bonus Points.

Each eligible winner will win only 1 (one) of the following prizes:

300 Points x 15 units
625 Points x 10 units
1,125 Points x 7 units
1,650 Points x 5 units
3,400 Points x 3 units
7,000 Points x 1 unit

Prizes will be fulfilled by Codashop by 2 December 2020. 
Promotion C: Wild Rift
Top up any amount of Wild Cores using Boost during campaign period.

5 lucky winners will win 1,650 Wild Cores worth RM50 weekly.

Prizes will be sent directly to winners' Riot ID that they enter during purchase.

Users must enter a valid email address during top-up and winners will be informed via email. 

Prizes fulfillment will be done by Codashop within 7 days after each week during campaign period. 
Promotion D: Tinder
50% off pricing will be displayed when users click to purchase Tinder subscriptions using Boost on Codashop. 

Complete your payment, and a code will be sent to your email that can be redeemed for Tinder Plus or Tinder Gold.
General
Prizes are non-transferable and non-exchangeable for cash or other items. All pictures to illustrate the prizes are for representational purposes only. 

By participating in Promotion A, B, and C and D, users agree to abide by the Promotion Terms and Conditions and agree to be bound by the Promotion Terms and Conditions including any amendments or variations thereto as well as any decisions made by Codashop. 

The lucky draw is open to all residents of Malaysia, aged 18 years and above.

Entries will only qualify for the lucky draw if the entry submitted within the promotion period. Entries submitted outside of the promotion period, or submitted through any means other than specified herein, will not be eligible for the promotion. Any complaints on missing and/or delayed submissions will not be en

tertained.

Winners for the lucky draw will be chosen randomly by Codashop.

Each participant may win only one (1) prize for the entire lucky draw.

All Entries submitted in the manner set out above will be individually judged by Codashop at its sole discretion.

By taking part in this lucky draw, all participants are deemed to have provided expressed consent for Codashop to process, use, and/or transfer (where necessary) the contestant's personal information, social media handle and photos submitted, for the purposes of this lucky draw. 

In the event that any prize is unclaimed within such period, or there is no winner determined in respect of the prize, it will be dealt with at Codashop's sole discretion.
<! ––START TO COPY HERE FOR THE PRODUCT CAROUSEL ––>