Worlds collide in Call of Duty: Mobile as its 4th season this year launches with a new set of challenges, rewards, and exciting new events! You're definitely in for a treat as the Veiled Uprising takes centre stage, and you'll be tasked with fighting against a secret society with an unknown agenda and seemingly nefarious intentions. You'll need to be on your toes as you navigate through the new game mode and participate in the themed events. What are you waiting for? Let's dive in and explore what's in store for us in CODM Season 4 this 2023..
The Veiled Uprising Battle Pass
Of course, the best way to kick off the new season is to unlock the Premium Battle Pass tiers and make the most of the exclusive rewards that come with it. Like previous Battle Passes, you'll gain access to the free track with all your essential in-game rewards like COD points, credits, and skins. At Level 14 of the free track, you can get your hands on the new Battle Royale Class called Shock Wave. The OTs 9, this season's newest weapon, also makes its debut in CODM. But to get the best possible CODM experience, you're better off unlocking the Premium Battle Pass tiers that are worth thousands of credits and points, not to mention a ton of skins you can add to your collection. With 200 tiers to unlock, you'll have plenty of opportunities to earn rare and exclusive items that will make your gameplay even more thrilling.
Battle Royale Mode – Ground War: Skirmish
It's considered a tradition by CODM players to look forward to the next game mode to cycle through every season, and this time, it's Ground War: Skirmish. This new hybrid mode effectively combines all the best elements of Multiplayer and Battle Royale into one action-packed game.
In this 12v12 mode, teams fight to gain control of five objectives positioned across the map. Occupying an objective earns points for your team. Once a certain score is reached, the S point is activated, awarding double points to whoever holds it. While it may sound simple at first, you'll need to strategize and coordinate with your team to successfully capture and defend objectives while also fending off enemy attacks. 
Ground War: Skirmish introduces a whole new level of intensity to the Battle Royale mode, as it adds a new layer of objectives and strategic gameplay. Make sure to gather your team, plan your moves, and be ready for anything in this exciting new mode. But beware, the enemy team is also fighting for the same objectives, and they won't go down without a fight. 
New Multiplayer Map: Arsenal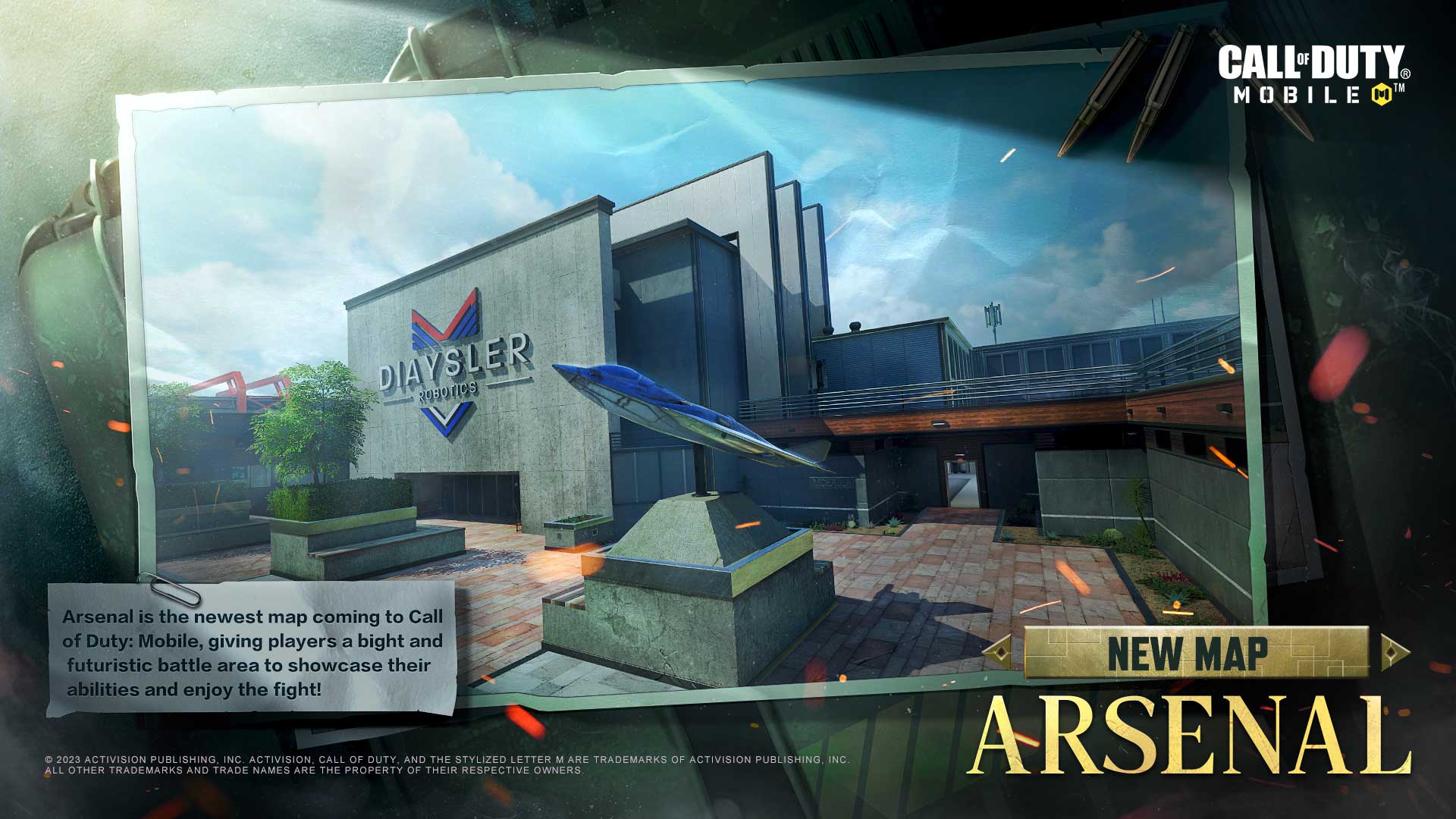 Image credit: CODM
Check out the newest CODM addition: the Arsenal multiplayer map. Set in a high-tech weapons manufacturing facility, the map features a variety of close-quarters and long-range combat areas, including a courtyard, a warehouse, and a cafeteria. You can also sneak through ventilation shafts to gain a tactical advantage over your opponents. First featured in Call of Duty®: Black Ops 4, the Arsenal is perfect for players who enjoy diverse and dynamic gameplay.
New Battle Royale Class: Shock Wave
In Season 2, we were introduced to the Ravager Launcher class in Battle Royale. This season, we have a new class called Shock Wave. The Shock Wave class skill can be quite handy in various situations, especially when you need to create some distance between you and your enemies. The skill can knock back enemies with an invisible shock wave, which is perfect for players who prefer to keep their distance and engage in long-range combat. It's also an effective tool for those who like to charge into battle and take out their opponents up close and personal. Unlock the new class by progressing through your Battle Pass, and try it out in Battle Royale mode.
Themed Events and Seasonal Challenges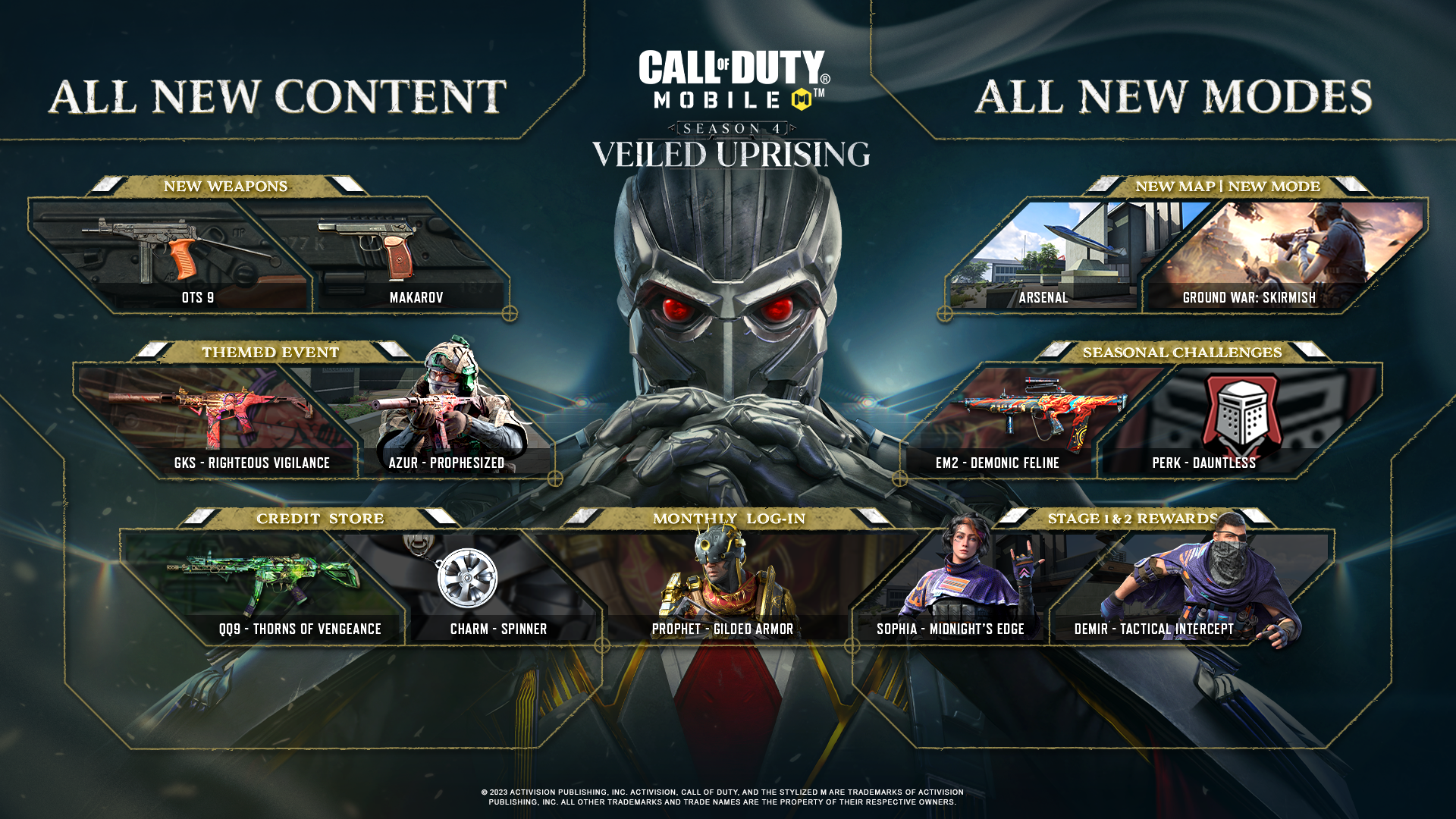 Image credit: CODM
Last season's easter egg hunt and neon-themed chromatic event put players on a scavenger hunt for hidden treasures and an Easter Bunny-themed NPC in exchange for some exclusive prizes. CODM Season 4 brings us the Lost Treasure event, which also involves finding some hidden loot. By completing various tasks in Multiplayer and Battle Royale, you can earn keys that will unlock these hidden treasures. As you progress, you will also receive additional rewards, and if you complete the event, you will earn The Lost Treasure, which is this event's ultimate prize.
There are also a couple of seasonal challenges to look forward to throughout the season that lets you earn some exclusive rewards you won't get from other seasons, such as operator skins, weapon blueprints and calling cards. These events are also a great way to earn some XP to level up your Battle Pass and unlock even more rewards. You can also get your hands on the new Makarov pistol, a powerful secondary weapon that can surely pack a punch. Also, look out for the new Dauntless Perk that provides immunity to movement-reducing and burn effects, making it a valuable addition to your loadout.
World Champs 2023 Qualifiers and Sweepstakes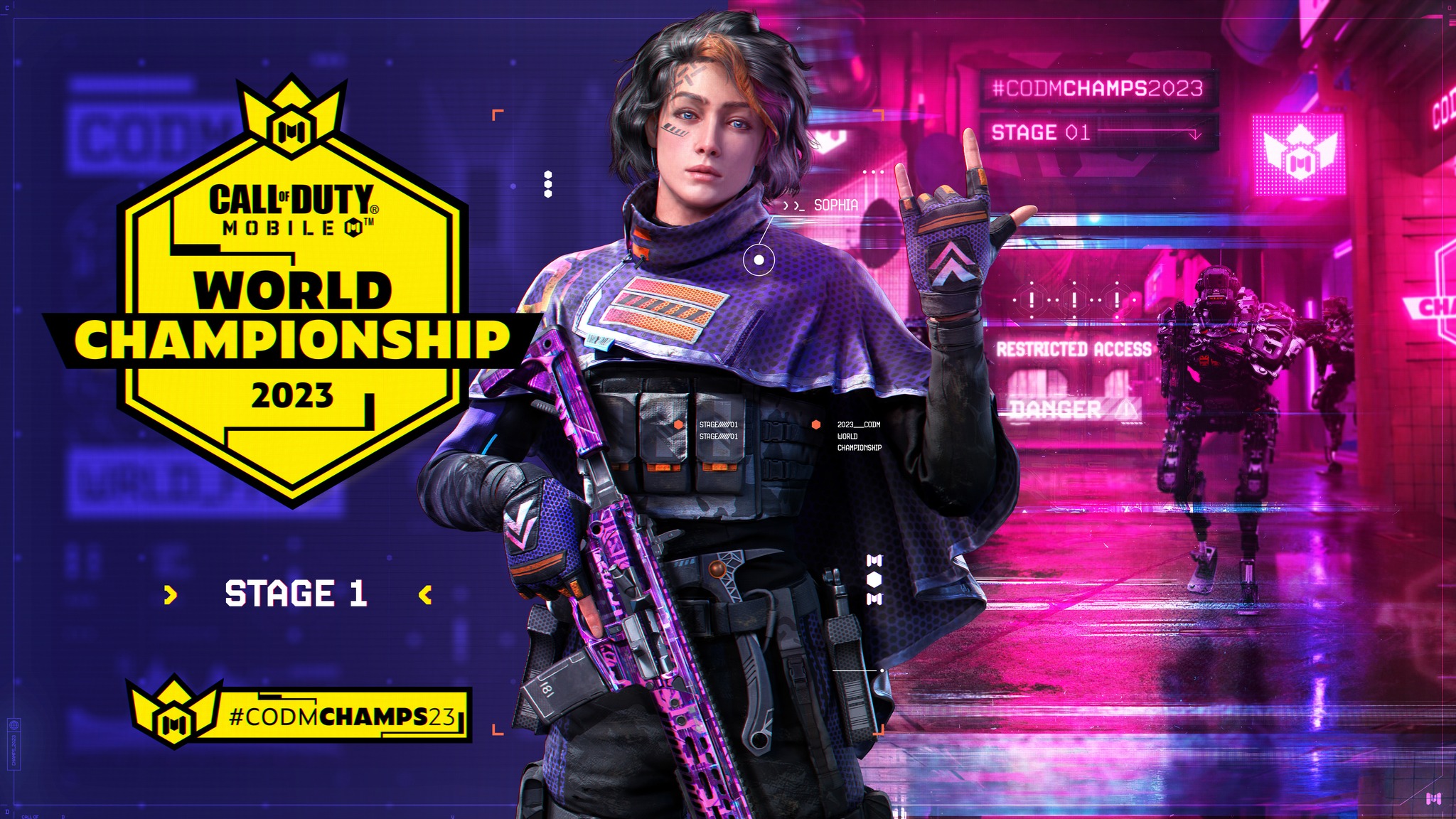 Image credit: CODM
All these events, rewards, weapons, and game modes are now a staple in CODM, but what about real-world events? Prepare yourself to participate in the Call of Duty: Mobile World Championship 2023, which will have regional Stage 1 and 2 qualifiers held in various rounds. Players who meet the requirements and enroll to compete will be granted a brand-new frame, weapon skin and calling card.
Additionally, they can receive more prizes by accumulating points through ranked matches. Once you've earned 100 points or more, you can then qualify for Stage 2. The World Champs 2023 Sweepstakes is open to North American players who participate in Stage 1 and qualify for Stage 2. Those who qualify can choose to enter the sweepstakes, where they have the chance to win a soccer ball autographed by the renowned world champion player, Lionel Messi. For more information on the event, check out the official CODM website.
Watch out for the upcoming competition dates and make sure to practice and improve your skills to have a chance at competing in the World Champs 2023:
Stage 1: April 27 UTC – May 14 UTC
Stage 2 Pre-heat: May 19 UTC – May 21 UTC
Stage 2: May 22 UTC – June 4 UTC
Final Roundup
Call of Duty: Mobile just keeps getting better with every new season, and Season 4 is no exception. From the new weapons and maps to the updated Battle Pass and game mode, there's plenty to keep players engaged and challenged. Whether you're a new player or a seasoned veteran, there's something for everyone this season.
Unlock more rewards this season by topping up your Call of Duty: Mobile account only through Codashop. We offer safe and secure payment methods for a hassle-free experience.