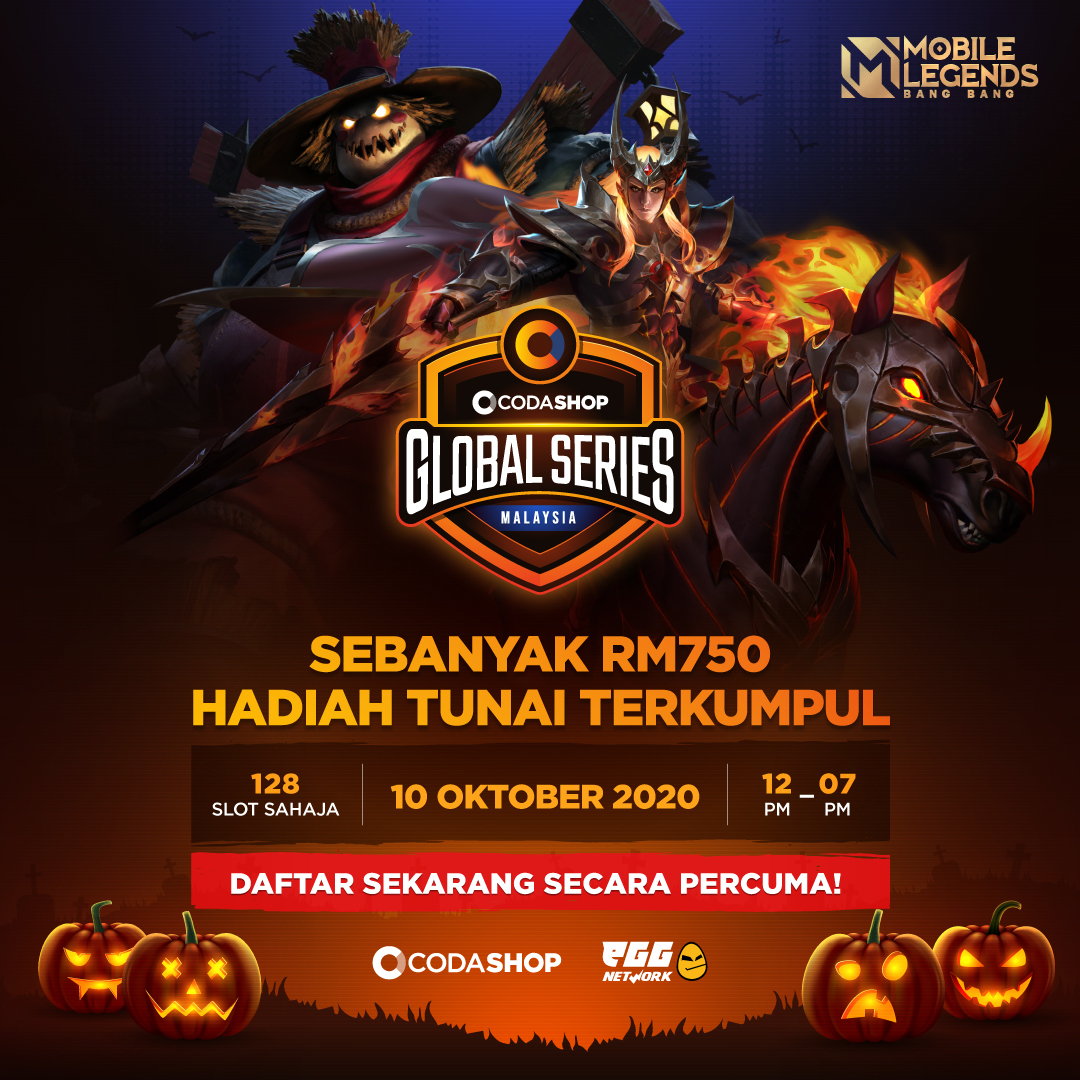 Codashop Global Series Malaysia is back for October 2020! And…IT'S SPOOKIER! For October, we want to bring more 'seram' elements in the tournament. Make sure to catch our livestream on Codashop MY Facebook page to witness the spine-chilling matches and stand a chance to win more than 4,000 Diamonds, Armageddon Nuke 7 7.1 Headset, and Codashop hoodie!
Before we go into details, we would like to congratulate the champion for our last tournament in September, Sterk Nation and the first runner up, Team Merdeka. Well played guys!
About Codashop Global Series – Malaysia
Like the tournament before, 128 teams will battle it out in the Mobile Legends community tournament in October. Champion will win RM500 while first runner up will receive RM250. Do not worry if you have just started playing the game. You CAN register. The community tournament welcomes players of all skill levels. And guess what? eGG Network is our media partner for Codashop Global Series this month! You can find the semi-finals and finals broadcast live on eGG Network Facebook Page and Codashop Malaysia Facebook Page
Registration is open from Monday, September 28 2020 to Friday, October 9, 2020. Click the button below to sign up!
Format: Best of 1 for all rounds except for Grand Finals which is Best of 3
Tournament starts at 1 PM on October 10, 2020
Registration link here.
Registration fee: FREE
Convenient Top-Up Experience
Need to load up Diamonds on Mobile Legends? Topping up at Codashop has never been easier! We deliver exceptional service by providing you with the fastest, the easiest and the safest way to recharge.
Millions of gamers & app users trust Codashop for providing a seamless top-up experience. No need for you to go through tedious registrations or remember your log-ins every time you make a purchase.
To make it more convenient for our users, we have partnered with the most trusted payment providers in Malaysia. You can opt to pay in cash, via online transfer or over-the-counter, among others. Our growing list of partners include:
Touch 'N Go
Online Bank Transfer
Celcom Mobile Number
DiGi
Maxis
U Mobile
Visa and Mastercard
At Codashop, we make your top-up experience sweeter with the best promotions and exclusive deals on your favourite games and apps, including skins and access to exciting premium features.
Guaranteed Safe & Instant Delivery
At Codashop, customer safety is our #1 priority. Once you complete your payment, credits will be delivered straight to your account in just a matter of seconds. We guarantee your safety when transacting at Codashop so you can focus on other things that matter to you.
Our customer service champions are available 24/7 to make sure that every concern and suggestions are well-addressed. Let's have a quick chat on Facebook or send us a request using this form.
So what are you waiting for? Top-up Mobile Legends Diamonds today, get more value for your money and enjoy #FasterBetterSafer top-up experience.