25% Discount And Win Your Wish List With GrabPay!
In conjunction with Malaysia Day, get 25% discount for all digital content on Codashop when you top up with GrabPay!
Here's how to apply promo code
Select GrabPay as your payment method upon checkout on Codashop. 
Scan the QR code with your Grab app to continue.

The 25% discount will be reflected automatically. Tap on "Confirm Payment" to complete the transaction.
64 lucky Codashoppers will be rewarded this month! Spend on any digital content on Codashop with Grabpay (no minimum amount) and choose 3 gifts to be on your wish list through the Win Your Wish List website. There are more than 5 awesome prizes for you to choose from! Have fun and good luck 🤩
Terms and Conditions
The campaign period will run from 1st September 2021, 00:00 AM till 30th September 2020, 11:59 PM.
GrabPay Discount – 25% Off
During the campaign user will enjoy; i) 25%  discount  (up to RM15) when a minimum of RM45 is spent with GrabPay on Codashop  ii) Use promo code: GRABCODA

Minimum spend of RM45 required, only applicable for GrabPay Credits

Each user can only redeem and use the promo code one (1) time throughout the campaign period.

Promotion is capped at a total quantity of 2,600 redemptions throughout the campaign period.

The promo will cease once the cap has been fully awarded or at the expiration of the campaign period, whichever is earlier.

This offer is not exchangeable or refundable for cash or such replacement in part or in full.

Grab reserves the right to alter, extend or terminate the promotion, or amend the terms and conditions at its sole discretion at any time without prior notice. In case of any disputes directly or indirectly arising from the promotion, the decision of Grab shall be final.

These terms and conditions shall be governed by the laws of Malaysia and any dispute arising out of or in connection with promotion shall be referred to the exclusive jurisdiction of courts of Malaysia.

Fraud, abuse of redemptions or any dishonest activities related to the promotion campaign may result in the forfeiture of promotion entitlement.

Images used are for illustration purposes only.

For full terms and conditions, please visit: GrabPay Price Terms and Conditions
Giveaway – Win Your Wish List 
Each user is entitled to win only 1 prize during the contest period of 1 to 30 September 2021. 

How to qualify as an Eligible Participant? 

Spend on any digital content from Codashop with GrabPay

Select your wish list and submit your details to participate here: Win Your Wish List 

Winners selection

Sixty four (64) lucky winners will receive Lucky Draw Prizes worth up to USD $1,998, 1 winner per item:
4. Winners announcement
i. Winners will only be revealed after the end of the Contest Period. Email addresses of Winners will also be published on the Organiser's official Facebook page and Blog.
ii. Winners will be notified via email by the Organiser. The winners must ensure that the data details provided to the Organiser are true, accurate, current and complete. Winners will be informed of their winning within seven (7) working days from the Contest ends date.
iii. The winners must respond within five (5) working days from the time when the Organiser sent the notification via email. If the winner fails to respond within five (5) working days, the Organiser reserves the right to substitute the winner with the next ranked participant.
iv. Winners are to provide all information and details and perform all actions as required by the Organiser within the given timelines.
v. Once the winner has been verified and confirmed, prize fulfilment will be done by the Organiser's Appointed Agent within 21 – 30 working days from the date of notification.
vi. ​​The Organiser reserves the absolute right to substitute or replace any of the prizes with other items of similar values at any time, if the stated prizes are not available due to unforeseen circumstances, without any prior written notice. All prizes are neither transferable nor redeemable for cash.
vii. The visual of the prizes on the Organiser's platforms or any official promotional materials for this Contest serve as illustration purposes only.
viii. All prizes are used/accepted entirely at the risk of the Winners at all times and the Organiser excludes all responsibility in connection with any prize to the extent permitted by law.
Exclusive Deals Just For You 
Kintry
Buy 5, free 1 regular sized snacks.
Use promo code: CODA
1 purchase per user.
Voucher is not exchangeable for cash.
Add 6 regular packets to car and 1 packet will be free.
This voucher expires on 31/12/2021.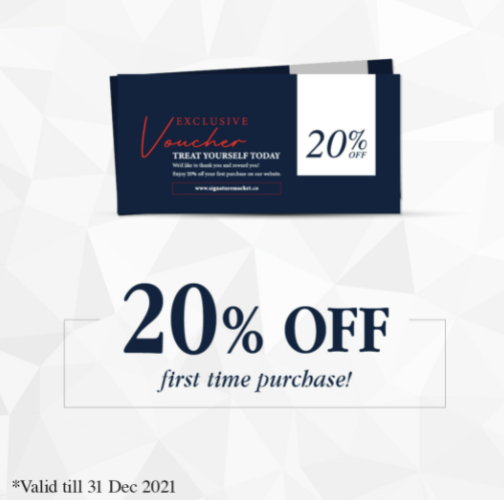 Get 20% off everything when you shop on Signature Market
Only applicable to new customers with first purchase.
Voucher is not exchangeable for cash.
Signature Market reserves the right to amend its terms & conditions at its absolute direction without prior notice.
This voucher expires on 31/12/2021
3. Team Bosskurr Official Merchandise Shop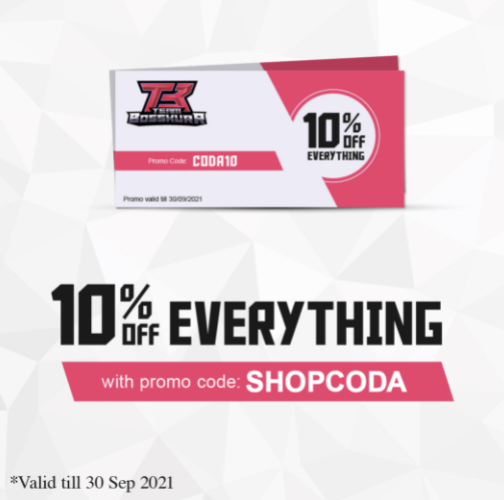 10% discount off anything on Shopee Bosskurr's page, with minimum spend of RM20.
Use promo code: SHOPCODA
First 100 redemption.
This voucher expires 30th September 2021.
General
Prizes are non-transferable and non-exchangeable for cash or other items. All pictures to illustrate the prizes are for representational purposes only. 

By participating in Giveaway – Win Your Wish List, users agree to abide by the Giveaway Terms and Conditions and agree to be bound by the Giveaway Terms and Conditions including any amendments or variations thereto as well as any decisions made by Codashop. 

Employees of the Organiser, its associate agencies, affiliates and members of their immediate families will not be eligible to participate in this Contest. 

Entries will only qualify for the lucky draw if the entry is submitted within the giveaway period. Entries submitted outside of the promotion period, or submitted through any means other than specified herein, will not be eligible for the promotion. Any complaints on missing and/or delayed submissions will not be entertained.

All Eligible Participants who are notified as Winners must comply with the necessary requirements from the Organiser including these Terms and Conditions before any prize is awarded and are therefore advised to read these Terms and Conditions prior to accepting any prize. Upon acceptance of any prize, a Winner is deemed to have agreed and be bound by all the terms and conditions of this Contest herein.

The Organiser has the right to reject or disqualify any Eligible Participant and/or Winner who fails to comply with these Terms and Conditions or requirements imposed by the Organiser without giving any reason or cause and without any liability or compensation whatsoever.

Acceptance of any prize constitutes permission to use the Winner's name and/or likeness for advertising/trade purposes without further notice or compensation, unless prohibited by law and subject to the data protection provisions below.

By taking part in this lucky draw, all participants are deemed to have provided expressed consent for Codashop to process, use, and/or transfer (where necessary) the contestant's personal information, social media handle and photos submitted, for the purposes of this lucky draw. 

In the event that any prize is unclaimed within such period, or there is no winner determined in respect of the prize, it will be dealt with at Codashop's sole discretion