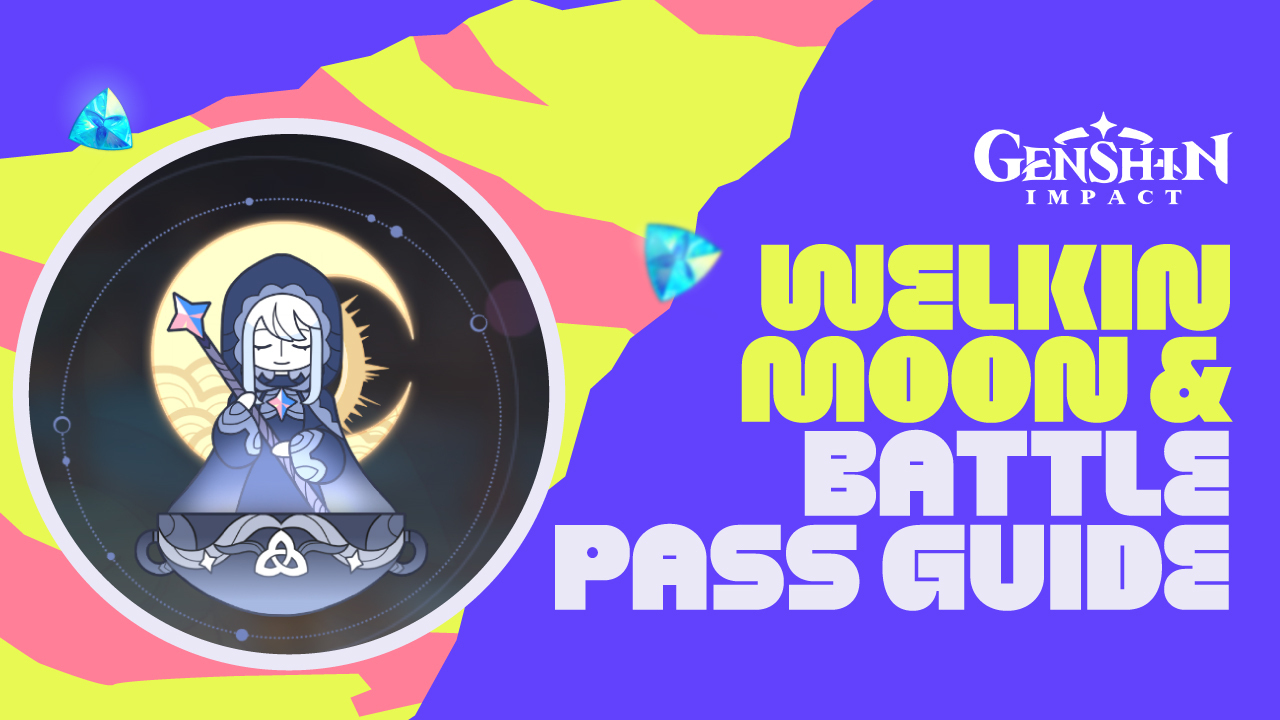 Genshin Impact is an open-world action RPG where players play four characters with unique abilities and manipulate the Elements to defeat enemies. It has an in-game shop where item upgrades are sold, plus a gacha system where players can roll to get new characters and weapons. There's also the Battle Pass and Welkin Moon (which can be bought using real money), where players can earn rewards just by playing the game. Let's discuss each one to learn more about the benefits of these leveling systems.
Welkin Moon Complete Guide
What is the Blessing of the Welkin Moon?
The Blessing of the Welkin Moon in Genshin Impact is a monthly subscription card. Upon purchase, you will instantly get 300 Genesis Crystals and receive 90 Primogems for the next 30 days when you log in daily. Welkin Moon refreshes daily at 4:00 AM (GMT+8). Make sure to do a daily login during your subscription period because unclaimed Primogems will not be carried over to the following day, nor will they be refunded.
Total rewards

Subscription to the Blessing of the Welkin Moon gives a player an equivalent total of 2700 Primogems for 30 days. Players can purchase multiple Blessing of the Welkin Moon to extend the duration of the rewards, provided that their current time does not exceed 180 days.
Getting the Blessing of the Welkin Moon is like receiving a daily dose of wealth for a month. By receiving Primogems, you can buy Fates in Paimon's Bargains (Intertwined and Acquaint Fate valued at 160 Primogems each). You can use the Fates to roll Wishes for a chance to get new characters and weapons. You can also use your Primogems to replenish your Original Resin, which allows you to claim challenge rewards from Ley Line Blossoms, Petrified Trees (Domains), and Trounce Blossoms (Bosses), as well as Event-exclusive challenges.
How to get Blessing of the Welkin Moon from Codashop?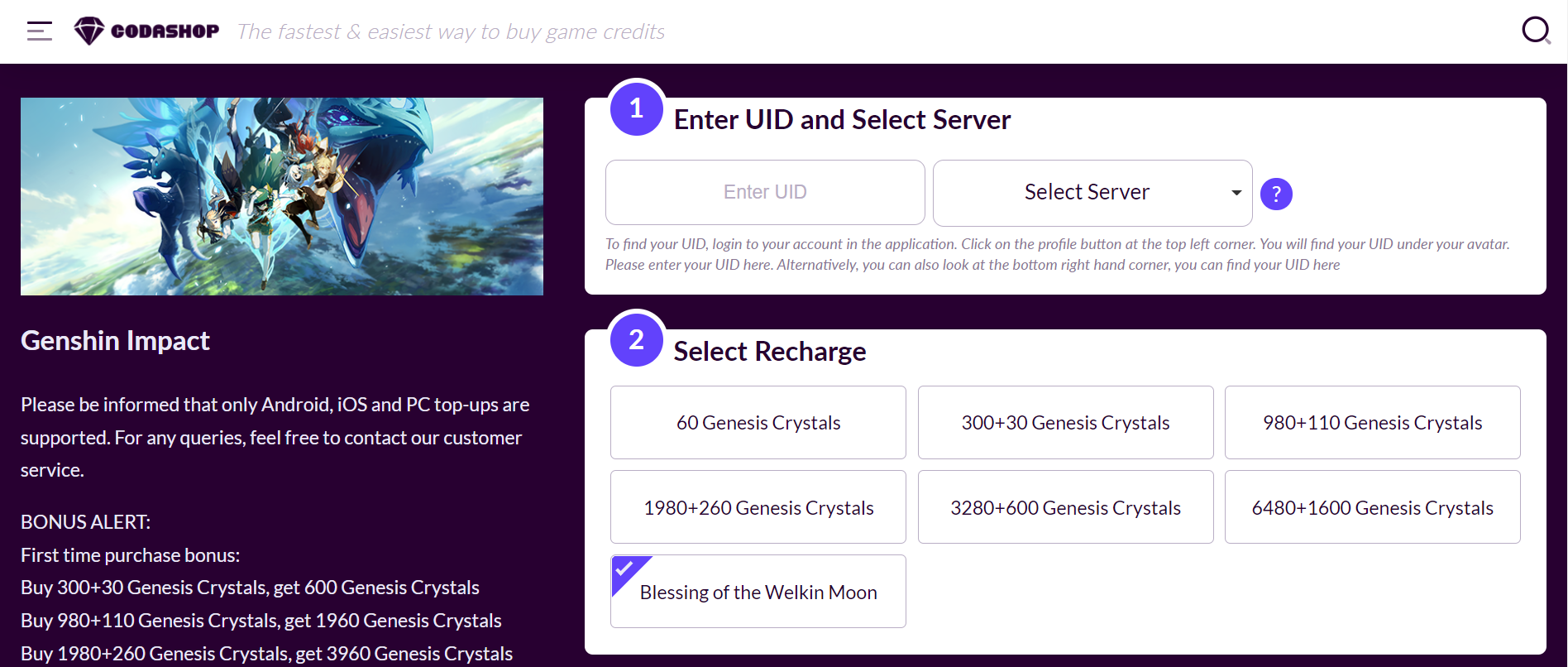 Great news dear Travelers! Top up your Genshin Impact Blessing of the Welkin Moon at Codashop.
From the Genshin Impact page, enter your User ID and select Server.

Select Blessing of the Welkin Moon from the recharge options. 

Select your Payment Option and complete your purchase to receive your Blessing of the Welkin Moon!
Battle Pass Complete Guide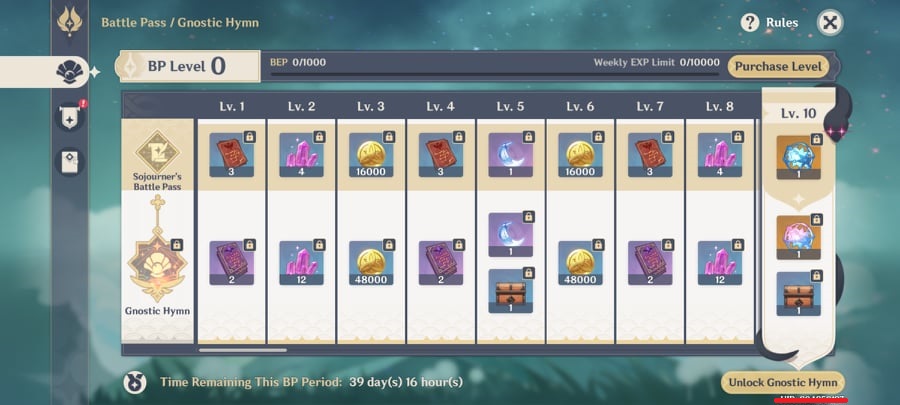 What is a Battle Pass?
The Battle Pass in Genshin Impact is a different leveling system where players can pick up rewards by completing daily, weekly, and BP Period missions. This continuous event is available when players reach Adventure Rank 20. The Battle Pass consists of 50 levels. A player must earn 1000 Battle Pass EP (BEP) to go up one level to level up the BP. There are plenty of tasks listed on the BP page that players can partake in to earn BEP:
Daily Missions:

Includes completing 4 Daily Commissions, doing daily logins, and others.

Weekly Missions:

Includes fighting boss opponents, completing Domain Challenges, cooking 20 dishes, and more.

BP Period Missions

: Includes making a total of 50 Wishes and gaining 12 stars in the Spiral Abyss.
Generally, most active players will level up their BP by just regularly playing the game. However, take note that there's a cap of 1000 BEP available each week and that the Battle Pass maxes out at level 50.
Gnostic Hymn Battle Pass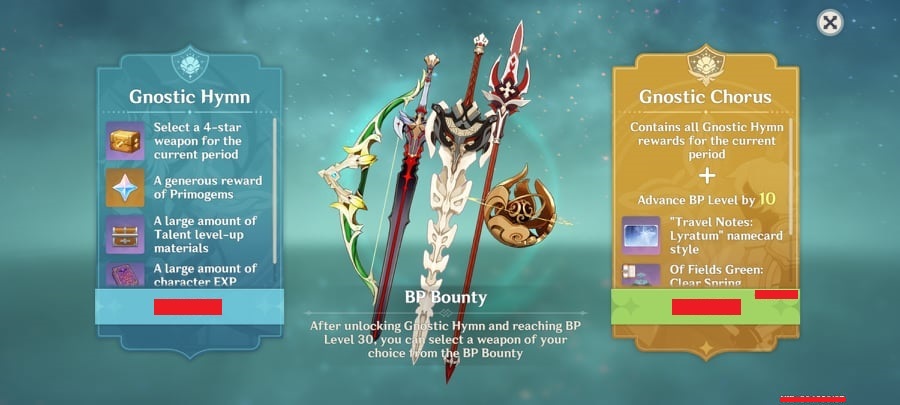 There are two versions of Genshin Impact Battle Pass. The Sojourner's Battle Pass is the free version. It grants players rewards including Adventurer's Experience, Mystic Enhancement Ores, Moras, Fragile Resins, and Acquaint Fates rewarded for every 10 levels.
Players can purchase the Gnostic Hymn to get more rewards. This version includes the rewards from Sojourner's Battle Pass plus a collection of talent level-up materials, a BP Bounty for a chance to select a 4-star weapon (Lv.30), and Intertwined Fates every 10 levels.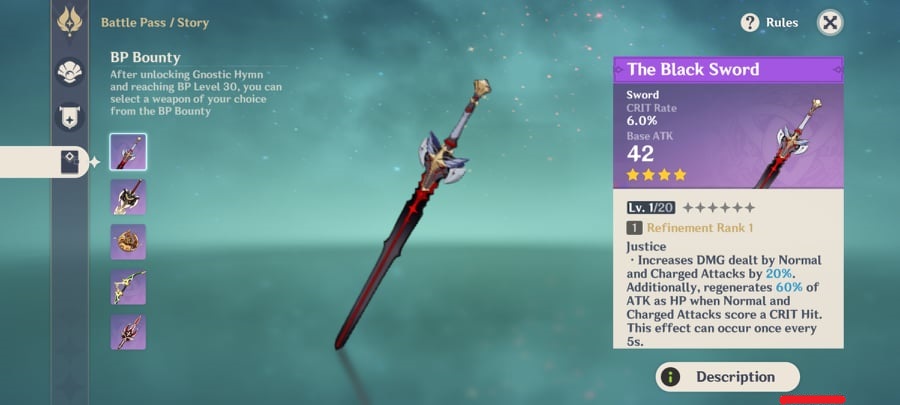 Gnostic Chorus Battle Pass
If you have extra money to spare, you can go for Gnostic Chorus. The rewards are the same as that of Gnostic Hymn, but instead of starting at Level 1, you advance BP Level by 10. You also get a unique namecard style, 5 Fragile Resin, and other goodies. The price of the Gnostic Chorus is discounted if you already have Gnostic Hymn.
Is buying Welkin Moon and/or Battle Pass worthy?
In summary, buying the Blessing of the Welkin Moon and the Battle Pass is a significant boost in your Genshin Impact journey. Welkin Moon grants you free Primogems for 30 days. You can save those Primogems to draw multiple wishes, especially when your target character or weapon is featured in the banners.
When it comes to getting the Battle Pass, the rewards are attractive! The benefits are irresistible from obtaining Fates, getting an awesome weapon, and amassing millions of Mora (that can pay for your character level-ups). But between Gnostic Hymn and Gnostic Chorus, we recommend getting the former, considering it's not that hard to grind to reach BP Level 10. That will help save you money.
Don't forget to top up Genesis Crystals and Blessing of the Welkin Moon for Genshin Impact on Codashop. It's faster and easier, with plenty of convenient payment methods available.