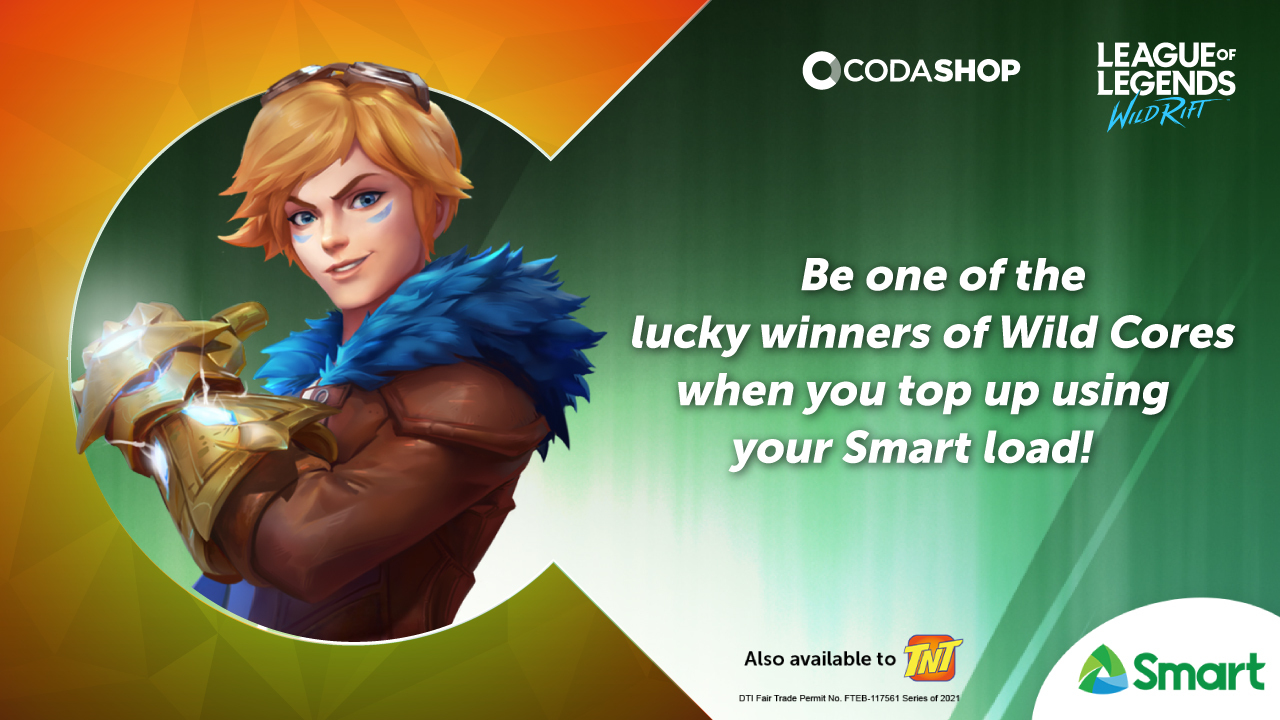 PROMO PERIOD: April 19, 2021 – May 3, 2021
MECHANICS
ELIGIBILITY: Open to all subscribers of Smart Prepaid and TNT nationwide.
EXCLUSIONS: Corporate and Retail Corporate accounts, all employees of Codashop and Smart Communications Inc., their affiliates, their third-party agencies (Creative, Media, PR, Events), and their relatives up to the 2nd degree of consanguinity or affinity are not eligible to join the raffle.
HOW TO JOIN
Purchase any amount of Wild Rift gaming pins on Codashop and pay using Smart/TNT Direct Carrier Billing within the promo period.
Enter a valid email address upon purchase. The purchase receipt sent via email will serve as the raffle entry and proof of successful transaction.
Note: 1 purchase receipt = 1 entry.
DEADLINE TO JOIN: Deadline of submission of entries is on May 3, 2021 at 11:59PM.
RAFFLE DRAW

Winners will be drawn in the presence of a DTI representative on May 4, 2021.
Once the winners are determined, they will be verified by Codashop representative and the DTI representative using the database of raffle entries and the transaction records on the system.
A copy of the user IDs of winners will be given to the DTI representative.
PRIZES: Chosen 50 raffle draw winners shall each get 790 Wild Rift Wild Cores each.
NOTIFICATION OF WINNERS: Winners will be contacted via email to inform them once prizes are sent.
ANNOUNCEMENT OF WINNERS

Announcement will be posted on Codashop's Facebook page within 3 days from the draw date.
By participating in the raffle, the winner agrees to cooperate with and participate in any advertising or publicity activities of Coda Payments relating to the draw. The winner agrees that Coda may publicize their user/game ID in such mode and manner as Coda considers fit. The winner's user/game ID may be published on Coda's website and social media channels.

CLAIMING OF PRIZES:

Prizes will be sent directly to the user/game ID on file within 15 working days.
Prizes are non-transferrable.
The 20% tax for prizes exceeding P10,000 will be shouldered by the winners.
Per DTI Fair Trade Permit No. FTEB 117561 Series of 2021