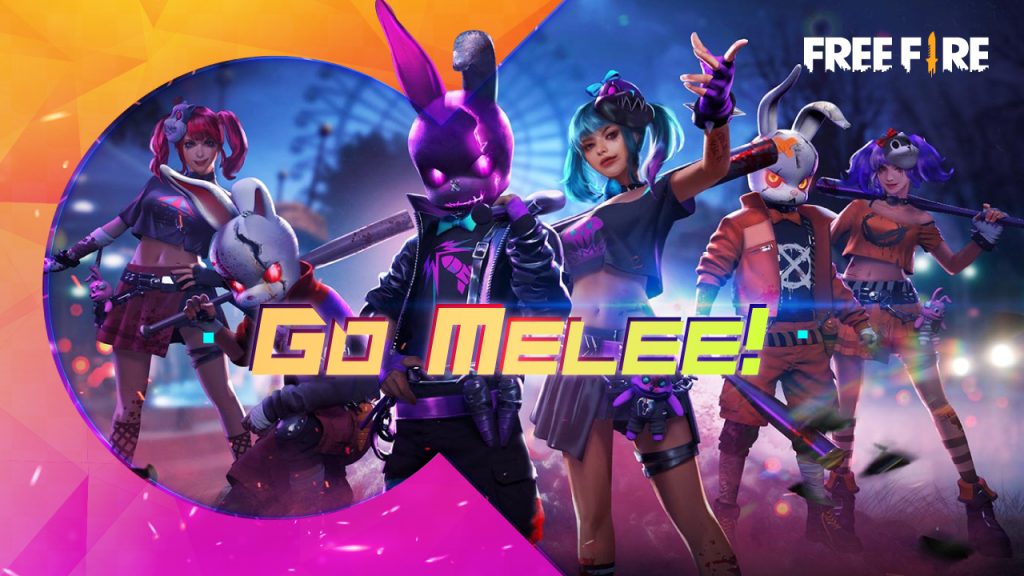 One of the most important questions to ask in Free Fire is: What kind of weapons should I use? The answer will primarily point to weapons that allow you to fight at any distance, like guns. But what happens when you run out of bullets? Time to take out the katana, the parang, and the bat to let your enemies know what's going down! Learn everything you need to know about melee weapons here.
Melee Weapon List
No Free Fire player would want to go in a gunfight using a sword. But when worse comes to worst, learn how to use your melee weapons to help you survive. After all, these weapons are pretty effective when you are forced to engage in close hand-to-hand combat.
Katana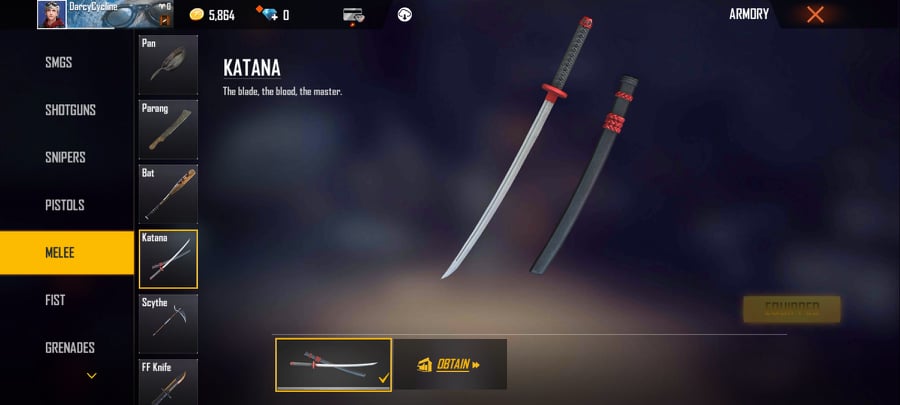 Show your enemies the way of the Samurai with this blade. The Katana is closely associated with Hayato and is built with the highest reach among melee weapons. The Katana performs very satisfactorily when clearing houses with crowded scenarios. Get extra style points when slashing enemies.
Weapon Stats:

Damage: 66
Range: 5
Accuracy: 10
Movement Speed: 88
Rate of Fire: 32
Pan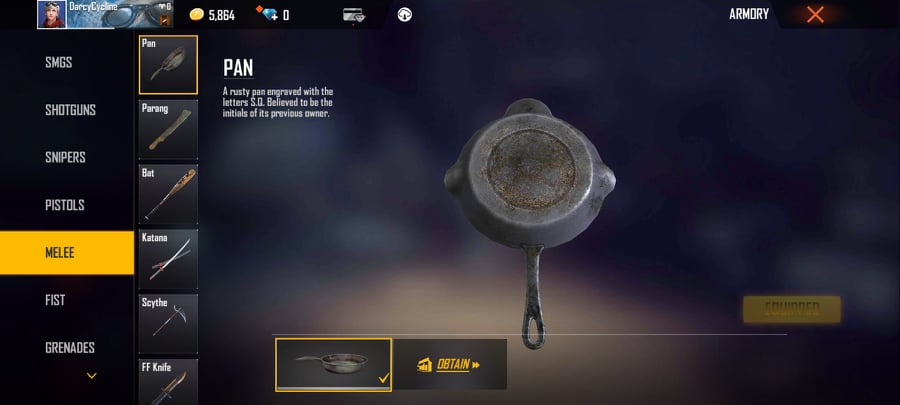 This is undeniably the best melee weapon in the entire Free Fire universe. You can whack enemies to make a headshot kill using this circular metal! You can also use this legendary pan to cover your body from enemy attacks with its large surface area. Make it a habit to carry one for extra protection.

Weapon Stats:

Damage: 62
Range: 5
Accuracy: 10
Movement Speed: 88
Rate of Fire: 35
Parang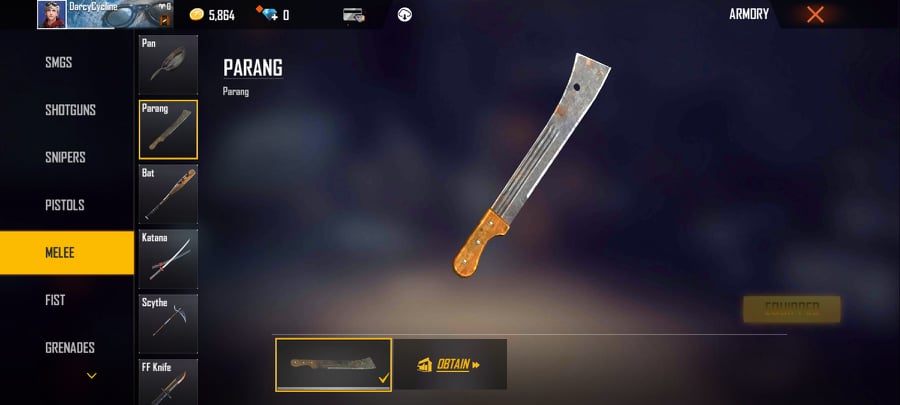 This is another melee type that not only hurts but also protects, albeit it won't guarantee you'll make it out alive given its small surface area. You can use the Parang to fight your way thru clashes in smaller circles as it deals great damage and accuracy. When equipped, it allows you to run a little bit faster.
Weapon Stats:

Damage: 66
Range: 5
Accuracy: 10
Movement Speed: 88
Rate of Fire: 32
Bat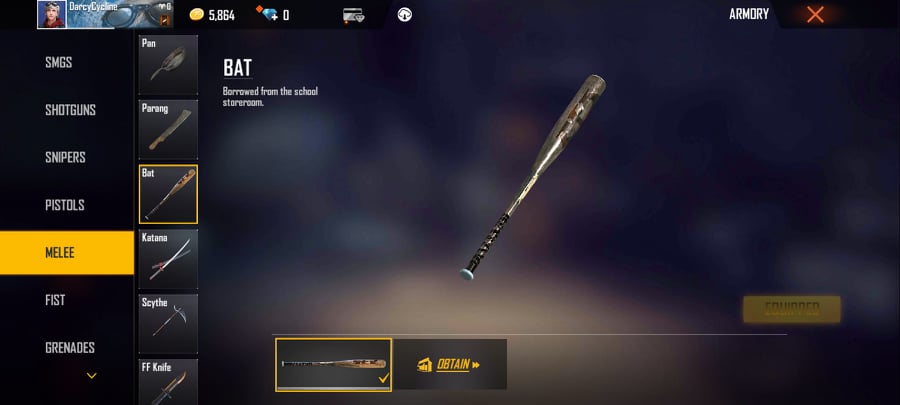 Because of its shape, the bat has a lower chance of deflecting bullets compared to the pan. However, it comes with a slightly further range than the famous kitchenware. It also adds the badass factor when you carry it around.
Damage: 63
Range: 5
Accuracy: 10
Movement Speed: 88
Rate of Fire: 33
Scythe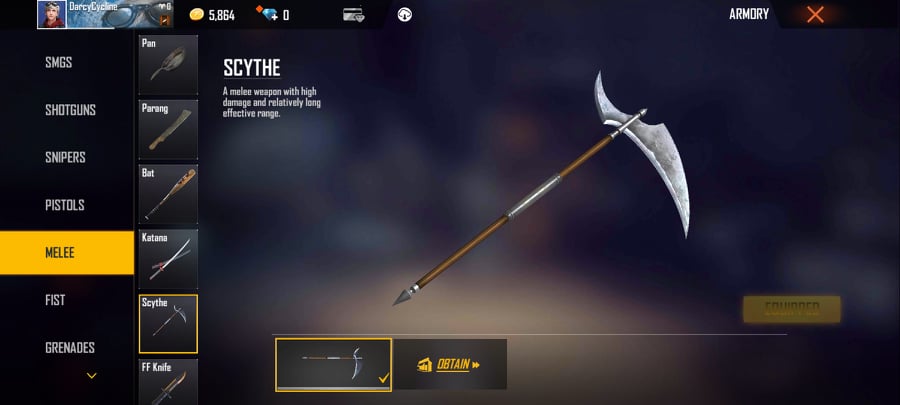 If you want to pull off that grim reaper look, get yourself a scythe. Not only does it bring the terror factor, but this melee weapon comes with the highest damage and the longest effective range among all the melee items. Its only drawback is that it has a slightly slower swinging speed.
Movement Speed: 82
Rate of Fire: 30
Tips when using melee weapons
You may use your melee weapons more seldom than your guns, but they are still effective in their own right.
Do your best to move faster when using melee weapons. Close the distance between you and your foe as quickly as possible. Move closer to your enemies to make your slashing and whacking more accurate. 

Swing your melee weapons repeatedly at your enemies to block some of their shooting damage. A hail mary heave might save you from bullets.

The pan deals tremendous critical damage at close range, so try your best to score headshot kills on your enemies. It also comes with the highest rate of fire so so that to your advantage.

Speaking of the pan, don't forget that it can also serve as an extra shield when you carry it over your back.

When using Kla, his unique ability called Muay Thai can greatly help during fistfights as you can knock down enemies in a single punch at max level.
What's your proven go-to melee weapon? Share your answers with us via Codaclub Community; it's our newest forum where you can meet and share experiences with fellow Codashop gamers!

Don't forget to top up on your Free Fire account only at Codashop. We guarantee a better, faster, and safer top-up experience with more payment options to choose from.