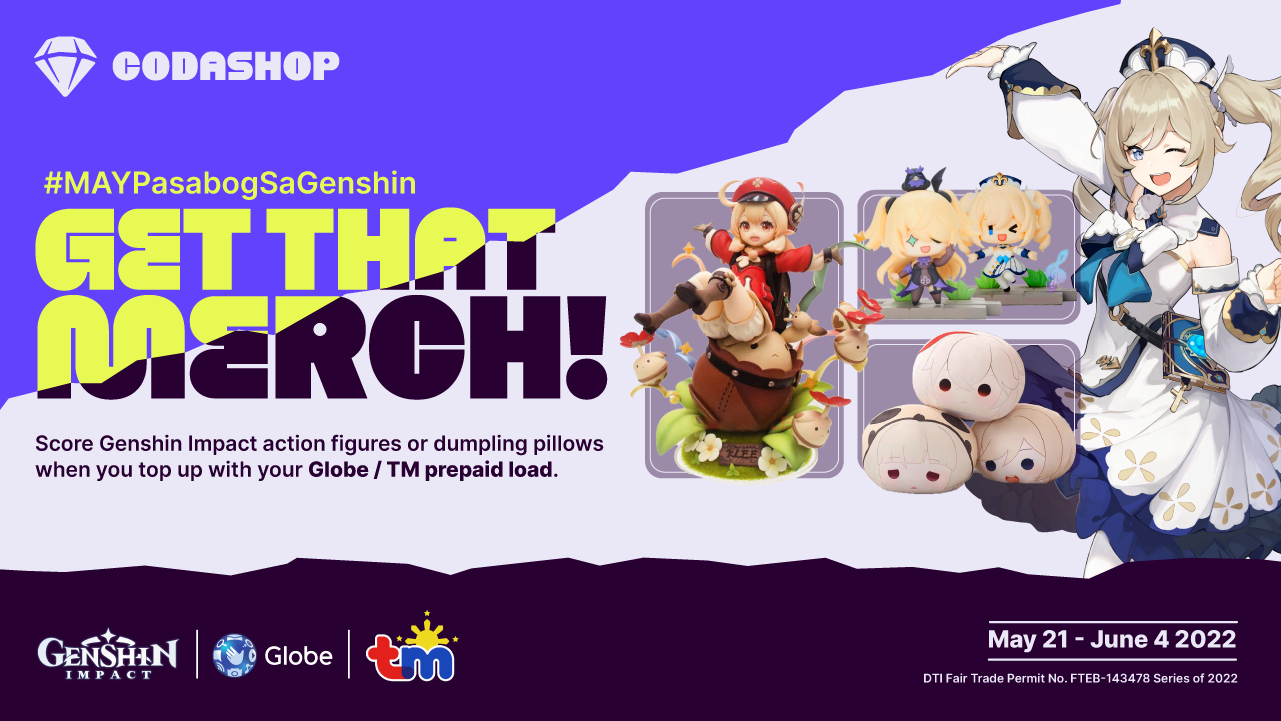 Offer: Win Genshin Impact Merch when you purchase Genesis crystals on Codashop and pay using Globe/TM!
Step 1: Top up Genesis Crystals now!
Step 2: Upload your email receipt and submit your details here
Promo Period: May 21, 2022 – June 04, 2022
MECHANICS:
Promo is open to all Globe/TM subscribers nationwide.

To join:

Purchase Genesis crystals on Codashop and pay using Globe/TM.

Enter a valid email address upon purchase.

Take a screenshot of your email receipt.

Complete and submit the promo registration form with the following information: Full Name, Mobile Number, Email Address, Complete Address, and Order ID. The link can be accessed via the promo mechanics page. 1 submission with a unique email receipt = 1 entry.

Prizes:

Ten (10) winners of Klee action figure

Three (3) winners for Barbara and Fischl action figures

Five (5) winners of Pillow dumplings (set of 2)

Deadline of submission of entries is on June 04,  2022, at 11:59 PM.

Winners will be drawn in the presence of a DTI representative on June 06, 2022 at 5:00 PM. Announcement will be posted on Codashop's Facebook page within 7 days from the draw date.

A Globe/TM subscriber can only win once. If a name was drawn more than once, he/she gets the prize of higher value.

The 20% tax for prizes exceeding P10,000 will be shouldered by the winners.

Winners will be contacted via email the same day as the announcement and shall be notified via registered mail. The winner must reply and confirm his/her details to claim the prize. Prizes will be sent to the confirmed address within 30 working days after getting the confirmation.

Winners must reply and confirm his/her details within 60 days upon receipt of registered notice, otherwise the prize is forfeited with prior DTI approval.

Codashop is not liable for the loss or damage of the prize while in transit.

Prizes are non-transferrable.

All employees of Codashop and Globe Telecom Inc., their affiliates, including their relatives up to the 2nd degree of consanguinity or affinity are disqualified from joining this promotion.

By participating in the raffle, the winner agrees to cooperate with and participate in any advertising or publicity activities of Coda Payments relating to the promo. The winner agrees that Coda may send communications related to the promo and may publicize their names in such mode and manner as Coda considers fit. The winner's name may be published on Coda's website & social media channels.
DTI Fair Trade Permit No. FTEB-143478 Series of 2022