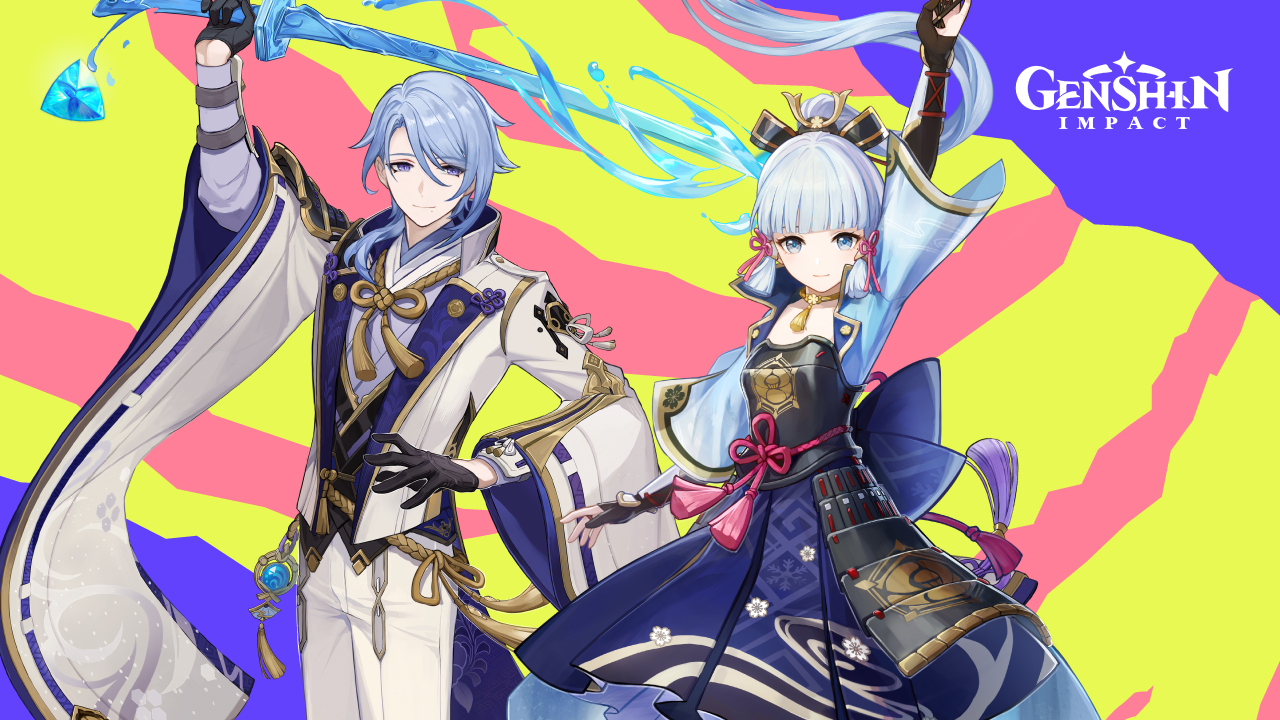 You have to level up your character to make them stronger and enjoy playing Genshin Impact. Most of the time, characters gain EXP by killing enemies; however, the amount of experience gained may not be enough to level up your character. There are two types of experience points in Genshin Impact: Adventure Rank and character level-up points. The former is about your character's true level, while the latter refers to the measurement of how strong your character is. You also increase your character level points as you level up your Adventure Rank. In this post, let's talk about EXP material found across Teyvat and how it helps you level up faster.
Focus on EXP Materials
Use Character EXP Materials. The best way to level up your characters is through Character EXP Materials. You can get them from quests, defeating elite enemies, events, and chests around the map. Hero's Wit (worth 20,000 EXP) is the character EXP material that would help you fasten your level-up. Let's discuss how we can get them in different forms.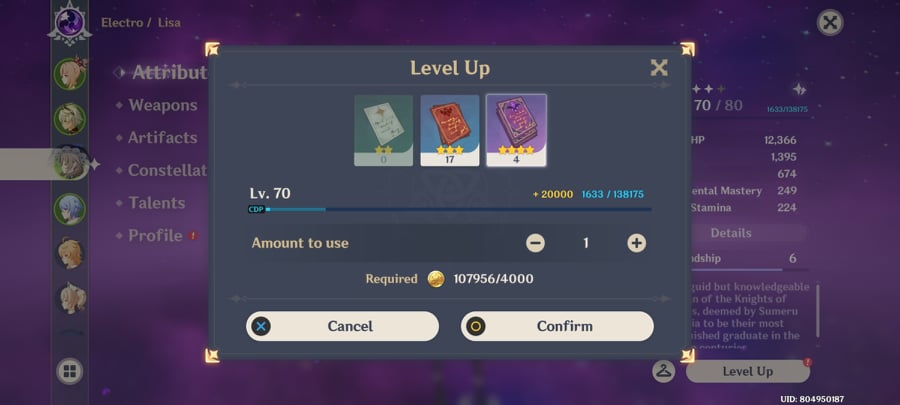 Clear Event Objectives
You need to clear event objectives. EXP books are, more often than not, rewards from quests for a limited time only. So having to clear event objectives within the allotted window gives you a high chance of getting Character EXP materials. 
Quests and Chests
As mentioned about quests, EXP books are commonly the reward for all types of quests. Always make sure to check your in-game inbox and notifications to see which are the new quests and what are its rewards. You will indeed find any of the EXP books on it. DON'T FORGET THE CHESTS! Chests are what you should be excited about as it contains many surprising items that you could get. Remember that the higher the quality of the chest, the better item you will get. 
Challenge Domain
In the Domain's tab, you can see all the domains you have access to and potential rewards available. This tab also allows you to quickly show any of the domain's locations on the map by clicking the map pin button on the right. There will be cases that require Adventure Rank has been reached, but the domain does not show yet; the first discovered reward is shown.

Watch Out for Daily Commissions
The Commissions tab shows the player their current day's commissions and the bonus rewards for completing all 4 of them. 
Don't Forget Your Adventurer's Handbook
Adventurer's Handbook provides a handful of uses for players. The Experience Tab is essential as each chapter completed offers additional rewards. Complete all your experience tasks from one Chapter to move on to the next. Every individual task also gives 100 Adventure Rank EXP, but the completion Reward does not. There are nine chapters.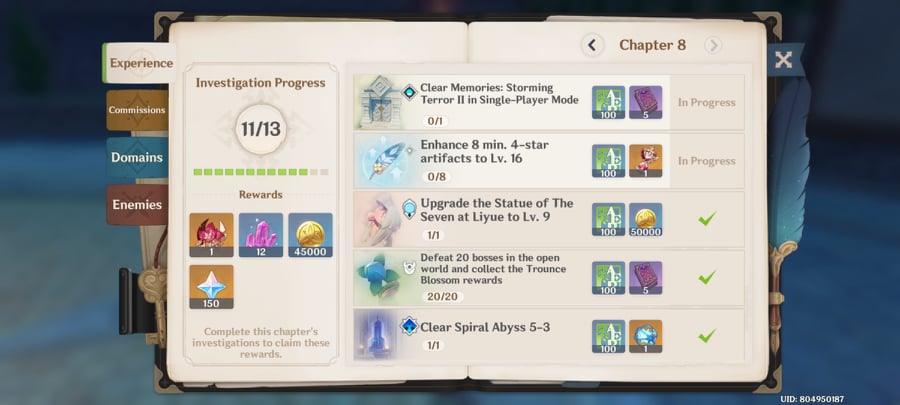 Defeat The Bosses
Bosses are the strong enemies that grant more luxurious rewards after defeating them. All Normal and Weekly Bosses cost Original Resin. For Normal Bosses, it is somehow the same for Normal Bosses with the elite enemies but a lot stronger to defeat them. For normal bosses, you get Adventure EXP ×200 along with a certain amount of Mora and Companionship EXP, depending on the player's World Level. There is also a chance they will drop certain Character Ascension Materials and Artifacts depending on the level and type of the boss.
Weekly bosses are far more complicated than Normal bosses and offer greater rewards. All weekly bosses reward Adventure EXP ×300 along with a certain amount of Mora and Companionship EXP depending on the player's World Level. There is also a chance they will drop certain Character Ascension Materials, Artifacts, and Northlander Billets (Northlander Sword Billet Sword, Northlander Bow Billet Bow, Northlander Claymore Billet Claymore Northlander Catalyst Billet Catalyst, Northlander Polearm Billet Polearm) depending on the domain level (DL) for Azhdaha, Dvalin, Childe and Signora, and world level (WL) for Andrius.
Aside from  Normal Bosses and Weekly Bosses, there are Event bosses that appear along with events. Some Event Bosses may drop materials that vary in quantity based on Adventure Rank. They may also reward Event Items for use at Event Shops.
Farm Ley Line Outcrop: Blossom of Revelation
You have to farm Blossoms of Revelations since it is the most consistent and efficient way to get Character EXP materials. The enemies they spawn are relatively easy to beat, and players are guaranteed to get them once beaten. These do cost Original Resin to open, however. 
Earn More Mora
Like other games, in-game currency is used to buy materials or items for the character to level up.  Mora is an in-game currency used in Genshin Impact. The currency is accepted worldwide in Teyvat. Earning more Mora is easy as there are various ways to achieve it, and it is commonly given as a reward in Genshin Impact. Here is the list of tasks you can do to earn more Mora. 
Claiming rewards from Blossoms of Wealth using Original Resin 

Completing Daily Commissions 

Completing Domains 

Completing Quests 

Opening Chests and Smashed Stones 

Completing Bounties and Requests for Reputation 

Exchanging Sigils in the Souvenir Shops 

Reaching specific Levels in the Battle Pass 

Exchanging Masterless Stardust in Paimon's Bargains Shop

Hitting Weasel Thieves 

Killing Enemies in the world 

Destroying 1-Star to 4-Star Artifacts 

Exchanging A Huge Bag of Mora with Ekaterina at the Liyue Northland Bank 

Checking in a certain number of times for the HoYoLAB Community Daily Check-In 

Interacting with Investigation spots around Teyvat S

Sending characters on Expeditions at Stormterror's Lair, Dihua Marsh, Jueyun Karst, Jinren Island, and Tatarasuna

Completing various Events
Leveling up in Genshin Impact is indeed hard work, but having these guides and learning how to make the most out of them lets you enjoy the game and discover new worlds and higher character EXP. Earning your character EXP and leveling up through your hard work is more rewarding than spending Sigils to buy Mora for EXP materials. Until then, see you and enjoy Genshin Impact! 
Don't forget to top up Genesis Crystals for Genshin Impact on Codashop. It's faster and easier, with plenty of convenient payment methods available.