Plus learn the basics of cooking and how to be your own master chef!
In Genshin Impact, we know how fun it is to fight off hordes of Hilichurls and Creatures of the Abyss, as well as completing missions and world quests (that can be arduous at times). If you feel like taking a break from all the hack-and-slash, we have the perfect activity for you — cooking! There are lots of scrumptious recipes available by collecting ingredients scattered throughout Teyvat. It's simple and easy to master, and more importantly, will regain your HP when battling foes that pack quite a punch!
Cooking benefits and conditions
Characters in Genshin Impact have a health bar that when drained, will render them kaput. Players can use a hearty meal to heal, rather than potions or other bare items. When a character gets knocked out cold by an enemy, only a proper meal can be used to revive the fallen, whereas Apples and Sunsettia can be eaten immediately for a quick HP regain. It's recommended that you prepare special meals before heading out on an adventure, especially when taking on powerful enemies.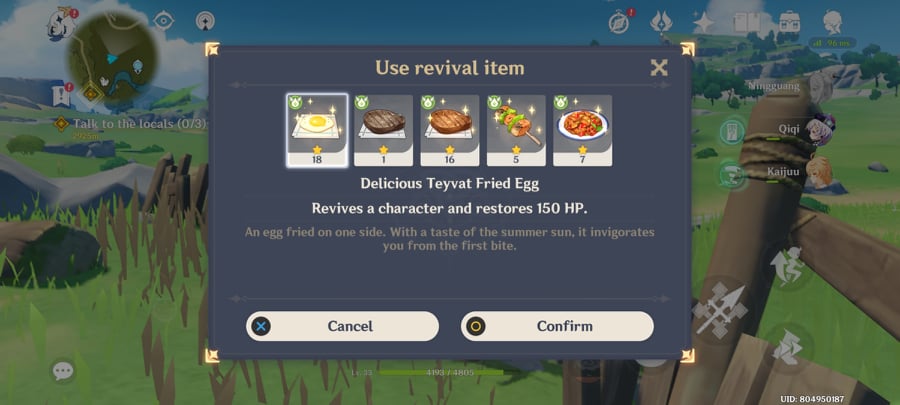 Only proper meals can be used to revive a fallen character
Travelers can cook food and other special dishes in the game by collecting ingredients and processing them at stoves located in Mondstadt and Liyue. Players can also whip up quick meals at numerous campfire locations all over Teyvat. Just remember that stoves and campfires must be lit to become functional and that certain conditions (like rain) can hinder your cooking.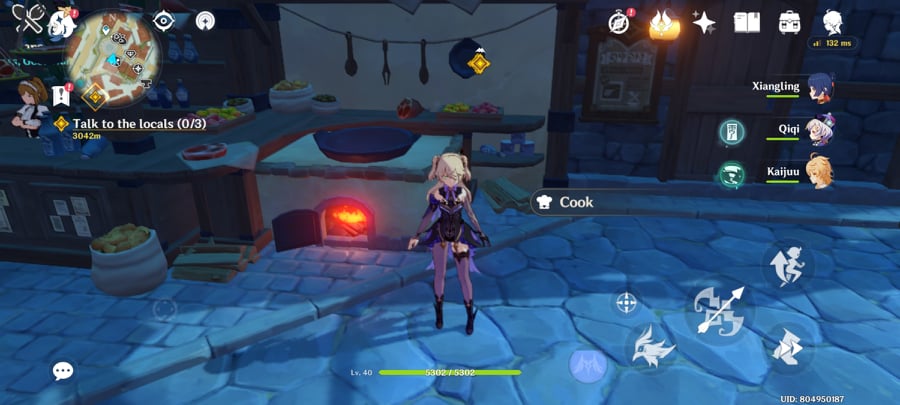 Players can cook meals at stoves located in Mondstadt and Liyue.
How to cook in Genshin Impact
Cooking special dishes in Genshin Impact is easy. Just take note of these simple steps to get you started.
To begin your cooking journey, you will need recipes and collect ingredients. 

Talk to a member of the Adventure's Guild (outside of Mondstadt) to brief you about cooking. You will also receive free recipes.

Once you've selected a recipe, you will need to collect the ingredients. Tap on each ingredient to know the location where to find them.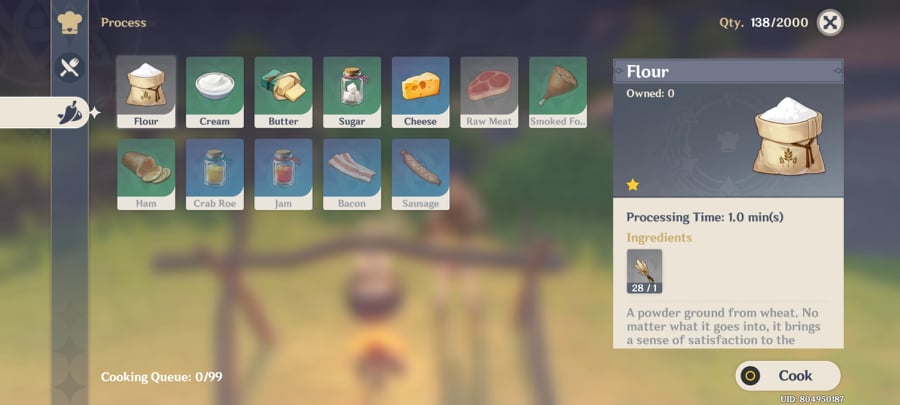 When all the ingredients are gathered, look for cooking stations (stoves) around Mondstadt and Liyue and campfire locations around the map (located usually on enemy camps).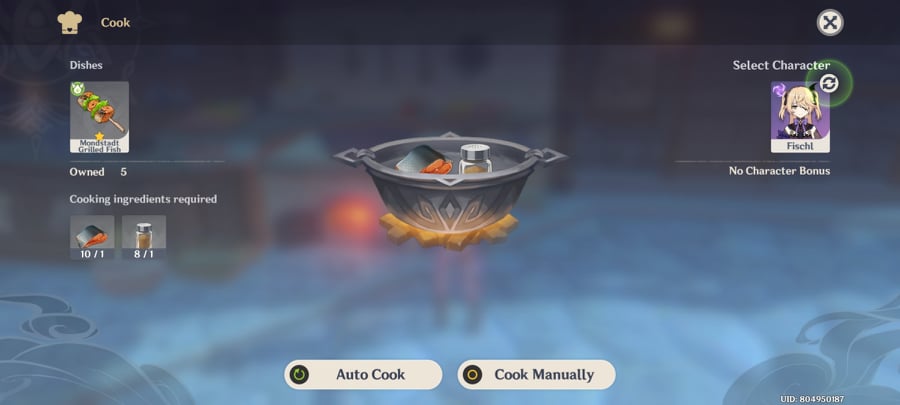 Once everything is all set, hit the cook button. Pay attention to the status of your cooking as well as the boosters that each meal possesses. Learn the benefits of each prepared dish as this will come in handy during intense battles.
Six Special Dishes to try out
Now that you know the basics of cooking, time to try out these recipes! Certain characters also have their own special dishes (comes with a 20% chance of obtaining once the character is selected). Learn about these recipes together with their boosting effect.
Moon Pie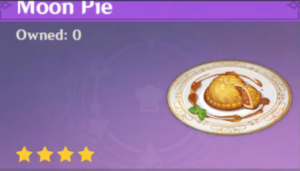 The Moon Pie is a traditional, staple dish in Mondstadt. Its ingredients include:

*Raw Meat (4)
*Bird Egg (4)
*Butter (3)
*Flour (2)
Once consumed, it grants up to 35% Shield Strength for all party members and defense up to 235, depending on the quality. You may want to have this dish prepared before fighting off a boss. Should you choose Eula to cook this, there is a chance for a Stormcrest Pie to be created instead.
Sunshine Sprat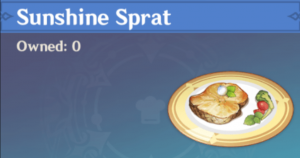 The Sunshine Sprat is made from gently fried fish. The recipe was given to Albedo during The Second Experiment: The World quest. Its ingredients include:

*Butter (3)
*Fish (3)
*Salt (1)
*Small Lamp Grass (1)
This dish increases all party members' shield strength by up to 30%. Might come in handy to sustain you when fighting throngs of rough and tough enemies. When Albedo cooks the Sunshine Sprat, there is a chance for a Woodland Dream to pop out.
Crab, Ham and Veggie Bake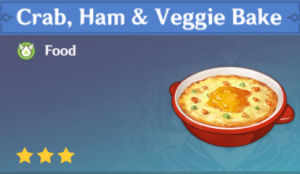 The Crab, Ham and Veggie Bake is a luxurious meal made with a rosy ham with fine and bright vegetables. Its ingredients include:
*Crab Roe (1)
*Ham (1)
*Cream (1)
*Cabbage (1)
The Crab, Ham and Veggie Bake is undeniably the best revival food in Genshin Impact as it revives a character and restores up to 1500 HP depending on the quality. When Sucrose cooks this lovely meal, you'll have a chance to create a Nutritious Meal (V. 593) instead.
Sweet Madame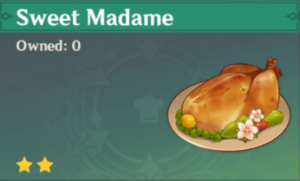 This simple and beautiful, honey-roasted fowl made more appetizing with sweet flowers is a go-to option for healing. Its ingredients include:
*Fowl (2)
*Sweet Flower (2)

Sweet Madame restores up to 24% of max HP plus an additional 1500 HP. Pick Rosaria to cook this dish and there is a chance that Dinner of Judgment will be created instead.
Noodles with Mountain Delicacies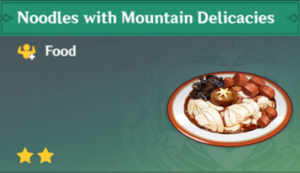 The rustic flavor of the sauce topped in a generous amount is a gastronomic treat. Noodles with Mountain Delicacies is a great meal to restore stamina to help you climb mountains. Its ingredients include:
*Mushroom (3)
*Raw Meat (2)
*Flour (2)

Eat this dish and it will restore up to 60 of your Stamina depending on quality. Very useful to sustain your Stamina when mountain climbing or gliding. Should Chongyun cook this meal, there is a chance that Cold Noodles with Mountain Delicacies will pop up instead.
Teyvat Fried Egg (Special Mention)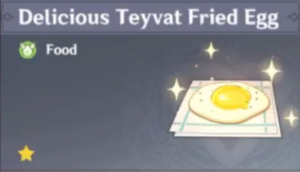 This no-frills dish, with its yolk flowing out nicely once broken, is more than satisfying. Its ingredient includes:
*Bird Egg (1)
You can easily prepare the Teyvat Fried Egg simply by looking for a Bird Egg in trees. Your efforts are well worth it as this dish can restore up to 150 HP. When Bennett cooks this dish, there is a chance Teyvat Charred Egg will be created instead.
What's your go-to recipe in Genshin Impact? Share your favorite dish with us on Codaclub Community, it's our newest forum where you can meet and share experiences with fellow Codashop gamers!

Don't forget to top up Genesis Crystals for Genshin Impact on Codashop. It's faster and easier, with plenty of convenient payment methods to choose from.