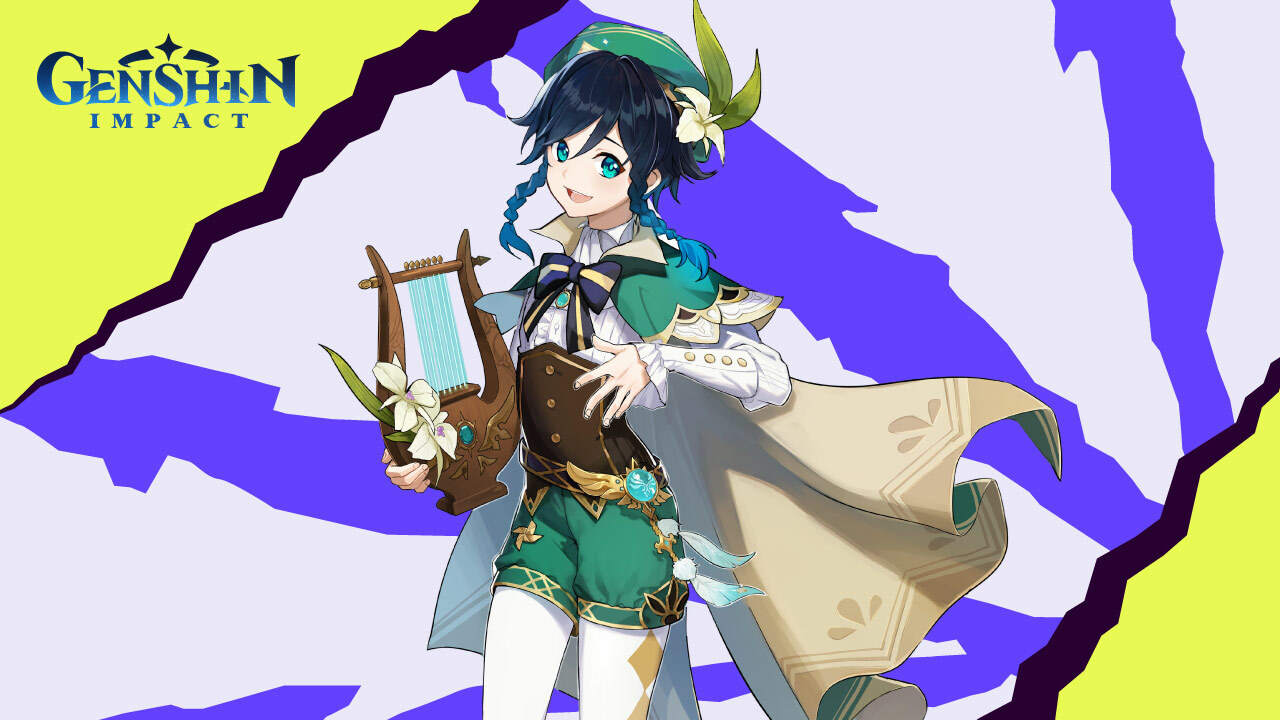 Venti is a playable five-star Anemo user in Genshin Impact who is known as a great support character with his great crowd control with Elemental Burst. He is consistently rated as an S-Tier character with tremendous Elemental Skill that helps make exploration easier.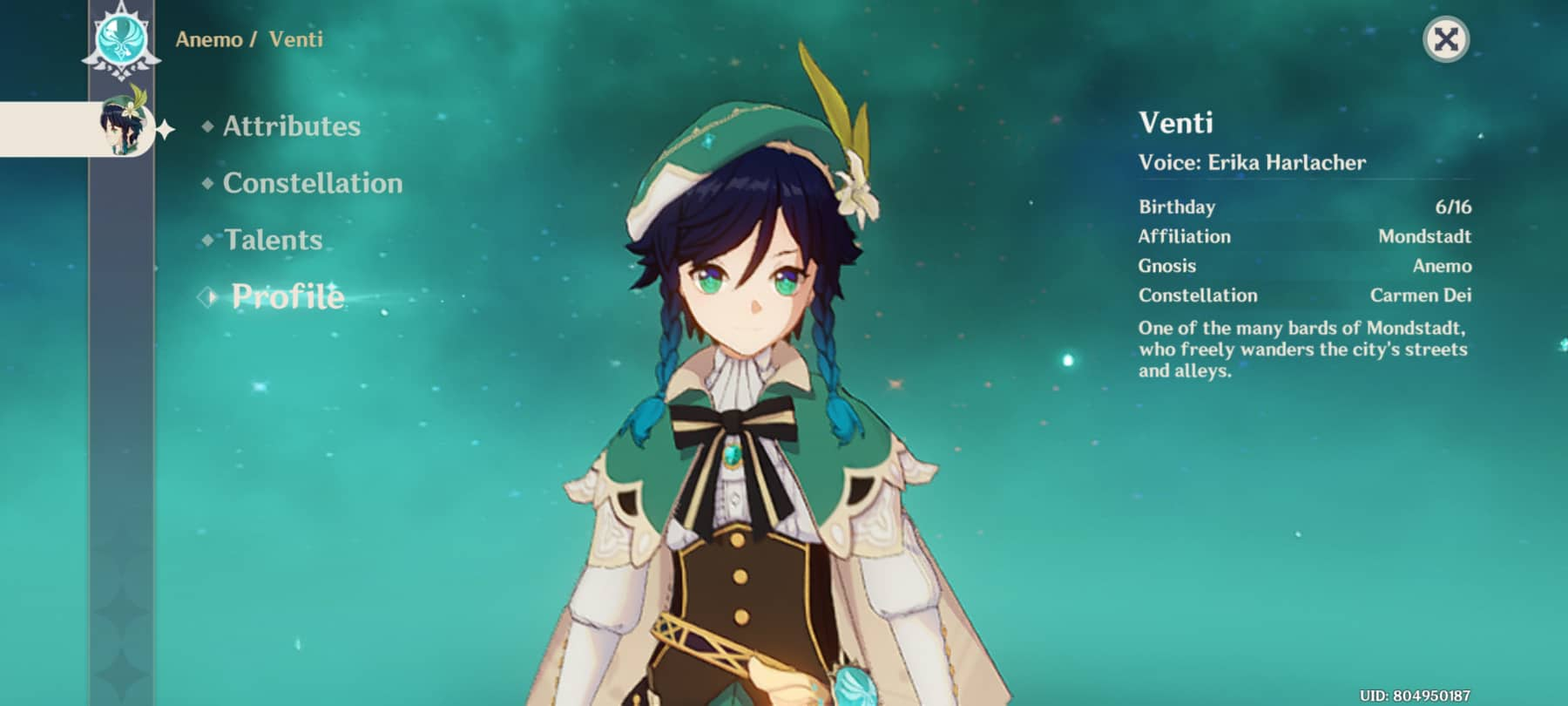 Venti, who hails from Mondstadt, is also known as the Singer of the Skyward Sonnets and has a special dish called A Buoyant Breeze. Players can obtain him via the 5-star exclusive Character Event Wish called Ballad of the Goblets.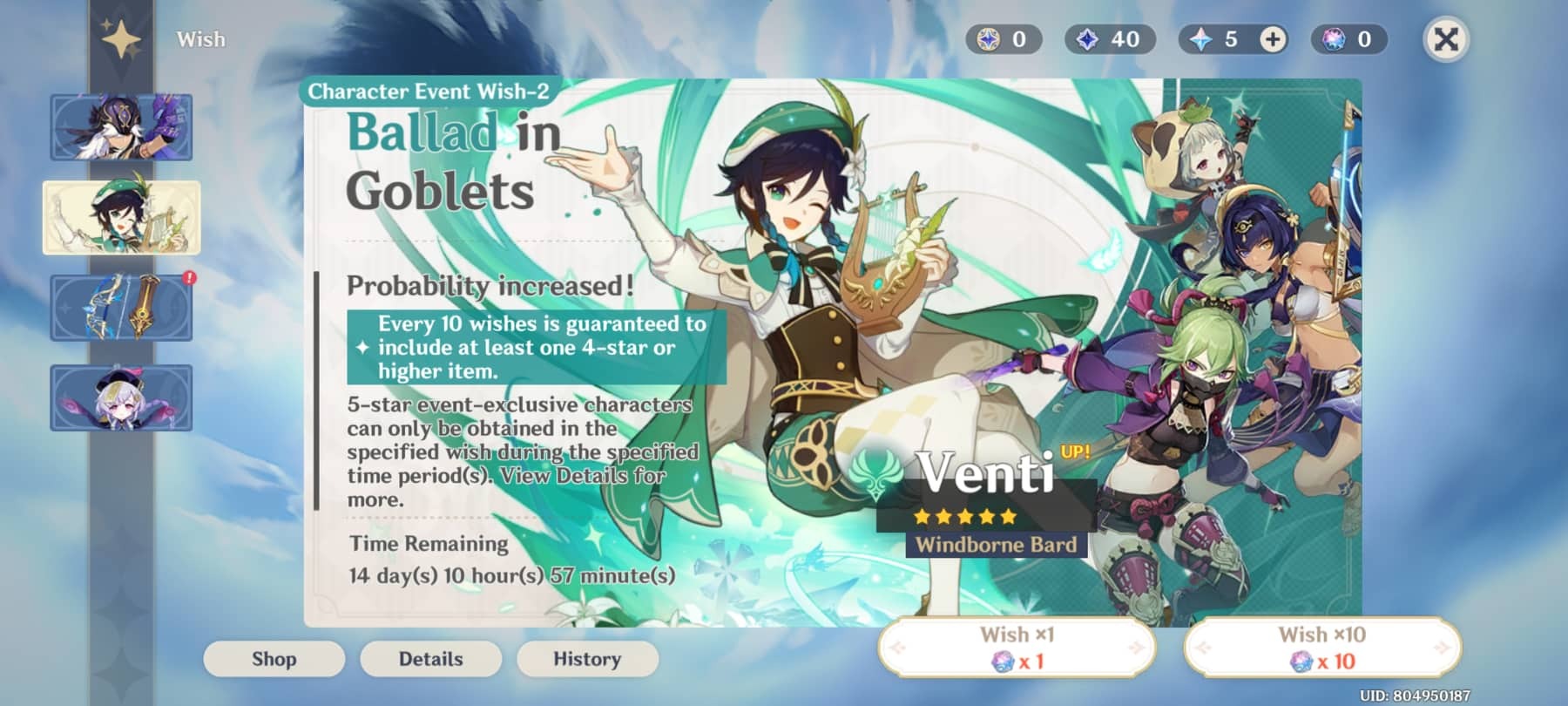 Best Build and Weapon
Venti is known for being a great support to the CC team, hence Anemo EM Support Build helps him maximize the Swirl's damage deal for better crowd control. 
Recommended weapon:
Elegy for the End
5-Star Bow

Venti and his team's Elemental Mastery increases every time Elemental Skill and burst is triggered. 
Substitutes: 
The Stringless
4-Star Bow

Increased Elemental Skill And Elemental Burst DMG by 24%.
Windblum Ode
4-Star Bow

Increased ATK by 16% for 4s from a boon of the ancient wish of Windblume is triggered after using Elemental Skill. 
Sacrificial Bow
4-Star Bow

When triggered after using Elemental Skill, it ends its own CD with a 40% chance once for every 30s.
Raven Bow
3-Star Bow

Increases DMG dealt against enemies affected by Hydro or Pyro by 12%. 
Best Artifact 
Viridescent Venerer (4-piece set)
Increase Swirl's damage by 60% optimizing Venti's damage control and debuffing enemies targeted. Alongside decreased Element RES of the same element by 40%.
Substitutes: 
Viridescent Venerer (2-piece set)
Increases Venti's Anemo DMG by 15%.
Wanderer's Troupe
Increases the Ventis Elemental Mastery by 80
Main Stats
Feather 
Main: Flat ATK Sub: Elemental Mastery / ATK% / Energy Recharge / CRIT DMG 
Flower 
Main: Flat HP Sub: Elemental Mastery / ATK% / Energy Recharge / CRIT Rate 
Sands
Main: Elemental Mastery Sub: CRIT DMG / CRIT Rate / Energy Recharge / ATK% 
Goblet
Main: Elemental Mastery Sub: CRIT DMG / CRIT Rate / ATK% / Energy Recharge 
Crown
Main: Elemental Mastery Sub: CRIT DMG / CRIT Rate / ATK% / Energy Recharge
Best party for Venti

Support DPS
Main DPS
Support
Heal
Venti's burst is optimized in this party where he compliments Kokomi, Ayaka, and Shenhe's high damage. Ayaka as the main DPS deals with most of the damage as Shenhe further increases her damage while activating elemental resonance. Kokomi, on the other hand, simultaneously optimizes the hydro application to freeze enemies and heal her teammates when needed. 
Constellation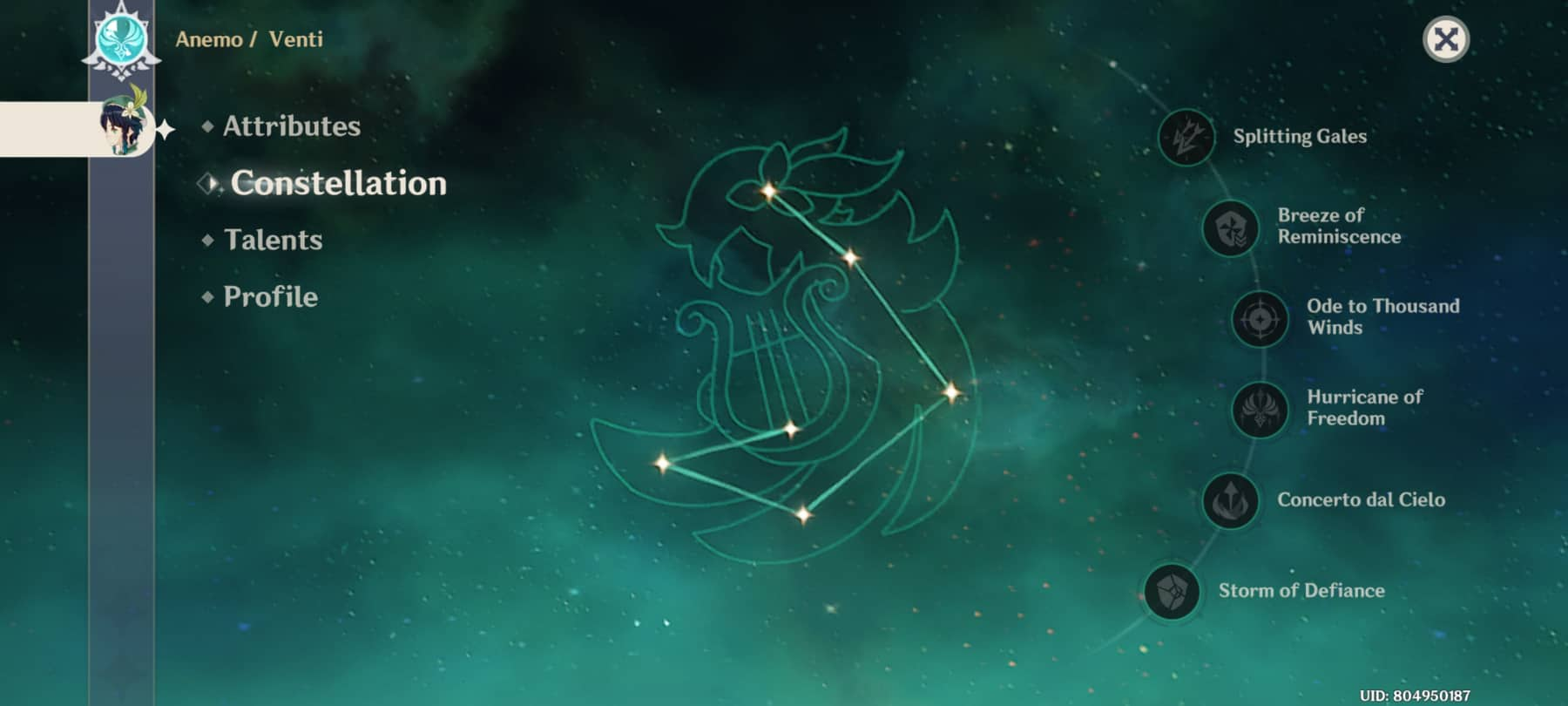 Splitting Glades (C1)
Fires 2 additional arrows per Aimed Shot, each dealing 33% of the original arrow's DMG.
Breeze of Reminiscence (C2)
When Skyward Sonnet is launched, it decreases opponents' Anemo RES and Physical RES by 12% for 10s.
Ode to Thousand Winds  (C3)
Increases the Level of Wind's Grand Ode by 3, a maximum of 15. 
Hurricane of Freedom (C4)
Venti receives a 25% Anemo DMG Bonus for 10s every time he picks an Elemental Orb or Particle. 
Concerto dal Cielo (C5)
Increases the Level of Skyward Sonnet by 3, a maximum of 15.
Storm of Defiance (C6)
Targets who take DMG from Wind's Grand Ode have their Anemo RES decreased by 20%.
Venti Talents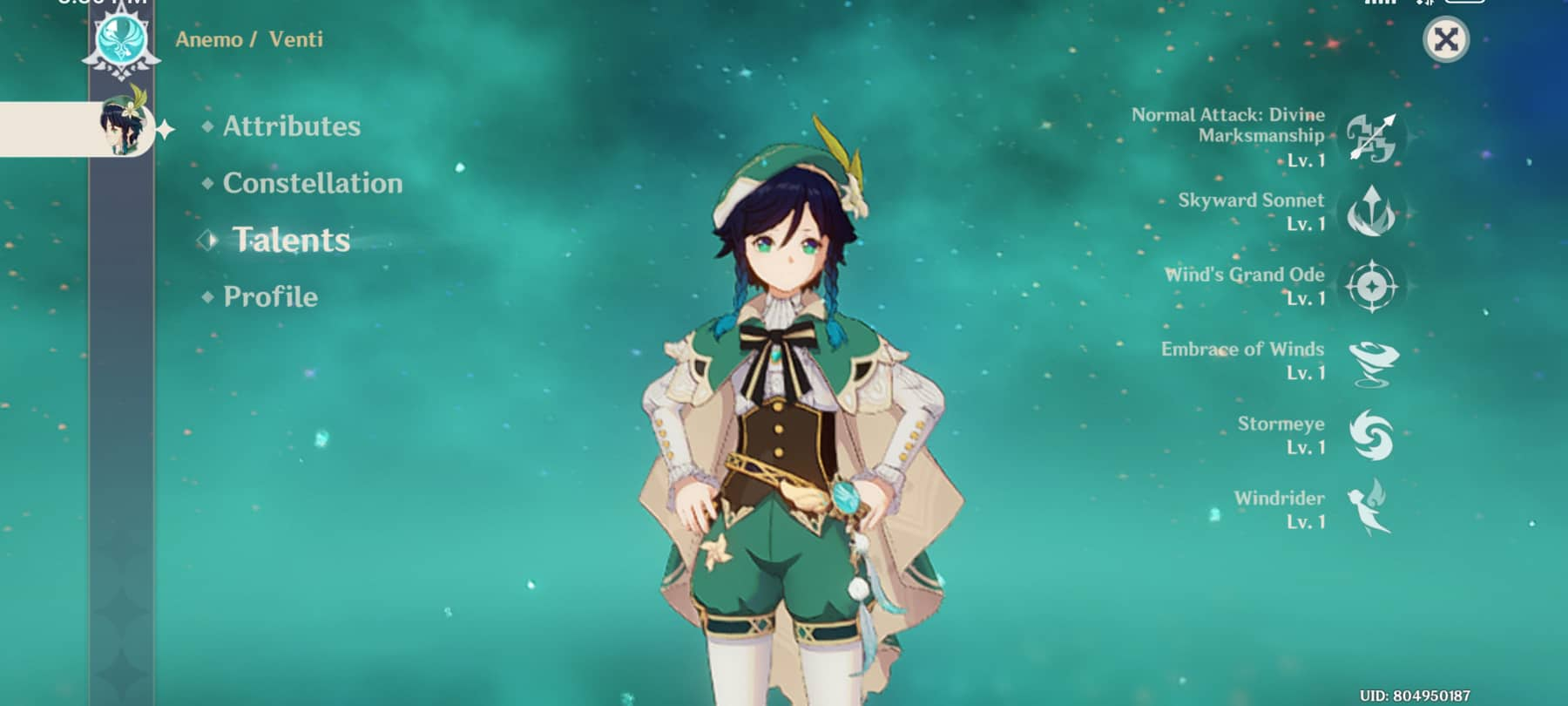 Normal Attack: Divine Marksmanship
Normal Attack: Perform up to 6 consecutive shots with a bow.

Charged Attack: Enables Venti to have a more precise Aimed Shot with increased DMG.

Plunging Attack: Optimizes Venti to fire a shower of arrows in mid-air and deal AoE DMG upon impact 
Elemental Skill: Skyward Sonnet
It summons a Wind Domain to the opponent's base location where it launches the opponents off in the air while dealing with AoE Anemo DMG. 
When it's triggered and Venti is the epicenter of the wind, it summons a larger Wind Domain, yet it also launches the opponents of the air dealing with great damage.
Elemental Burst: Wind's Grand Ode
Fires off winds creating a Stormeye that sucks in enemies and deals with Anemo DMG. If any of the elements gets in contact with the Stormeye, it deals with an Elemental DMG of that type. 
Passive
Embrace of the Winds

holds Skyward Sonnet creating an upcurrent that lasts for 20s.

Every time Wind's Grand Ode end and

Stormeye

regenerates 15 Energy for Venti. And when it gets any contact with elements, it restores 15 Energy to all characters of that corresponding element.

Windrider ​​

decreases gliding Stamina consumption for your own party members by 20%.
And that's it for this quick Venti guide. We hope you learned more about this 5-Star Anemo character. Don't forget to top up Genesis Crystals for Genshin Impact on Codashop. It's faster and easier, with plenty of convenient payment methods available.