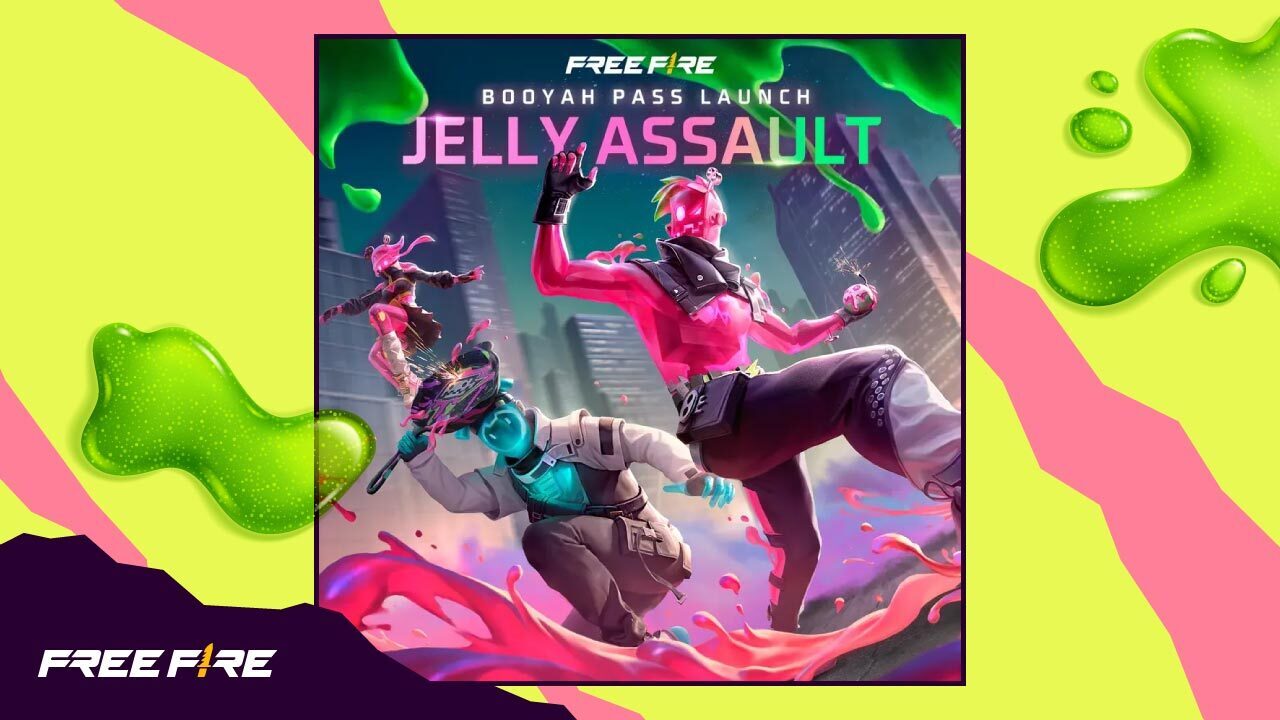 Garena Free Fire's new Booyah Pass is here. The radically awesome and jelly-coated theme for this season, aptly named "Jelly Assault," will surely give you an exciting time in Free Fire. In this article, we'll look at the rewards, how to purchase the Booyah Pass, and how much it costs.
What is the Booyah Pass?
Booyah Pass is Free Fire's revamped battle pass system from the previous Elite Pass. It features a theme corresponding to Free Fire's contemporary streetwear aesthetic and rewards exclusive to that particular season. This month's theme is "Jelly Assault," and it features a ton of cool and trendy rewards that will swag up your Free Fire matches.
Season 9: Jelly Assault
The new Booyah Pass Season 9 gives you exclusive rewards like Weapon Skins, Bundles (complete set of clothing), Banner, and an Avatar, among many others. The list below shows the available rewards for both the Free path, which all players can get, and the Premium path, which can be bought using Diamonds.
Premium
Level 1: Booyah Pass Pet Choice Crate

Level 10: Jelly Delight Bundle

Level 20: Cube Fragments

Level 30: Jelly Monster Loot Box

Level 40: Monster Truck Jiggle Jelly

Level 50: Jelly Ready Bundle

Level 60: Four BP S9 Tokens

Level 70: Jelly Platform Skyboard

Level 80: Four BP S9 Tokens

Level 90: Four BP S9 Tokens

Level 100: AUG Jelly Shot & Four BP S9 Tokens

Level 105 – Level 125: Four BP S9 Tokens

Level 130: Pan Jelly Cooker

Level 135: Four BP S9 Tokens

Level 140: Melting Jelly Backpack & Four BP S9 Tokens

Level 145: Four BP S9 Tokens

Level 150: Pet Skin (Jelly Rookie) & 12 BP S9 Tokens

Level 151: BP S9 Deluxe Box (Repeatable)
Free
Level 10: Jelly Tin Loot Box

Level 20: Jelly Assault Banner

Level 50: Slimy Sleeveless Zip Up

Level 60: Jelly Assault Avatar

Level 80: Grenade Jelly Candy

Level 91: Desert Eagle Jelly Bullet
How To Purchase Booyah Pass
To purchase the Booyah Pass, follow these easy steps:
Tap on the Booyah Pass on Free Fire's home screen

Tap on the "Upgrade" button below the rewards screen

You can choose one of two Upgrade options:
Premium: A standard progression path based on your current tier in the Booyah Pass. For example: if you started to upgrade at Level 10, you get the rewards up to Level 10 and continue your progression. Get rewards up to Level 150.

Premium Plus: Instantly unlock 50 levels. Get rewards up to Level 200.

Note: From Level 151, you can only receive a BP S9 Deluxe Box.
Once you have chosen your preferred upgrade path and have enough Diamonds, you can enjoy your new Booyah Pass.
Maximizing Your Booyah Pass
You can maximize your Booyah Pass by playing games to earn XP through the tier rewards and completing missions. Invite friends so you can finish missions that require you to team up.
This season's Booyah Pass will surely get you fired up for a thrilling experience in Garena Free Fire. Jelly Assault is a playful theme that captures the different aesthetics of the game. Remember to purchase the Booyah Pass to maximize your experience.
Don't forget to top up Free Fire only at Codashop. It's safer, faster, and more convenient, with plenty of payment options available.