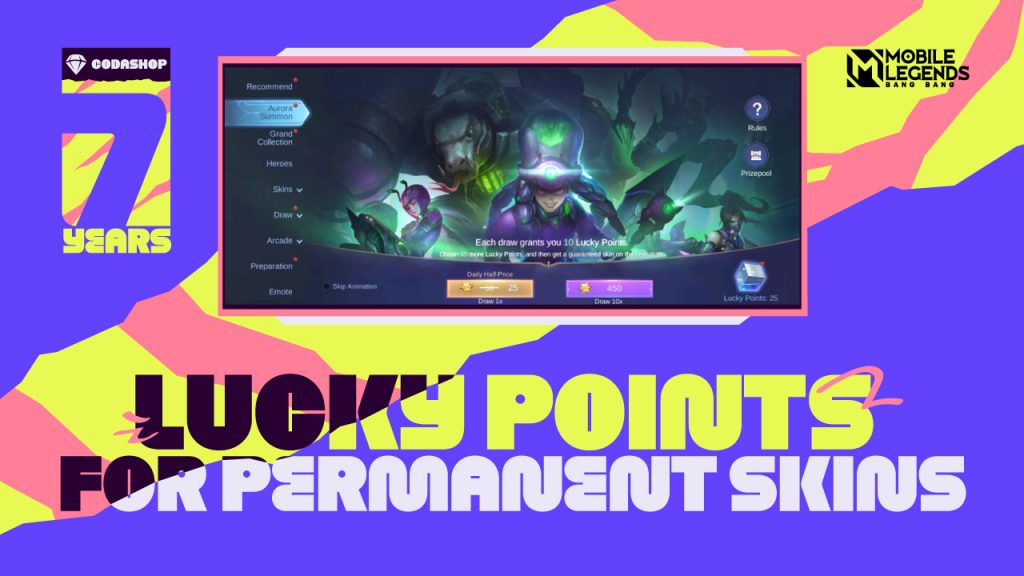 Using Lucky Points MLBB is easy, and getting skins is one of the fan-favourite features of Mobile Legends. From Elite to Special to Epic, these skins are available in the store if you want to give your main hero a new look. However, some events give you a chance to get skins like the Lucky Spin and the Aurora Summon. And since we are celebrating our #CodaLucky7 this month, we'll teach you how you can draw Epic skins (like V.E.N.O.M.) using your Lucky Points.
What is Aurora Summon with Crystal of Aurora in MLBB?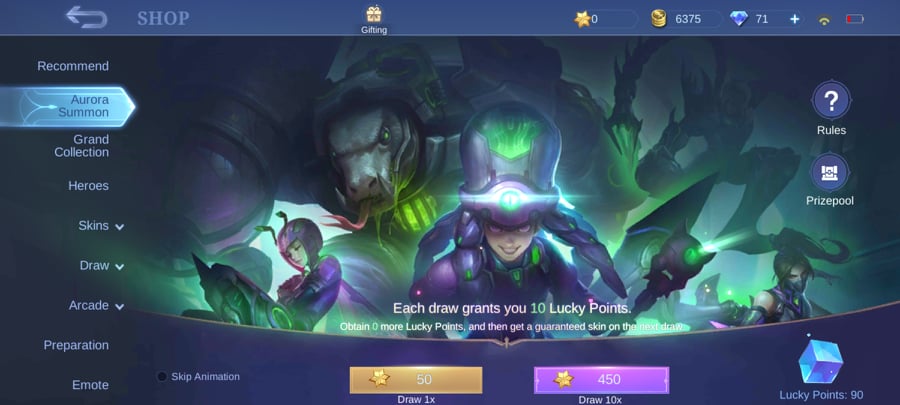 The Aurora Summon is an in-game event that lets you draw for skins and other prizes using Crystals of Aurora. Each draw costs 50 crystals, with a daily half-price available on your first draw. A successful draw rewards the player with 10 Lucky Points. Once you accumulate 90 points, you are guaranteed to get permanent skin on your next draw.
How can I use my Lucky Points in Mobile Legends?
Using your Lucky Points MLBB is easy. All you have to do is follow these steps:
Launch the game on your device.

On the top left side of your screen, click on Shop and go to the Aurora Summon tab.

At the bottom right corner, you can see your available Lucky Points. Log in daily and tap the Magic Cube to claim 1 point. Collect 90 points to get a guaranteed skin on your next draw.

To use your Lucky Points, draw using your Aurora Crystals. It costs 50 crystals for a 1x Draw and 450 for a 10x Draw. If you don't have Aurora Crystals, you can use your Diamonds (1 Crystal of Aurora is equal to 1 Diamond)

Your Lucky Point will be reset each time you get a skin.

How to Get Crystal of Aurora in MLBB?
To get Aurora Crystal is no hassle. Here are the steps you need to follow:
Log in to your Mobile Legends: Bang Bang game account
Open the diamond top-up menu
Find the Crystal of Aurora bundle and you can purchase right away
What are the chances of getting permanent skin?
The chance of getting permanent skin in the Aurora Summon sits at 1%. It's relatively small, but there are ways to get Lucky Points and save on Aurora Crystals to help you out. Log in daily to collect 1 Lucky Point. You can also take advantage of the 50% discount for your first draw every day. The event is good, considering the featured skins are just as great. If luck is on your side, you stand a chance to win skins valued at 899 (Epic) and 749 Diamonds for a Special tier.
Other prizes for this event include Skin Trial Card (55%), Rare Skin Fragment (40%), and Diamond Coupon (4%). If you draw more often, there's a greater chance of getting a permanent skin. We tried this event after collecting 90 Lucky Points and got Lunox's Bloody Mary skin.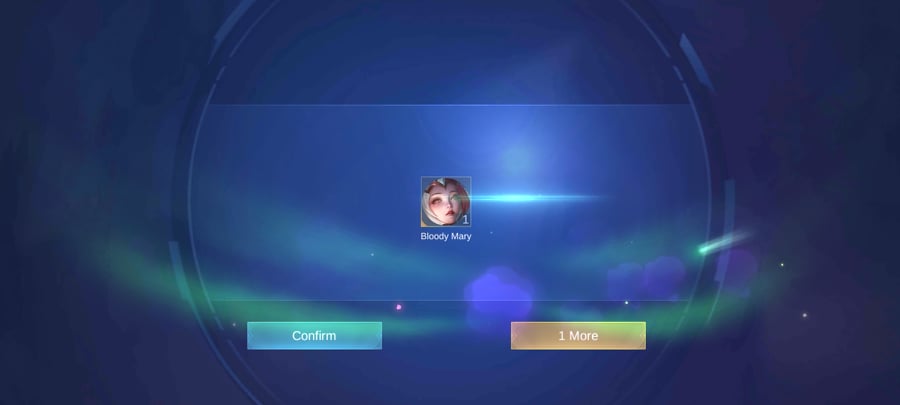 What are the skin rewards with Crystal of Aurora in the event?
The prizes at stake include V.E.N.O.M Epic skins for Harley, Angela, Gusion, Grock, and Hanabi. You also have the chance to get Special skins like Badang's Susanoo, Natalia's Midnight Raven, Hayabusa's Sushi Master, and more. Rounding up the prize pool are the Elite skins of Lesley, Gusion, and Chang'e, among others, plus a couple of Basic skins. Check out some of the available skin rewards below: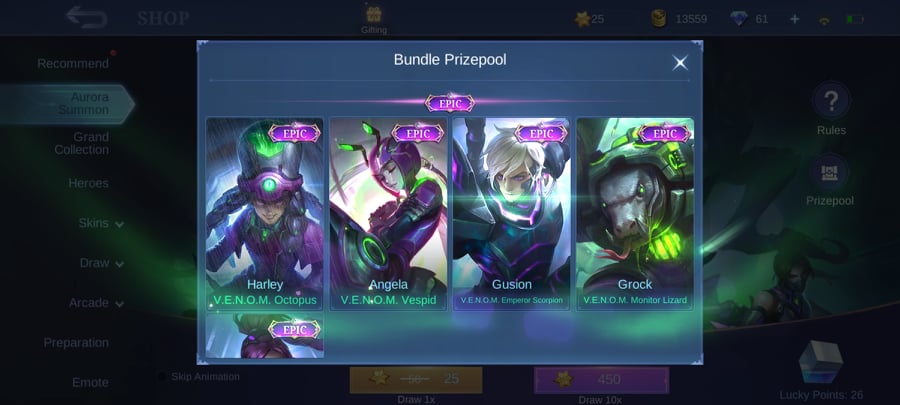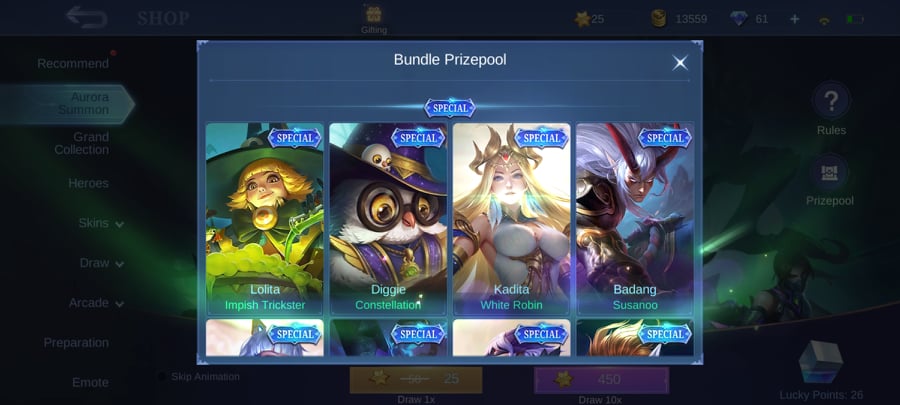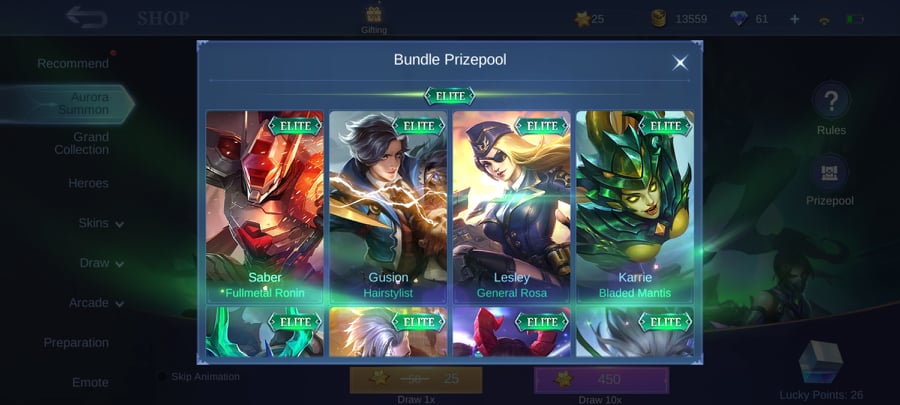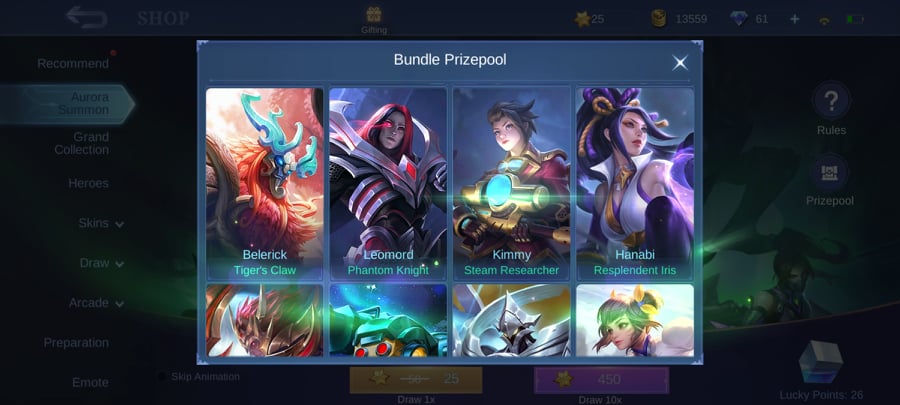 Again, don't forget to log in daily to collect your Lucky Points MLBB. Once you get the highest points, start summoning. Who knows, you might be getting that epic V.E.N.O.M. skin on your next draw! Good luck!
Don't forget to top up on your Mobile Legends Diamonds only at Codashop. We guarantee faster and more convenient top-ups so you can enjoy a hassle-free gaming experience.