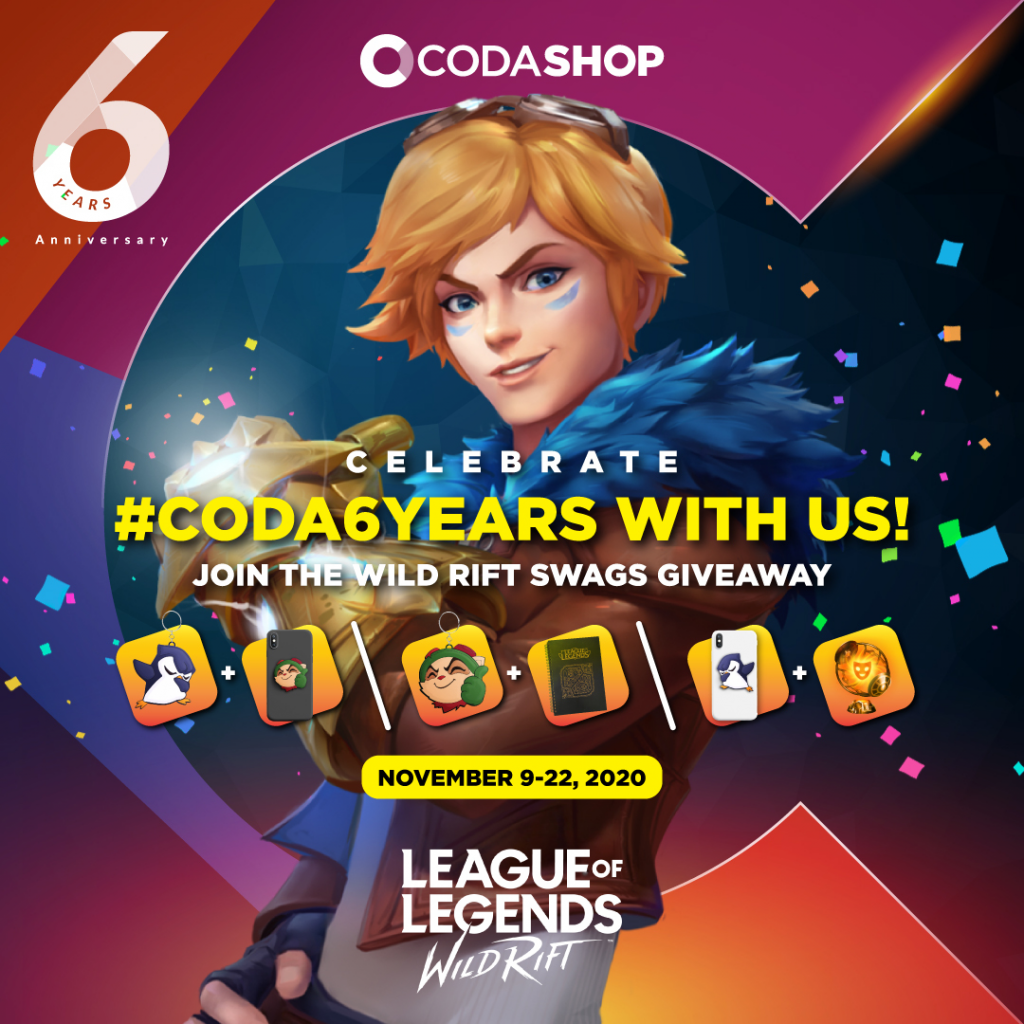 In celebration of 6 strong years, Codashop is giving back all the love and appreciation to you! Three (3) lucky summoners will take home awesome Wild Rift Swags including Teemo and Pengu keychains, League notebook, and fantastic Skin Chests in our Codashop Wild Rift Swags Giveaway Contest!
The Contest is open to all Philippine residents, aged 18 years and above.

The Contest will commence on 9 November, Singapore Time 7PM, and close on 22 November, Philippine  Time 11:59PM ("Contest Period"). Entries will only qualify for the Contest if submitted within the Contest Period. Entries submitted outside of the Contest Period, or submitted through any means other than specified herein, will not be eligible for the Contest. Any complaints on missing and/or delayed submissions will not be entertained.
The Contest mechanics are as follows: 
(1) To participate in the Contest, each participant must comment which is their favourite Wild Rift Champion and why  
(2) Each duly posted Facebook comment as specified herein shall be referred to as an "Entry". 
(3) Each participant may submit multiple Entries for the entire Contest. 
(4) Each participant may win only one (1) prize for the entire Contest. 
(5) All Entries submitted in the manner set out above will be individually judged by Codashop based on the creativity of their Entries, and three (3) winners will be selected by Codashop at its sole discretion. 
Teemo Popsocket + Pengu Keychain

Teemo Keychain + League notebook

Pengu Popsocket + Randomized Skin Chests
4. By taking part in this contest, all contestants are deemed to have provided expressed consent for Coda to process, use, and/or transfer (where necessary) the contestant's personal information, social media handle and photos submitted, for the purposes of this contest. 
5. The winner(s) will be announced on 27 November 2020 on Codashop Facebook and the winner(s) are required to contact Codashop on Facebook direct message by 30 November 2020, and provide a contact number, email address, and delivery address for prize collection. Prizes are not exchangeable by the winner(s) for cash or other items and are not transferable.
6. The prize will be delivered within 30 days from notification by Codashop. In the event that any prize is unclaimed within such period, or there is no winner determined in respect of the prize, it will be dealt with at Codashop's sole discretion.