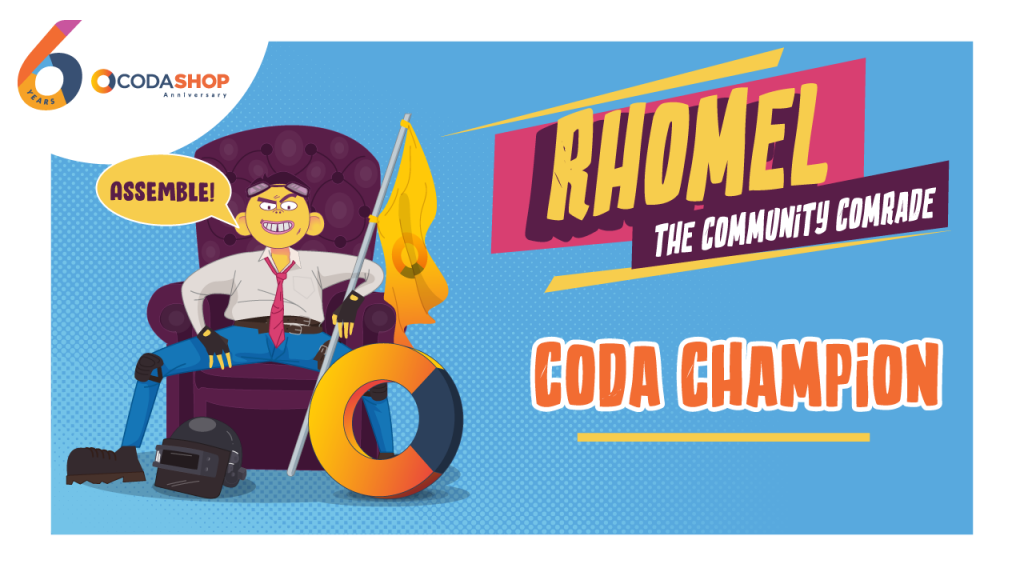 In celebration of six years of bringing the fastest and easiest top-up experience, we turn the spotlight on inspiring Codans who champion Coda values and excel in their own fields. Rhomel, Codashop's resident Senior Community Associate, talks about the Kagura factor in MLBB and how Coda is a great listener.
_________________________________________________________________
What is your favorite video game?
Mobile Legends is my favorite. But growing up in the Philippines, I was banned from playing video games because it consumed high electricity *Haha! Before Coda, my housemates always asked me to join them play ML. There were times when we'd go pure ranking for several hours straight!
Who's your favorite character/s in the game?
Like casual gamers, Layla was my first hero. Then I moved to hard-to-use heroes to impress my housemates. I painstakingly studied Kagura and watched her gameplay all over YouTube. All the hard work paid off because I now hold the intimidating factor whenever I pick her. NOT EVERYONE knows how to use Kagura. Ha! Also, Hanabi. I duo with a friend who plays Tank. We're a demolition team!
What do you like most about Coda?
I've been with Coda for 1 year and 2 months. I consider the community role a huge thing since it's part of marketing. Being in charge of sponsorships for tournaments where they can market Coda is exciting! Honestly, I think of Coda and how it cares for me, giving me the things that I need to grow (wellness, training, and more). Coda listens. I recall suggesting a live game show on Facebook to boost our rating and it became an instant hit. I love hosting and guess I showed the world exactly what I'm made of when we did that! *Ehem!
And the benefits?
Coda celebrates the wins, big or small, with its employees. It goes to show that the company is extremely proud of its workforce. I've worked hard before and worked the hardest here. But I was never recognized like this, (being featured in the Anniversary and posted on LinkedIn).
What will Coda be like after 6 more years?
It's evident that after six more years, Coda Payments will stay the same. Codans cling tight on our core values. Here, there's no compromising on these values, as seen from the people I've closely worked with. Coda has big dreams. The goal is to become a global brand that's preferred by all.
What's your best Coda moment?
That's a tough one! But the company meetup in 2019 tops it! I was just a month old back then. There were even first-day-at-work peeps who joined in Bangkok so it was super fun! Meeting all Codans from around the globe, talking to people from different countries, and learning about stuff they know was pure excitement.
Let's end it with a bang. Who are you as a video game character?
Ha Ha Ha! I'm Jigglypuff! I'm jiggly and I'm puffy and I can sing too!
(For those of you who don't know, Jigglypuff is a Pokemon who draws something on your face once you fall asleep.)
Fin.
#coda6years