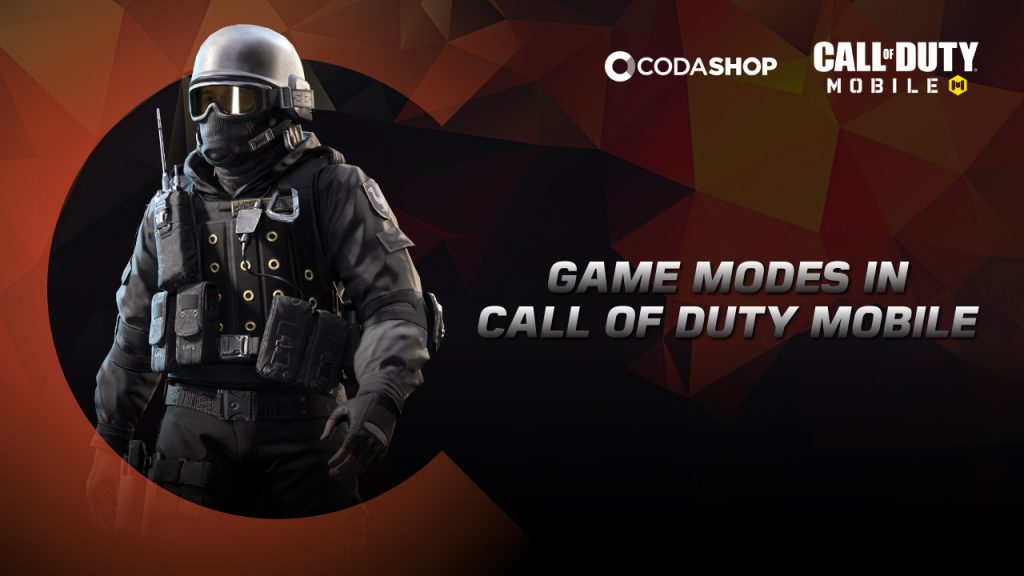 Call of Duty: Mobile is an intense, free-to-play shooter game designed exclusively for mobile phones (Android and iOS). Players can experience all the thrills and action while playing iconic multiplayer maps, do an all-out 100-player battle royale, slug it out in a quick 5v5 deathmatch, etc. In this post, let's get a lowdown of the different game modes that suit your shooting style.
Main Gametypes
In true Call of Duty fashion, the mobile version has been able to bring back pretty solid content from the series' past; from classic maps, iconic characters, and high-powered weapons and equipment. You can play CODM in the following ways: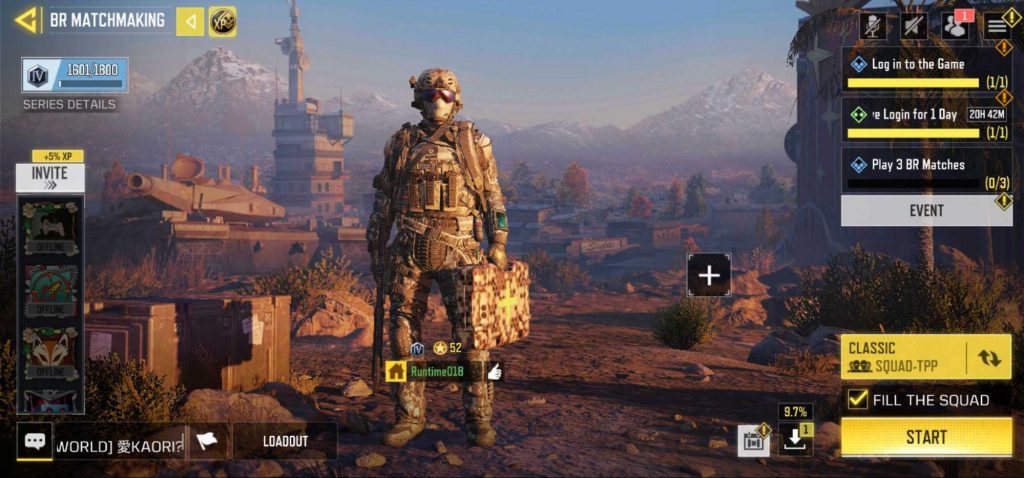 Battle Royale
This is the ultimate survival experience where 100 players fight to the death to become the last man (or team) standing. Players can choose to play solo, go duo or form a 4-man squad. The game ensures that players get ample space to duke it out while having enough leeway to prepare at the start of the match.
Before the game begins, players can equip themselves with an ability (like healing) and once all 100 are set, they board a plane and head towards the map (includes the iconic Nuketown among others). Each team has a designated 'jump leader' who gives out instructions about their destination. The game begins with players only equipped with a knife and will have to scour the map to get weapons and essential items to stay alive longer. Heading towards the later stage of the game, the designated safe zone starts to shrink with players caught outside the zone being wiped out. When the dust settles, the last remaining team wins.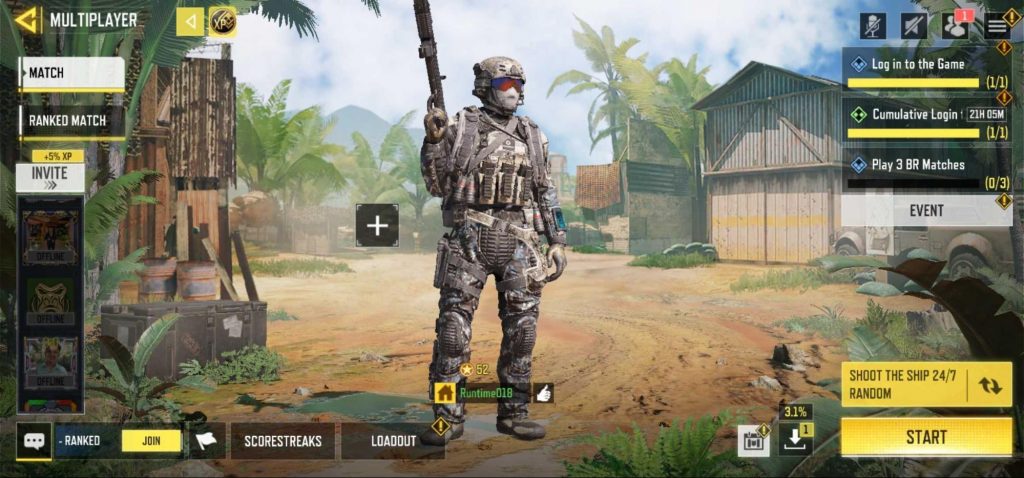 Multiplayer
This is considered the primary first-person shooter option in CODM. It features different weapons and maps including Nuketown, Hijacked, Crossfire, Firing Range, and more. In this mode, players can select between Ranked and Non-ranked options. The former includes 4 modes:
*Team Deathmatch: Abbreviated as TDM features two teams fighting to eliminate everyone on the opposing team. To get the win, each team will fight to reach a point limit first or if the time runs out, gets the most points. There will also be a draw should the two teams come up with the same score or kill count at the end of the game. Team Deathmatch is undeniably one of the most popular and simplest modes in CODM, with rapid respawns and fast-paced gameplay.
*Domination: A fan favorite, the objective of Domination is for teams to own control points (at least three) scattered on the map. Teams can rack up points the longer they hold on to each control point with no enemies nearby. More strategic compared to TDM, players in Domination need to use the entire map to capture a point — the more areas you own, the more points you receive. The team who gets 150 points first wins the match.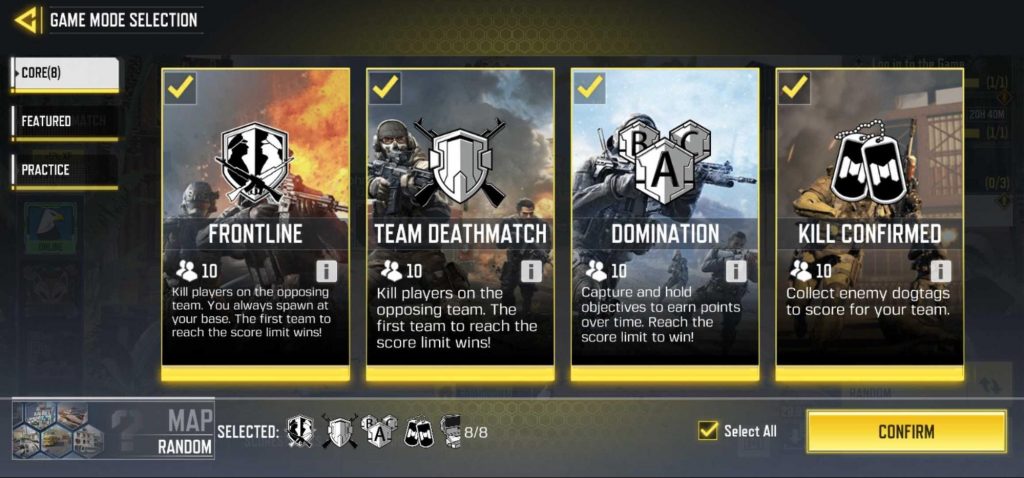 *Hardpoint: In this mode, players must rush towards a 'hardpoint' location and ward off enemies from the area. The objective is to hold the hardpoint area for your team to increase your score. This mode switches to different rotational positions on the map during the game. A team gets a point for every second they are present in the Hardpoint. Hardpoint games are fast and wild and promise lots of fun.
*Search and Destroy: Abbreviated as SnD or S&D, Search and Destroy is an elimination-based game available at Elite rank. This tactical game mode requires an attacking team to detonate either one or two bomb sites (A and B) OR to wipe out the defending team. Only one life per round is allowed for players, with the first team to win five rounds winning the match.
Aside from the Ranked Mode, Multiplayer 'Core' Game Modes are also available including:

Frontline: Similar to Team Deathmatch but everyone on each team spawns on one side of a map or the base itself.

Free for All: Also known as FFA, pits every player against each other. Max of 8 players (Universal rule).

Kill Confirmed: Similar to Team Deathmatch, except that teams score points by collecting dogtags that enemies drop when they get killed.
Gunfight: The objective of this 2v2, round-based deathmatch is simply to kill the enemy team in 40 seconds in order to win the round.
Team Deathmatch
Domination
Search & Destroy
Hardpoint
Additionally, there's also a 'Featured' game mode under Multiplayer that runs for a limited time. The events may last for days, weeks, or can even go a whole game season. Some of the events include Shoot The Ship 24/7, Best of Black Ops, and more.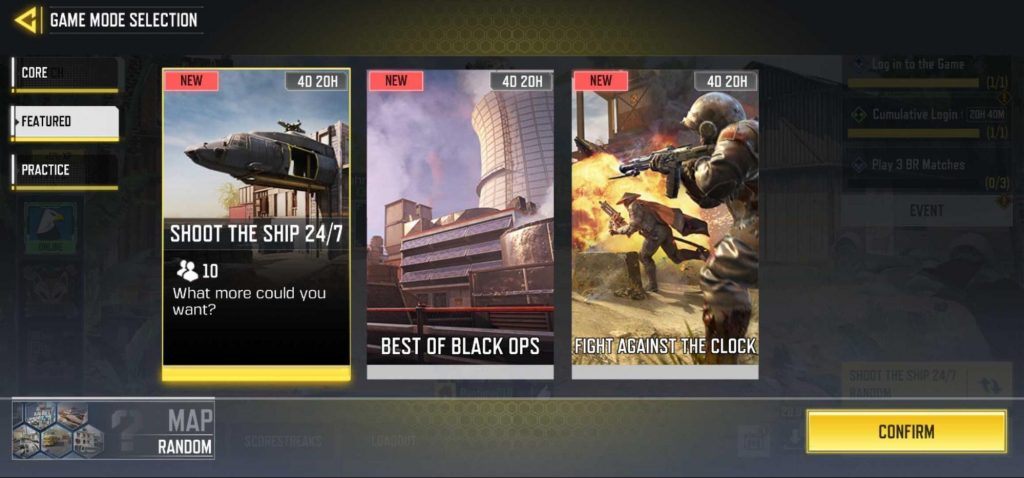 When you choose 'Practice', you can try out Training Mode to hone your skills at the Practice Range or opt to fight against AI opponents to improve your marksmanship via Practice VS. AI.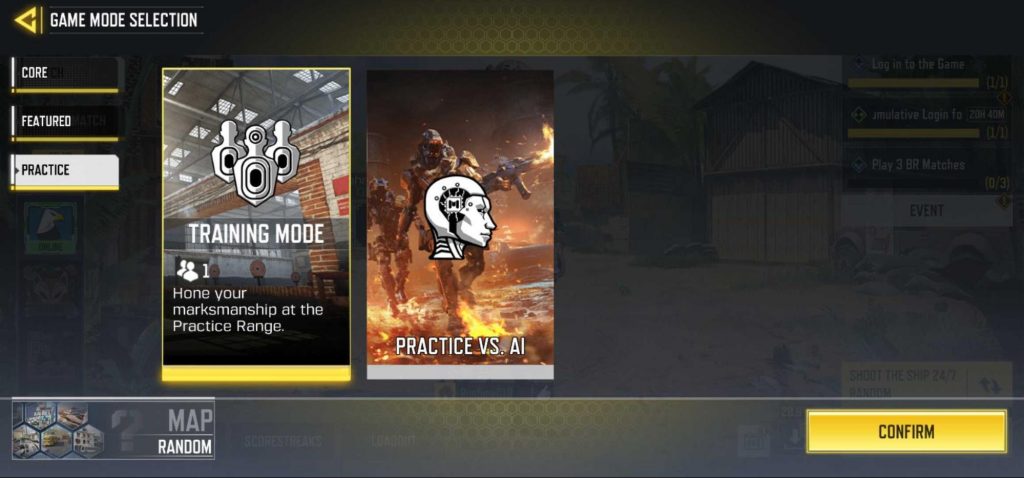 Zombies
Just a quick mention, the popular Zombies mode placed teams of up 4 players surviving against a wave of zombies. It features linear missions rather than round-based play. Players can choose between Raid Mode or the Survival option.
What's your favorite game mode in Call of Duty: Mobile? Share your thoughts with us on Codaclub Community; it's our newest forum where you can meet and share experiences with fellow Codashop gamers!

Need Call of Duty: Mobile Garena Shells? Top up now on Codashop! Pay conveniently using Globe/TM, Smart/Sun/TNT, GCash, PayMaya, Coins.ph, GrabPay, Bank Transfers, OTC, and Card Payments. Absolutely no credit card, registration, or log-in required!