Know the different classes in CODM and their area of expertise
The Battle Royale mode in Call of Duty: Mobile brings in an intense and versatile take on the famous FPS shooter gameplay. What's more exciting is that players can pick from a wide range of classes, each with a unique skill that gamers can adapt to their playstyle. Each class also features a perk that gives players a unique advantage in battle. In this post, check out the first six classes and which one to pick to start your Battle Royale rumble.
The Medic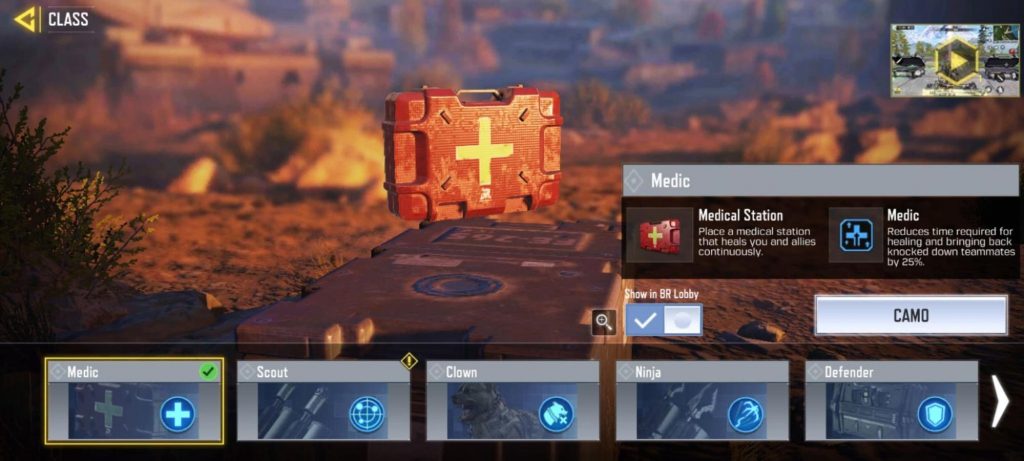 Need healing, quick! It's an absolute must for a squad to have a reliable Medic to support all the members. Having a healer is a big help, for he provides vital buffs to help the team survive longer in Battle Royale. The medic must get all the needed protection for him to carry out his duty.

The Medic can speed up healing from items. The skill also increases the revival time needed for allies to spring back to action. On top of that, the Medic has access to the Medical Station. He can place the equipment to heal himself and his allies inside its blue circle continuously. This is handy because you and your team will most likely get more than bumps and bruises during a scuffle and that you will need all the HP to last the fight. Quick revival is an advantage.
The Scout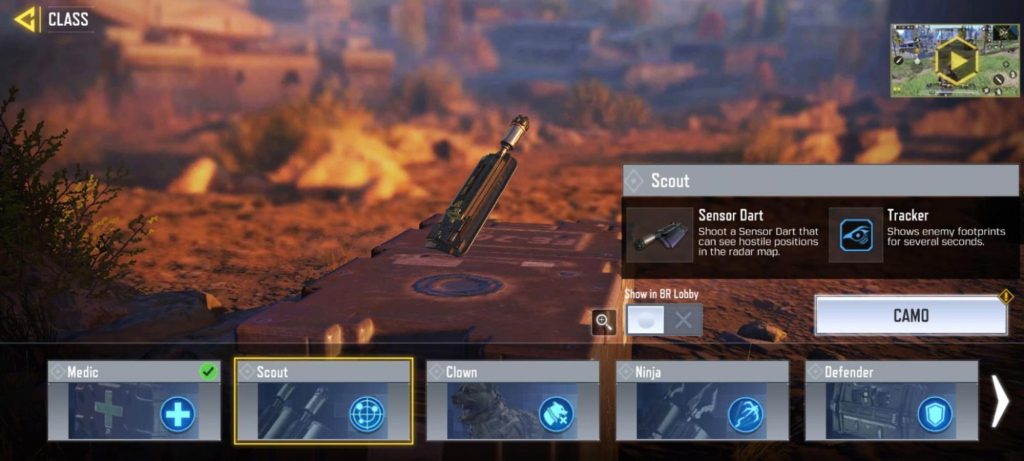 If tracking down enemies is your strong suit, the Scout class is a perfect fit. Scouts can track down enemies, including map movements. Their Tracker ability shows enemy footprints for several seconds through infrared light. They also shoot a Sensor Dart to see hostile positions in the radar map, showing where enemies are on the mini-map. These skills serve as a vital cog to enable the team to plan their approach in battle quickly.
The information gathered by the Scout serves as a game-changer, as it can dictate whether the squad can opt for an ambush or plan for defense. Just remember that effective communication is a must to relay information that your teammates cannot see when choosing the Scout.
The Clown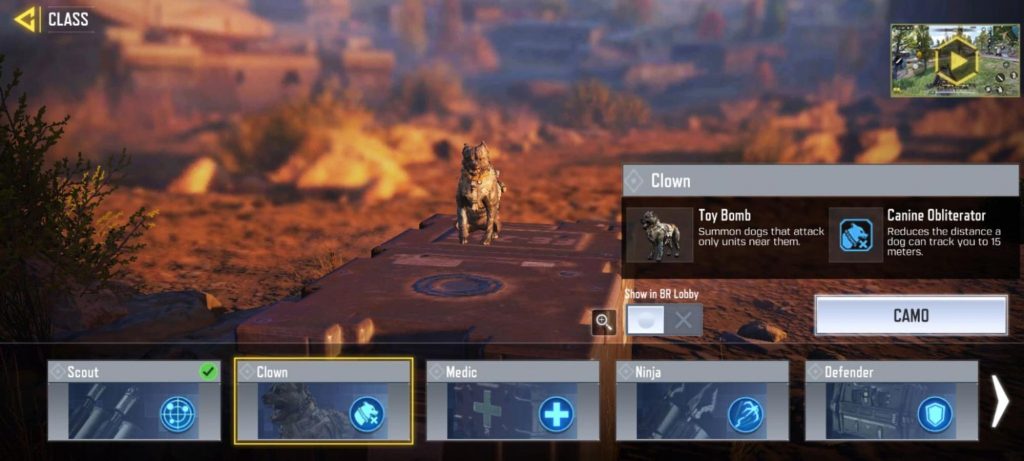 Never mistake the Clown class to be clowning around. Despite the funny name, the Clown's Toy Bomb and Canine Obliterator, skills that are dead serious in delivering extra damage when utilized in battle.
The Clown can use the Toy Bomb to aid him, summoning dogs that attack only units near them. On the other hand, triggering Canine Obliterator reduces the distance that a dog can track down to 15 meters. This will help conceal you from enemies snooping at your tail. So it's safe to say that the Clown is a flexible soldier both in offense and in defense.
The Ninja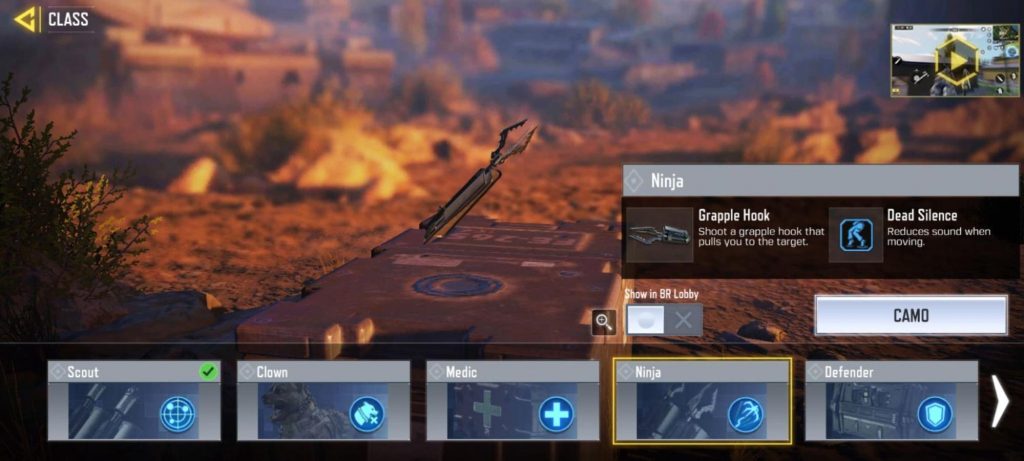 The Ninja specializes in using speed and silence to fight his way in the battle. Many regard the Ninja as one of the best class in Battle Royale. The ninja can use his skills to gain an advantage in terms of mobility. The Grapple Hook will enable you to pull yourself to a target, let's say getting on top of buildings. 
His other skill, Dead Silence, reduces the Ninja's sound when moving. This is most essential to boost the element of surprise when going for an ambush. When utilized against enemies relying on in-game sound, Dead Silence can easily counter their game plan. However, enemies will have to be extra careful, as a Ninja can quickly strike unsuspectingly, converting easy kills from unwary foes.
The Defender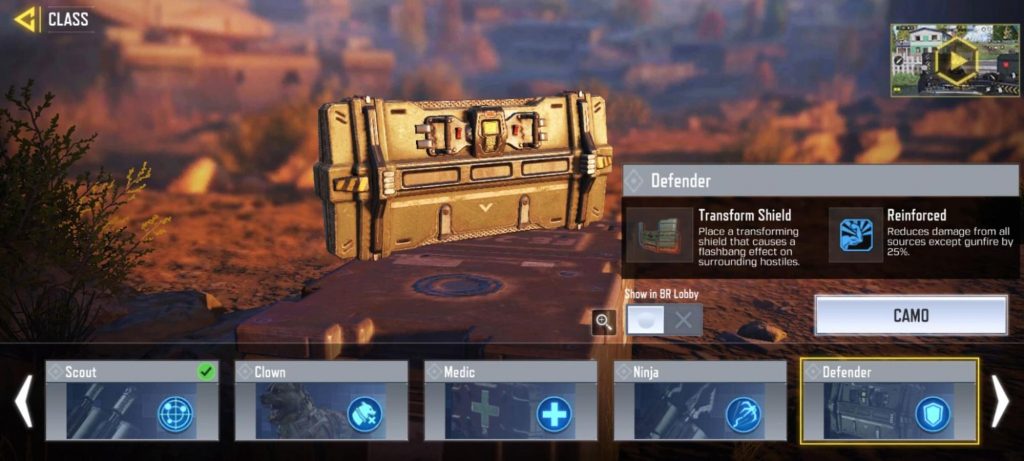 It's true when they say that defense wins games. The Defender's strength lies in his ability to defend his squad. The foundation of the Defender's loadout lies in his Transform Shield, placing a transforming shield that causes a flashbang effect on surrounding hostiles. A portable barrier that blocks bullets? That's a big Yes; no further explanations are needed.
His second skill, called Reinforced, reduces damage from all sources (except gunfire) by 25%. In other words, Reinforced maximizes the Defender's defensive prowess. Imagine the explosion from frag grenades becoming less damaging because of this.
The Mechanic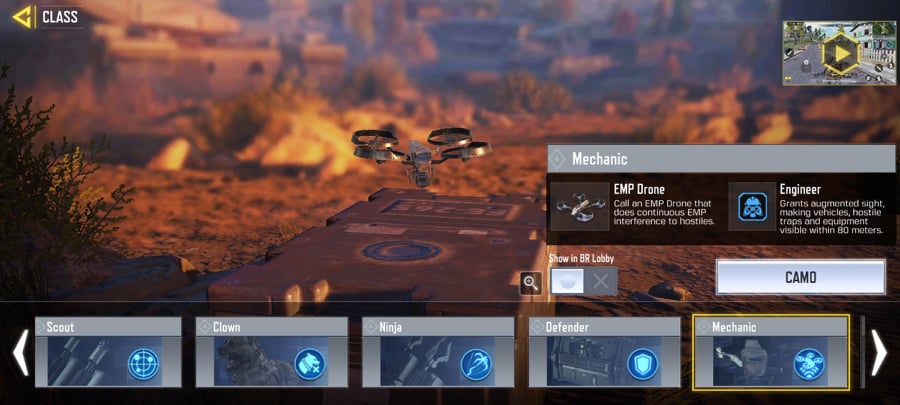 When you need someone to techie your way in battle, the Mechanic is the one for the job. The Mechanic class uses technology to gain headway in battle, a war machine that knows how to cripple enemy gadgets and tools. For example, the Mechanic launches an EMP Drone to create continuous EMP interference on hostiles. Always remember to deploy your drone carefully to neutralize enemy systems that are gearing for an ambush effectively.
The second skill, called Engineer, allows the mechanic to pinpoint where a piece of electric-based equipment is located. It grants augmented sight, making vehicles, hostile traps, and other tools visible within 80 meters. Having a Mechanic in your team is essential for map navigation and other battle tactics.
Stay tuned for our next post as we discuss the other Battle Royale class, including Trickster, Airborne, Poltergeist, and more.
What's your go-to class in Call of Duty: Mobile Battle Royale? Any tips for beginners? Share them on Codaclub Community; it's our newest forum where you can meet and share experiences with fellow Codashop gamers!

Need Call of Duty: Mobile Garena Shells? Top up now on Codashop! Pay conveniently using Globe/TM, Smart/Sun/TNT, GCash, PayMaya, Coins.ph, GrabPay, Bank Transfers, OTC, and Card Payments. No credit card, registration, or login is required!