Know who doesn't use hands in battle, someone who carries a weapon he never uses, the most talkative hero, and more!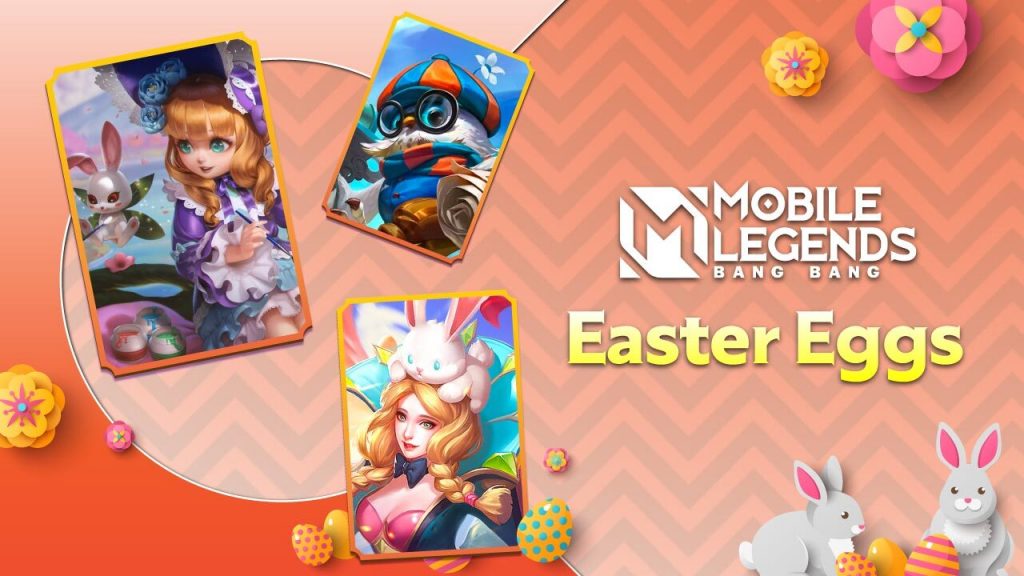 It's that time of year again when a bunny comes hopping and we celebrate a famous and fun egg-hunt! We've arranged our own 'easter eggs', this time about your favorite heroes in Mobile Legends which will definitely surprise you! Let the legendary trivia hunt begin!
Did you know that

Granger

loves playing the violin even though he is tone-deaf? What makes it more interesting is because of his lousy violin skills, his enemies lose focus.

Beatrix's different weapons put her in different moods, hence the icons! Nibiru=Grinning, Wesker=Winking with tongue out, Renner=Expressionless, Bennet=Angry

The devastating power of Brody's right arm came from a demon which he punched through the chest.

Did you notice that Bruno does not use his hands while attacking? He is also the first and only hero with abilities based on sport (football).

Clint's name is a clear reference to… yup Clint Eastwood himself!

The word 'Hanabi' in Japanese is translated as 'fireworks'. Also, her weapon called 'Higanbana' refers to a Red Spider Lily flower.

If you're a big fan of How to Train Your Dragon, then check out

Irithel's Night Arrow

skin! You're welcome!

If you switch Kimmy's voice line to Japanese, she'll say

"Fighting Jimmy!"

instead of Kimmy.

Layla's skin Blue Spectre is one of the rarest skins in Mobile Legends (it was from an offline event held only in the Philippines last 2017).

Lesley and Harley are adopted siblings.

Miya is the official 'mascot' of Mobile Legends and is also the first hero in the game!

Moskov' and Khaleed are ultimate BFFs!

Roger is the only Fighter/Marksman hybrid in the game.

Yi Sun-Shin is the only hero that can replace the crystal base with a Turtle Ship.

Do you know Aldous' other given names? First, it was Armstrong, then changed to Aulrad, and then finally we got Aldous.

Alpha's quotes pay homage to Star Wars:

"May the force be with you"

and

"The force is everywhere"

.

Believe it or not, Alucard does not have any connection with Dracula (even with his palindrome name)!

Argus is originally an angel like Rafaela who punished evil before he succumbed to darkness.

Image credit: Moonton/Mobile Legends

Badang is based on a Malay legend with the same name.

If you look at Balmond's Passive Skill icon, you can actually see his old appearance. 

Bane is previously a human before he was resurrected into an Anthropomorphic Octopus. His Deadly Catch is also the only skill that can damage turrets.

Chou actually carries a nunchaku on his back… but never uses it. Lol!

Dyrroth is the younger brother of Silvanna and is also an adopted son of Alice.

Gatotkaca is an Indonesian hero together with Kadita. He and Belerick are the only ones who can taunt enemies.

Guinevere's full name is Guinevere Baroque.

Gilda's skin, Flower of the Wastes, is a reference to the famous post-apocalyptic film Mad Max.

Jawhead is actually considered a female hero because the focus was given to Ellie herself.

If you look at Masha's belt, it resembles that of the Master rank badge.

Minsitthar is based on King Kyansittha of Myanmar.

Paquito is inspired by Filipino boxing superstar Manny Pacquiao.

Ruby shares a little reference to The Little Red Riding Hood.

You will never understand what Thamuz is saying. Ever.

Terizla created the weapon Bloodlust Axe. Also, we are yet to see his full face. Lol

Yu Zhong is perhaps the most talkative hero in Mobile Legends with more than 30 quotes in the game!

Zilong is the older brother of Chang'e.

Benedetta is an Italian word that means 'blessed'.

If you're a big fan of Attack on Titan, did you know that Fanny was based on Mikasa Ackerman? She is also the most difficult hero to play. Good luck!

One of Gusion's interests is racing with animals in the wild.

Hanzo is the only hero in the game with self-stun.

In connection to #39, Hayabusa's only and current task is to hunt and kill Hanzo.

The letter "L" that Lancelot draws during his entry animation is inspired by Zorro's signature "Z".

Saber's 'Force Warrior' Skin is the first Starlight member skin. 

Selena's Epic Skin called Virus does not really 'transform' her, but in fact, gives her a suit upon casting her Ultimate.

Akai means red in Japanese.

Uranus is the only hero in Mobile Legends without legs.

Skating is one of Aurora's interests. Thus her KOF skin features her with skates.

The traumatic wedding of Pharsa is the reason why she is wearing her trademark blindfold.

Diggie is the smallest hero in Mobile Legends.

Estes is the sole hero who can benefit from his allies' stats thanks to his Moonlight Immersion.

Rafaela is one of two heroes who have an Easter skin. The other one is Chang'e, the just-released VIne Cradle Epic Skin.



*Trivias and other references from fandom.com.
We hope you learned a lot from this Mobile Legends trivia! If you have more easter eggs about MLBB, share it with us on Codaclub Community, it's our newest forum where you can meet and share experiences with fellow Codashop gamers!

Don't forget to top up on your Mobile Legends Diamonds only at Codashop. We guarantee faster and more convenient top-ups so you can enjoy a hassle-free gaming experience.