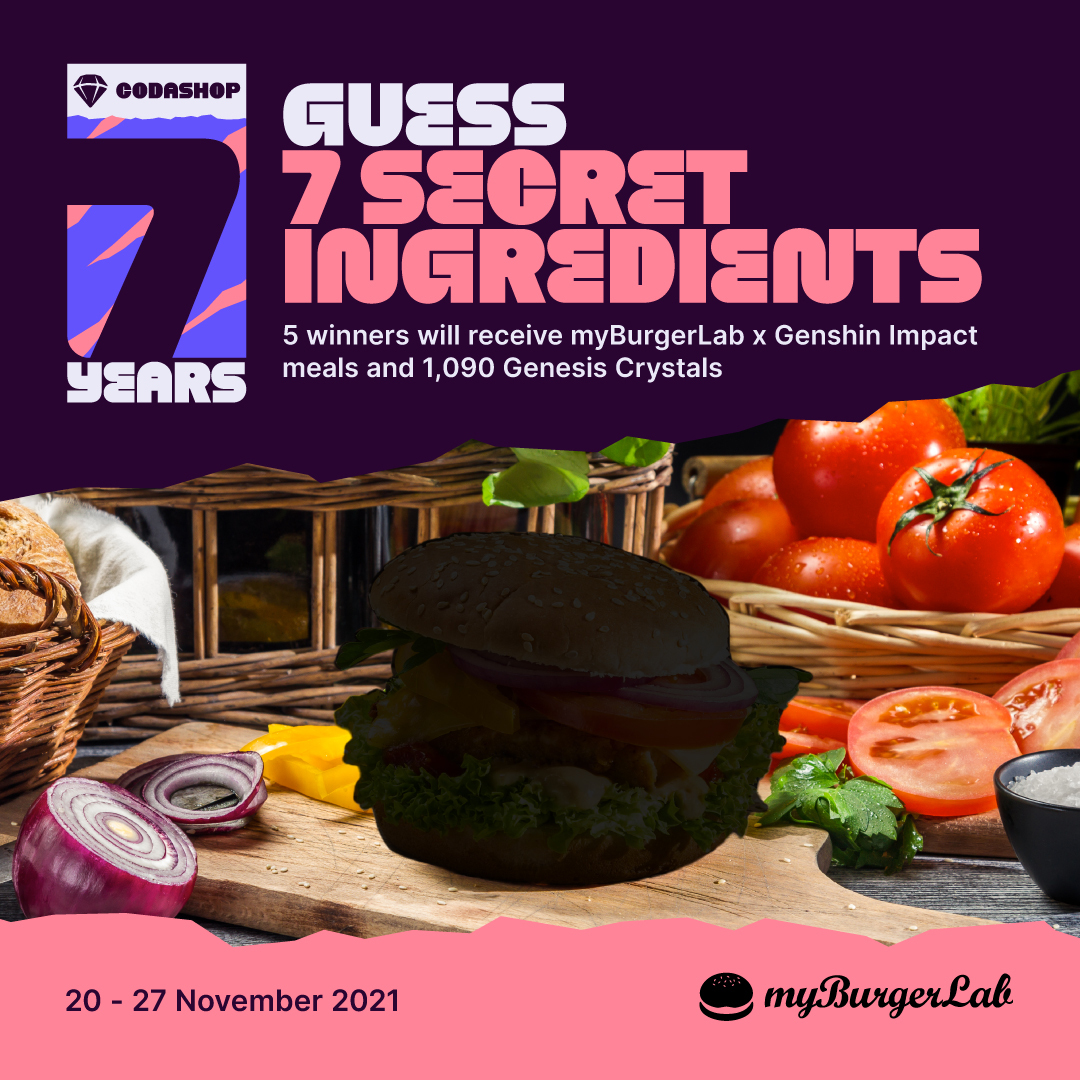 Codashop x myBurgerLab Giveaway: Guess 7 Ingredients and Win Genshin Impact Meals and 1,090 Genesis Crystals!
This is your chance to win exclusive Genshin Impact meals and Genesis Crystals when you guess 7 ingredients *including onions that make up myBurgerLab burger 🍔
Steps to join: 
In the comment section of the giveaway post on Facebook, state 7 ingredients *including onions that make up myBurgerLab burger
In the same comment, tag 2 friends
5 users who can state the most correct ingredients will win

one (1) Forbidden Ration Chicken Burger meal set, one (1) Five Star Beef Burger meal set, and 1,090 Genesis Crystals each. 
Terms and Conditions
The Contest is open to all residents of Malaysia, aged 18 years and above.

The Contest will commence on 20 November, Malaysia Time 12PM, and close on 27 November, Malaysia Time 11:59PM ("Contest Period"). Entries will only qualify for the Contest if submitted within the Contest Period. Entries submitted outside of the Contest Period, or submitted through any means other than specified herein, will not be eligible for the Contest. Any complaints on missing and/or delayed submissions will not be entertained.
The Contest mechanics are as follows:
(1) To participate in the Contest, each participant must state the 7 ingredients that make up a MyBurgerLab burger and tag 2 friends in the comment section. 
(2) Each duly posted comment on Codashop Facebook post as specified herein shall be referred to as an "Entry". 
(3) Each participant may submit multiple Entries for the entire Contest. 
(4) Each participant may win only one (1) prize for the entire Contest. 
(5) All Entries submitted in the manner set out above will be individually judged by Codashop based on how many ingredients that the user guessed correctly, and five (5) winners will be selected by Codashop at its sole discretion. 
(6) The five (5) winners will receive one (1) Golden Chicken Burger meal set, one (1) The Outlander burger (beef) meal set, and 1,090 Genesis Crystals each. 
4. Winners will be announced in the social media contest post comment section on 30th November 2021 (Monday) and contacted via Facebook direct message. 
5. Winners are required to reply to Codashop's message with their full name, phone number, and Genshin Impact User ID + server by 30 November, 6.00PM to book a dine-in slot at MyBurgerLab, MyTOWN Shopping Centre outlet to redeem the meals. The meal sets do not come with the official Genshin Impact merchandise. Winners may bring a plus one. Winners will only receive a 45-minute time slot decided by Codashop. The schedule is as follows;
Date: 4th, 5th, 6th, 8th, 13th or 14th December 2021 
Time: 11AM – 8PM 
6. Codashop will only fulfill and send 1,090 Genesis Crystal to the winners Genshin Impact account once users have successfully redeem the meal sets during the chosen time and date.
7. In the event that winners fail to show up for meal set redemption, the slot will automatically be cancelled. Winners are not allowed to reschedule or choose another date and time upon cancellation.
8. Prizes are not exchangeable by the winner(s) for cash or other items, and are not transferable. In the event that any prize is unclaimed within such a period, or there is no winner determined in respect of the prize, it will be dealt with at Codashop's sole discretion.