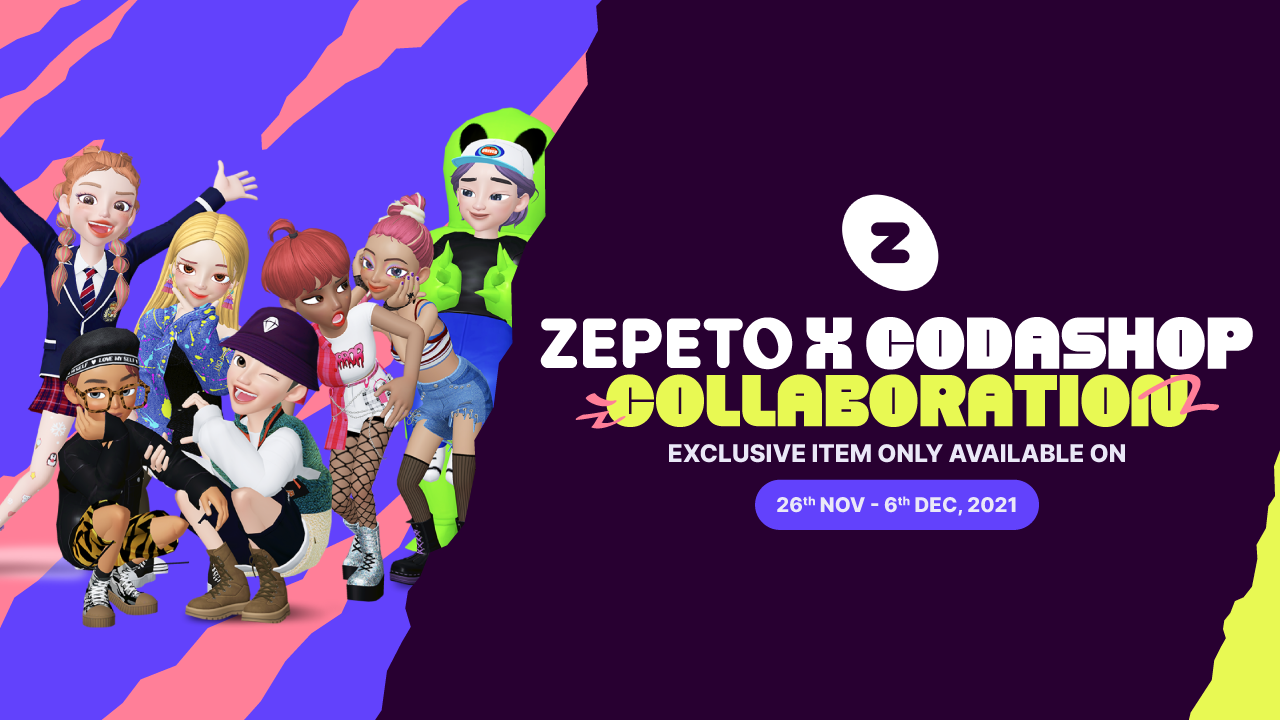 ZEPETO X Codashop Collaboration: Win Exclusive Item!
Show your selfie as a true Codashopper in ZEPETO! Get rare and exclusive collaboration item when you top up a minimum of 29 ZEMS (RM8.99) on Codashop 🥳 100 users will be chosen. HURRY, top up now! 
Winner Announcement 
Congratulations, winners! Please check your ZEPETO account for the exclusive item.  Contact our customer support team with your valid ZEPETO username if you have not received the exclusive item in your account.
@Zaraofcofe
@park_soo_kyung
@gglory
@kicat70308
@afridxxme_
@rara_miaa
@aqibrayyan1234
@KFJ13Q
@crypticccc
@farshaw
@_senpai._
@Umayrah15
@dkckfkkgkcjcn
@Smy_zpt
@0alex_sky0
@woonyd
@erine.zpt
@beya_nut
@sleepy.zpt
@lex_nyah
@milobasi
@msha7160
@ixi23
@lyzzpt._
@bbyqayseh_.
@H8VZEH
@zpt.firaaa
@ninaa.zpt
@wan_zpt
@its_notsean
@hanries14
@.miyeri_my_.
@lucifer6697
@nieyena
@zambiena
@F31230
@yush
@littleqist_.
@BJE7UN
@kambing_panggang
@lingxia_yw0042
@zpt.finaa
@naries
@lisa0327
@vionaxyx
@thisissara
@kwitty
@zmmai
@ikhmalnour_246
@plushykuromi
@caseyy_lovies
@farahyay
@4inzaf
@rainynaila
@midoryy
@Loafssastra
@niszepeto
@b3l4zpt
@sweetie_tiara
@zpt_jasmine
@bunga_zpt
@syierah
@drakrn
@asherlys
@Misyaa._
@urrbae_
@sara_ncem
@Valeria222
@64wwv2
@yoonshinuo
@shakawaii_
@Leesandra
@qisyarawrr
@hugbombsy
@janeunnie
@alya._zpt
@aki.ss
@devilmoo0n
@.lyss_a.
@qilahzpt
@arahesmes_
@ardellyaa
@punxl5akim
@xzsfck
@ira_zpt3
@yunjii
@eri_.
@Cokino2612
@_bluefluffycat
@kaisara_
@call_me_hira
@zpt_alyyn
@kelvinlily34
@damiamilky
@miaotz1
@ACPVQY
@mimicutecity
@meloww.
@princessemmanuel_
@Justraaisyahhehe
Terms and Conditions 
Event will run from 26th November – 6th December 2021.

The  campaign mechanic is as per below:

Top up minimum amount of 29 ZEMS on Codashop during the campaign period. 

100 users with the highest amount of entries will win exclusive ZEPETO x Codashop collaboration item (hat).

ZEPETO will fulfill the exclusive item into the winner's s account after the campaign ends.
One (1) user will only be eligible to win one (1) prize.
General
Prizes are non-transferable and non-exchangeable for cash or other items. All pictures illustrating the prizes are for representational purposes only. 

By participating in the campaign, users agree to abide by the Campaign Terms and Conditions and agree to be bound by the Campaign  Terms and Conditions including any amendments or variations thereto as well as any decisions made by Codashop. 

The campaign  is open to all residents of Malaysia, aged 18 years and above.

Entries will only qualify for the campaign if the entry is submitted within the promotion period. Entries submitted outside of the campaign period, or submitted through any means other than specified herein, will not be eligible for the campaign. Any complaints on missing and/or delayed submissions will not be entertained.

All entries submitted in the manner set out above will be individually judged by Codashop at its sole discretion.

By taking part in this campaign, all participants are deemed to have provided expressed consent for Codashop to process, use, and/or transfer (where necessary) the contestant's personal information, social media handle and photos submitted, for the purposes of this campaign.

In the event that any prize is unclaimed within such period, or there is no winner determined in respect of the prize, it will be dealt with at Codashop's sole discretion.