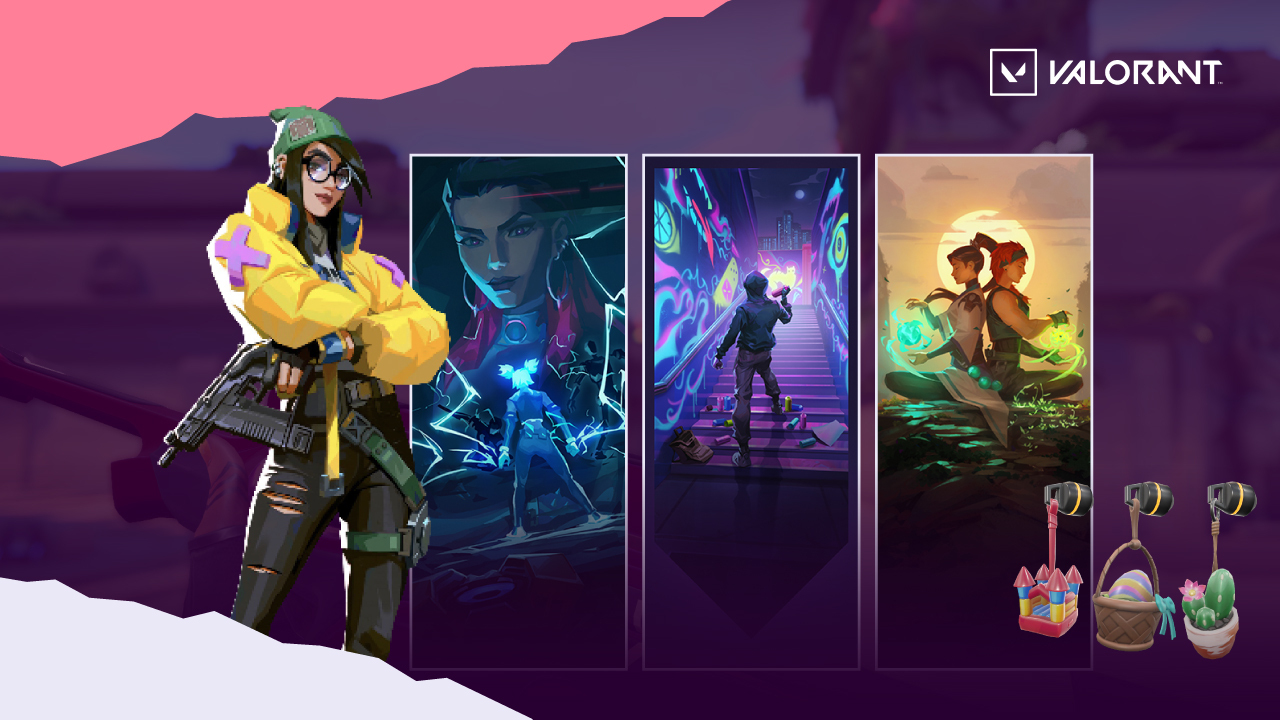 VALORANT's new Act is coming. We have heard the rumors. In this article, we will look at the possible releases for the next Act, emphasizing the new Agent, Gekko.
Please note: The writer will update all information once Riot Games releases the official details.
Release Date
The next VALORANT Act will be released on March 7, 2023. This update also comes with its corresponding maintenance time. To check when the maintenance will occur, you can look at it through the notification icon on the top right side of the screen. Please note that VALORANT's time zone is in Pacific Standard Time. You can convert the time zone to your local time through Google.
New Agent: Gekko
Announced during the VALORANT Champions Tour (VCT) LOCK//IN! Tournament, a new Agent may drop this coming Act. He has a friendly demeanor toward Reyna, Jett, and Brimstone. He is also given the codename, Agent 22, with the Agent name Gekko. As of this writing, a show match with the new Agent was held during the VCT: LOCK//IN! tournament on March 4, just before the Grand Finals. There is also an official trailer with additional information that was released, showcasing Gekko's utilities. Judging by his kit, he may be a new Initiator who wields four unique creatures: a reconnaissance ultimate ability, a sludge bomb that does area-of-effect damage, a mist-shooting creature that temporarily blinds opponents, and a multi-purpose creature that stuns opponents within its range and, interestingly, can plant or defuse the Spike.
Here's what we know so far:
Signature Ability (E):

Dizzy –

Fire to launch Dizzy, a creature that shoots a mist-like projectile onto the enemy, temporarily blinding them. It can be picked up like Viper's Poison Cloud. Ability cools down after picking up the creature.

Area of effect Ability (C):

Mosh's Pit

– Fire to launch Mosh, which then explodes into a toxic sludge that deals damage within its area.

Space Creation Ability (Q):

Wingman

– Fire to deploy Wingman, who can clear spaces in the same manner as Raze's Boom Bot with a similar trait as Skye's Trailblazer as it stuns enemies within its range when it sees them. Interestingly, Wingman can plant or defuse the Spike using the alternative fire button. It can be picked up before its timer expires and be deployed again after ten seconds.

Ultimate Ability (X):

Thrash

– Gekko deploys Thrash, a roving creature that locks down enemies within its range, similar to Killjoy's Lockdown ultimate. It costs seven ultimate points and might be picked up again for use during the round.
I am excited to use Gekko since his abilities are very interesting and may have a high value on every map. I imagine him being a solid second Initiator, along with Sova or Fade, who has rechargeable reconnaissance abilities.
We will do a first-look guide once he is released.
Battle Pass
The Battle Pass will cost 1000 VALORANT Points (VP) for Act II. It will contain player cards, banners, Radianite Points, and weapon skins.
The Battle Pass will include three skin themes, Signature, Tilde, and Topodek. The table below shows the guns available for each skin:
| | | |
| --- | --- | --- |
| Signature | Tilde | Topodek |
| Guardian | Bulldog | Bucky |
| Marshall | Judge | Ghost |
| Sheriff | Operator | Odin |
| Stinger | Shorty | Phantom |
| | Melee Weapon | |

Also read: VALORANT Battle Pass: All You Need to Know
New Skin Bundle
To open the new Act, the VALORANT store will feature a new skin bundle, the Oni 2.0. The first version of the Oni skin bundle was popular among players, especially the Oni Phantom. This new version will feature the Bulldog, Ares, Frenzy, Vandal, and a Katana melee weapon. Along with the bundle will be a player card and a gun buddy. As part of the Premium line of skin bundles, the Oni 2.0 will feature special effects, animation, and sound effects when shooting. It also features a special interaction with a certain Agent.
The cost of this bundle may be 7,100 VP. For individual pricing, the gun skins may cost the usual Premium price of 1775 VP, while the melee weapon may reach from 3550 VP to 4350 VP, depending on the special effects and animation.
Rank Reset

The Competitive queue for Act I will end soon, meaning a rank reset will occur in the next Act. Players are expected to grind the ranks to reach their peak rank for this Act. To check what time the Competitive queue will end in preparation for the next Act, you can check it through the Act Rank screen.
Fixes 
Some fixes have been implemented in this Act. However, there are no major changes as in Patch 5.10 and 5.12.
Agents:
The fortify time for Sage's Barrier Orb (aka, wall) while being destroyed is now fixed. Players can now destroy the wall again as soon as Sage casts it.
Gameplay Systems:
Fixed a bug where abilities, like Sova Drone that are pushed by the Lotus doors into other players, could continue to push players even after the door stops or the players exited the doors area. (From Riot Games)
Performance:
Bug fix regarding certain UI elements being loaded in a "blocking manner" during the game's startup.
You can click this link for more information about Episode 6, Act II. 
Conclusion
The new Act will feature a massive update since there will be a new Agent, the first for this year. We can expect changes in the meta in the coming months leading to VCT Masters Japan. In the meantime, what are your thoughts on the Oni 2.0 bundle? How about the new Agent? Let us know.
Don't forget to top up your VALORANT Points at Codashop. We have a fast and convenient way to purchase VALORANT Points. Just provide your Riot ID, the amount of VALORANT Points you want to buy, and the method of payment you prefer. It's simple, fast, and effortless.