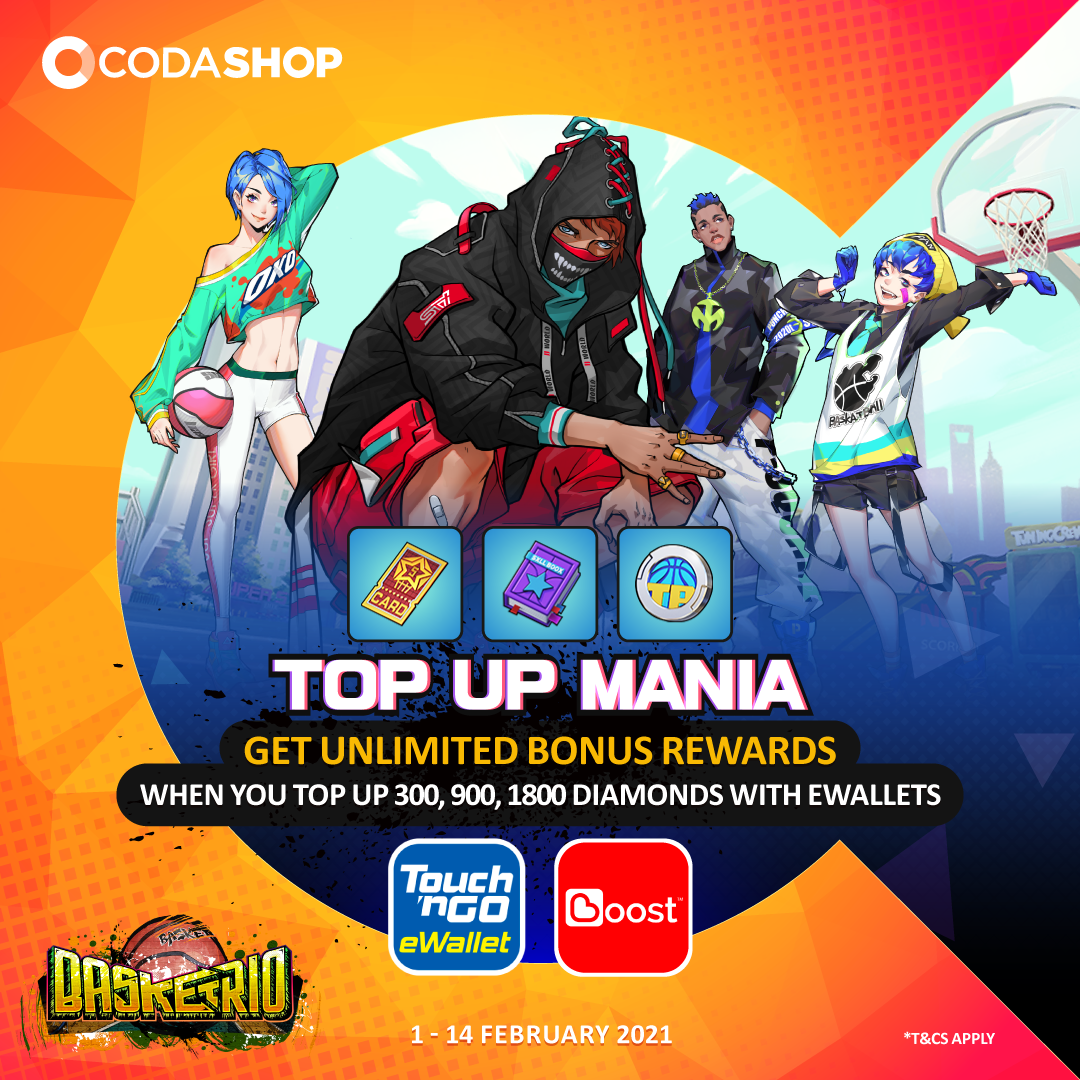 Terms and Conditions
Campaign will run from 1st February – 14th February 2021

Campaign mechanics; a)

 

Top up 300, 900, 1,800 Diamonds on Codashop using selected payment channels for each country (Boost or Touch 'n Go) b)

For each purchase of selected denominations, users will get free in-game items (25% return)

Only listed payment channels and purchase amounts qualify for the event rewards (Boost and Touch 'n Go).

Rewards may be collected repeatedly. Each purchase is counted independently, and cannot be accumulated together for a higher purchase amount reward.

(e.g  Making two $15 purchases will only receive 180 Evolve Coins for Event Awards. Making one $45 purchase will not be eligible for the event)

Rewards will be fulfilled by Basketrio and sent directly to players' in-game accounts within 3 work days for the promotional campaign.

All participants of the event will also be eligible to take part in a lucky draw for an ultimate grand prize.

For lucky draw event, Basketrio will notify players of the results within 1 week after the period ends on their  social platforms.

Players will receive the promotional and grand prize within their in-game inbox.  No further actions required from the players to participate in the lucky draw event .
General
Prizes are non-transferable and non-exchangeable for cash or other items. All pictures to illustrate the prizes are for representational purposes only. 

By participating in the campaign A, users agree to abide by the Campaign Terms and Conditions and agree to be bound by the Campaign  Terms and Conditions including any amendments or variations thereto as well as any decisions made by Codashop. 

The campaign  is open to all residents of Malaysia, aged 18 years and above.

Entries will only qualify for the campaign if the entry submitted within the promotion period. Entries submitted outside of the campaign period, or submitted through any means other than specified herein, will not be eligible for the campaign. Any complaints on missing and/or delayed submissions will not be entertained.

By taking part in this campaign, all participants are deemed to have provided expressed consent for Codashop to process, use, and/or transfer (where necessary) the contestant's personal information, social media handle and photos submitted, for the purposes of this campaign.