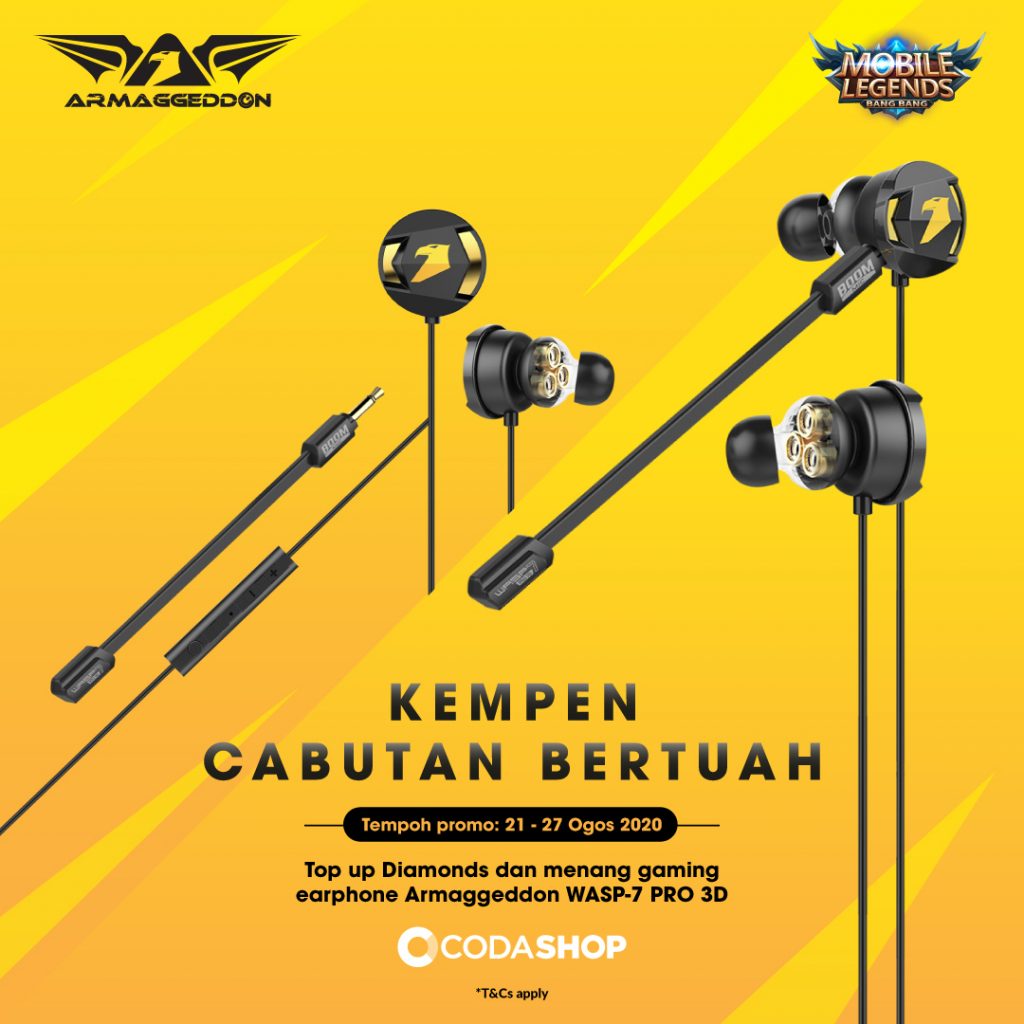 Hello MLBB-ers, in conjunction with MOBB x KOF event we are running a lucky draw event in partnership with Armaggeddon!
Top up during 21 – 27 August, 2020 and 3 lucky winners will stand a chance to win Armaggeddon WASP-7 PRO 3D Gaming Earphones! Don't forget to fill in an email address otherwise your purchase will not be qualified. 😉
What's so good about Armaggeddon WASP-7 PRO
Armaggeddon has created a product that's targeted at a very specific audience – gamers on a budget who want something better than the default headset that comes with their phones.
If you aren't looking to spend a lot of money, the Armaggeddon WASP-7 Pro just might be the way for you to go. WASP 7 combines sound, fit and comfort with bass driven, voice communication performance, detachable microphone earbuds with a 3.5mm stereo audio jack. They may be a very good option if you're looking for gaming earbuds with mic!
Bonus: Check out this in-depth review by goodnewsgeorge on eGG Network.
Exclusive Promo Code For Codashoppers
From 21 – 31 August 2020, use promo code "ARMACODA1" to enjoy RM10 off the "Armaggeddon WASP-5 Gaming Earphones with Dual Driver & Microphone – Free 10000 mAh PoweBank" deal on Shopee: https://bit.ly/323eJQR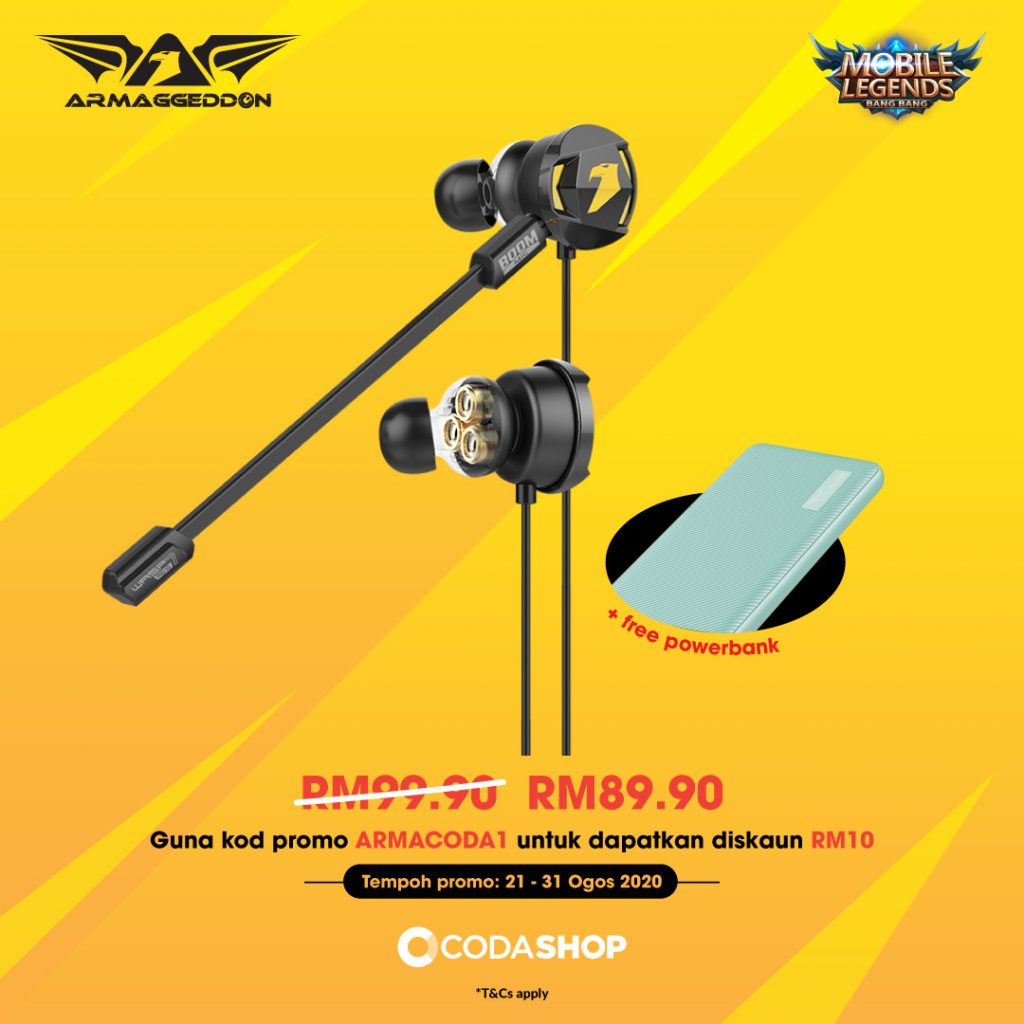 Codashop Malaysia Lucky Draw Contest Terms and Conditions
1. The Contest is open to all residents of Malaysia, aged 18 years and above.
2. The Contest will commence on 21 August, Malaysia time 11AM, and close on 27 August, Malaysia Time 11:59PM ("Contest Period"). Entries will only qualify for the Contest if submitted within the Contest Period. Entries submitted outside of the Contest Period, or submitted through any means other than specified herein, will not be eligible for the Contest. Any complaints on missing and/or delayed submissions will not be entertained.
3. The Contest mechanics are as follows:
To participate in the Contest, each participant must, (a) top up Mobile Legends Bang Bang Diamonds on Codashop (b) fill in an email address

Each transaction that contains an email address shall be referred to

as an "Entry". 

Each participant may submit multiple Entries for the entire Contest. 

Each participant may win only one (1) prize for the entire Contest. 

All Entries submitted in the manner set out above will be individually judged by Codashop, and three (3) winners will be selected by Codashop at its sole discretion. 

The three (3) winners will win 1 x Armaggeddon WASP-7 PRO 3D Gaming Earphones
4. By taking part in this contest, all contestants are deemed to have provided expressed consent for Coda to process, use, and/or transfer (where necessary) the contestant's player ID and email address, for the purposes of this contest. 
5. The winner(s) will be notified via Email/ Whatsapp by 1 September 2020, with information and instructions on prize collection. Prizes are not exchangeable by the winner(s) for cash or other items, and are not transferable.
6. Winner must reply the email within 48 hours. In the event that the prize is unclaimed within such period, or there is no winner determined in respect of the prize, it will be dealt with at Codashop's sole discretion.