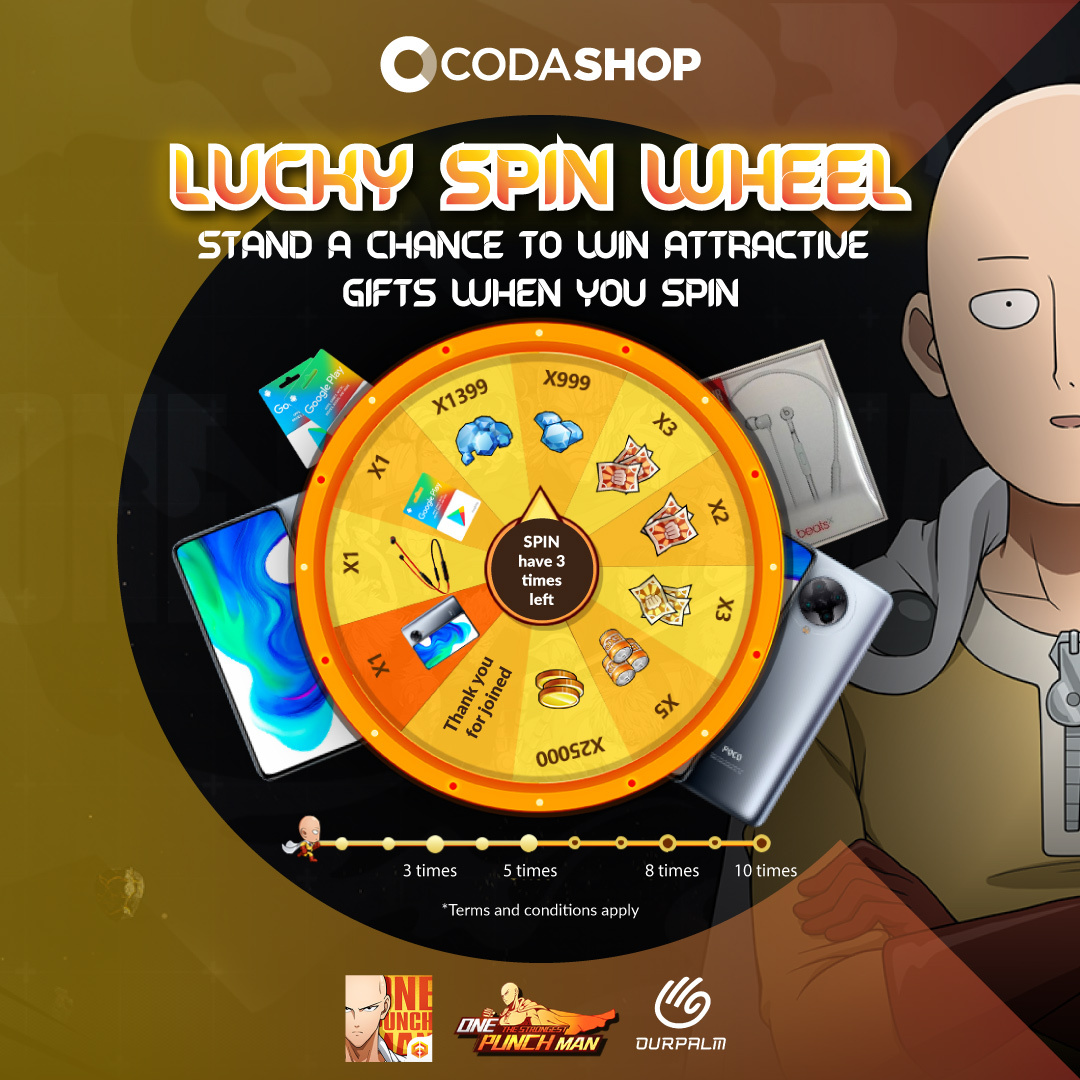 Spin One Punch Man Lucky Wheel
It's time for you to test your luck Codashoppers! Stand a chance to win attractive in-game items and physical rewards like Xiaomi POCO F2 Pro and Beats Studio 3 Wireless Headphone when you spin One punch Man Lucky Wheel 🎉😲
It's easy! You just have to consume times and spin the lucky wheel in One Punch Man! Click the button below and start spinning! 💫 *Terms and Conditions apply
TOP UP AND GET 3 CHANCES TO SPIN THE LUCKY WHEEL
Terms and Conditions 
Players who must meet all three of the following conditions are eligible to participate in the 'LUCKY WHEEL'.
a) Create a new account
b) Valid for 72 hours after registration
c) Upgrade to level 8 in-game
Conditions of getting the times of 'LUCKY WHEEL':
a) Daily login will get 2 times of 'LUCKY WHEEL'.
b) Every 1 hour online, players can get 1 times of 'LUCKY WHEEL', up to 3 times a day.
c) If there is a recharge behavior on the day, players can get 3 times of 'LUCKY WHEEL'.
d) Get 2 extra times when players turned 8 times.
Instructions:
a) A maximum of 10 lucky wheels can be obtained per day;
b) The number of lucky wheel is cleared and reset at 5:00 (GMT+8) every day.
c) Props rewards will be directly sent to the in-game mailbox; To obtain physical rewards, the player need to fill in the receipt information and send a private message to the customer service through the FB homepage. If the receiving information is not provided within 7 days of winning the reward, it will be deemed to have given up the reward.
d) 'LUCKY WHEEL' campaign is only open for 72 hours since the account registration, and it will automatically close when it expires.

By taking part in this 'LUCKY WHEEL', all participants are deemed to have provided expressed consent for Codashop to process, use, and/or transfer (where necessary) the contestant's personal information, social media handle and photos submitted, for the purposes of this lucky draw.