We'll also hyperdrive to pit the game Vader to a famous movie Vader.
The resurgence of Argus continues, and this time, he brings the Dark Side to the Land of Dawn with his menacing new skin, Darth Vader. The new look features the towering Dark Angel prominently holding the famous lightsaber while sizing up his enemies. Let's review what Argus' new look brings to the table and see if Star Wars and MLBB fans will also pledge their allegiance to him.
New skin features
The limited-time MLBB x Star Wars event is one for the ages, which fans from both franchises should take advantage. If you still don't know the power of the Dark Side, now you will. After seeing Argus' new skill effects, we dare you to say how his Darth Vader look is most impressive.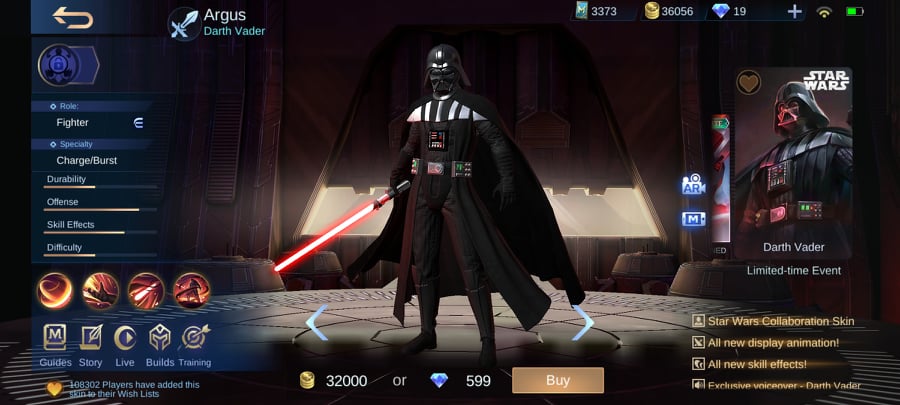 The detailed new skin completely transforms the immortal fallen angel into Darth Vader, a disciple of the Dark Side. His basic attack now features his crimson synth-crystal lightsaber, complete with the iconic sound effect as it hits a target. We can also see his lightsaber emitting a light trail as he runs around. At one point, it looks as if you can feel Darth Vader's anger emanating from his stance as he walks towards a destination. Time to check out the new skill effects.
Passive: Warmonger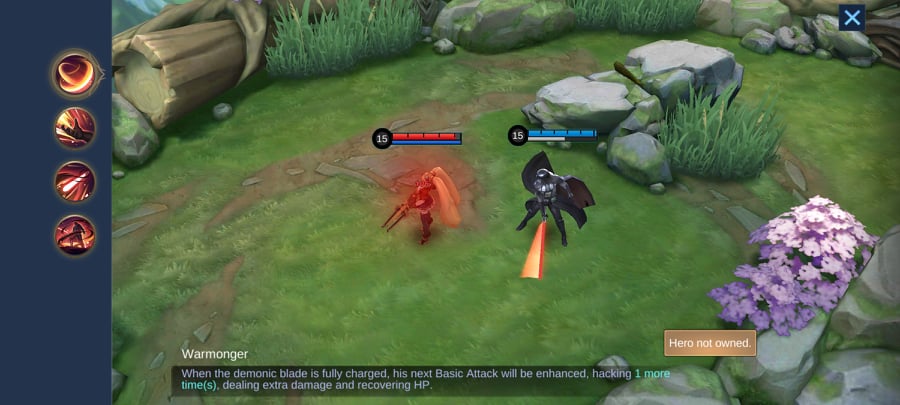 What's evident here is Argus letting the world know of his wrath via his blade, or shall we say his lightsaber. We're feeling some super-speed and agility vibes in this one.
First Skill: Demonic Grip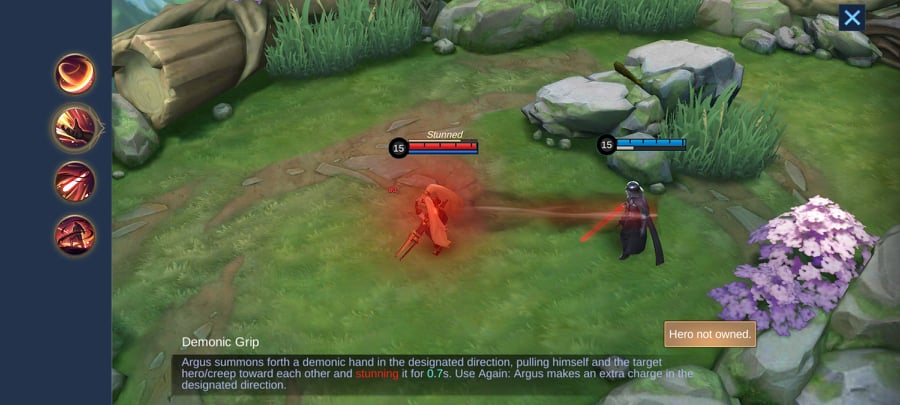 At some point, the new skill animation for Demonic Grip feels similar to a telekinetic murder to us. Imagine Darth Vader raising his hand to choke his enemy; you just know what'll come next. Thanks to the new skill effect, this one looks like one of Argus' scariest powers.
Second Skill: Meteoric Sword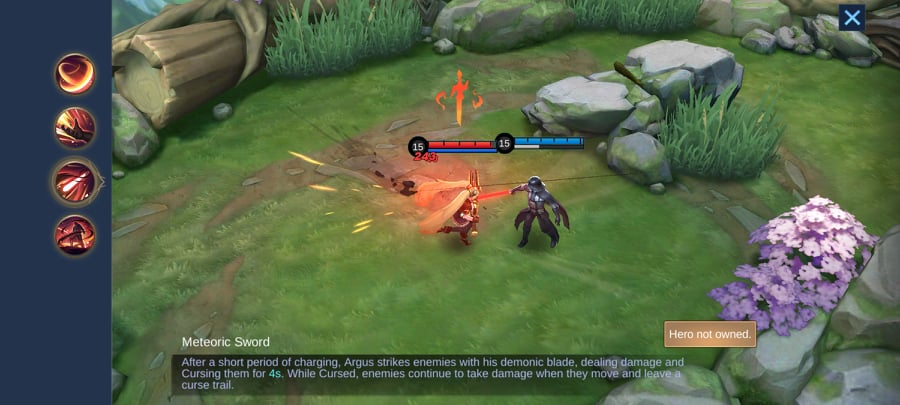 Ah, now we're seeing Argus strike terror and damage using the fabled lightsaber. The moment the charged hit pierces through a target, it creates an impact animation. Even the curse trail itself reflects darkish red to complete the look. We can't help but feel that Argus is an excellent choice to embody Darth Vader if swordsmanship is one of the criteria. There is no conflict to that.
Ultimate Skill: Eternal Evil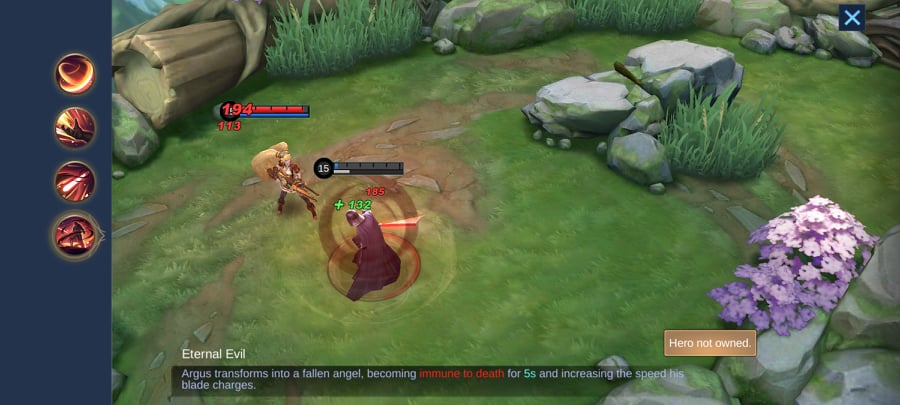 The essence of being a Darth Vader is not complete without the powers of energy absorption and enhance healing — and we are seeing them in Argus' Eternal Evil! We can see the effect as a seemingly dark aura that blankets the model once the skill ultimate is activated. The sound effects make it creepier too!
The verdict
There is a strong indication of Darth Vader and the Dark Side in this new skin of Argus. What we honestly love about it are:

1.) Argus was given plenty of new voice lines (compared to Cyclops/Yoda). He spits more than ten lines in true Darth Vader vocals, and we're thrilled that our favorites made it to the list:

"I am altering the deal, pray I don't alter it any further."
"You don't know the power of the Dark Side."
"You are unwise to lower your defenses."
"Be careful not to choke on your aspirations."
2.) The insane sound effects let you re-live your own Star Wars battle scene, this time in the Land of Dawn.
3.) Finally, the kick-ass new animation effects serve as the icing on the cake. Great job Moonton!
Fittingly, if you will not turn to the Dark Side, you will not experience the true power of this new skin! We're giving the Argus 'Darth Vader' limited skin a 9 out of 10. 
Head-to-Head: MLBB Darth Vader & Darth Vader from Rogue One
The special MLBB x Star Wars event made it possible for fans to finally play a classic Star Wars character in the Land of Dawn. For some reason, we think of this Darth Vader version next to his portrayal in Rogue One.
The Mobile Legends version highlights Darth Vader's lightsaber skills. From prominently wielding the powerful weapon to incorporating it in his various skills brings us closer to some Darth Vader moments in Rogue One. We can't help but imagine Argus' Demonic Grip next to Darth Vader's telekinetic choke against those poor souls while storming Princess Leia's ship in Rogue One.
Without a doubt, both versions of Vader sure know how to throw a fit of rage, and that stamps the chilling, villainy nature of the famous character. Add to that the scintillating sound effects of Vader's lightsaber in action together with his trademark heavy breathing, both coming to life in the two platforms. Of course, the Rogue One Vader is the bigger version of the two, but the game version also has vast potential to become a classic in the coming years.
Don't forget to top up on your Mobile Legends Diamonds only at Codashop. We guarantee faster and more convenient top-ups so you can enjoy a hassle-free gaming experience.