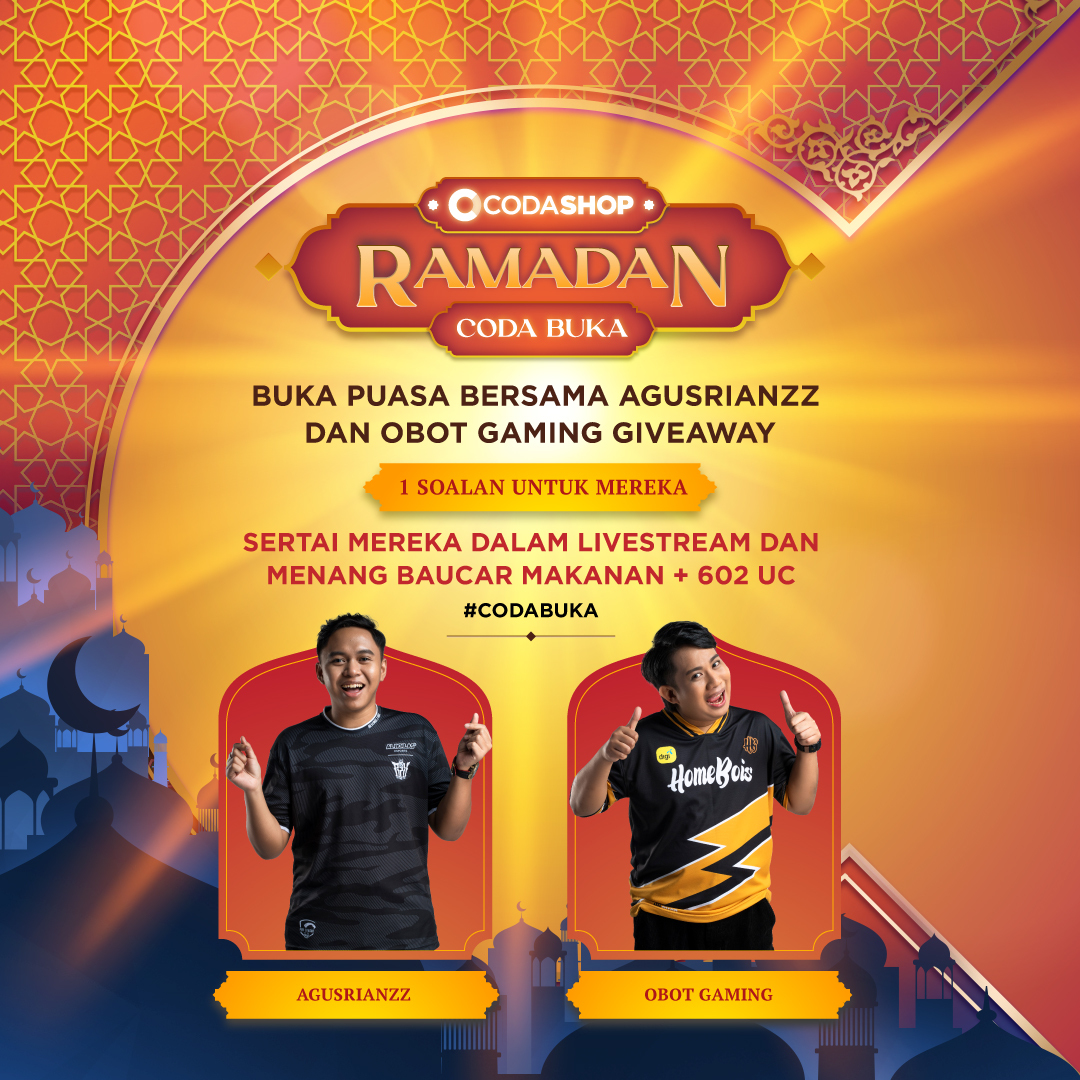 #CodaBuka Bersama AgusRianzz dan Obot Gaming
Anda berpeluang untuk berbuka puasa & lepak dalam livestream #CodaBuka bersama mereka pada Isnin depan! Rebut juga peluang untuk dapatkan RM 30 baucar makanan serta 602 UC setiap seorang 🔥🤩
Cara-cara:
Follow dan like FB page Codashop MY
Di ruang komen, nyatakan 1 soalan yang anda ingin tanyakan kepada salah seorang atau kedua-dua streamers pada livestream #CodaBuka nanti
Akhiri komen anda dengan hashtag #CodaBuka
Terms and Conditions
This "Buka Puasa Bersama" contest ("Contest") will run from 12.00 p.m on 29 April 2021 and ends at 4:00 p.m on 30 April 2021.
Contest Mechanics;
a) Follow and like Codashop FB page
b) In the comment section, state 1 question you want to ask the streamers during #CodaBuka livestream
c) End your comment with hashtag #CodaBuka
Prize and Selection of winners;
Each winner will be entitled to receive the following prize:
I) A participation in #CodaBuka live stream with AgusRianzz and Obot Gaming
II) RM 30 worth of GrabFood voucher 
III) 602 UC each
2. However, winners will receive prize in item (III) only upon completion of prize in item (I).
3. At the end of the contest period, two (2) lucky comments will be selected as the winner.
5. Prizes are non-transferable and non-exchangeable for cash or other items. All pictures to illustrate the prizes are for representational purposes only. 
6. By participating in the contest, users agree to abide by the Contest Terms and Conditions and agree to be bound by the Contest Terms and Conditions including any amendments or variations thereto as well as any decisions made by Codashop.
7. Participants who are below the age of 18 years old are deemed to have obtained the consent of their parents or guardian to participate in this Contest. 
8. Entries will only qualify for the contest if the entry submitted within the contest period. Entries submitted outside of the contest period, or submitted through any means other than specified herein, will not be eligible for the contest. Any complaints on missing and/or delayed submissions will not be entertained.
9. Codashop reserves the right to reject any entries or disqualify any winners who are not able to participate in the video of the #CodaBuka live stream due to equipment, software or facilities limitations. 
10. If the winner foregoes his or her prize for any reason, the next eligible participant will be selected as a winner.
11. Codashop will contact winners via Facebook comment and message at 4:30PM, 30 April to notify that you have won. The winners will be required to provide their contact details (i.e. name, email address, contact number, PUBG Mobile Player ID).
12. Winners must have the necessary equipment, software, location to join the livestream. (e.g working webcams, laptop/desktop)
Prize fulfillment;
The #CodaBuka livestream will be held on 3 May 2021, 8:30 PM. 

Codashop reserves the right to change the dates of the livestream at any time.

The food voucher will be emailed to the winners before the livestream date and once he or she has provided Codashop with the information.

The Games Credits will be credited to the winner's PUBG Mobile account within 3 working days from the #CodaBuka livestream by Codashop. 

Winners will only receive the Games Credits after completion of the #CodaBuka livestream. Winners will not be entitled to receive the Games Credits if they did not participate and complete the #CodaBuka livestream.

Codashop will not be held liable for any lost or failed transaction due to incorrect Player ID provided by the winners.

Codashop will not entertain other channels of prize delivery or issuance. Winners must follow any instructions as determined by Codashop to redeem their prizes.