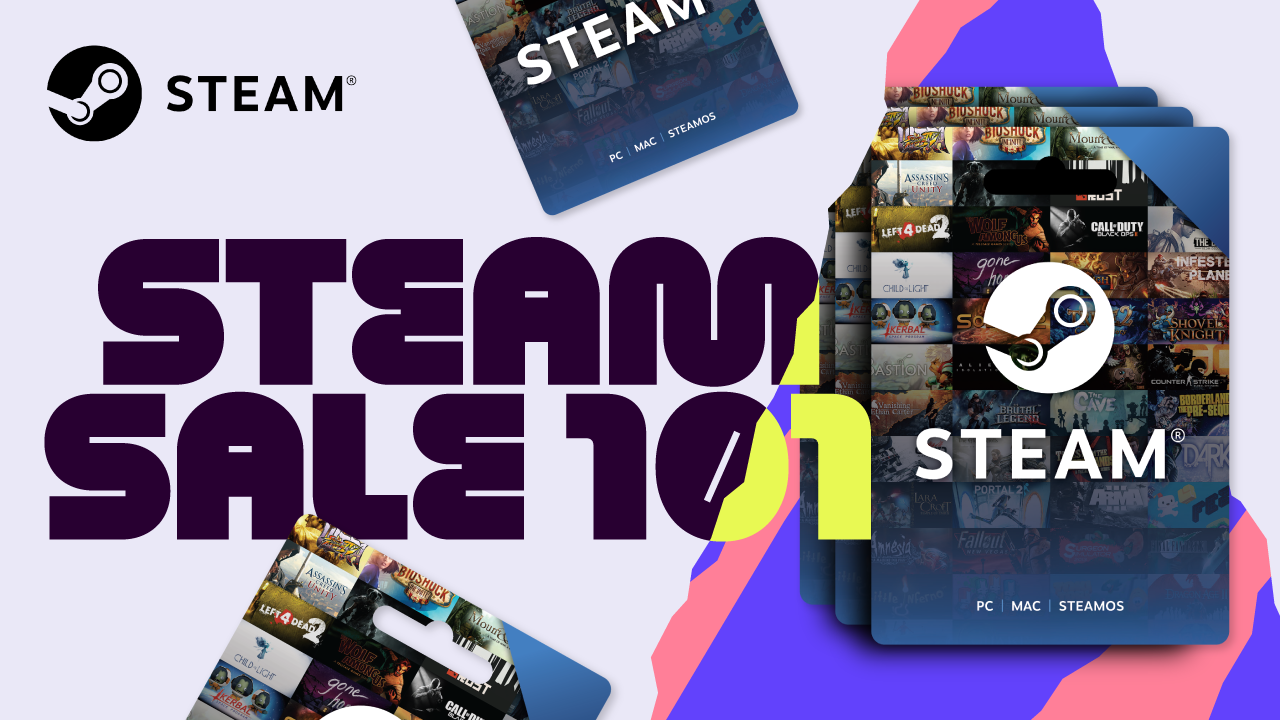 Steam Sale is usually held every year in spring, summer, fall, and winter, so don't miss the important details below if you're looking for Steam Sale game discounts!
When is The Next Steam Sale?
Based on some references we got, The Lunar New Year Steam Sale 2022 will start from January 27th, 2022, which is way earlier compared to last year. We will keep you updated here if there's any new information about this. Make sure to subscribe to us for the latest updates!
The Most Anticipated Steam Sale 2022
Steam Summer Sale, Winter, Autumn, and Halloween are definitely going to happen. Valve hasn't shared the official announcement regarding these dates, and while waiting for the complete calendar, here are what we know so far:
Upcoming Steam Sale 2022 dates: 
Steam Lunar New Year sale 2022: January 27th to February 3rd

Steam Next Fest February: February 21st to 28th


Steam Remote Play Together 2022: February 28th to March 7th

JRPG Sale: March 14th to 21st

SimFest Hobby Edition Sale: March 28th to April 4th

Die-a-lot Sale: May 2nd to 9th

Racing Sale: May 23rd to 30th

Summer Sale 2022: June 23rd to July 7th

Survival Sale: July 18th to 25th
Past Steam Sale 2021 dates:
Game Festival Sale: February 3rd to 9th

Steam Lunar New Year Sale: February 11th to 15th

Remote Play Together Event: March 25th to 29th

Golden Week Sale: April 29th to May 6th

Open World Sale: May 27th to 31st

Next Fest June: June 16th to  22nd

Steam Summer Sale: June 24th to July 8th

Next Fest October: October 1st to 7th

Digital Tabletop Fest: October 21st to 25th

Steam Halloween Sale: October 28th to November 1st 

Steam Autumn Sale: November 24 to December 1st 

Steam Winter Sale: December 22nd to January 5th, 2022
More About Steam Sale
How long does a Steam Sale last?
There are sales that only happen for a few days, but there are also others that can go until two weeks! You may want to anticipate Steam Next Fest, which has an average weekly duration, and also Summer Steam Sale, which lasts for two weeks with the most significant price cut of the popular games.
Which is the best Steam Sale?
The best Steam Sale is The Summer Sale where you can even find a 75% price drop! Not only does it offer a big price cut, but Steam Summer Sale also has more relatively new and popular game deals compared to other events. You also can check out the Steam Winter and Autumn Sales, and spot crazy low game prices. It's the best time to be adventurous and try various games.
Steam Sale Tips
Don't Forget Your Steam Game Wishlist
No need to wait for a specific promo event! You can quickly put a wishlist every time you bump into a game title that catches your interest. By this action, your Steam account will get a notification every time your lists are on sale. It will save so much of your time during the sale period, and your wishlist definitely looks more attractive than the default random sale selection.
Regularly Check On Store Homepage
Check on the bundle, the sale spotlight, and the most important one, the welcome sale on major games! The next step is to check the sale's page, where you can swiftly sort the discounted games by price and other categories. Pay attention to the latter, which indicates the best deals. It's "blue" for the cheapest price of that game ever on Steam store and "green" for the all time game's lowest price.
Spare Some Time to Browse on A Weekend
Sometimes, publishers will take over the store homepage with better offers or even offers they don't release on weekdays. If you're into blockbuster games, better hunt during the weekend for great deals.
Not Sure What to Pick? Go Indie!
If you want to explore something different; then try indie games. You can get 5 to 6 games for the same price as 1 major publisher's game. If you have a good eye, you can save some bucks for a potentially popular game in the future.
Don't Panic! There Will Always be Another Steam Sale
Since there will be no flash sale on a daily basis, you can take your time before deciding to purchase anything. We suggest keeping it in the wishlist if you need to upgrade your PC, gaming card, or anything else. Pssst, there's a high chance that the deals will get better as the annual sales roll by.
Fill Up Your Steam Wallet!
Keep your wallet thick! Don't forget to top up your Steam Wallet before the sale period starts. You can easily buy a Steam Wallet voucher in Codashop Malaysia following these instructions below:
Go to

Steam Wallet voucher page

in Codashop Malaysia

Select the Steam Wallet amount.

Choose your preferred payment method.

Complete the payment.
Once payment is complete, you will instantly receive the Steam Wallet Code on the payment confirmation page and via email. Redeeming the voucher is easy too!:
Open the Steam app, go to your profile & select "View My Wallet", or go to this

Steam Wallet Code Redemption page

for the browser.

Click on "Redeem a Steam Gift Card or Wallet Code".

Enter your Steam Wallet Code & complete the transaction.
There you go! You're ready for sale hunting!
Which games on Steam are you wishing for a huge sale this year?
CHECK NEWEST STEAM WALLET OFFERS