Use hard-earned Poro Coins to buy cool items in Wild Rift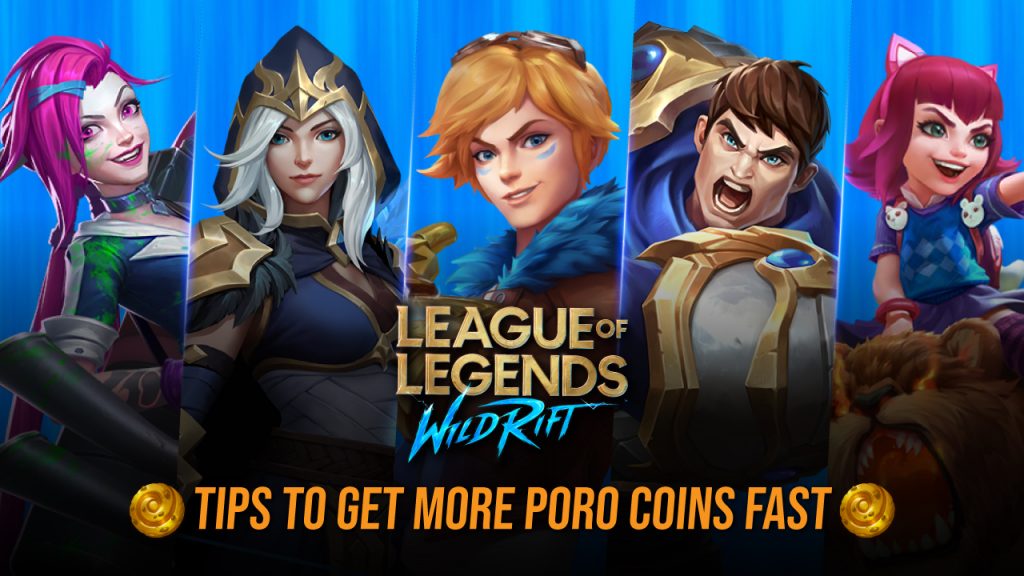 What are Poro Coins?
Poro Coins are additional in-game currency in League of Legends: Wild Rift. They can be obtained by playing games, so keep on grinding to earn more. They are primarily used to buy: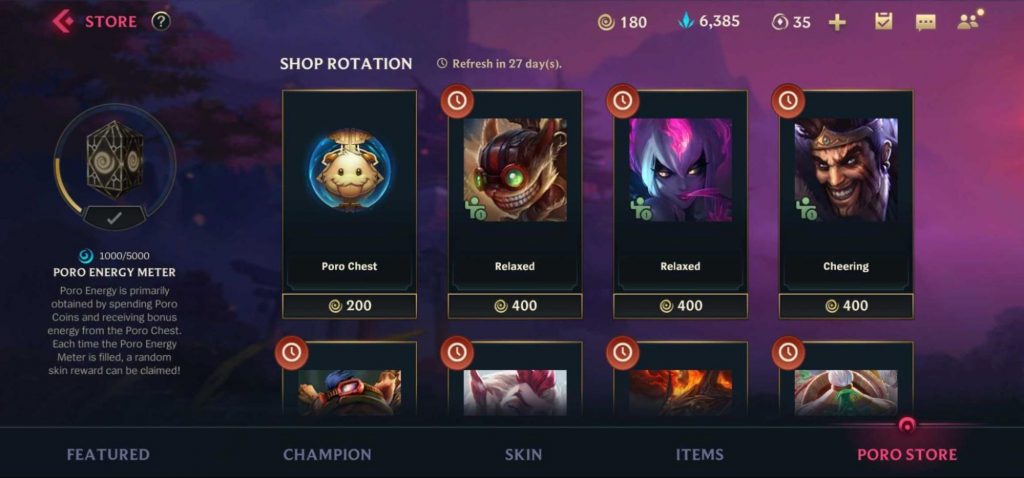 Champion Poses: Once configured, your selected Champion will strike different poses. Poses are displayed before and after a match. Champion Poses include Relaxed, Cheering, Confident, Playful, Proud, Challenge, Strategizing, Entranced, Prepared, Defensive, Aggressive, and Ready. Note: To purchase a pose, you must own the champion first.
Poro Chests: Open a Poro Chest for a chance to get loads of amazing stuff from custom recalls, baubles, icons, emotes, poses, and more! Best of all, Poro Chests do not drop duplicate cosmetic content. Poro Chests cost 200 Poro Coins each.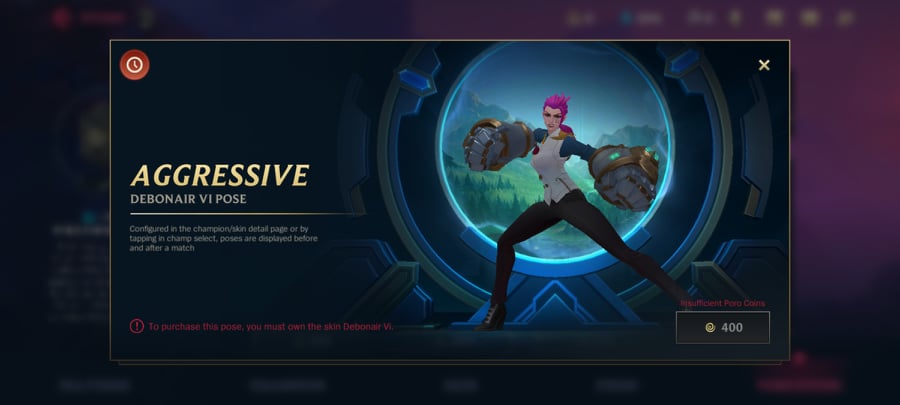 Wild Rift Debonair Vi Aggressive Pose
You can also get a random Skin Chest for every 5000 Poro Energy collected in the Poro Store. This chest contains a random Champion Skin, which can be a good source of skins if you prefer not to spend on Wild Cores.
What is Poro Energy?
By spending Poro Coins, Wild Rift players are rewarded with Poro Energy at a 1:1 ratio. In other words, when you spend one Poro Coin, you get one Poro Energy which fills up your Poro Energy Meter. Each time the Poro Energy Meter is filled, a random skin reward can be achieved. Now that's simply amazing!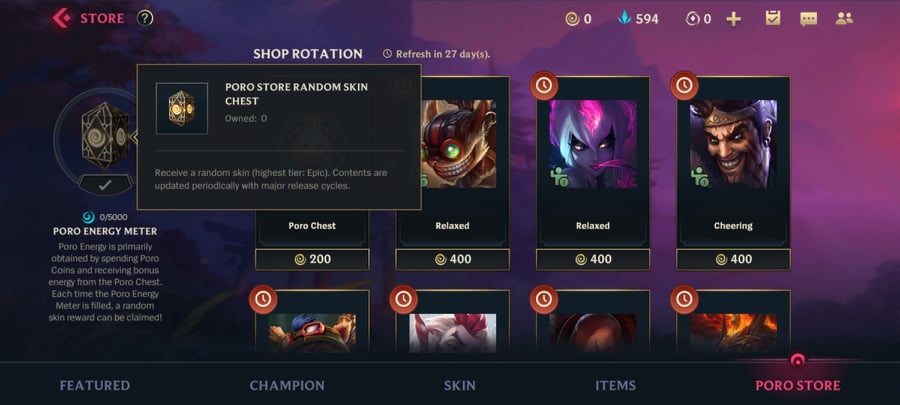 Get a random skin reward when your Poro Energy Meter is full!
Where can I get Poro Coins?
There are several sources where you can easily obtain your Poro Coins, the concept of which is built around playing. So the more you play, the more Poro Coins are awarded to you. Earn weekly activity chests, participate in event missions — it's easy to get them while simply playing the game!
Open weekly chests. You can get Poro Coins from Weekly Chests by completing Missions. Collect 400 weekly points to earn as much as 50 Poro Coins weekly.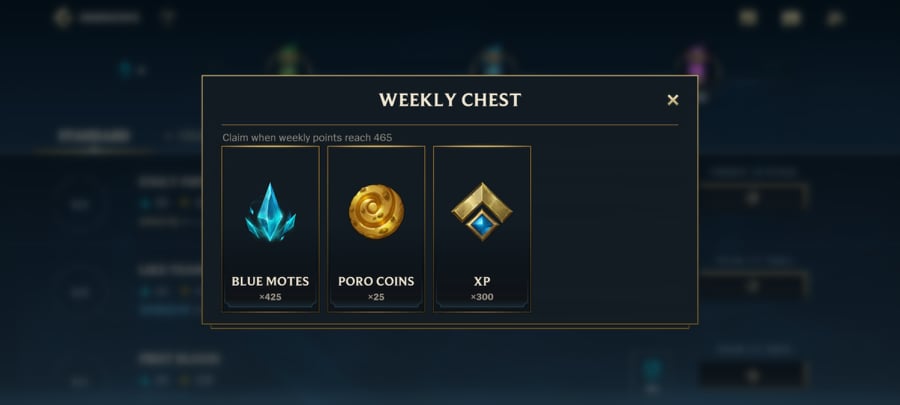 Collect 400 weekly points to earn as much as 50 Poro Coins.
Participate in event missions. Check out Event Missions such as the Wild Rift Academy. Finish all missions in Day 4 and get as much as 200 Poro Coins in rewards.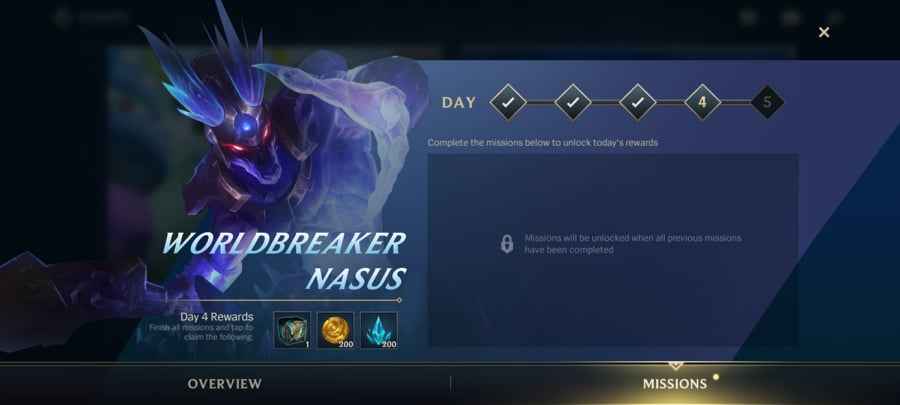 Complete event missions to earn as much as 200 Poro Coins.
Reward from leveling up.  When you level up your account, you can occasionally get Poro Coins as a reward. Get to Level 15 to get a few hundred coins.
Poro Chest Drop Rates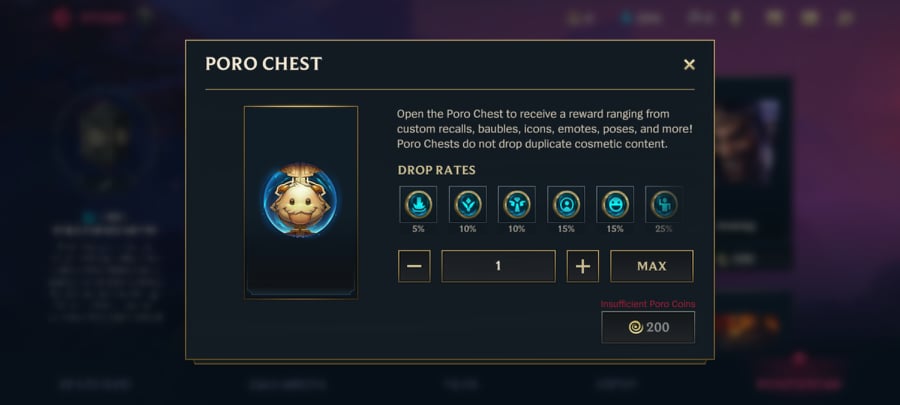 Poro Chests do not drop duplicate cosmetic content

As quickly stated above, Poro Chests do not drop duplicate cosmetic content. If you want to max out on your Poro Coins, you may want to shelve them out to buy a Poro Chest. It's a good investment since you're guaranteed to get something new. The chance to get items are as follows:
Custom Recall: 5%

Bauble: 10%

Rift Emblem: 10%

Icon: 15%

Emote: 15%

Champion Pose: 25%



Just remember, you get more Poro Coins by joining events, playing more matches, ranking up, and diving deep into everything that Wild Rift has to offer.
Don't forget to top up Wild Cores only at Codashop. We guarantee faster and more convenient top-ups so you can enjoy a hassle-free gaming experience.