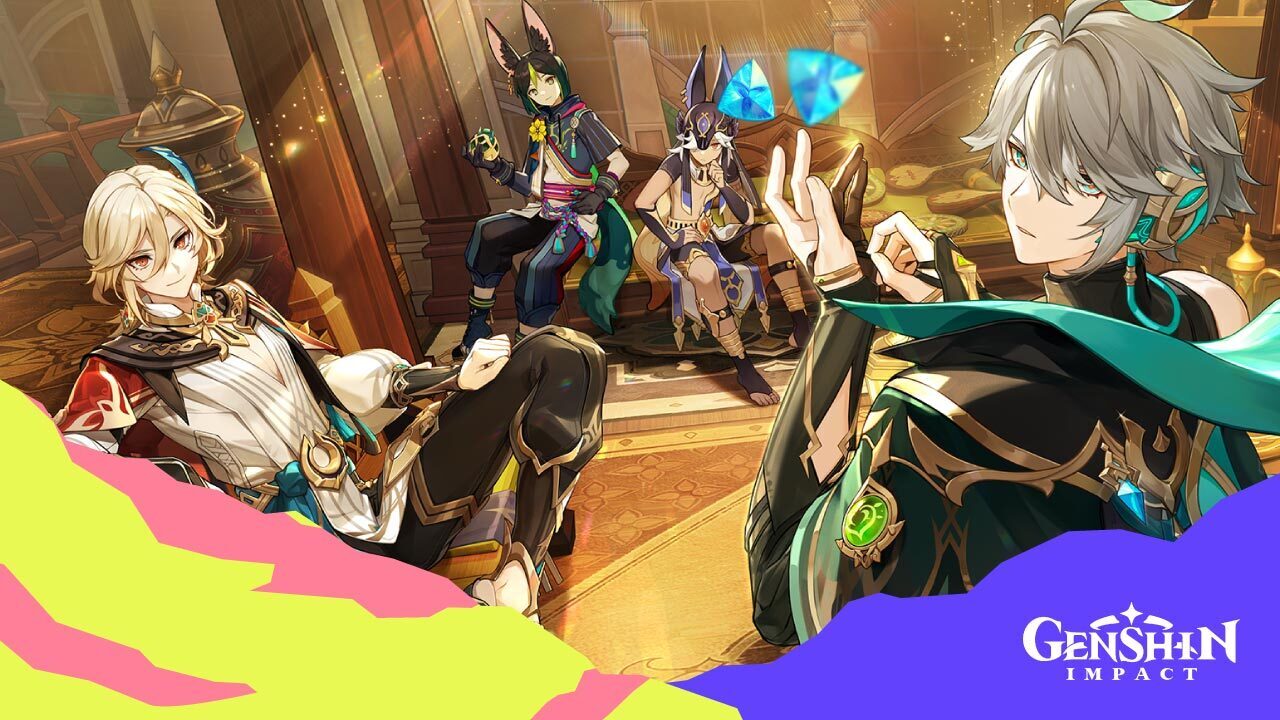 Genshin Impact's latest character addition is Baizhu, Liyue's master of medicinal arts and the owner of Bubu Pharmacy. His unique set of defensive abilities and talents make him a valuable addition to Dendro teams, and his flexibility allows him to be an on-field driver or an off-field support unit. This guide will delve into Baizhu's kit and recommend the best builds and artifacts to optimize his gameplay. 
Baizhu's abilities and talents
As a 5-star Dendro catalyst user, Baizhu brings his medicinal expertise to keep the team alive and kicking:
The Classics of Acupuncture (Normal Attack)
Normal Attack – Baizhu performs up to 4 attacks, dealing Dendro DMG to opponents before him.

Charged Attack – After a short casting time, Baizhu performs an AOE Dendro DMG hit, damaging opponents in front of him. Costs 50 stamina. 

Plunging Attack – Baizhu plunges towards the ground, dealing AOE Dendro DMG to all opponents in his path, and upon impact with the ground.
Universal Diagnosis (Elemental Skill)
Baizhu releases a Gossamer Sprite that deals Dendro DMG to nearby opponents. After dealing damage, the sprite returns, healing all nearby party members based on Baizhu's Max HP.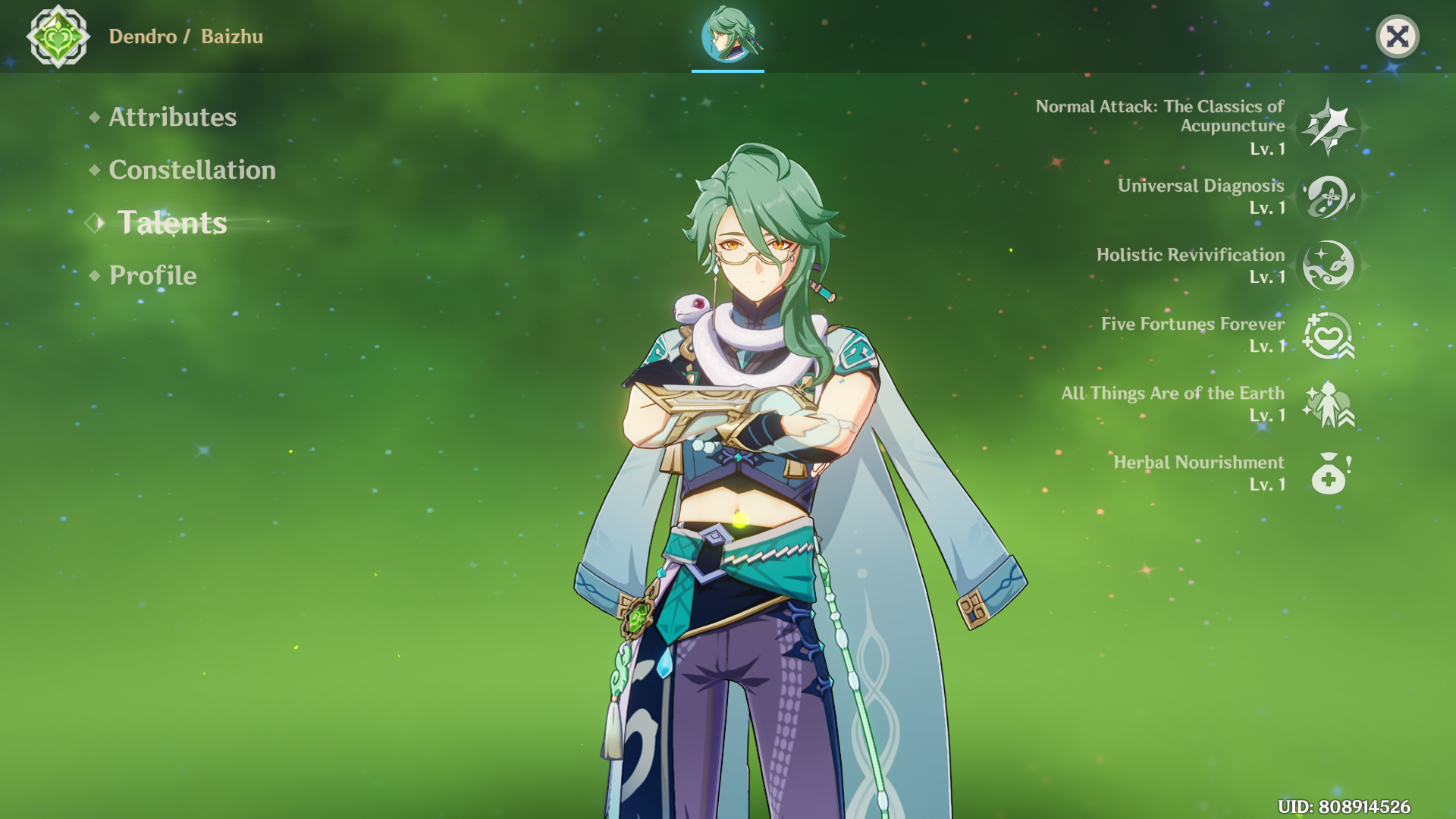 Holistic Revivification (Elemental Burst)
Baizhu enters the Pulsing Clarity state, which allows him to create a Seamless Shield that absorbs damage. While in this state, Baizhu will generate a new shield every 2.5 seconds. Every time Baizhu generates a new shield, he heals the active character and damages nearby opponents based on Baizhu's Max HP.
Five Fortunes Forever (1st Ascension Passive)
Baizhu gains buffs depending on the current HP of the active character: 
Gains a 20% Healing Bonus when the active character's HP is less than 50%.

Gains 25% Dendro DMG Bonus when the active character's HP equals or exceeds 50%.
All Things Are of the Earth (4th Ascension Passive)
Characters who are healed by Seamless Shields will have their Dendro reaction damage increased. This damage buff increases with each 1,000 Max HP Baizhu possesses that does not exceed 50,000. 
Herbal Nourishment (Utility Passive)
When Baizhu is in the party, harvesting items will heal the active character for 2.5% of Baizhu's Max HP. 
Tips on using Baizhu 
By providing decent Dendro application, healing, shielding, and damage buffing, Baizhu allows for a more flexible team composition. Take advantage of this by adding more Sub-DPS units like Fischl and Xingqiu in Quicken and Hyperbloom teams. 

With long cooldowns, Baizhu's Dendro application feels lacklustre. It is recommended to bring another Dendro unit like the Dendro Traveller, Nahida, or Collei to ensure more Quicken procs. 

Put Baizhu on quick swap teams like the

Cyno

Aggravate/Hyperbloom team and the Nilou Bloom team to make the most of his 4th Ascension Passive buff.
Best weapons 
With stats and a weapon Passive tailor-made for Baizhu, the Jadefall's Splendor catalyst is his best weapon option. At Level 90, it boosts his HP by 49.6% and improves energy generation and elemental damage. If you're looking to save Primogems and Fates for the next banner, you can never go wrong with the following F2P options: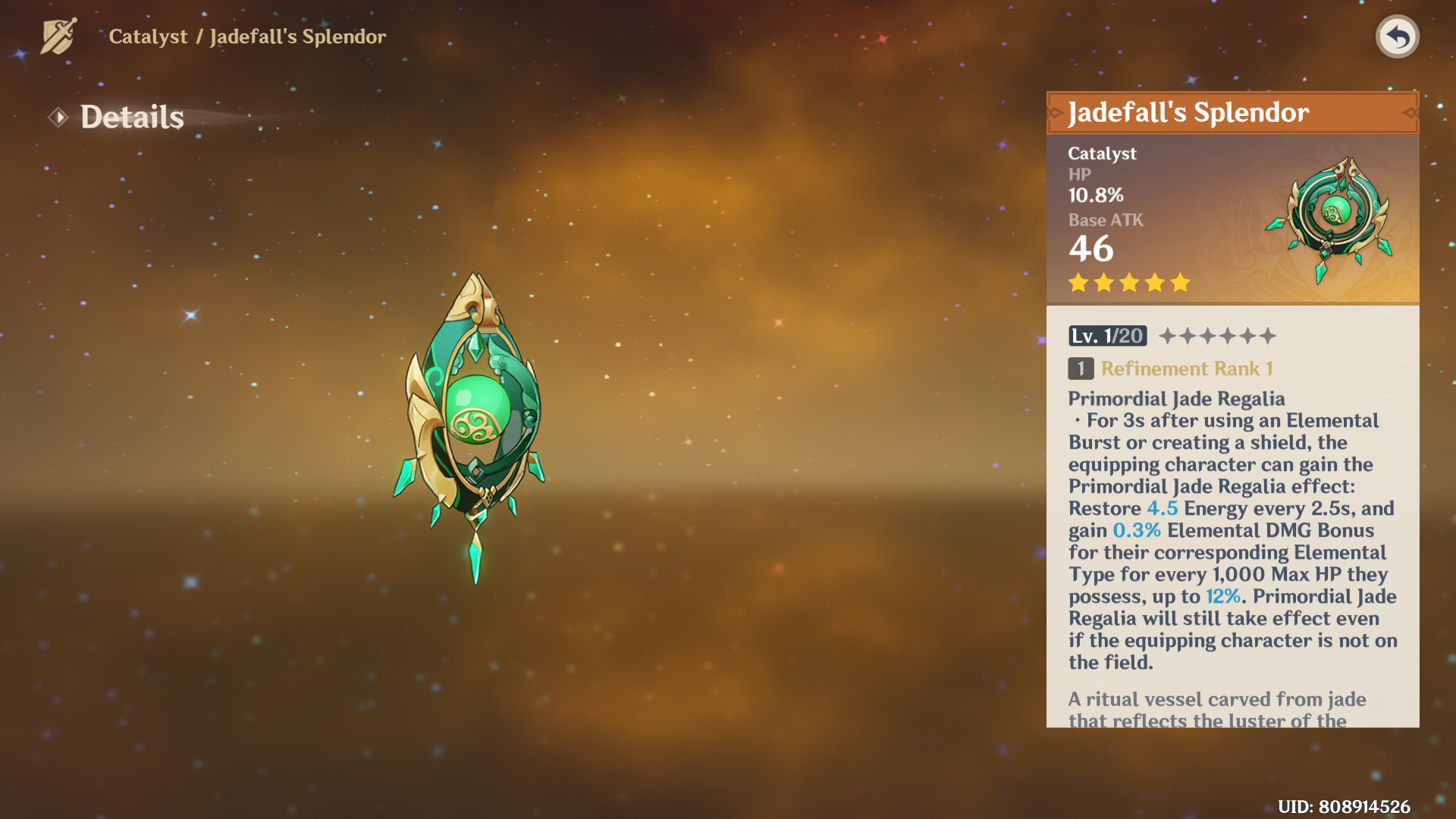 Prototype Amber (4-stars) – increases his healing capacity and boosts HP by up to 41.3%.

Thrilling Tales of Dragon Slayers (3-stars) – increases HP by 35.2% and packs a 24% ATK buff that lasts 10 seconds. 
Best artifacts 
Since we get the most value from his Elemental Burst, our first priority should be having 140% to 200% Elemental Recharge for an increased Burst up-time. Next would be stacking HP to improve his scaling: 
4-piece Deepwood Memories – +15% Dendro DMG Bonus. Decreases opponents' Dendro RES for 8 seconds.

4-piece Noblesse Oblige – +20% Elemental Burst DMG. Increases the party's ATK by 20% for 12 seconds after using an Elemental Burst. 
Talent and ascension materials 
To unlock Baizhu's full potential, Travellers must have the following Talent and Ascension materials: 
Ascension materials:
1x Nagadus Emerald Sliver

9x Nagadus Emerald Fragment

9x Nagadus Emerald Chunk

6x Nagadus Emerald Gemstone

18x Fungal Spores

30x Luminescent Pollen

36x Crystalline Cyst Dust

168x Violetgrass

46x Evergloom Ring

420,000 Mora
Talent materials: 
9x Teachings of Gold 

63x Guide to Gold

114x Philosophies of Gold

18x Fungal Spores

66x Luminescent Pollen

93x Crystalline Cyst Dust

18x Worldspan Fern

4,959,999 Mora

3 Crown of Insight
Best team comps 

Aggravate team – on a quick swap Aggravate team, Baizhu focuses on keeping the Quicken status up while boosting his team members' damage through his 4th Ascension Passive buff and artifact effects. Cyno (who can be replaced by Keqing) acts as the Main DPS, while Fischl and Nahida add off-field Sub-DPS damage.

Bloom team – Dendro cores deal massive damage to enemies, but its AOE damage can also wear your team down. With that said, Baizhu's healing and shielding can work wonders for Bloom teams, especially with Nilou's Bountiful Cores that explode faster. Nahida and Baizhu can be on-field drivers in this party while Nilou activates the Bountiful Cores. Xingqiu adds Hydro Sub-DPS numbers while off-field. 
Also read: Genshin Impact Tighnari Build and Team Guide, Genshin Impact Yoimiya Build and Team Guide
Conclusion 
Baizhu's loaded kit makes it easier for Dendro mains to form teams for the overworld and the Spiral Abyss. Its focus on shielding and healing answers the Dendro element's initial problems, and Baizhu's release just confirms that the Dendro roster is one of the strongest in Genshin Impact. For more Genshin Impact guides, be sure to check our blog, and while you're at it, remember to top up your Genesis Crystals only at Codashop to enjoy a fast and easy payment process.